Love Note Yardage – Arriving in Shops Now
'Tis the season for fabric to arrive. Get ready to welcome the newest Lella Boutique collection to your stash – Love Note.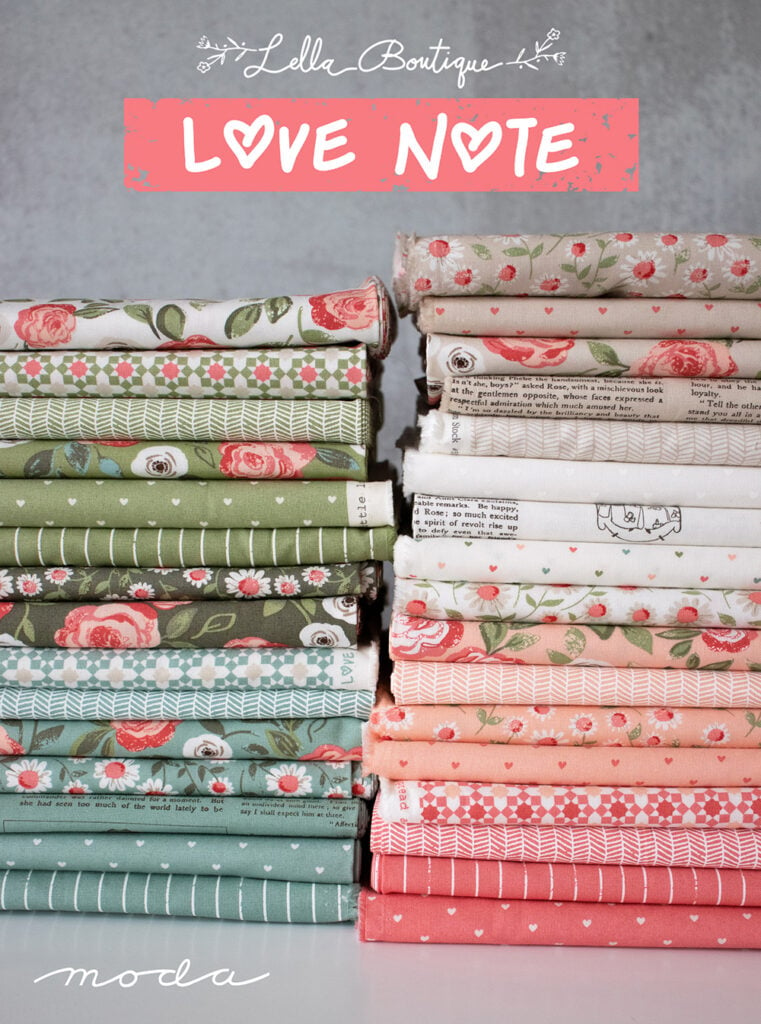 The Fabric
As you may recall, Love Note was introduced earlier this year. This cheerful collection was inspired by my grandmother, Marguerite, who was known well for her love of flower gardens, painting, and books – especially those by Louisa May Alcott. For Grandma, I've put together a collection of sweet daisies, painterly roses, dainty hearts, a soft herringbone, coloring them in precious pinks, dusty blues and earthy greens. You will even find a few pages from Grandma's antique copy of Rose in Bloom.
Yardage is arriving now, with precuts and boxed kits to follow shortly.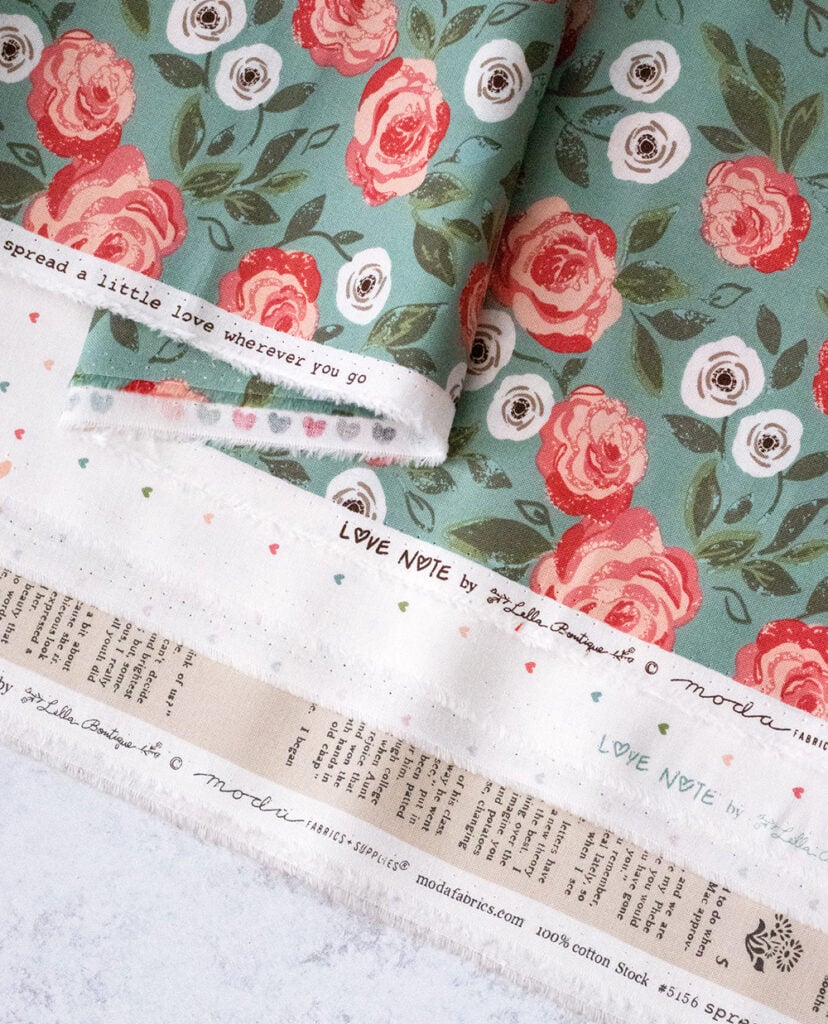 ---
The Projects
I've designed several new quilts and recolored a few oldies to give you ideas of what to make using this collection. One of my favorite things about this group as that it looks good in literally every quilt pattern I've seen.
I've partnered up with Fat Quarter Shop to bring you a fun new block of the month quilt book featuring Love Note fabric. Rose in Bloom is a scrappy flower sampler quilt and another tribute to Grandma – the title being a nod to one of her favorite books by Louisa May Alcott. For this block of the month quilt, I've designed 10 sampler blocks – each made in a variety of colors and prints to create a luscious garden paradise.
Finished block size for this quilt is 6″ square. Finished quilt is 84-1/2″ x 84-1/2″.
The Rose in Bloom Block of the Month book is available now, is 37 pages, spiral-bound, and easy to follow along with! One of my greatest hopes for this project was for it to be a great introduction to samplers or block of the months for beginners. I hope you'll sew along! I have a few copies of the book in my shop here:
The book holds a final delightful secret for the backing, check out this little peek!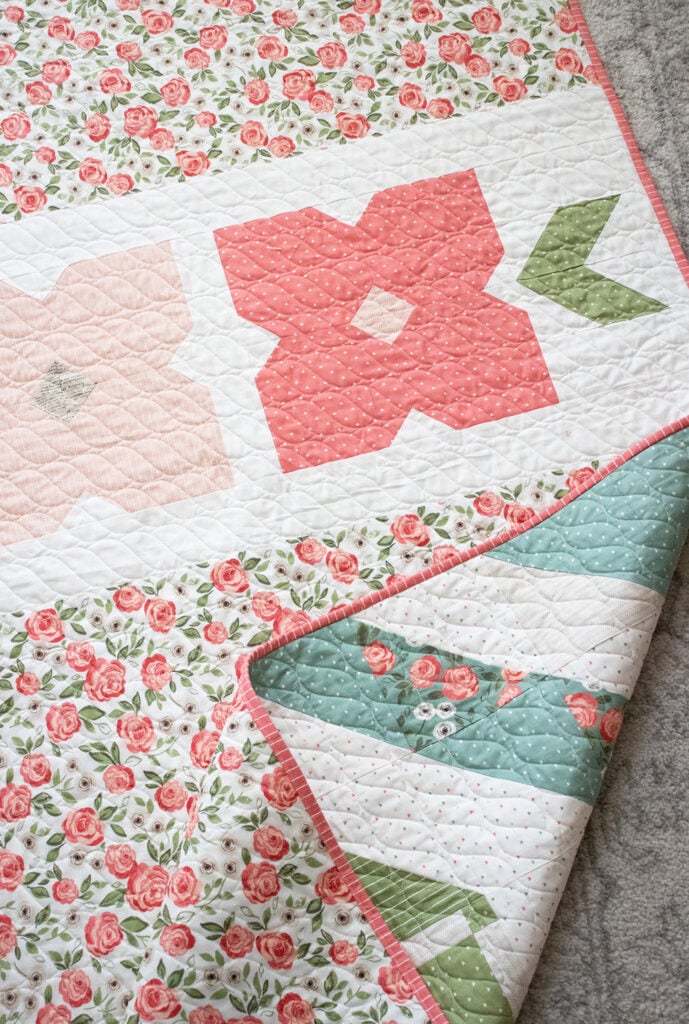 Check in with your favorite local or online shop for Rose in Bloom kit options – some shops are offering the monthly kits that begin next month (December 2021), and others will have whole kits options for purchase as well. I anticipate they will sell out quickly. Of course, you can always use a different fabric collection altogether – check out the Christmas version of this quilt I made using Christmas Morning fabric + my Sewcialites sampler blocks here. It makes a fun layout for any 6″ sampler blocks!
---
Here's a project that is a real joy to piece. (It looks so cute in Christmas fabrics too!) Lovey Dovey is a fat quarter quilt. Keep your eye out in the next month for a video tutorial on Fat Quarter Shop's YouTube channel. I think you'll be delighted to see how this quilt comes together! Wouldn't it be cute to turn a single block into a pillow?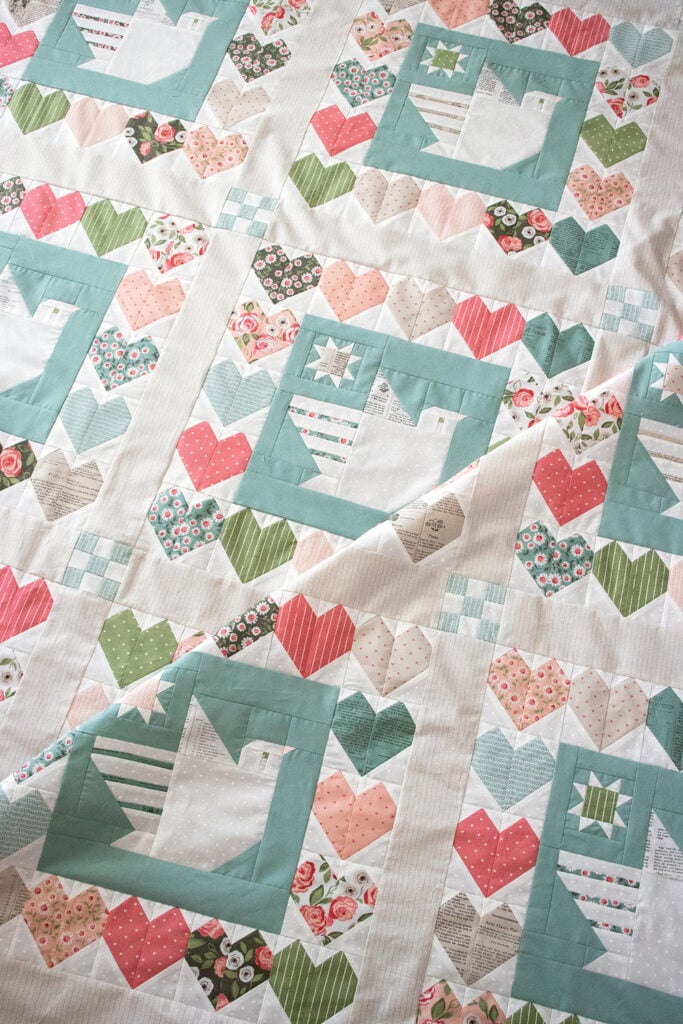 This season, look for Lovey Dovey in a special Moda boxed kit. I will have a select number of boxed kits in my shop (though I'm not sure when they'll get here). If you've preordered one from me, you will receive a shipping notification when it's on its way! Thanks for your patience. They should be arriving very soon.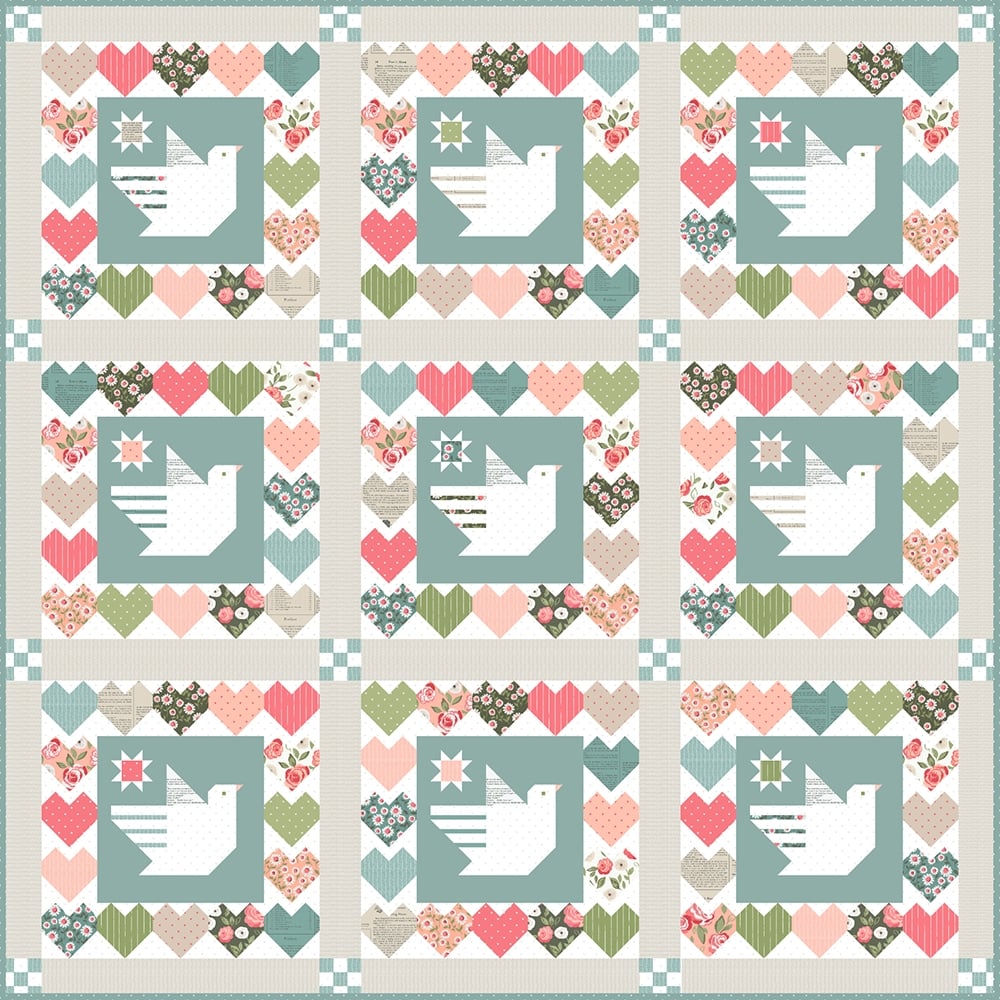 ---
Who can resist a flower quilt? Here's a sweet spring tulip quilt – freshly quilted and bound. Tulip Shop is a fat eighth pattern. It was a very quick quilt to piece – cut and sewn together in just a couple days.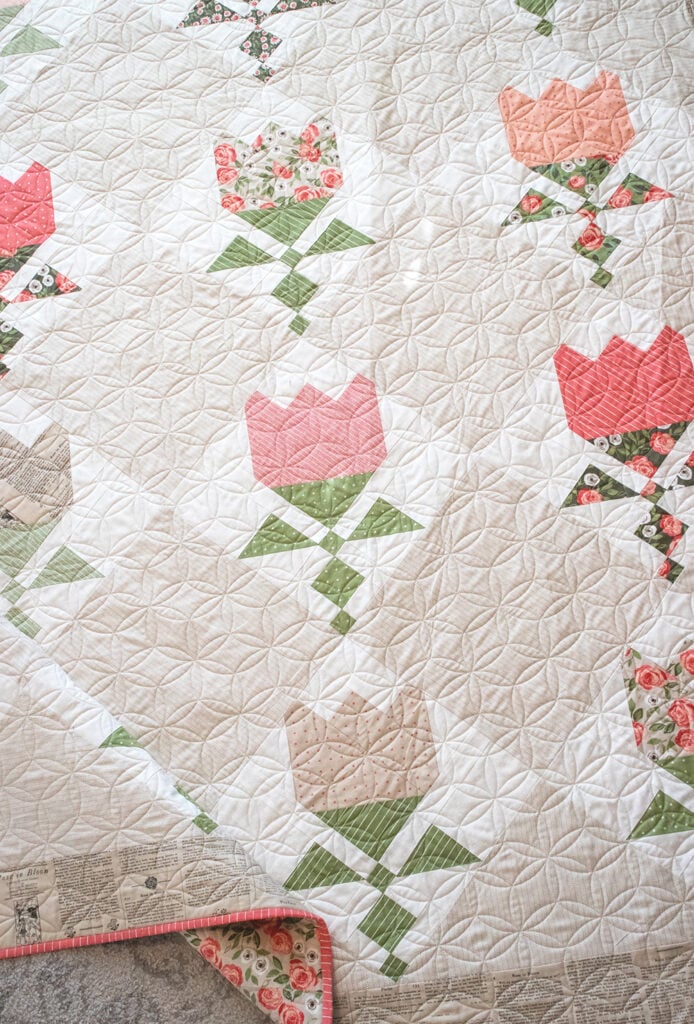 This tulip block is pieced traditionally with half-square triangle + easy corner triangle techniques. The block finishes at 12″ x 12″ and is then set on point (i.e. at a diagonal) with this taupe herringbone print (5154-11) as an accent. The result is this fun checkerboard design!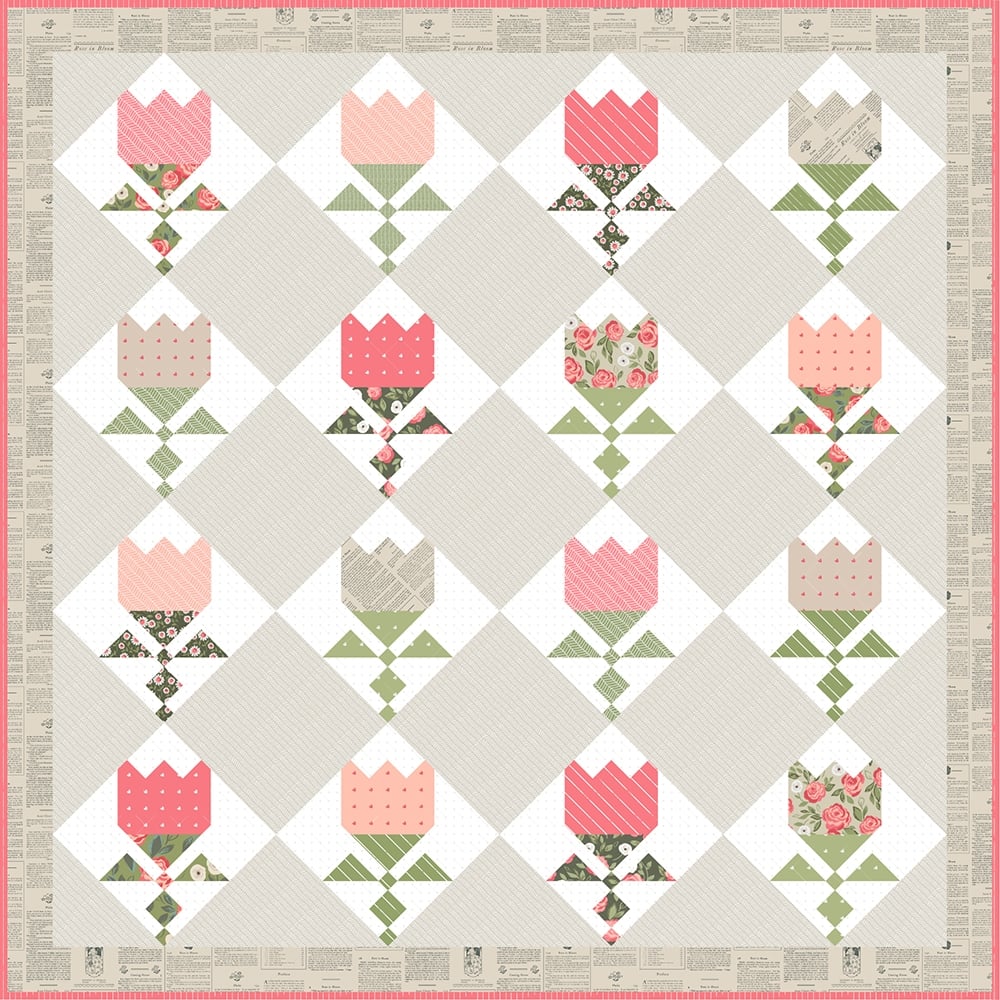 ---
This is a quilt that feels like home. It's the Haven quilt – a new fat quarter quilt. I decided to highlight the beautiful greens, taupes, and blues this time around.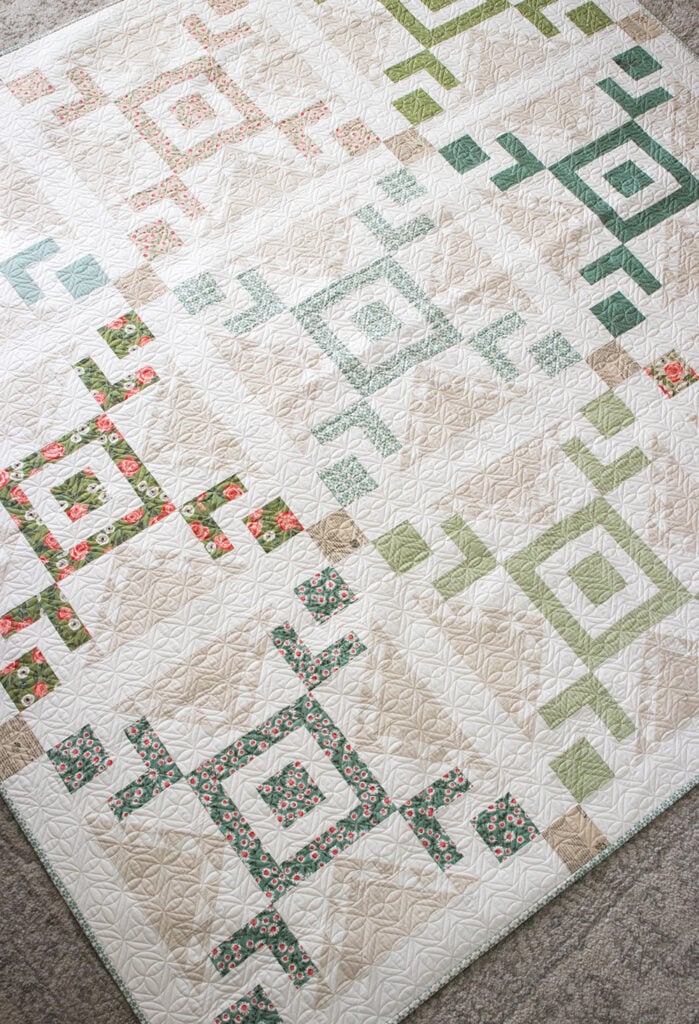 Fun fact – the Rose in Bloom block of the month quilt layout is very similar to this block layout – and bigger! Both projects use lots of half-square triangles to form the same traditional-looking, star-shaped base.
---
Let's swoon a little over this one. It's the June Bug quilt – an older design that recently got a new look in Love Note fabric. These colors are making my heart skip a beat!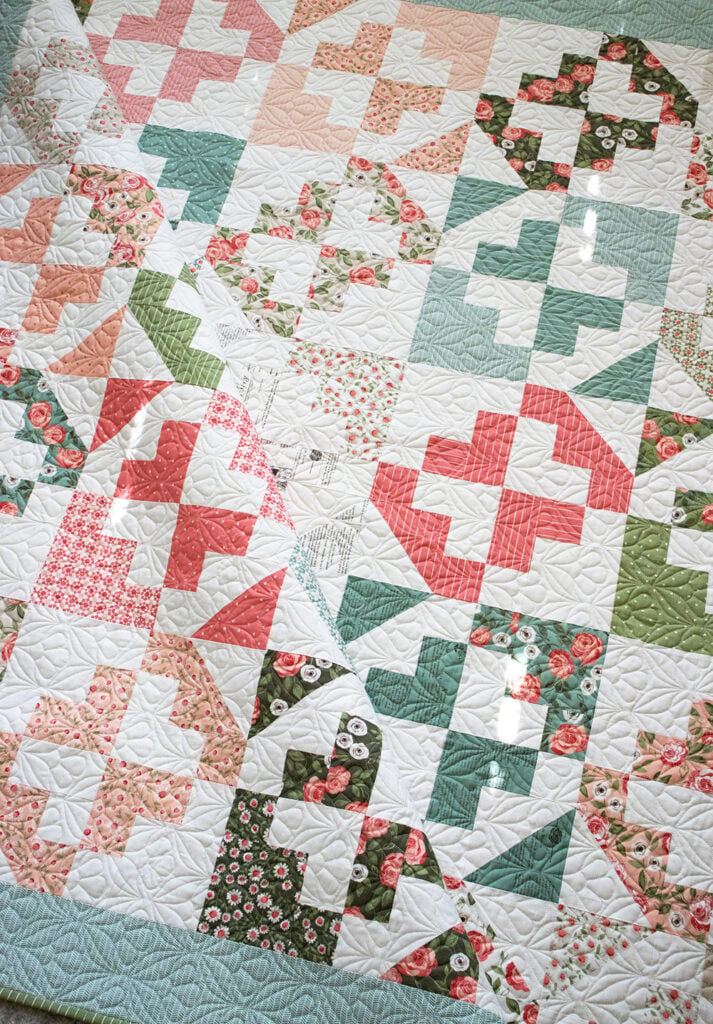 You can make this one with a Layer Cake (precut 10″ squares) or fat quarters.
---
I didn't want to leave out charm packs! Say hello to Pretty Please, one of my popular charm pack quilt patterns from 2018.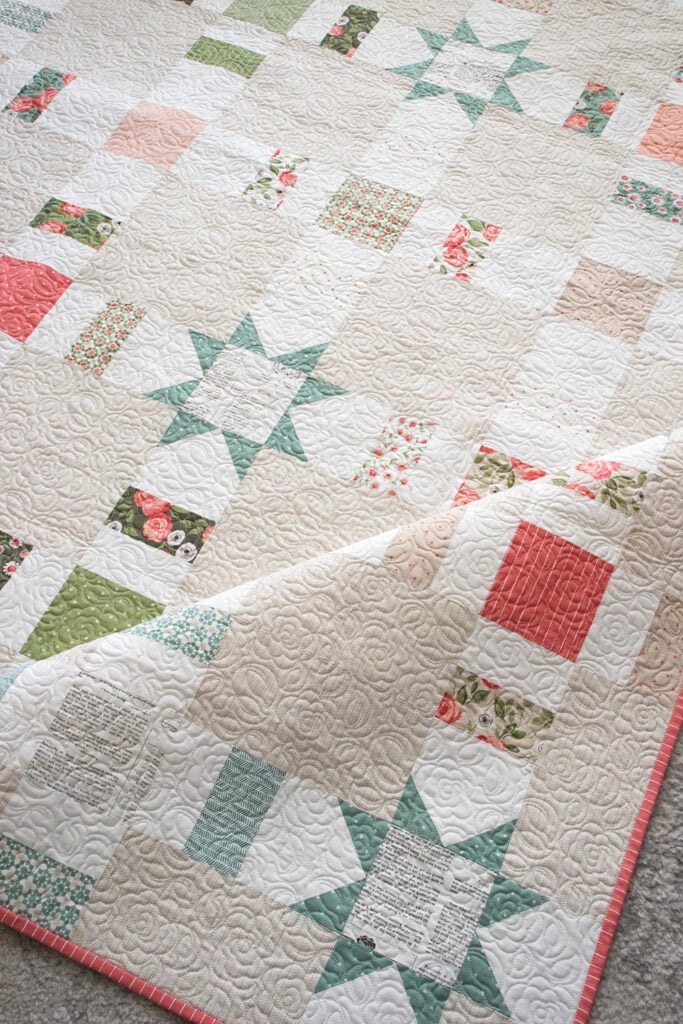 I had challenged myself to design a quilt using a single charm pack (42 assorted 5″ squares). I'm "pretty pleased" what I came up with! Using only 1 charm pack (+ yardage for the sawtooth stars, taupe and white backgrounds, etc.) you can make this 60″ x 60″ quilt top:
---
It started with a couple Moda charm packs and became a sea of pinwheels. It's a classic block with a little twist.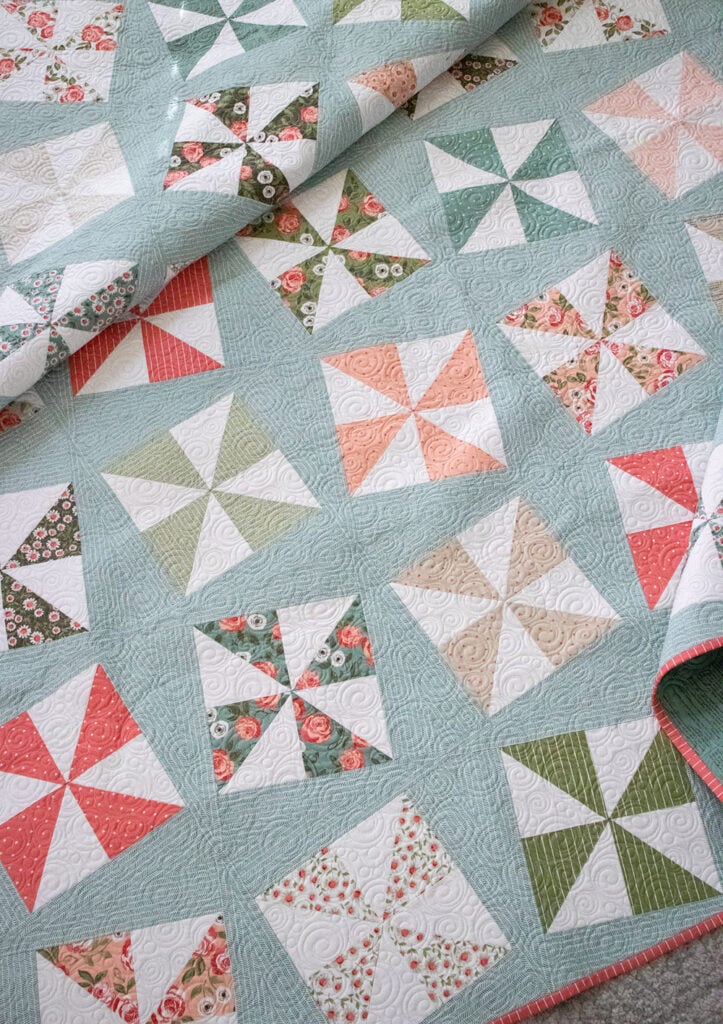 The block gets its off-kilter look by using a partial seam method. Don't worry if you're unfamiliar with partial seams – it's a piece of cake! Check out the process in my partial seam technique post here.
---
It's simple and sweet. One of my most popular fat quarter quilt patterns just got a new look. Have you made the Snow Blossoms star block before? It was time to reprint this pattern and it is perfect in Love Note fabric. I would love a chance to remake this one like the mockup!
---
This fun geometric flower quilt originated 2016 as part of the Olive's Flower Market collection. Make it with 1 Jelly Roll (30 precut strips 2.5″ x WOF). I thought it would be lovely to give this one a makeover in Love Note fabric.
---
This is one of the really popular ones. It's been reprinted several times and seen many different looks. Open Heart can be made with fat quarters or fat eighths depending on how much variety you want. I really love it in Love Note with the "Alcott Text" print as the border.
---
Hope you enjoy this collection! Which quilt would you make? Let me know in the comments!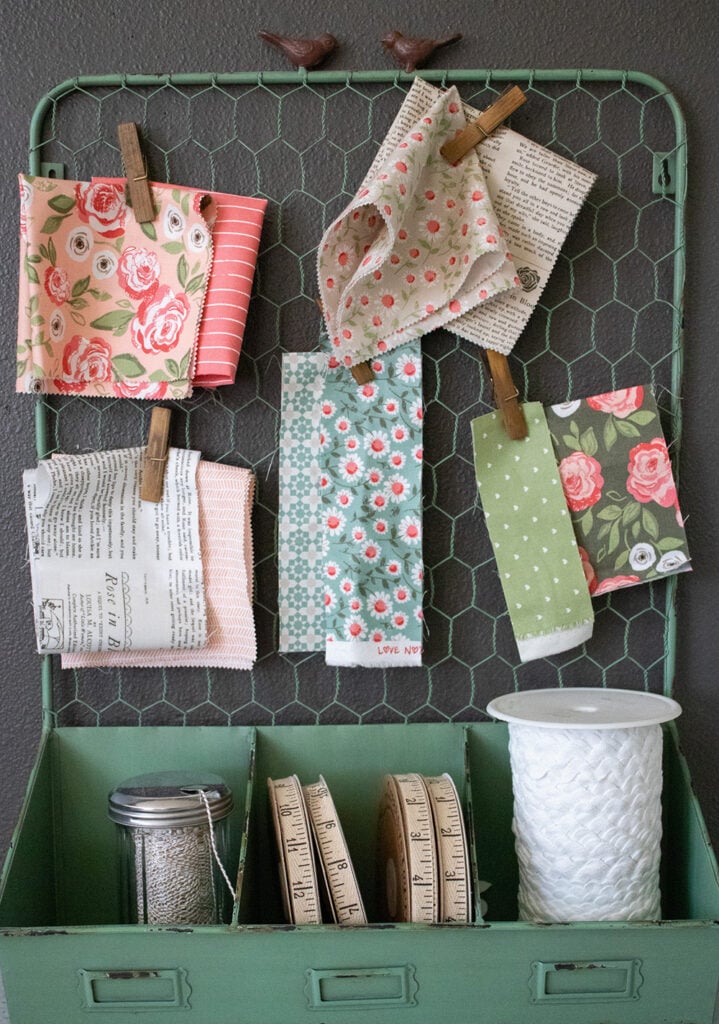 ---
Like this post? Drop your email in the box below to get new post notifications via email.