FREE! Smart Cookie Quilt Pattern Download in Flower Pot Fabric
When fabric matches your living room, the natural thing is to make a quilt, yes? I'm talking about my upcoming Flower Pot collection (arriving April 2021) and I already have a plan. After auditioning a Jelly Roll in my Smart Cookie Jelly Roll design, I'm ready to start cutting! The Smart Cookie pattern is found in my book, Jelly Filled – 18 Quilts from 2-1/2″ Strips (Stash Books). It's also available as a free PDF download, thanks to my publisher! You can access a copy below: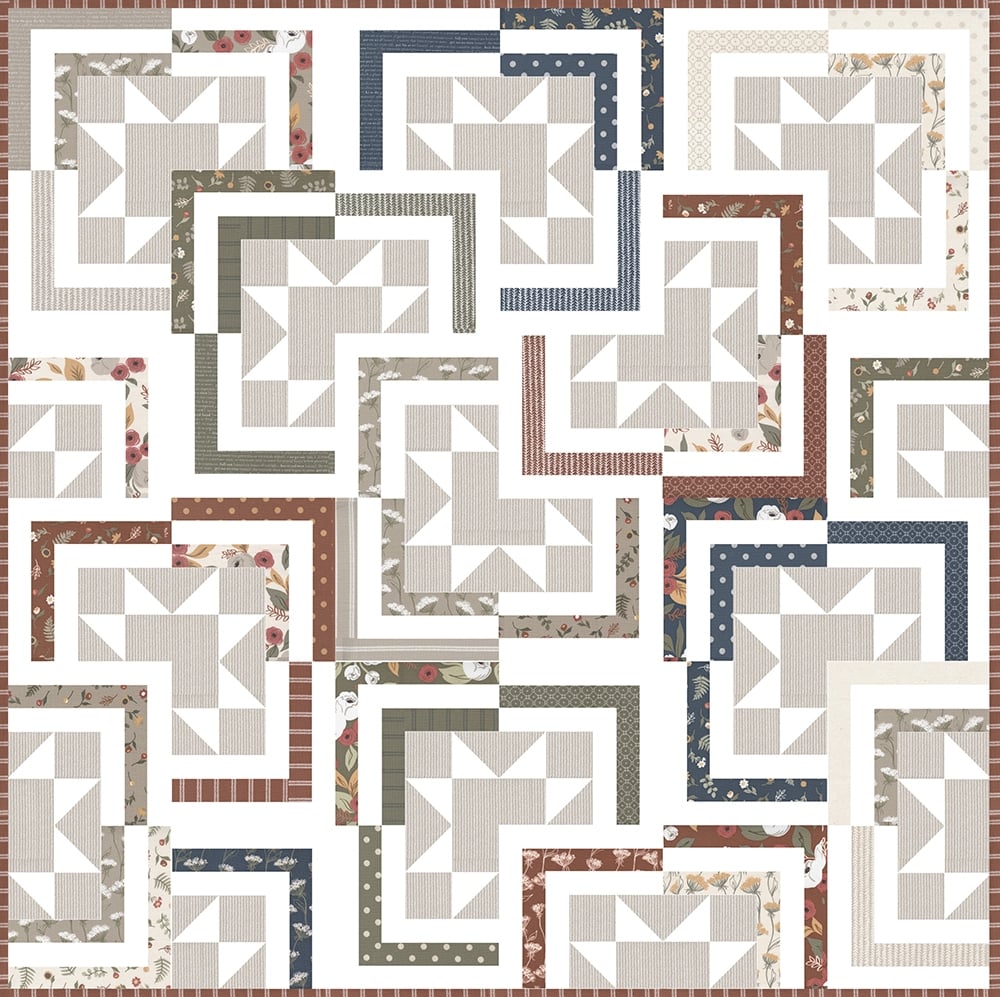 ---
The Smart Cookie Block Guide
This quilt design contains 2 different block variations of a [modified] log cabin block. (See examples of Block 1 & 2 below.) The blocks are made from 1 Jelly Roll (40 strips 2-1/2″ x 40″) + 1 fat quarter (to give you a total of 42 strips total). For a less scrappy look, you can use 12 fat quarters instead.
Before you begin cutting, you will need to sort those strips and decide which print should go where. It's helpful to read through all the cutting instructions before beginning but I'd like to provide an visual.
BLOCK 1: This block uses 1 Jelly Roll "A" strip per block. Select 24 strips for 24 blocks.
BLOCK 2: This block uses 1/2 Jelly Roll "B" strip + 1 Jelly Roll "C" strip. (Each "B" strip will be shared between two blocks.) Select 4 Jelly Roll "B" strips, knowing

each will be used twice

in the designated (inner) print areas of Block 2. (I've provided two examples of Block 2 above so you can see the "B" print doubled up; refer to the quilt mockup for more examples.) The Jelly Roll "C" placement is much more straightforward. Select 12 strips, each to be used in the designated outer print area of Block 2.
Understanding this placement will help you select your fat quarter print. The fat quarter will yield the equivalent of (2) Jelly Roll "B" strips to be added to the others. This means the fat quarter print shows up in that "B" area for (4) blocks (of the Block 2 type). I selected the "Queen Anne Meadow" print in Taupe (5161 14) for mine–check out to see where I plugged that into the mockup. I chose this print first and built the other strip placement choices around that.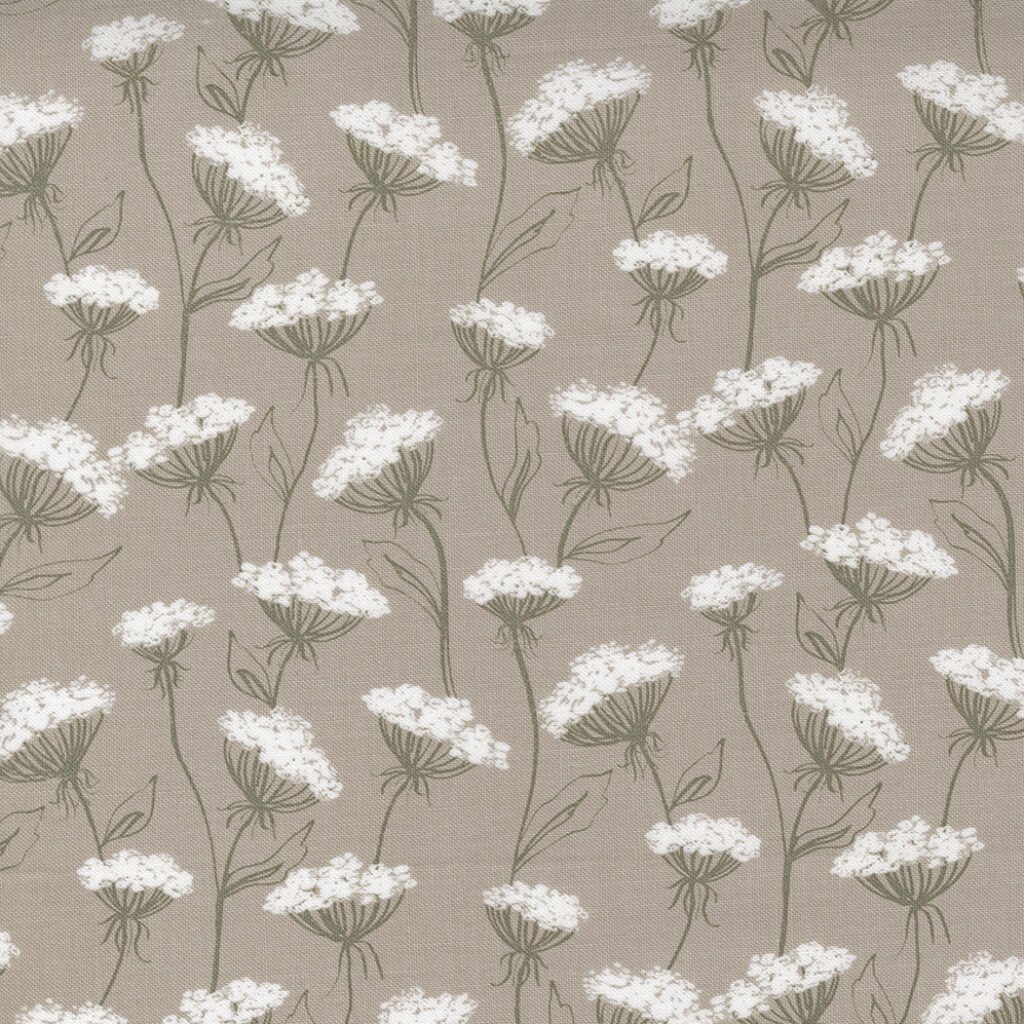 ---
Materials Needed
Here's what you'll need to make my version in Flower Pot fabric:
Finished block: 14″ x 14″
Finished quilt: 84″ x 84″
1 Jelly Roll (40 strips 2-1/2″ x WOF) + 1 fat quarter
-OR- 12 fat quarters (for a less scrappy look)
2 yards accent fabric for sawtooth stars (SKU 5165-14 "Sprout" in Taupe)
3-3/8 yards white background (SKU 9900 98)
3/4 yard binding fabric (SKU 5167-15 "Garden Row Stripe" in Clay)
6-1/2 yards backing fabric (I'm going to use SKU 5161-11 "Queen Anne Meadow" in Ivory)
92″ x 92″ batting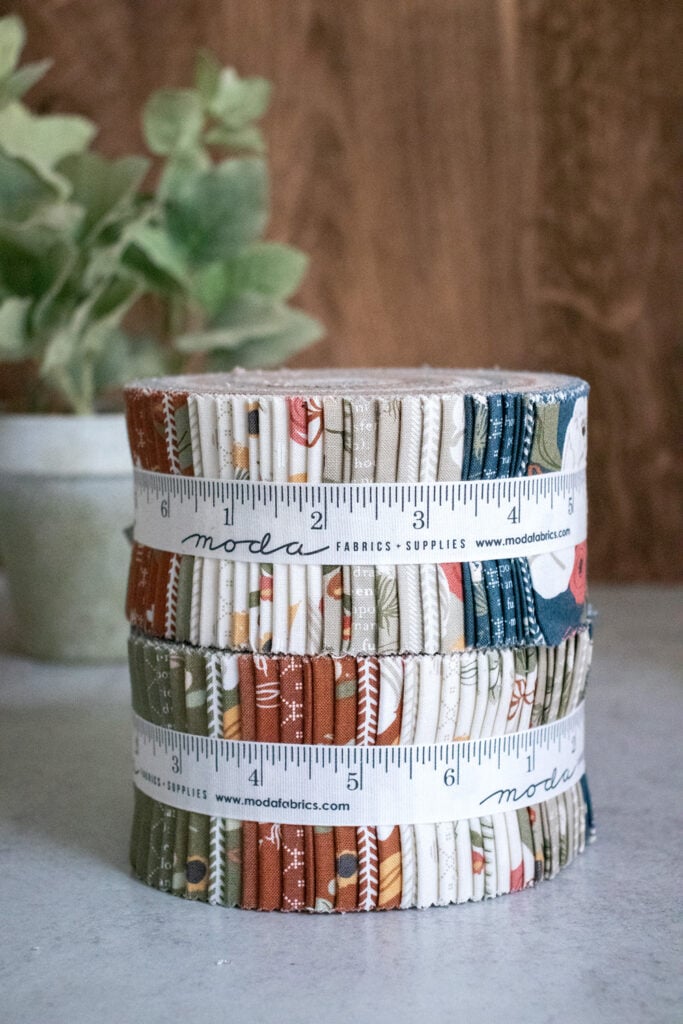 If you think you'd like a kit, now is the time to talk to your favorite local or online quilt shop so they are able to order it. Do you like making log cabin blocks? Let me know in the comments.
---
Like this post? Drop your email in the box below to get new post notifications via email.