Gift Swap Quilt in Holiday Classics Fabric by Rifle Paper Co.
Here it is, almost a week after Thanksgiving, and my Christmas tree is still not up. Am I the only one who didn't set it up immediately following Halloween? (Maybe tonight will be the night!) I HAVE, however, gotten quite a few Christmas quilts out and ready for snuggling – including the newest addition, Gift Swap. You may remember when I was working on this one during a little Christmas in July sewing back in this post here.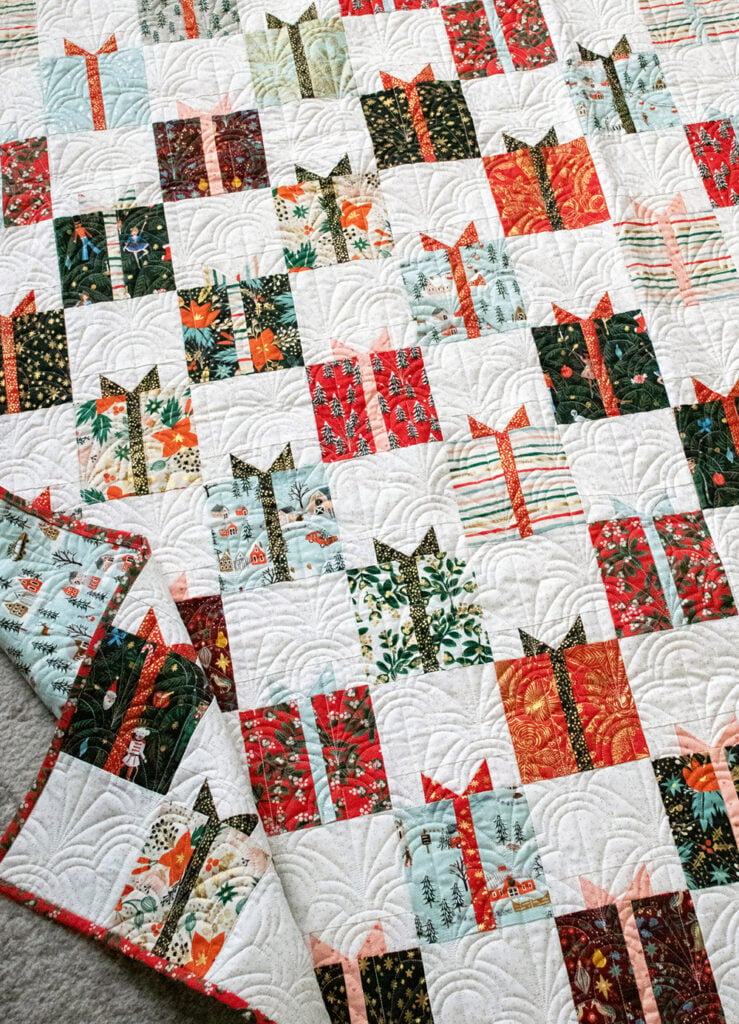 I broke a few rules making this Gift Swap. That is, I deviated from my own pattern instructions (gasp!). Once all the blocks were laid out, I decided I wanted it a teensy bit bigger! I basically went ahead and added 2 extra rows + 2 extra columns. Where the original pattern version finishes at 54-1/2″ x 63-1/4″ the extra blocks made mine finish at 63-1/2″ x 72-1/4″.
Make it Bigger
I thought I'd share the information here for anyone else who'd like to make a bigger version. Of course, there are no real rules, you can make it even bigger by adding more blocks or a border or both. The options are endless. First, you'll need a copy of the pattern: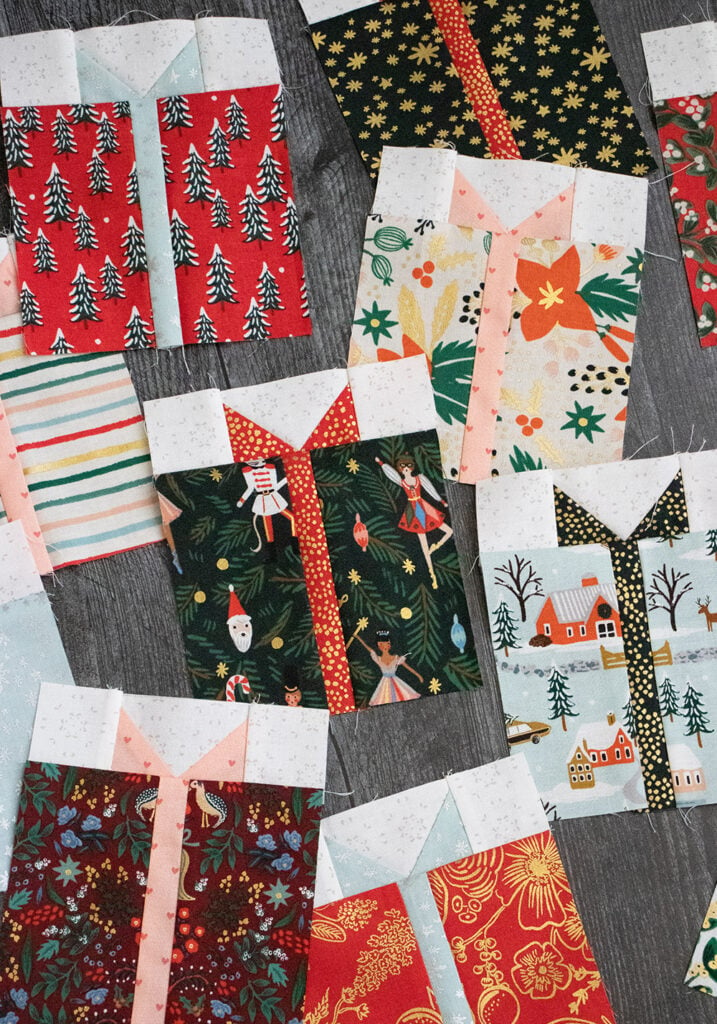 The following are the deviations from the pattern instructions to make the bigger size. Hope this helps!
Materials List
Finished block: 4-1/2 " x 5-5/8"
Finished quilt: 63-1/2″ x 72-1/4″
3 charm packs (112 squares 5″ x 5″) -OR- 14 fat quarters -OR- scraps (112 squares 5″ x 5″)
10 fat eighths -OR- 5 fat quarters
2-7/8 yards background fabric
5/8 yard binding fabric (8 strips)
4-1/2 yards backing fabric
72″ x 81″ batting
Adjustments to Cutting
Step 1: From the charm packs, fat quarters, or scraps: Cut (112) A rectangle pairs instead of (84).
Step 2: You'll be cutting the same amount of units per fat eighth/fat quarter – just more sets depending on if you are using fat eighths or fat quarters.
Step 3: From the background fabric (Step 3), cut the following:
(2) strips 5″ x WOF. Subcut (14) E squares (7 per strip).
(13) strips 3-7/8″ x WOF. Subcut (98) F rectangles (8 per strip).
(5) strips 2-3/4″ x WOF. Subcut (112) G rectangles (24 per strip).
(10) strips 1-5/8″ x WOF. Subcut (224) H rectangles (24 per strip).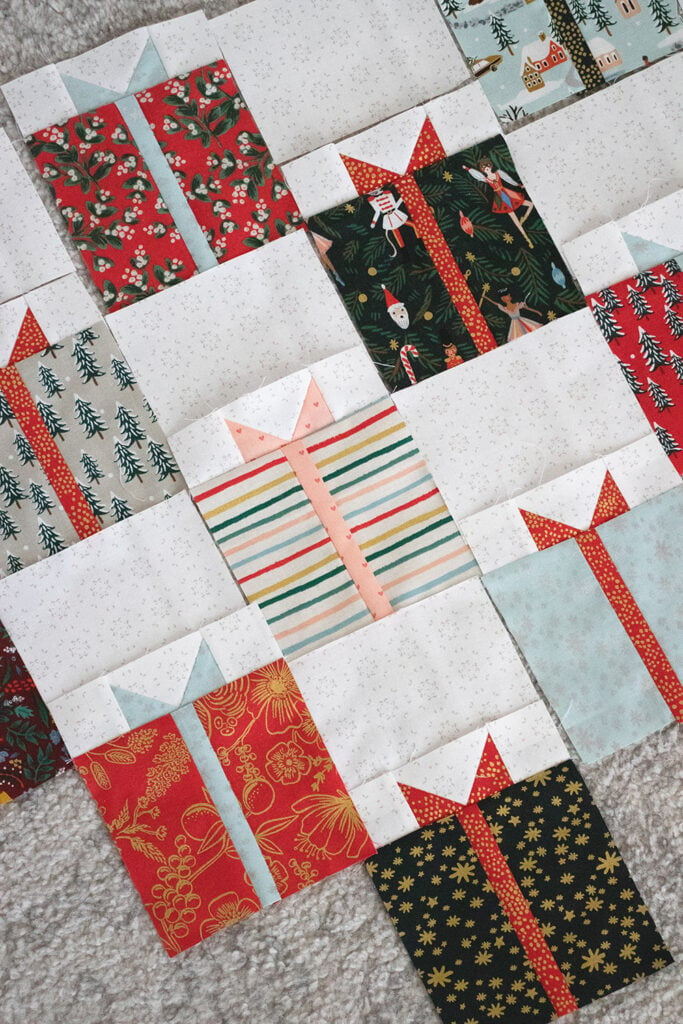 Adjustments to Construction + Quilt Top Assembly
Make (112) gift box blocks instead of (84)
Arrange (112) units into (16) rows of (14) – each row having a combination of 7 gift blocks + 7 spaces between the blocks to form the checkerboard formation.
Fill in (7) E squares to each top and bottom row. Fill in (98) F background rectangles into the remaining spaces.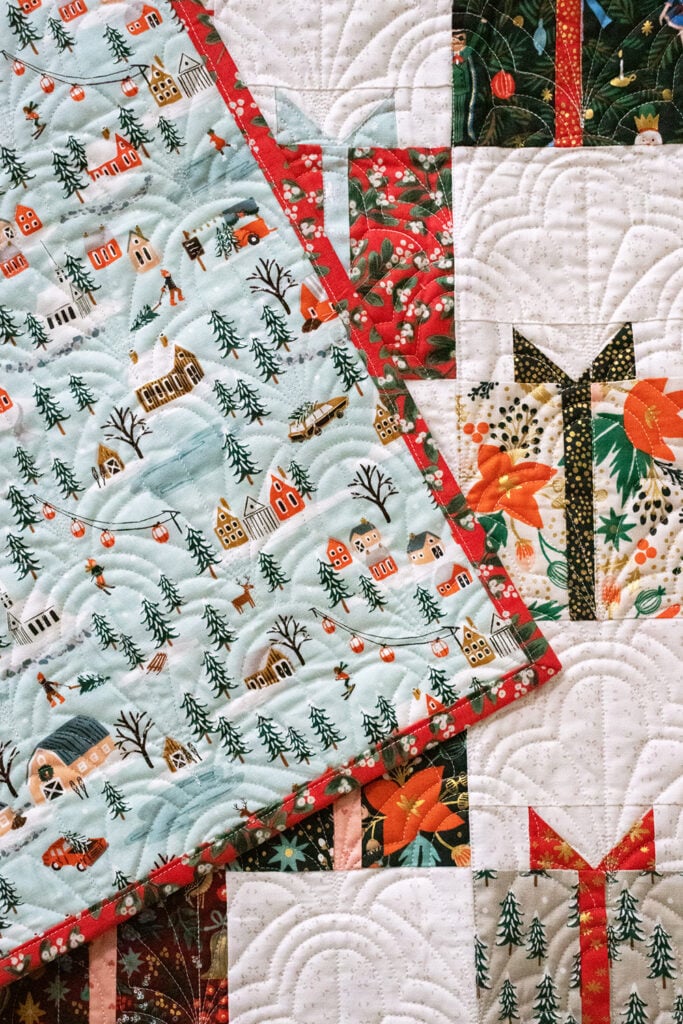 Quilt Details
I absolutely adore the quilting Kaitlyn picked for this one. She always chooses such interesting designs and I am here for it. Here are all the details about this quilt's finishing details:
Pattern: Gift Swap by Lella Boutique
Pieced by: Vanessa Goertzen of Lella Boutique
Fabric: Holiday Classics by Rifle Paper Company
Quilting: by Kaitlyn Howell at Knot and Thread Design. She used the pantograph "Clam Glam Deco" by Karlee Porter.
In case you missed it, I mocked the quilt up in Christmas Morning fabrics. You can get all the details (i.e. the full materials list including SKUs) in a post here. It's basically a mini (charm pack vs Layer Cake) version of the Nice List quilt – Santa's definitely crushing on this one.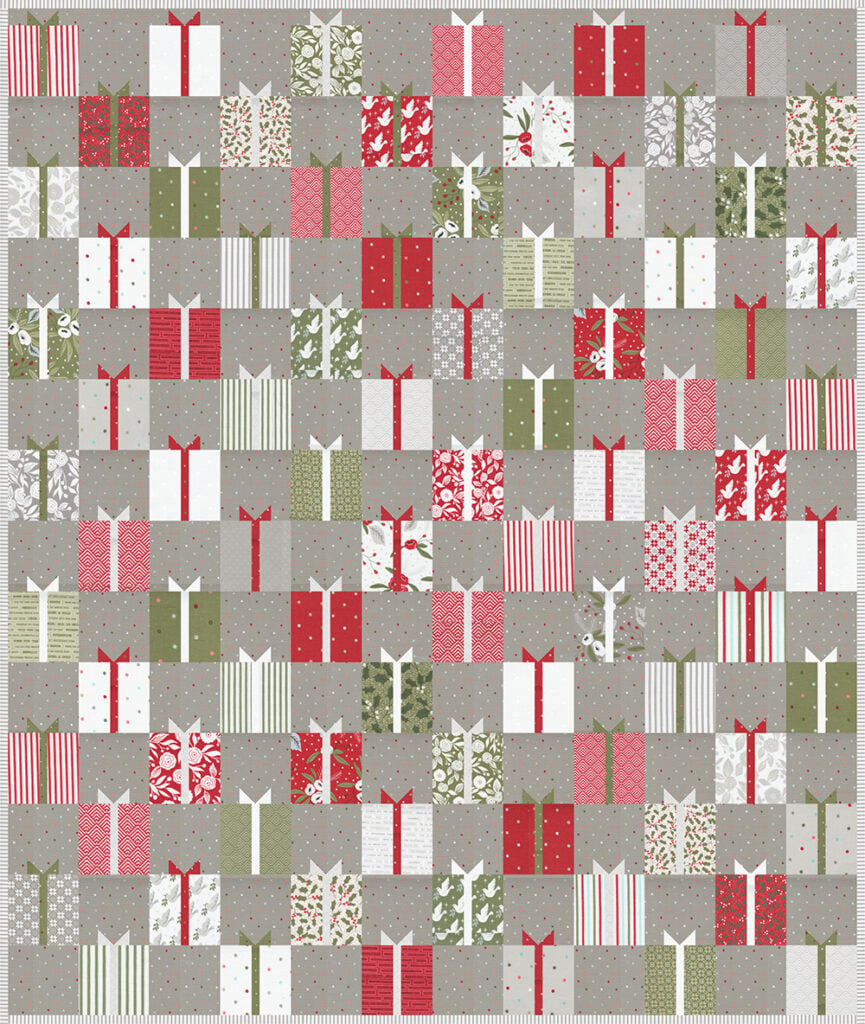 I've also seen a few people making it with a black background. How gorgeous is this??
---
Like this post? Drop your email in the box below to get new post notifications via email.