Haven Fat Quarter Quilt in Love Note Fabric
This is a quilt that feels like home. It's the Haven quilt – a new fat quarter quilt made in my upcoming Love Note fabric collection coming to shops in November 2021. I decided to highlight the beautiful greens, taupes, and blues this time around.
Haven Fat Quarter Quilt
Materials Needed
To make this quilt in Love Note fabric like I did, check in with your favorite local or online shop to request a kit reservation! Here are all the details of this quilt design + what you'll need to make it:
Finished block: 21″ x 21″
Finished quilt: 75-1/2″ x 75-1/2″
(9) fat quarters (SKUs 5150-14, 5150-17, 5151-12, 5151-17, 5152-21, 5154-12, 5154-14, 5155-14, 5156-12)
2 yards taupe accent fabric (SKU 5154-11)
2¾ yards white background fabric (SKU 5155-21)
2 yards sashing fabric (I used the background print again – SKU 5155-21)
(1) fat quarter sashing block fabric (SKU 5156-17)
⅝ yard binding fabric (SKU 5152-21)
5 yards backing fabric (SKU 5156-17)
84″ x 84″ batting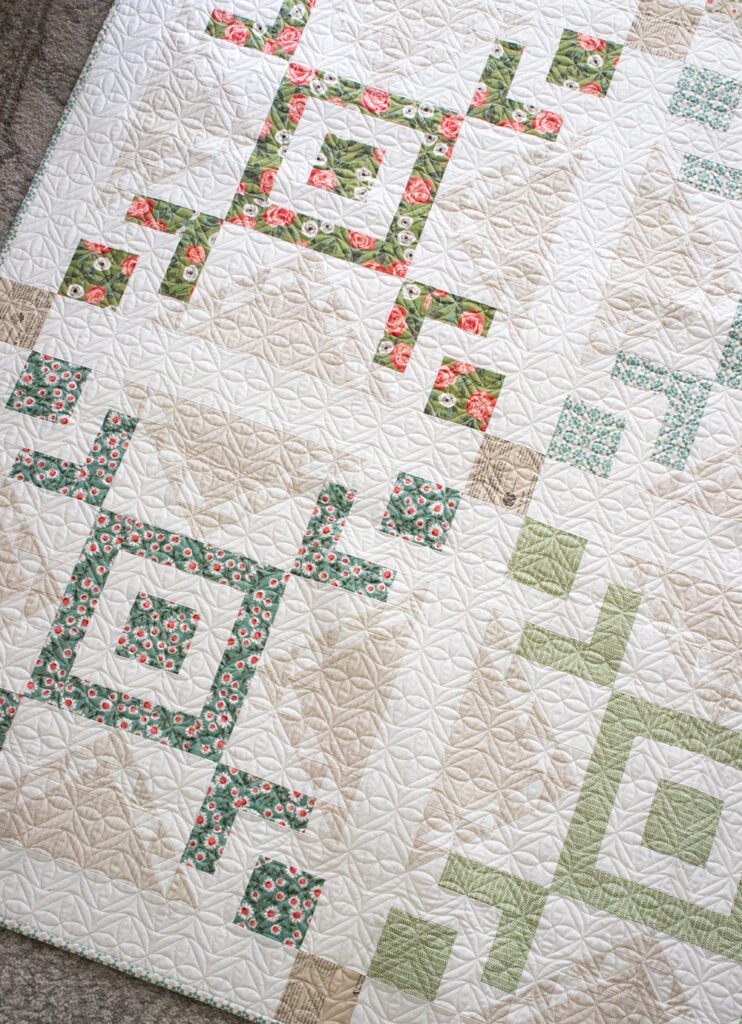 Piecing & Quilting Details
Pattern: Haven by Lella Boutique
Fabric: Love Note by Lella Boutique for Moda Fabrics (arriving to shops November 2021)
Pieced by: Vanessa Goertzen (me)
Quilted by: Marion Bott. Pantograph is

"Arbor" by Leisha Farnsworth

.
Fun fact – the Rose in Bloom block of the month quilt layout is very similar to this block layout – and bigger! Both projects use lots of half-square triangles to form the same traditional-looking, star-shaped base. My biggest tip for both of these projects is to take the time to trim the half-square triangles. The ones in this Haven quilt are 2″ x 2″ unfinished so it does take a bit to get them all trimmed, but well worth it!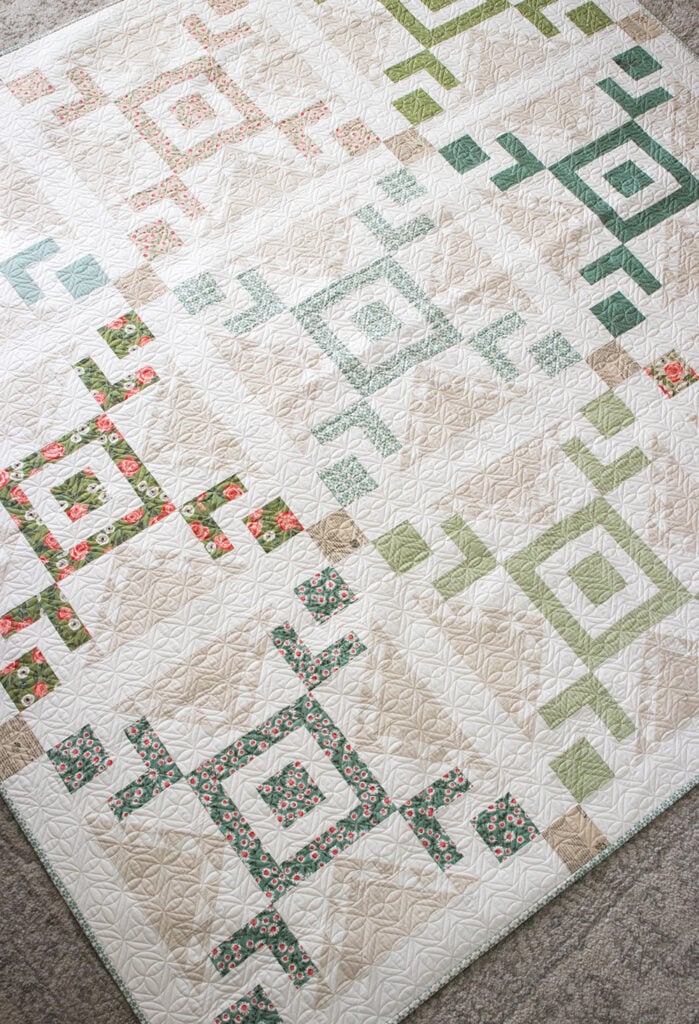 As always, the pattern is available in the shop as a PDF download or printed booklet.
Have you made a fat quarter quilt before? Let me know in a comment below!
---
Like this post? Drop your email in the box below to get new post notifications via email.