Shuffle Pinwheel Quilt in Love Note fabric
It started with a couple Moda charm packs and became a sea of pinwheels. Finally finished, it's the Shuffle pinwheel quilt in Love Note fabric.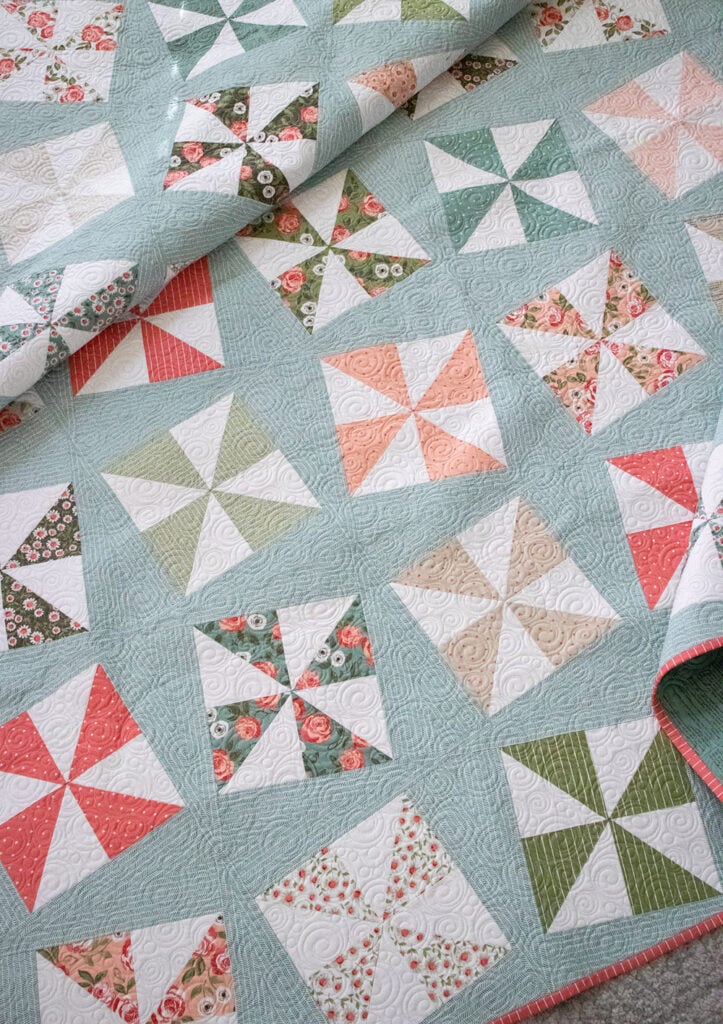 Shuffle Pinwheel Quilt
Precut Friendly
I pieced this wonky little pinwheel quilt using 2 charm packs of Love Note fabric (arriving to shops November 2021). It is recommended to use 2 charm packs of the same collection to keep each pinwheel block of the same print. Otherwise, mixed charm packs will result in mixed-print pinwheels.
If you don't have charm packs on hand, you can substitute 1 Layer Cake (precut squares 10″ x 10″), 11 fat quarters, or even 1 Jolly Bar (a Fat Quarter Shop exclusive – precut rectangles 5″ x 10″). Or maybe you'd like to make your own charm packs from scraps in your stash. Just be sure to collect 42 pairs of matching 5″ squares.
If you want to make one just like mine in Love Note fabric, here's your shopping list:
Materials List
Finished block: 11″ x 11″
Finished quilt: 66″ x 77″
2 charm packs of Love Note fabric (84 squares 5" x 5")
OPTIONAL: 1 fat quarter for charm alternative (I used SKU 5155-15 "Lovey Dot" in Tea Rose to replace some of the near-white charm prints)
1⅔ yards white fabric (SKU 5155-21 "Lovey Dot" in Cloud)
2½ yards background fabric (SKU 5154-12 "Herringbone" in Dusty Sky)
⅝ yard binding fabric (SKU 5153-15 "Distressed Stripe" in Tea Rose)
4½ yards backing fabric (SKU 5156-12 "Alcott Text" in Dusty Sky)
74" x 85'' batting
---
Partial Seams Technique
The Shuffle quilt's skill level lies somewhere between beginner and intermediate. The pinwheels are made with a half-square triangle method – a beginner method. The wonky pinwheels get their off-kilter look by sewing triangle units around the perimeter using a partial seam technique. (This is not as scary as it sounds, trust me! In fact, I think it's extra fun because of how 'different' these blocks are to make.) Here's the gist of what sewing with partial seams looks like for this block:
1. After the pinwheel blocks are assembled, bring 1 triangle wedge right sides together with 1 pinwheel block. Aligning raw edges on the left side, begin stitching–stopping to leave the last 2″ of the pinwheel block unsewn. Press the partially stitched portion of the block.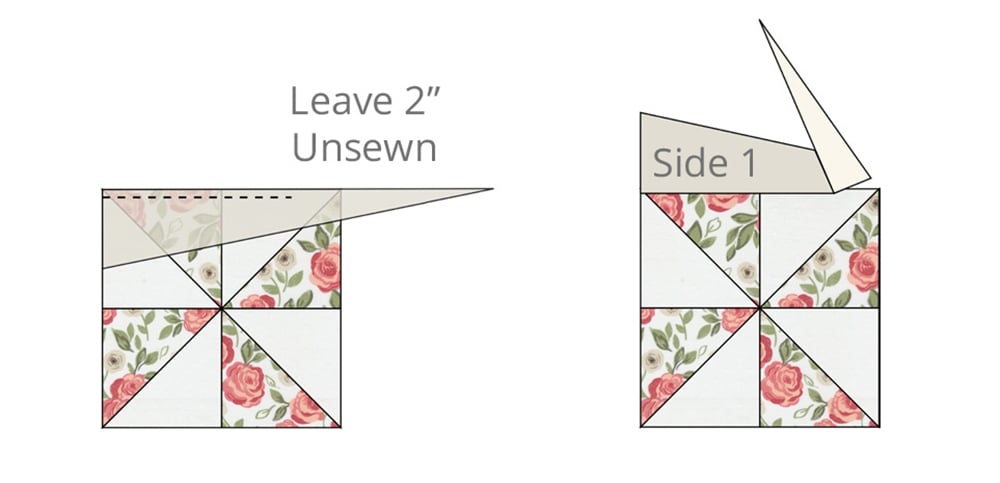 2. Rotate the block clockwise and add the next triangle wedge ("Side 2"), sewing all the way across. Press. Repeat (i.e. rotate clockwise, add the next triangle, and press) until you are back to the beginning ("Side 1"). Now you can finish stitching the Side 1 triangle all the way across! From there, square up the block to get rid of the little tails. Pretty neat if you ask me!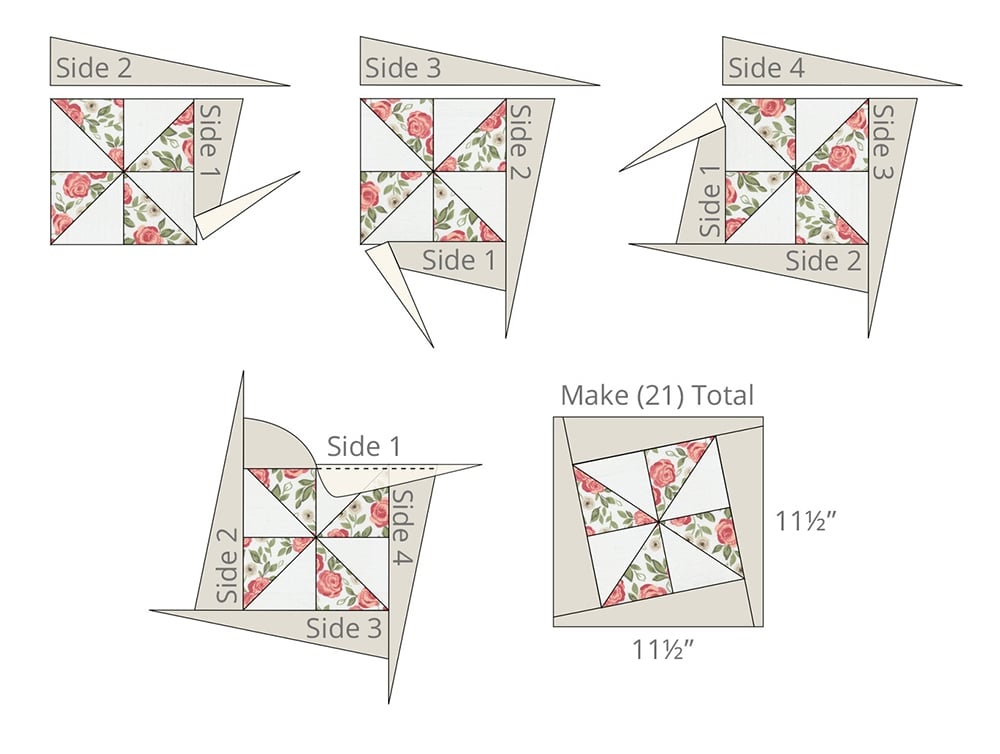 3. Make (21) blocks that lean to the left as demonstrated above + (21) blocks that are mirrored (i.e. lean to the right) The construction for those mirrored blocks is similar but of course the pattern contains the full instructions.
---
The Quilt Details
Pattern: Shuffle by Lella Boutique
Fabric: Love Note by Lella Boutique for Moda Fabrics
Piecing: Vanessa Goertzen
Quilting: Marion Bott
Pantograph: "Kaleidoscope" from Digitized Quilting Patterns
I hope you found this post helpful! If you have any questions, be sure to ask in the comments below!
---
Like this post? Drop your email in the box below to get new post notifications via email.