Sewcialites Quilt Along: Rose in Bloom Quilt Layout
FRIENDS. I'm so excited to finally share my layout plan for the Sewcialites Quilt Along. For those of you unfamiliar with Sewcialites – it's a free block of the week project by Fat Quarter Shop. It features 36 blocks from various designers with new block releases every Friday since it started last September. It will wrap up in just a few short weeks! (To check out my individual Sewcialites blocks, visit the posts here.)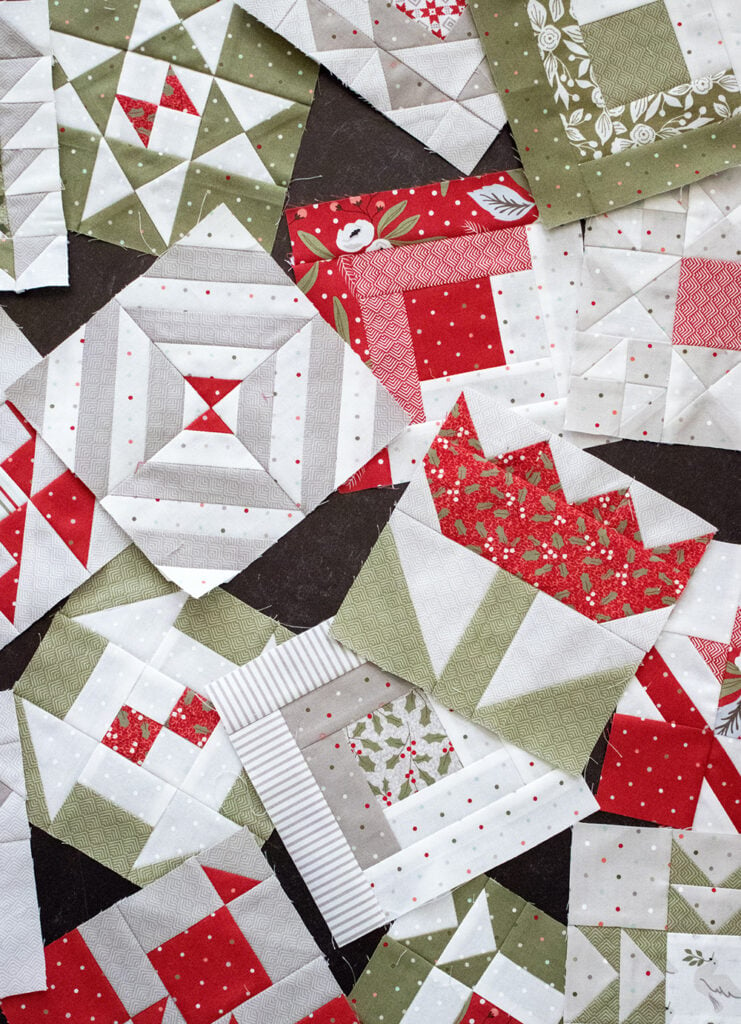 Sewcialites Quilt Along: Fabric + Color Groupings
I jumped into the Sewcialites Quilt Along late–but finally caught up! I'm making the 6″ finished block size and using Christmas Morning fabric (in shops July). The plan has been to make 40 blocks total and organize them into the following color groupings: 10 red blocks + 12 green blocks + 16 grey blocks + 2 low volume blocks. This color breakdown will make more sense in a minute…
Sewcialites Quilt Layout
Ta da! I'm using the Rose in Bloom layout for my Sewcialites blocks. (Rose in Bloom is an upcoming block of the month book coming out later this year. It was created for my Love Note fabric collection, you can read full details about it here.) What is most pertinent is that the Rose in Bloom quilt layout features (40) 6″ sampler blocks arranged in a flower-inspired layout. It's easy to swap out those (40) 6″ sampler blocks – an thus, a great layout option for Sewcialites, Moda Blockheads, or any other 6″ sampler block programs out there.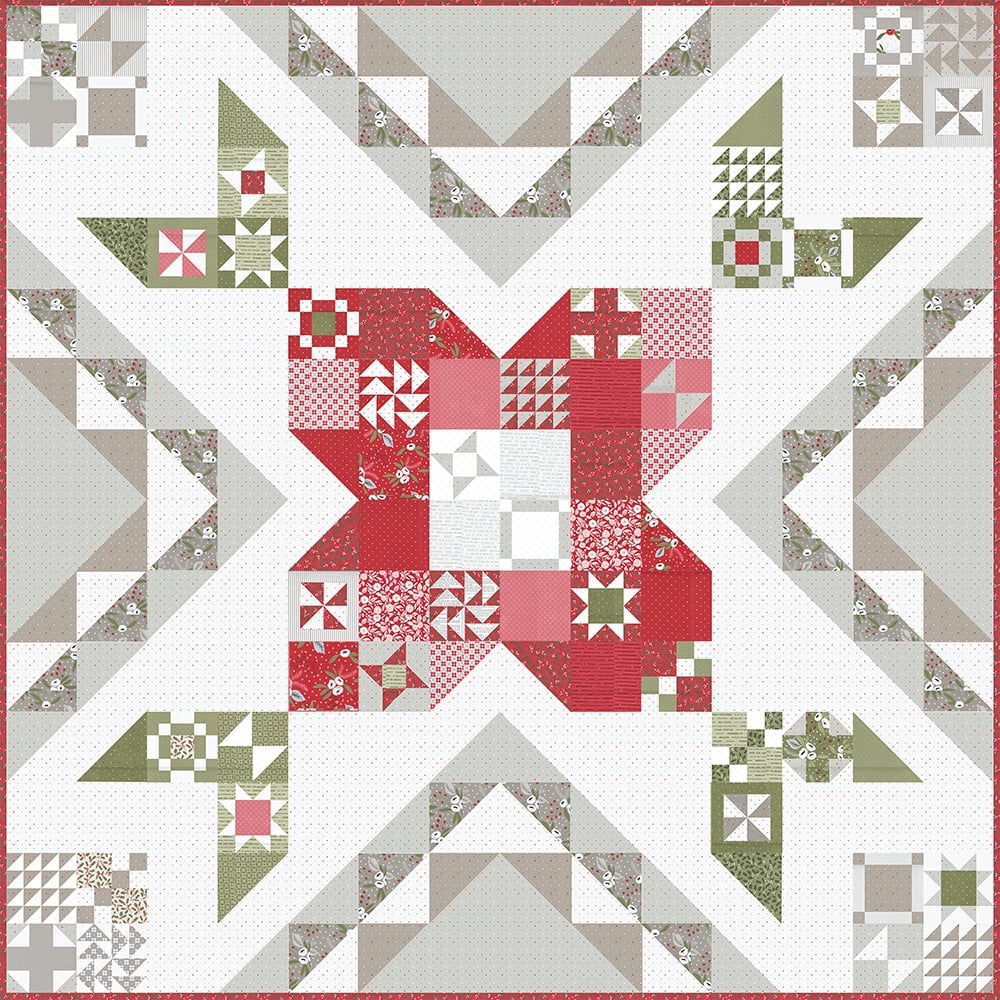 The Rose in Bloom book is anticipated to release November 2021… a bit of a wait, but I think you'll agree well worth it. I've put together a list of finishing materials for anyone who might like to make this in Christmas Morning:
MATERIALS NEEDED:
(40) sampler blocks (in a 6″ finished size)
3-1/2 yards white background fabric (SKU 5147-11)
3 fat eighths of red fabric 9″ x 20″ each (SKUs: 5143-16, 5145-16, and 5146-16)
4 fat quarters of red fabric 18″ x 20″ each (SKUs: 5140-16, 5142-16, 5144-11, and 5147-16)
4 fat eighths of green fabric 9″ x 20″ each (SKUs: 5142-14, 5144-15, 5146-14, and 5147-15)
1 fat eighth of a low volume print 9″ x 20″ (SKU 5145-11)
3/4 yard grey floral print (SKU 5140-13)
1-2/3 yards light grey dot print (SKU 5147-12)
1/2 yard dark grey dot print (SKU 5147-13)
7/8 yard binding (SKU 5142-16)
7-7/8 yard backing (TBA – I haven't decided which SKU)
92″ x 92″ batting
The Sewcialites Free Block of the Week Patterns:
Here's a complete archive of the 6″ sampler block patterns I used to make this project:
What do you think about this layout? Let me know in the comments!
---
Like this post? Drop your email in the box below to get new post notifications via email.