Christmas Morning Fabric by Lella Boutique
The long wait is coming to an end! My new Christmas Morning fabric collection is finally arriving to shops this week. I have had so much fun sewing with this collection and I just know you will too. To celebrate its arrival, I'm giving away a fat quarter bundle. (Entry details are at the bottom of this post!)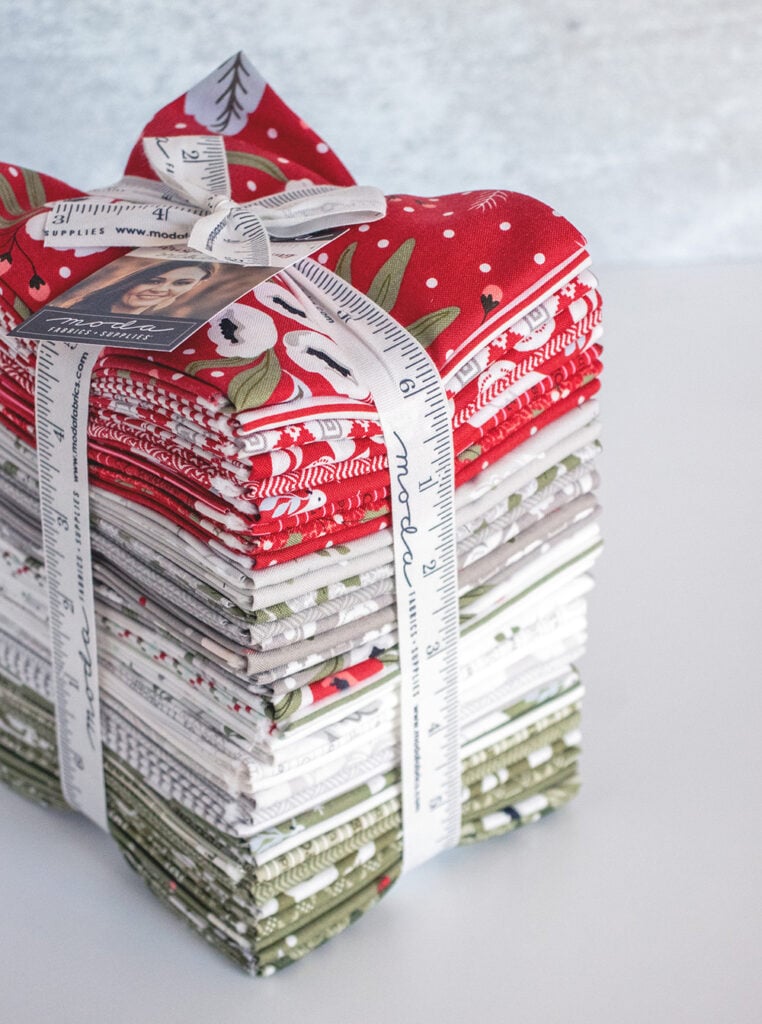 Christmas Morning Fabric
About the Collection
Christmas Morning has 35 SKUs in the collection. Check in with your favorite local or online shop to get yours today! In addition to yardage, Moda has the usual yummy precuts – fat quarter bundles, fat eighth bundles, Layer Cakes (precut 10″ square stacks), Jelly Rolls (precut 2.5″ strip bundles), Honeybuns (precut 1.5″ strip bundles), Charm Packs (precut 5″ square stacks), and Mini Charm Packs (precut 2.5″ square stacks). Read more about the inspiration behind the collection here. Here's a closer look at the SKUs:
There are already great near-solids within the collection that make great backgrounds, accents, and sashing prints. (The "Magic Dot" and "Comfort" prints are my very favorites!) These prints will sell out quickly – so be sure to stock up when you can and take note of the coordinating Moda Bella Solids and BasicGrey Grunges.
Peace on Earth Panel
Part of the Christmas Morning is a coordinating whole-cloth panel measuring 58″ x 69″. (The faux patchwork border is part of it.) I thought we all needed an extra dose of peace to wrap up in. This makes a quick and easy handmade gift – just quilt + bind + love… and don't forget one for you to keep.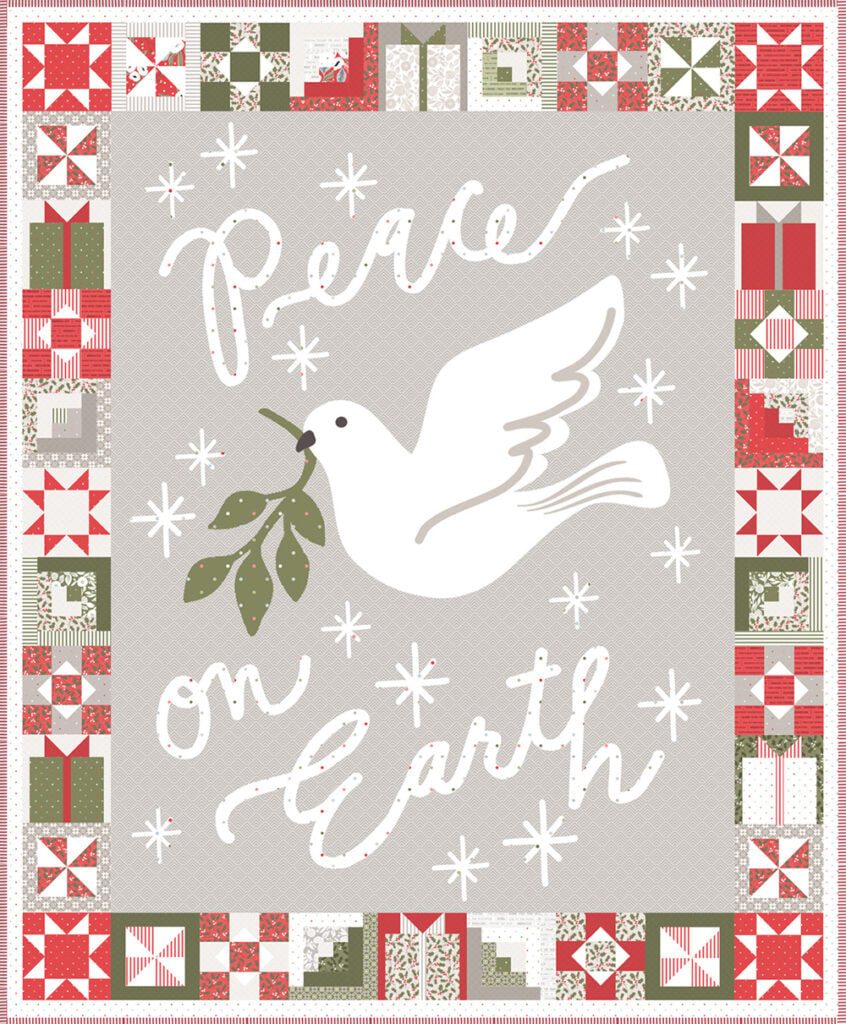 PS – if you've ordered one of these Peace on Earth kits from my shop, just a head's up that they will be shipping this week as soon as the yardage arrives and I can get them cut up and packaged up! (Thanks for your patience.) I should have a few extra panels and will list them as soon as the preorders ship out.
New Christmas Morning Quilts
I've stitched up 6 new quilts so far to show off the collection and will definitely be making more. Here's a little peek of each of them:
Well hello, scrappy Christmas tree goodness! The Yule Tree quilt is made with a combination of fat eighths + fat quarters + half-yard cuts. It is sure to put you right in the holiday mood!
Here's a quilt so fun to make, it is always at the top of Santa's "Nice List." The Nice List gift quilt is Layer Cake friendly and uses the grey "Comfort" (5146-12) for the background. This was a quick on to make and is beginner friendly. PS there is a charm pack version of this pattern (tiny gift blocks at 50% scale) called Gift Swap – check it out here.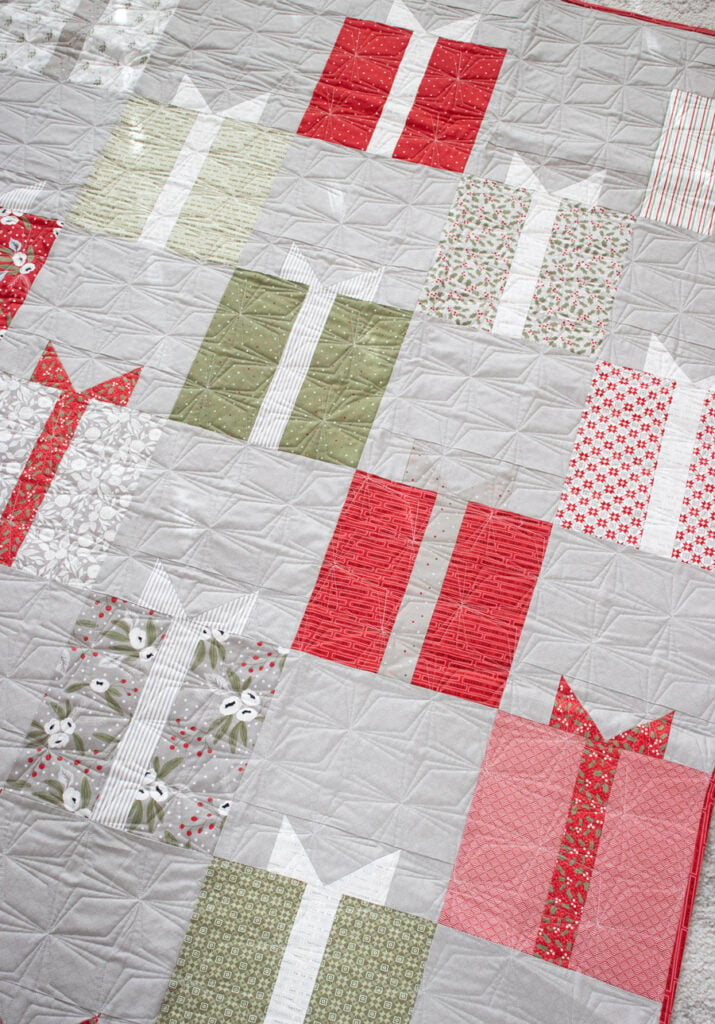 Gather around the fire and get cozy with a cup of hot cocoa while snuggling in this mesmerizing quilt. Kaleidoscope 2 is the Honeybun version (i.e. it uses 1.5″ strips) compared to the original Jelly Roll pattern (which uses 2.5″ strips). This means the quilt blocks are scaled down, and there are a lot more of them to smile at!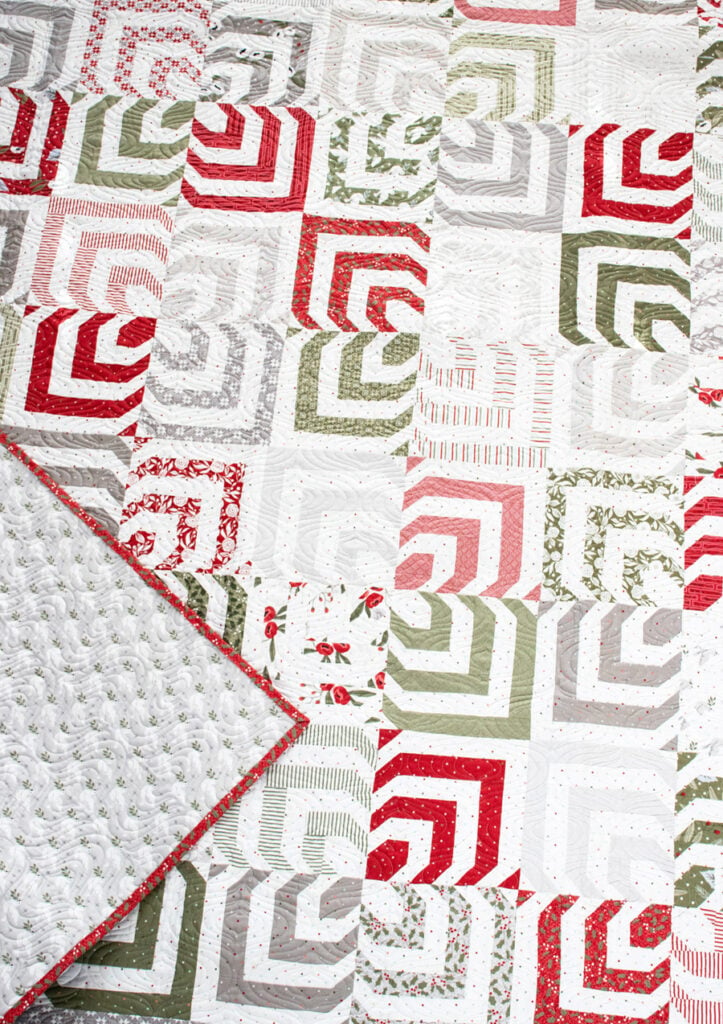 This is one of my oldest and most popular fat quarter patterns – given new life in the beautiful reds, greens, and silver prints the Christmas Morning collection has to offer. It's a beginner friendly quilt pattern too and comes together quickly.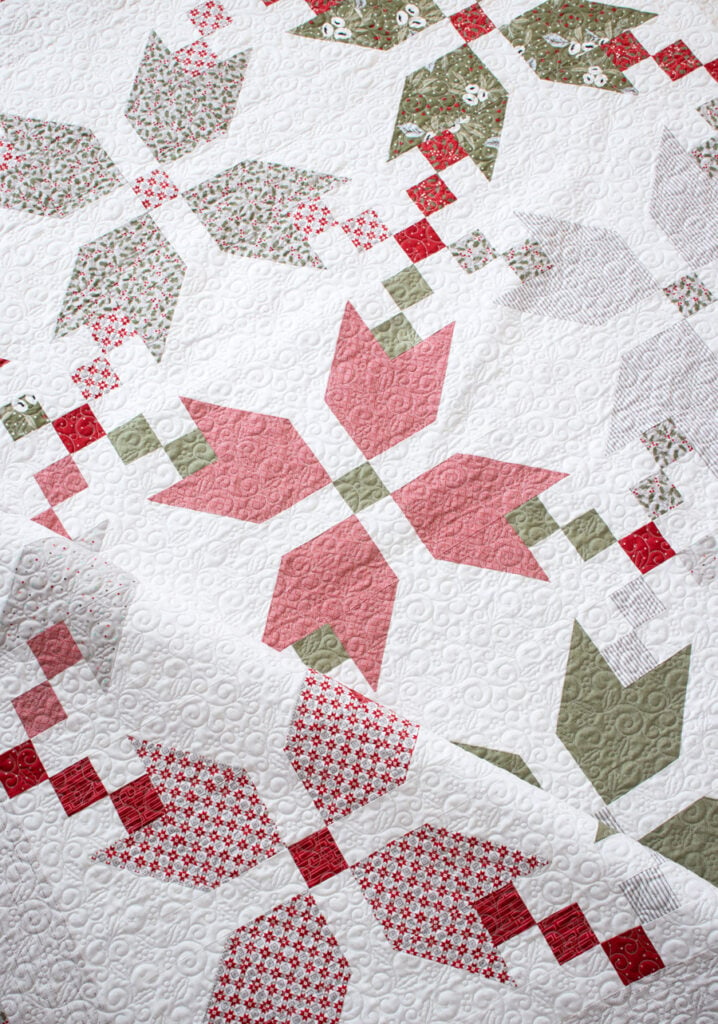 I couldn't resist making a Christmas version of this beloved new pattern, Lovey Dovey. It was originally created for my upcoming Love Note collection but as you can see is very versatile. This pattern is fat quarter friendly and more intermediate in skill level because of all the pieces.
Earlier this year, I participated in a free block of the week put together by Fat Quarter Shop called the Sewcialites Quilt Along. I made (40) 6″ sampler blocks total (doubling up on a few since there are only 36 block patterns) and set them in my own unique layout – one from my upcoming book Rose in Bloom Block of the Month. The quilt is finished – and you can be sure I'll post about it as soon as I can get it photographed.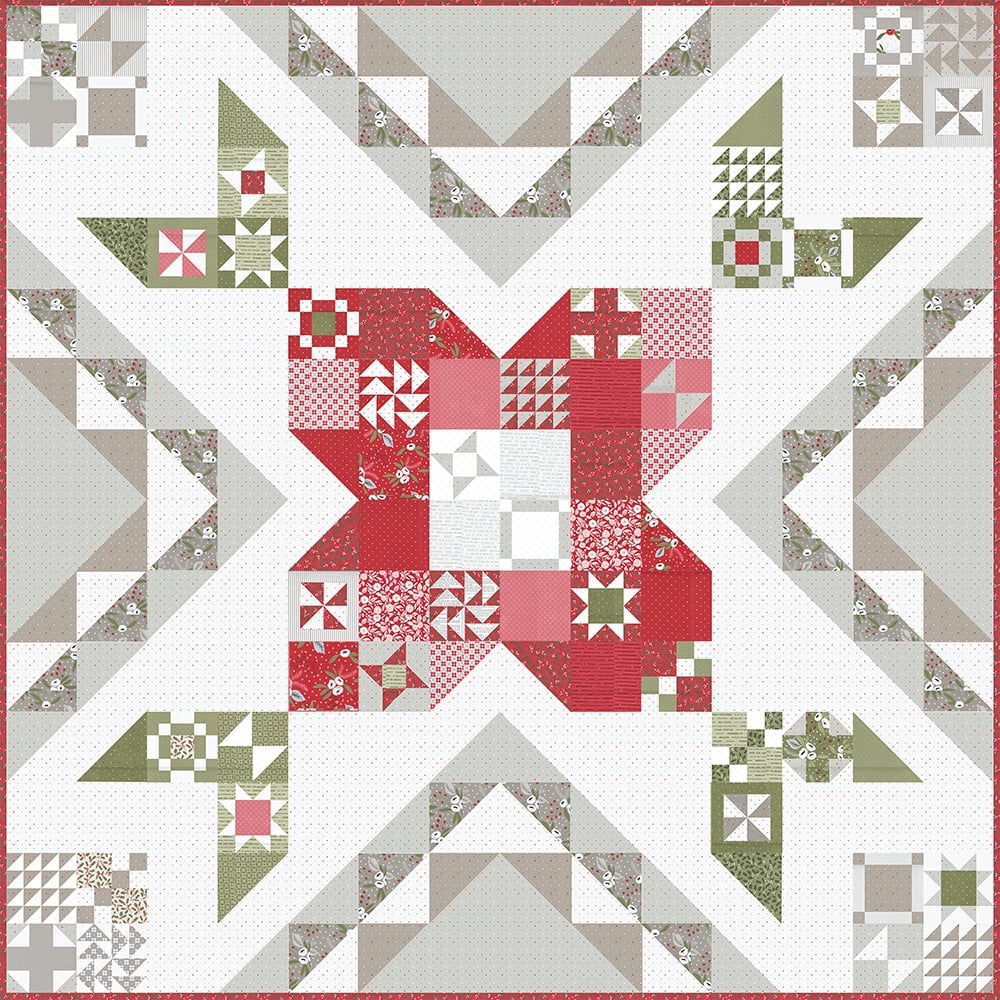 The Giveaway
***GIVEAWAY NOW CLOSED***
A fat quarter bundle of Christmas Morning is up for grabs! Here's how you can enter for a chance to win:
Subscribe to the Lella Boutique blog. If you haven't already done this, simply enter your email address in the box below. You can unsubscribe any time – but I think you will love getting updates on new fabric collections, quilt designs, tips & tricks, and shop discounts.
2. Leave a comment on this post letting me know which quilt is your favorite from the Christmas Morning collection shared in this post.
3. That's it! Winner will be announced next Monday 8/16/2021. ***UPDATE: Congrats, Debbie Allen!***
What do you like most about this Christmas Morning fabric collection? Let me know in a comment below!
---
Like this post? Drop your email in the box below to get new post notifications via email.