Lovey Dovey Christmas Quilt in Christmas Morning Fabric
Here's a Christmas quilt that is pure joy. It's my Lovey Dovey quilt pattern – designed for the Love Note collection (check out the original quilt here). I'm sure we can all agree it was destined to be made in my Christmas Morning fabrics! It's also $5 this month as July 2021's $5 Pattern of the Month! Who doesn't love a little Christmas in July?!
Lovey Dovey Christmas Quilt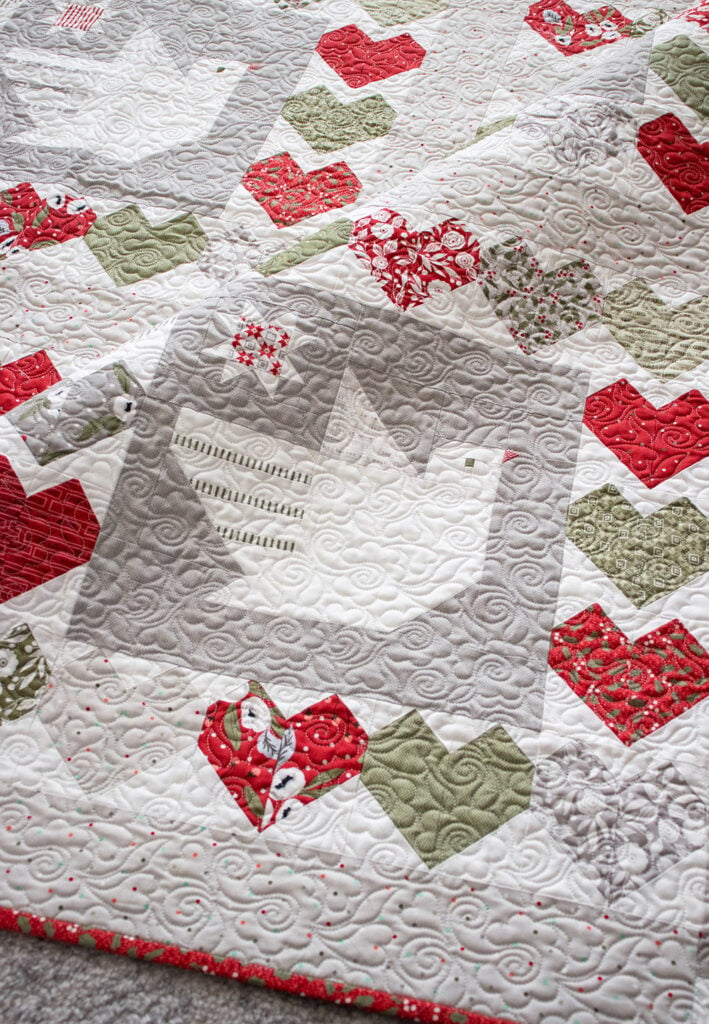 Lovey Dovey Inspiration
When I was working on the designs for the Christmas Morning fabric in 2020, I had the theme of peace on my mind. The doves made their way into one of the prints in the collection, as well as a whole-cloth quilt panel called "Peace on Earth." I wanted to create a dove quilt block as well – but ran out of time to make it happen for pattern deadlines. Luckily, I got a second chance a few months later when I began designing quilts for the Love Note collection – realizing the love theme was just as great an opportunity to make it happen. So it started with these dove blocks as you see them below. (Sidebar – these dove blocks could be really cute for a 4th of July quilt – maybe with striped blocks in between? I'll revisit this idea more thoroughly eventually *wink wink*).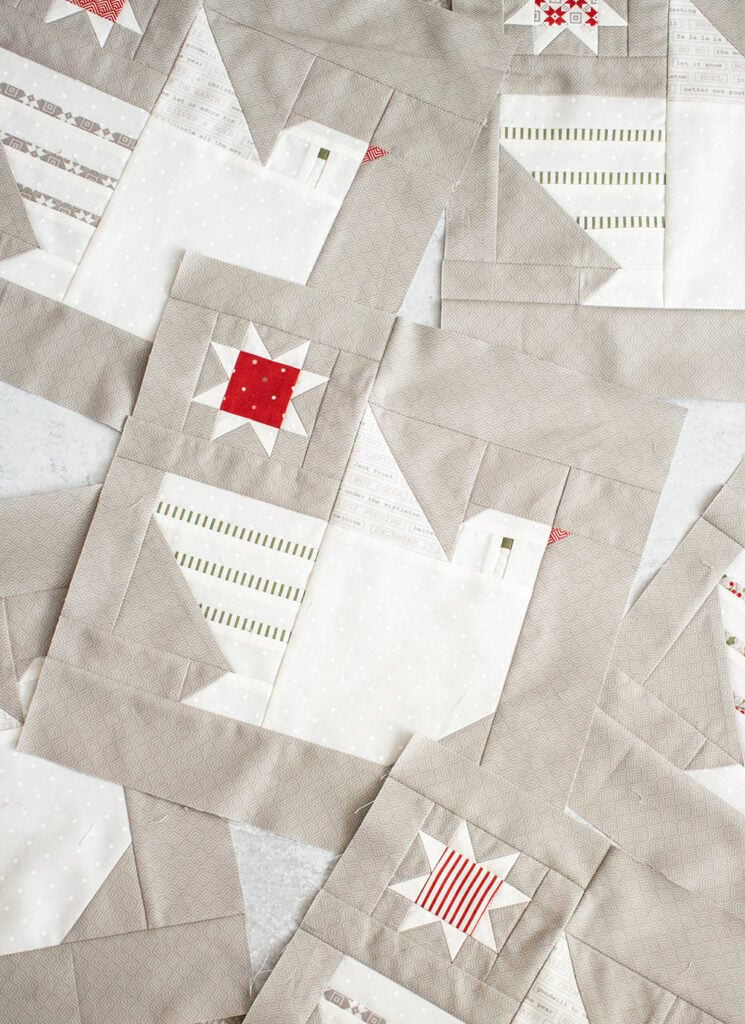 I played around with layout for a while – wanting to incorporate hearts so I could give it the "Lovey Dovey" name. At first, I alternated the doves with blocks featuring rows of hearts. It was pretty cute. But I kept playing around, eventually framing each dove block with the hearts as you see it below. It felt right! Now this Lovey Dovey quilt block is a big one – measuring 20.5″ x 20.5″ unfinished.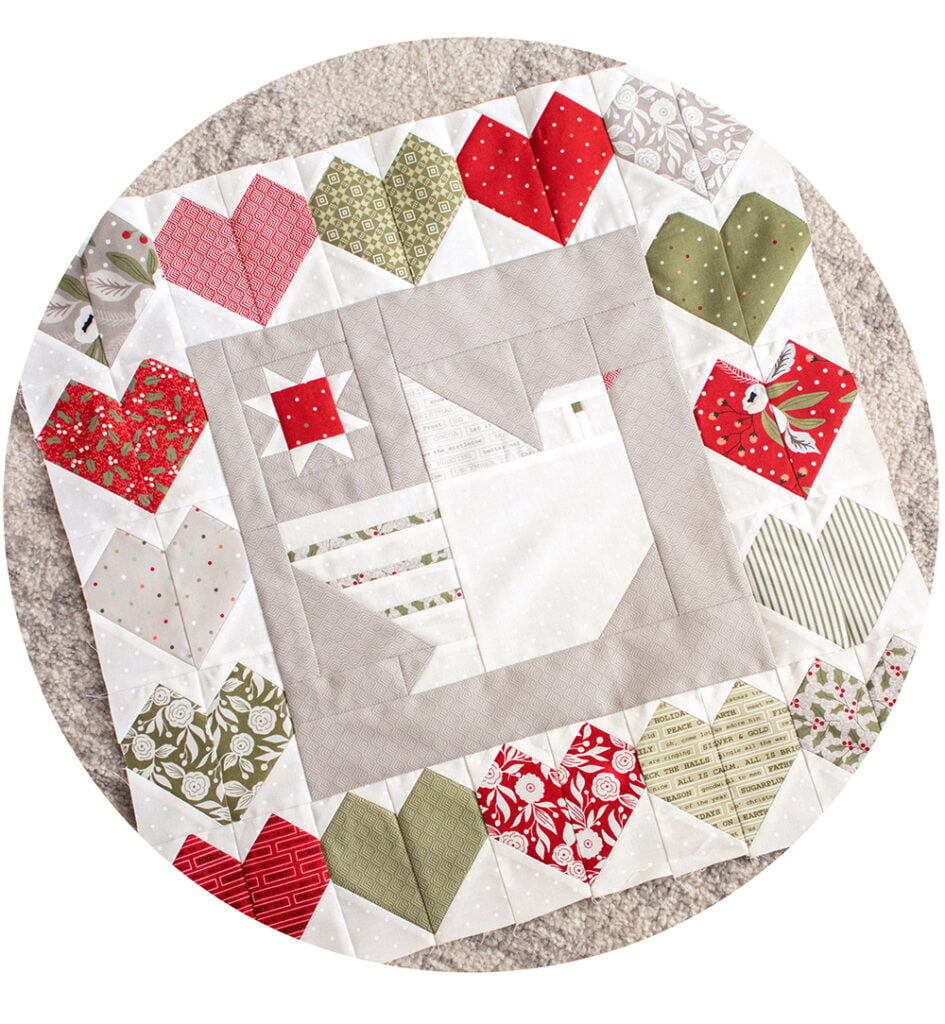 Materials Needed
Here is the full mockup of Lovey Dovey in Christmas Morning fabrics. If you'd like to make this exact version, here's what you'll need:
Finished block: 20″ x 20″
Finished quilt: 72-1/2″ x 72-1/2″
(16) assorted fat quarters for heart blocks (I used SKUs 5140-13, 5140-16, 5142-12, 5142-16, 5143-13, 5143-15, 5143-16, 5144-15, 5145-14, 5145-16, 5146-14, 5146-16, 5147-12, 5147-15, 5147-16, and 5148-15)
(1) fat eighth accent wing print (SKU 5145-11)
3¼ yards white fabric (SKU 5147-21)
1¾ yards grey fabric for dove background (SKU 5146-12)
2 yards light grey sashing fabric (SKU 5147-12)
(1) fat quarter sashing block fabric (SKU 5147-13)
¾ yard binding fabric (SKU 5142-16)
4½ yards backing fabric (SKU 5140-111)
81" x 81" batting
NOTE: Yardage calculations assume 41" WOF.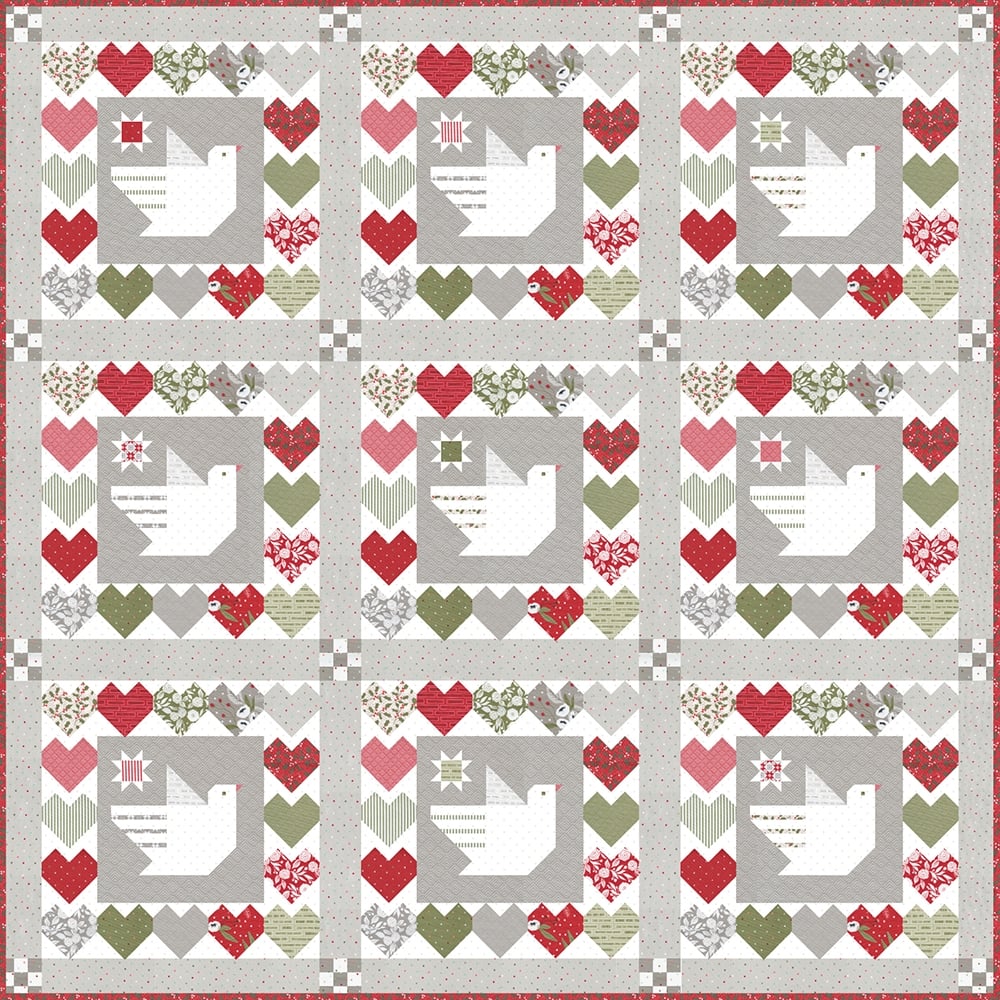 Piecing & Quilting Details
What do you think about this quilt? Will you make it? Let me know in the comments.
---
Like this post? Drop your email in the box below to get new post notifications via email.