Moda Blockheads 4: (Bonus Block 9)
Okkkkk now. This one is so cool. I'm catching up on blogging the bonus blocks for Moda Blockheads 4 free block of the week. Bonus Block 9 is "Galaxy." Aptly named as the design is 'out of this world.'
Bonus Block 9 "Galaxy"
Now I would highly recommend piecing this one using FPP (foundation paper piecing) similar to Block 24 "Outtakes" by Vanessa Christenson posted here. Even if FPP seems intimidating, I think you will actually love it if you give it a chance. The benefit of the FPP technique is you end up with flawless blocks every time. I would definitely recommend using an "Add a Quarter Plus" ruler like this one here for any FPP project.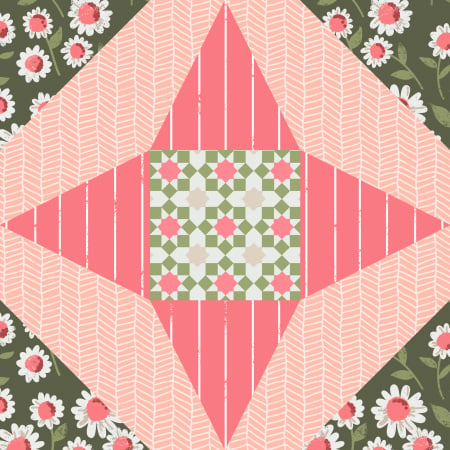 Fabric
I'm using Love Note fabric for the block up top. I really love a good fussy-cut center block, when possible and this geometric print is one of my favorites. I scaled the prints down more than usual – this would be more like what the 9″ finished size would look like. (Most of mine are scaled to mimic the look of the small 4.5″ finished block.)
These other two blocks are mocked up in Flower Pot fabric. I have mocked it up a couple different ways to bring out different looks in the block. I think I prefer the first one and think it would make such a lovely repeat design.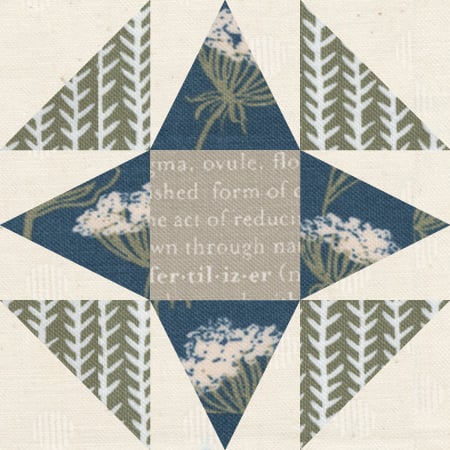 Quilt Along
For more information, check out my original Moda Blockheads 4 post about it here. If you scroll to the bottom of that post, you will find a running archive of blocks released thus far. You can also join the Moda Blockheads group on Facebook for lots of inspiration and a place to share your progress.
You can also get a peek of one of my Moda Blockheads 4 quilt layouts in my last post here. (I'll share specifics soon!)
Don't miss out on a single post! Drop your email address in the box below to get new post notifications by email.