Moda Blockheads 4: (Bonus Block 8)
Me again! I'm catching up on the FREE bonus block patterns for Moda Blockheads 4 free block of the week. I've been busy coming up with exciting new things – which means I haven't had much time to stitch up all these cute bonus blocks. Bonus Block 8 is "Sweet Treats."
Bonus Block 8 "Sweet Treats"
A tisket, a tisket, a super cute sweet basket? This was a fun one to play around with. This block mostly uses a half-square triangle (HST) technique. My only tip for making HSTs is to cut squares 1/2″ bigger than what the HSTs' "unfinished" size (whatever the instructions tell you they should end up measuring before sewing them into the block). I could have stuck with a single print for the HSTs, but I like making scrappy "basketfuls" insteads.
Fabric
The first block is mocked up in Love Note fabric. As always, if using unidirectional prints, pay attention when cutting. The same for piecing the HSTs – and it won't be possible to get them to all face in one direction so be advised that my mockups aren't completely accurate as far as that goes… if it bothers you, opt for multi-directional prints. 🙂
The following two blocks are mocked up in Flower Pot fabric. Again, the mockup can be misleading, in that, the traditional instructions will not accommodate unidirectional prints as shown. It could certainly be accomplished, and if you like the look enough to try to reproduce it – I'd cut double the amount of background squares, and cut them in half at the diagonal BEFORE sewing them together. (Do likewise with the other half of the HST's print.) It's a hack to make sure your prints will be oriented the way you want them to – but obviously has a bit of waste. (Or you could just pick a multidirectional print.)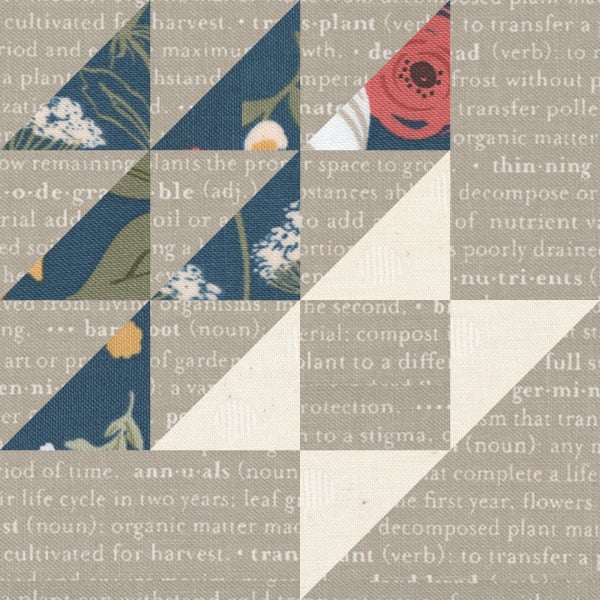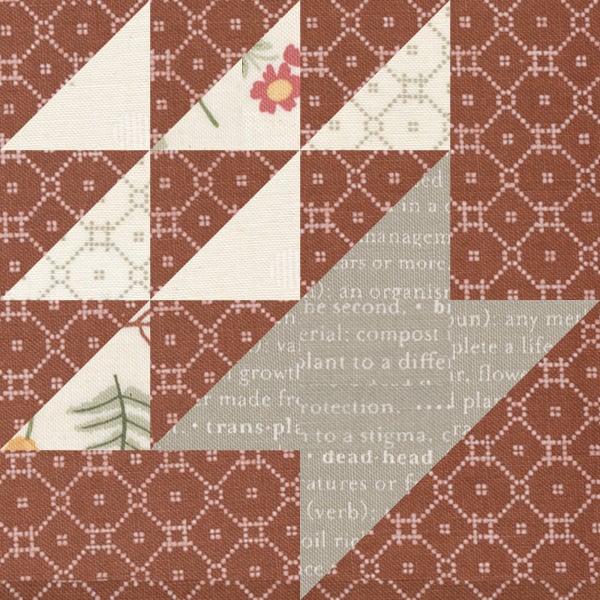 Quilt Along
For more information, check out my original Moda Blockheads 4 post about it here. If you scroll to the bottom of that post, you will find a running archive of blocks released thus far. You can also join the Moda Blockheads group on Facebook for lots of inspiration and a place to share your progress.
You can also get a peek of one of my Moda Blockheads 4 quilt layouts in my last post here. (I'll share specifics soon!)
Don't miss out on a single post! Drop your email address in the box below to get new post notifications by email.