Moda Blockheads 4: (Bonus Block 10)
Still rolling with more bonus blocks for Moda Blockheads 4 free block of the week. Bonus Block 10 is "Triple Play." With this bonus block you have more options than usual as there are 3 variations of the block. I've mocked up one of each – boy, do I wish there were more hours in a day to sew these up.
Bonus Block 10 "Triple Play"
This block is a fun play on a traditional 9-patch design. You get to choose if the alternating blocks are plus signs, mini 9-patches, or pinwheels! This would be considered a beginner method of construction but obviously the size of block you make will determine the exact level of difficulty. A teeny 4.5″ finished block would have some really small pieces and that's where most of your challenge would lie.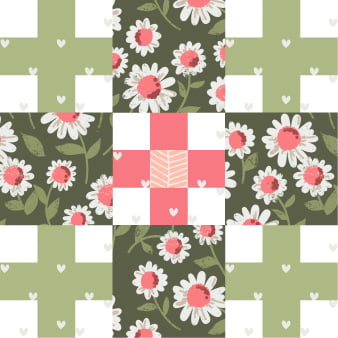 Fabric
I'm using Love Note fabric for the first block shown. This block was made to showcase the plus-sign variant of the block. I really love the contrast of the greens with the little pop of pink in the middle. I'll be making this one eventually in the 4.5″ finished size.
These other two blocks are mocked up in Flower Pot fabric and display the mini 9-patch and pinwheel variations. It's really neat how fabric choices and placement can make this block look so different! I hope you have fun experimenting with this one.
Quilt Along
For more information about this free block of the week, check out my original Moda Blockheads 4 post about it here. If you scroll to the bottom of that post, you will find a running archive of blocks released thus far. You can also join the Moda Blockheads group on Facebook for lots of inspiration and a place to share your progress.
You can also get a peek of one of my Moda Blockheads 4 quilt layouts in my last post here. (I'll share specifics soon!)
Don't miss out on a single post! Drop your email address in the box below to get new post notifications by email.