Moda Blockheads 4: (Block 25)
Heyyyy! It's my turn to share a block for Moda Blockheads 4 free block of the week. (If you're new here, welcome!) Block 25 is "Heart" and combines my love of cute little pieced hearts and sawtooth stars. I hope you feel the love as you stitch this little sweetie together.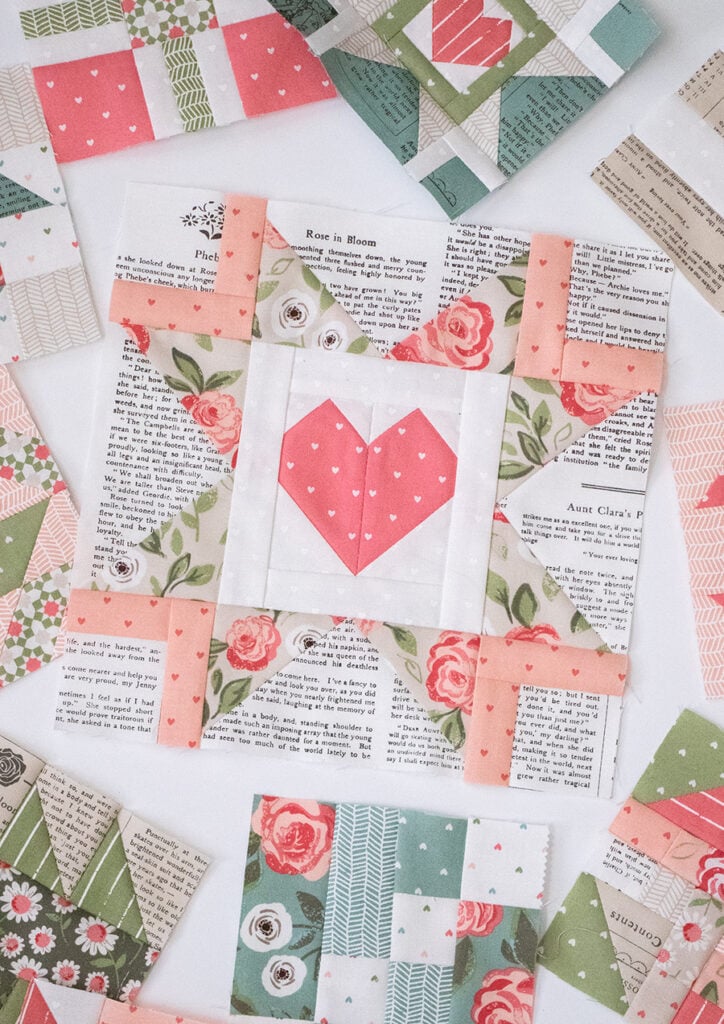 Block 25 "Heart" Tips & Tricks
This "Heart" block is made using a combination of beginner techniques and is available in two different "finished" size options – 9″ or 4.5″. If making the smaller version, you'll notice some of those pieces are quite teeny and require an added level of precision.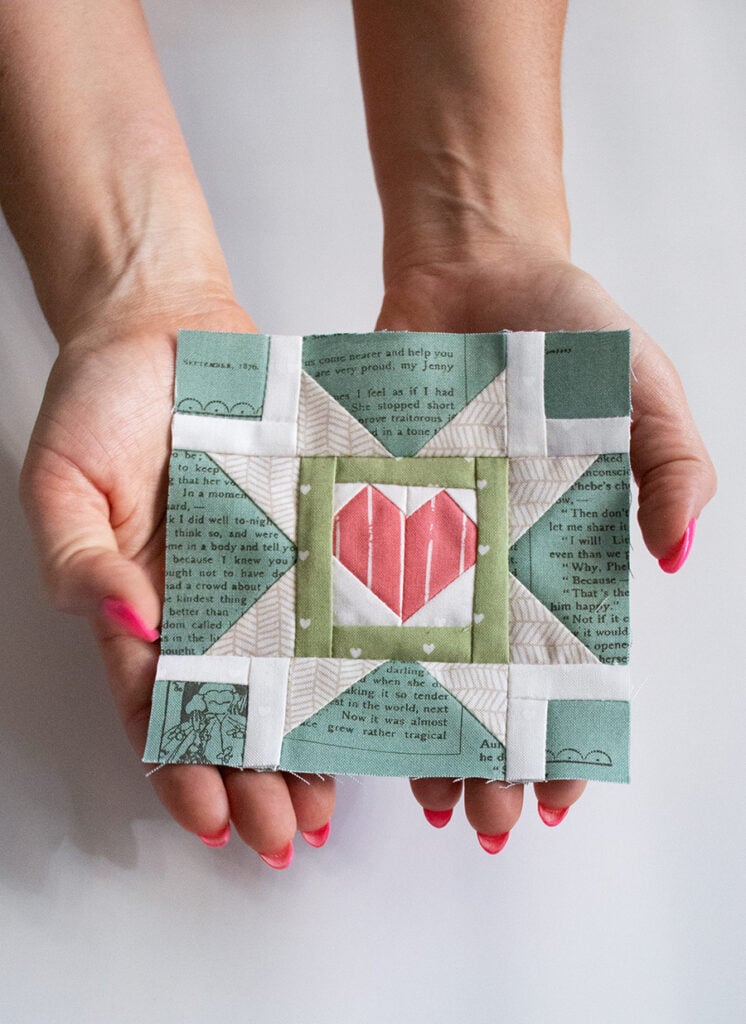 The heart portion of the block employs an easy-corner triangle technique. At the point after you stitch along the diagonal line, I recommend pressing the corners out BEFORE trimming the excess. (If you press them first, you have a guide to show you exactly where those corners should press out to. It helps eliminate the natural distortion that can occur otherwise.)
The flying geese units are created using a zero-waste method that reminds me of making half-square triangles with a twist. It's wonderful! We've seen this technique before for a few of the MBH4 blocks, so you may already be familiar. If not, I think you'll love it!
Fabric
I'm using a couple different collections to showcase the blocks. These first examples are made using my Love Note collection. It's sophisticated and very cheerful to work with. The blocks are looking very sweet together, don't you think?
The second grouping (below) comes from my Flower Pot fabric collection. (Both collections are in shops now.) The Flower Pot blocks are much more muted and tranquil and very much the type of palette I decorate my home with. I do believe the finished Flower Pot quilt will become a fixture in the living room with all the others! Speaking of which…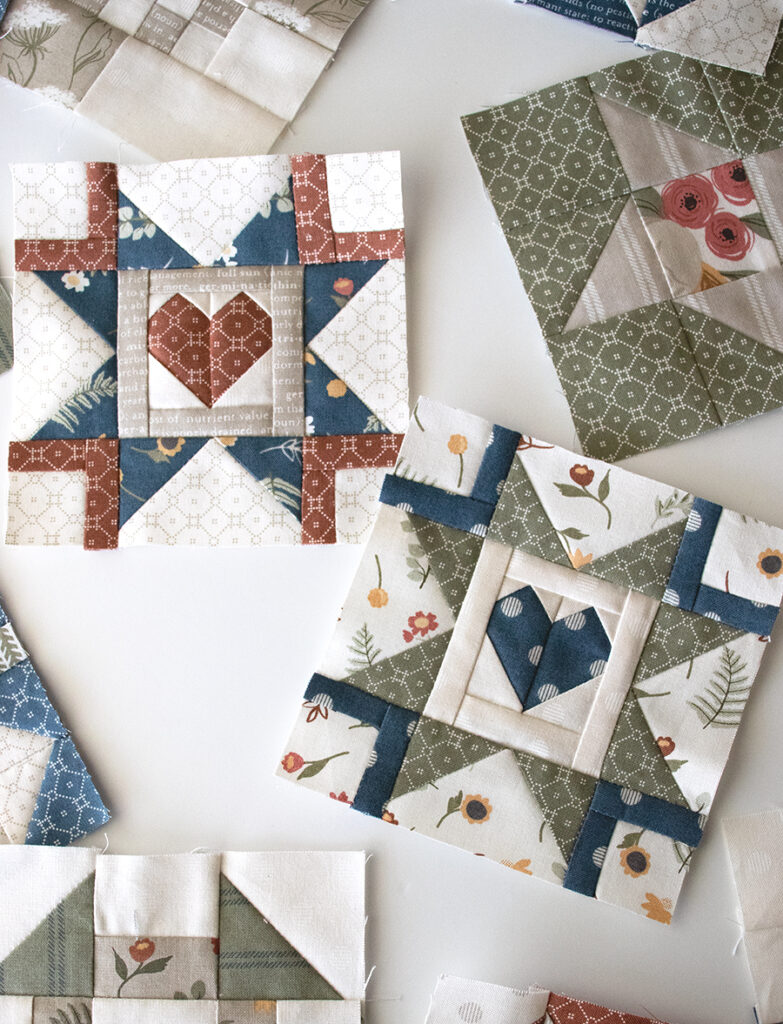 Layout
I haven't posted anything about a Moda Blockheads 4 Layout until now – but the idea for the Flower Pot quilt is to keep it stupidly simple this time around. I've made two of each MBH4 block design since they are so small (and I'd like to be able to fill a large lap-sized quilt with them). So far, I have 60 Flower Pot sampler blocks to plug to work with (I'm missing the last few bonus blocks and am not sure if I'll make them or not). But the plan is to create a fun patchwork section by alternating the MBH4 sampler blocks with 5″ fabric squares. Initially, I thought these fabric squares would come from Flower Pot charm packs; but the layout ended up looking too busy/heavy for my liking. I decided to pivot and go for a more tidy/light feel by alternating just a handful of low volume prints from the Flower Pot collection. Here's a peek! I told you it was simple!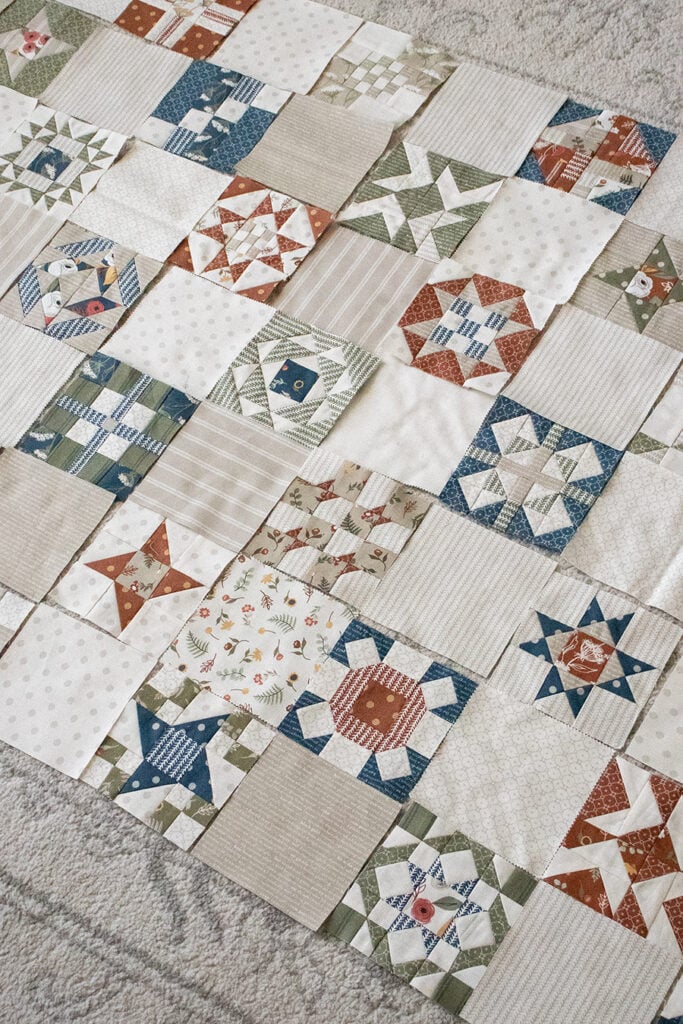 I'll post the particulars later, but this patchwork section will be comprised of 7 rows of 17 blocks. By my calculation, this section will measure 32″ x 77″. I will attached a couple other whole-cloth sections above and below the patchwork section (likely off-center) to get it closer to the finished size I want. (I don't have exact measurements or fabrics picked out yet but am very close!)
What fabrics will you use to make your "Heart" block? Let me know in the comments below!
Don't miss out on a single post! (New fabric/ patterns coming soon.) Drop your email address in the box below to get new blog post notifications via email.