20 Modern Boy Quilts
I love making quilts for the fellas in my life. When it comes to making boy quilts, I've noticed that my favorite designs tend to be more simplistic and geometric. These quilts also carry a contemporary vibe–making these quilts great not just for the guys–but perfect for anyone with a modern decorating style. In fact, many of the quilts in this post live sprinkled throughout my home since I like to decorate with a lot of navy + charcoal + neutral tones.
Here are my Top 20 Modern Boy Quilts:
Who can resist the simplicity of a striped block? Rugby is a beginner-friendly quilt pattern and a sure winner with its sporty vibe. The Rugby layout alternates striped blocks + simple background squares, making it a quick one to piece. Make it with 1 Honeybun (1.5″ strips) or 9 fat eighths (9″ x 22″ each).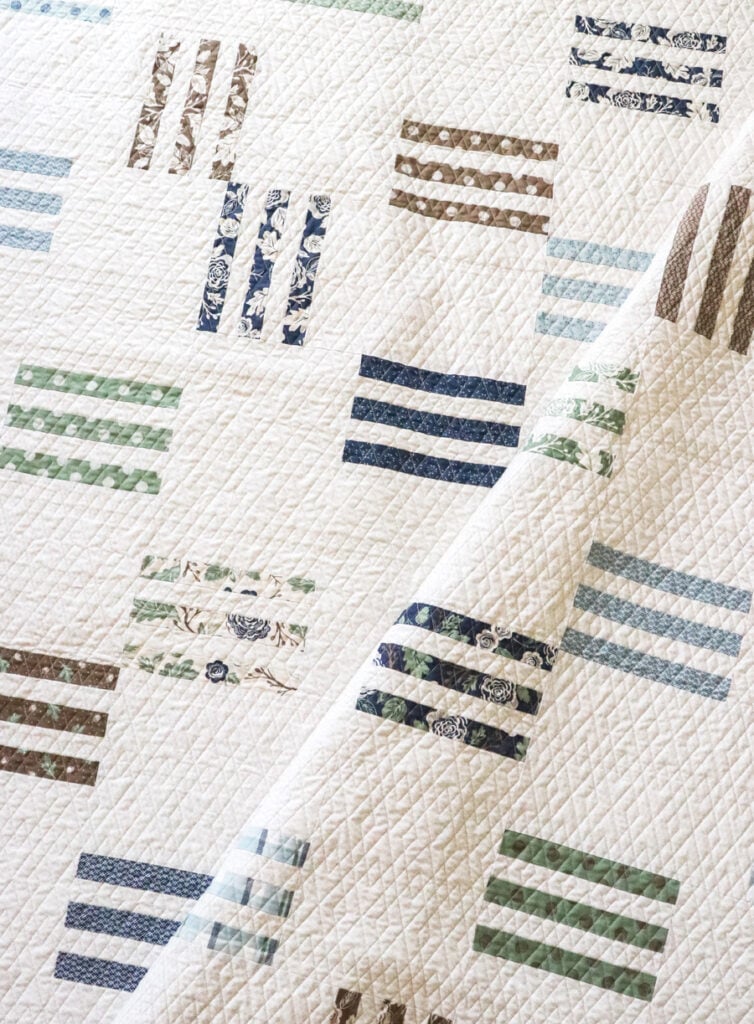 ---
Here's a modern twist on a traditional log cabin quilt block. A secondary pattern of little arrows emerges, making the quilt come alive with motion. Make it with 1 Jelly Roll (2.5″ strips) or 1 Layer Cake (10″ squares).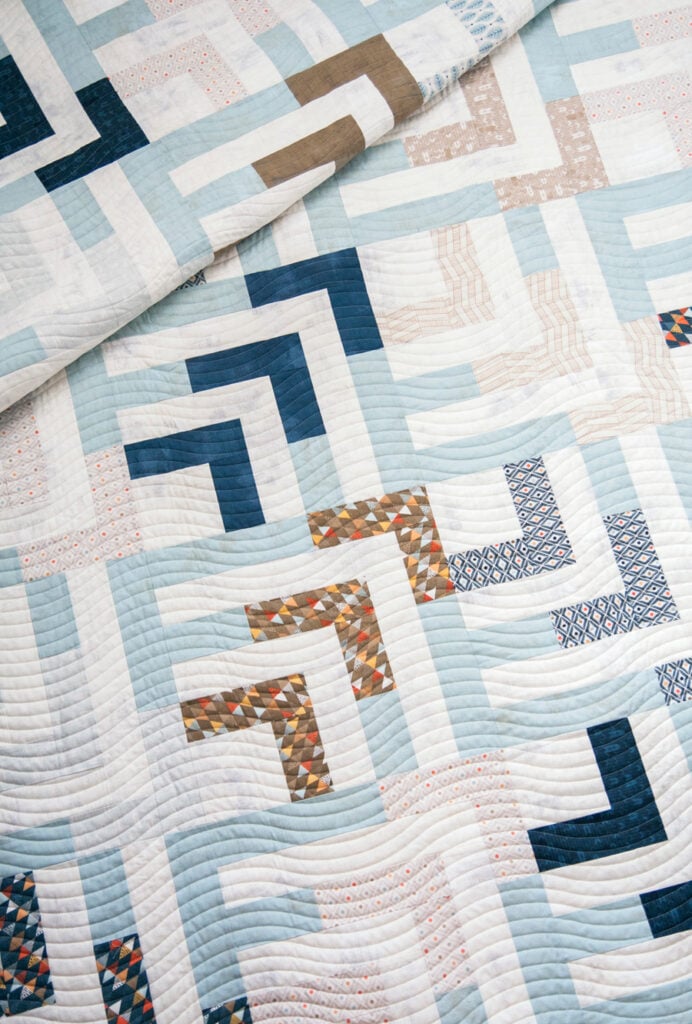 ---
We all know the sprinkles give something a little "extra" to anything they are added to… here's a modern plus sign quilt with just the right amount of "sprinkles" mixed in! Each block is made with 1 Jelly Roll strip (2.5″ x 40″) and uses 2 background prints that are slightly different. This "Sprinkles on Top" quilt pattern is found in my book Jelly Filled – 18 Quilts from 2 1/2″ Strips.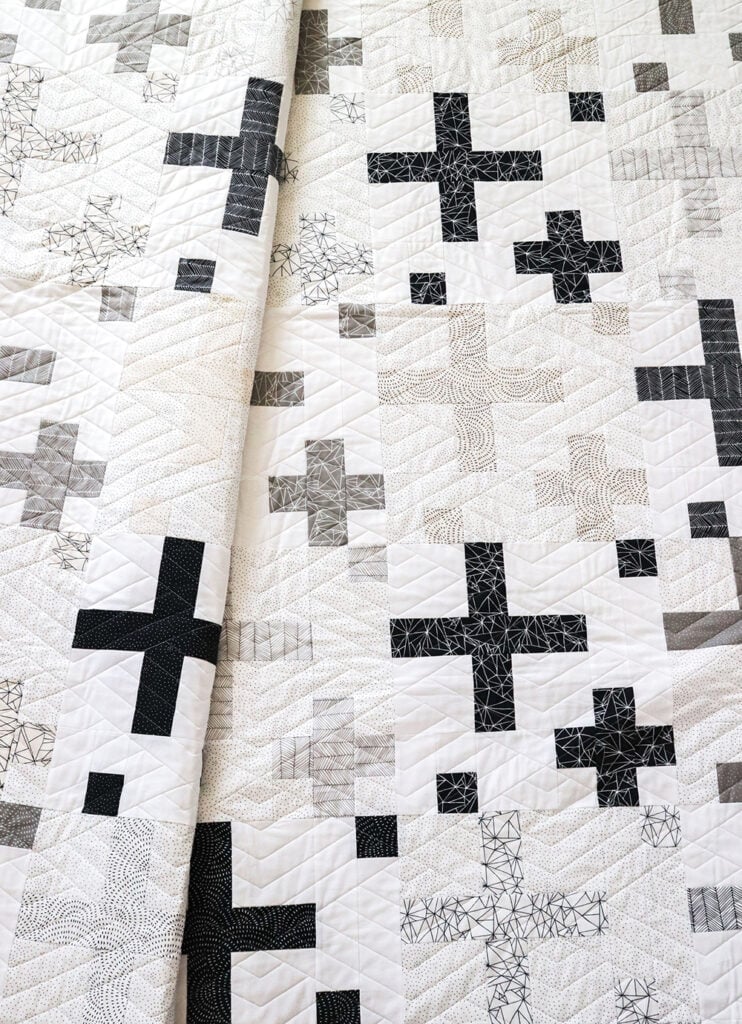 ---
One a penny, two a penny. This one's been baked up many times over at my house. The Hot Cross Buns quilt is packed with dozens of colorful plus sign blocks. The original Hot Cross Buns quilt (below) is made in Mixologie fabric by Studio M for Moda. Make it with a Jelly Roll (2.5″ strips) + 4 accent prints for the block corners.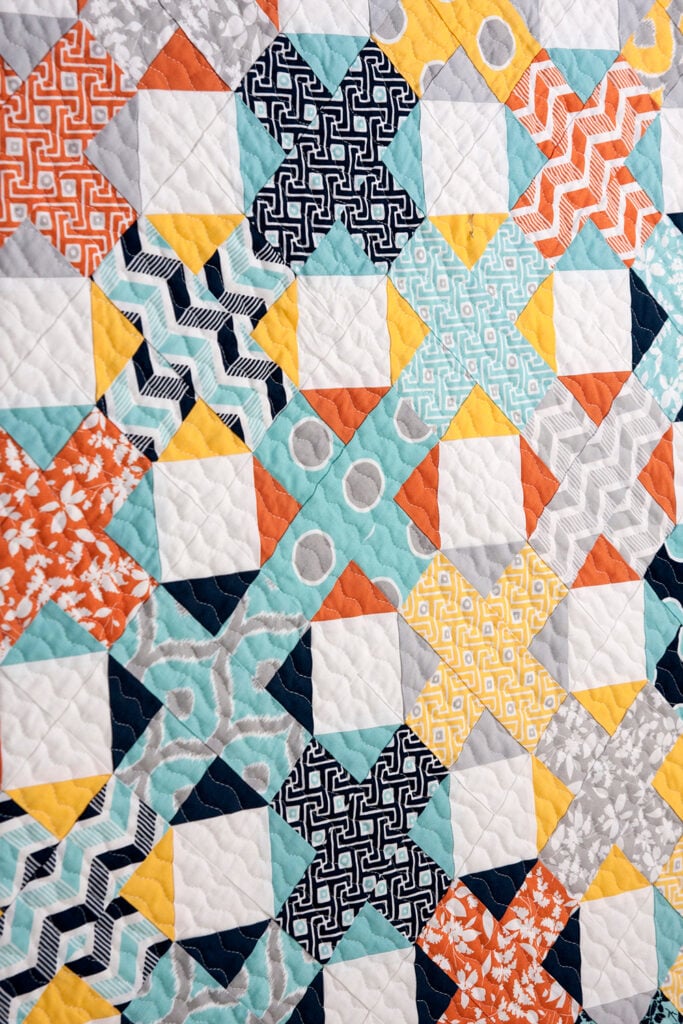 Here's Hot Cross Buns mocked up in Smoke & Rust fabrics arriving to shops this month.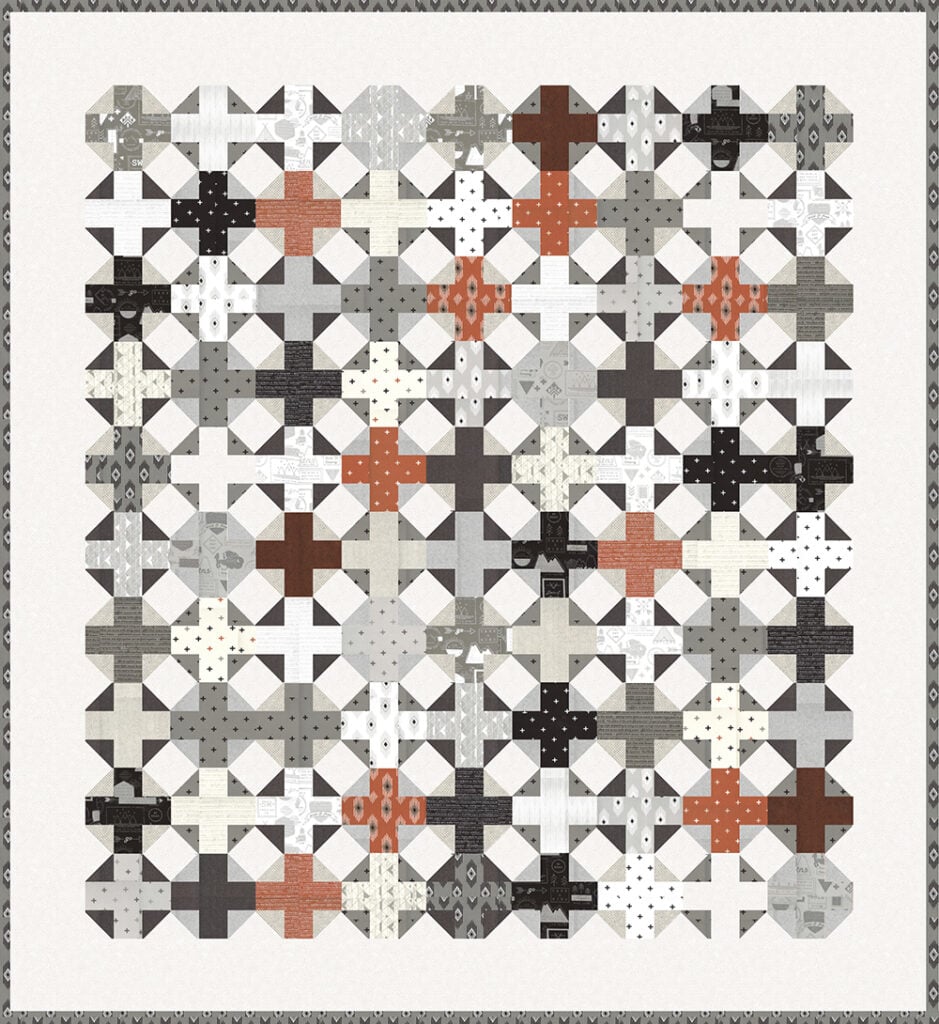 ---
Meet one of my all time Lella Boutique bestsellers sure to make your heart take flight. This scrappy Airplane quilt lived on my little boy's bed for many years (until just recently). Make Aviator with 16 fat quarters– I recommend choosing an even combination of light and dark prints as each fat quarter will yield 1 background + 1 airplane.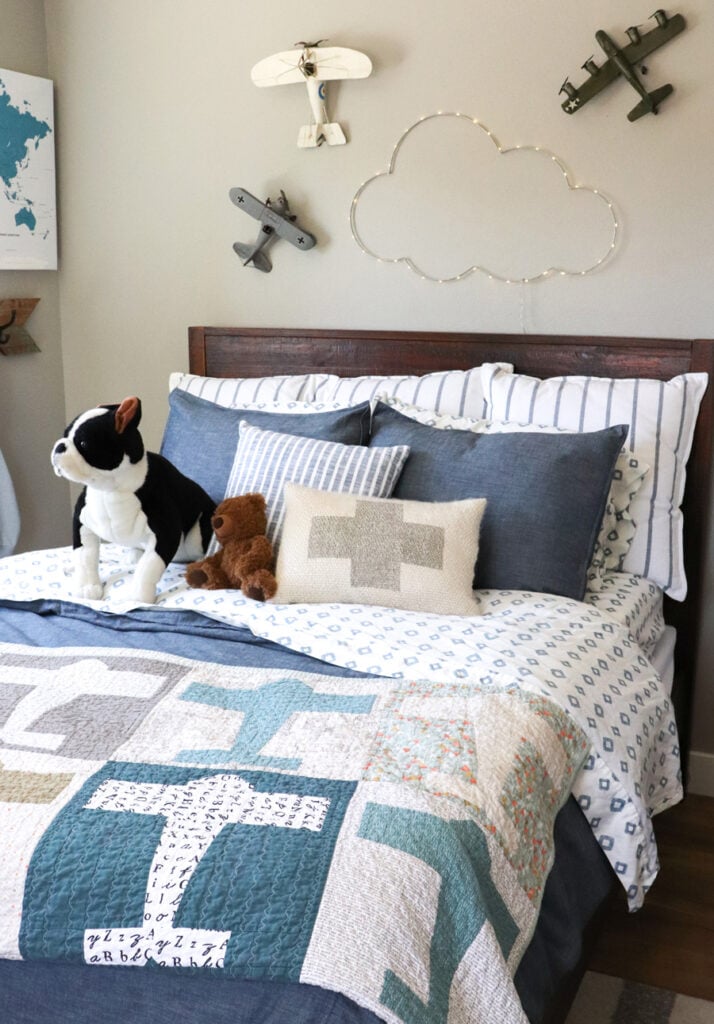 ---
My heart has always belonged to the mountains, so this quilt has lived in my mind for a very long time. (I've already made 3!) Even though this tends to be a more masculine design, I made a super girl-y tester version shown here. Build your own cozy Mountainside quilt with 24 fat eighths.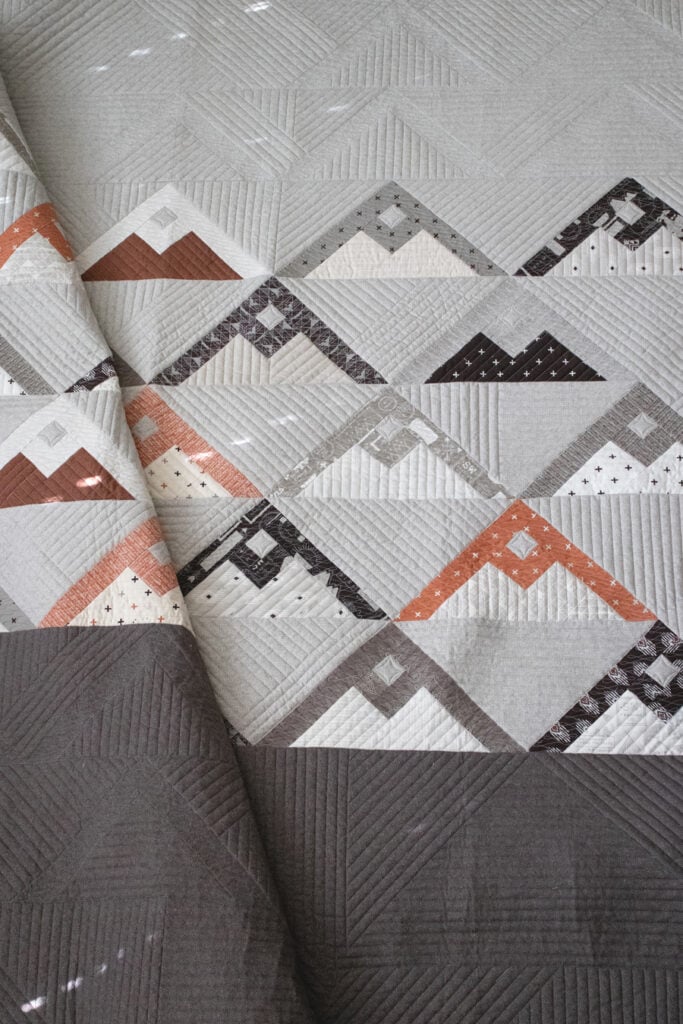 You can make this one with an accent stripe at the bottom or as a single-print background. I used Moda Snuggle minky on the back of this single-print version… can you tell? (Hint: the quilting looks more "plump.")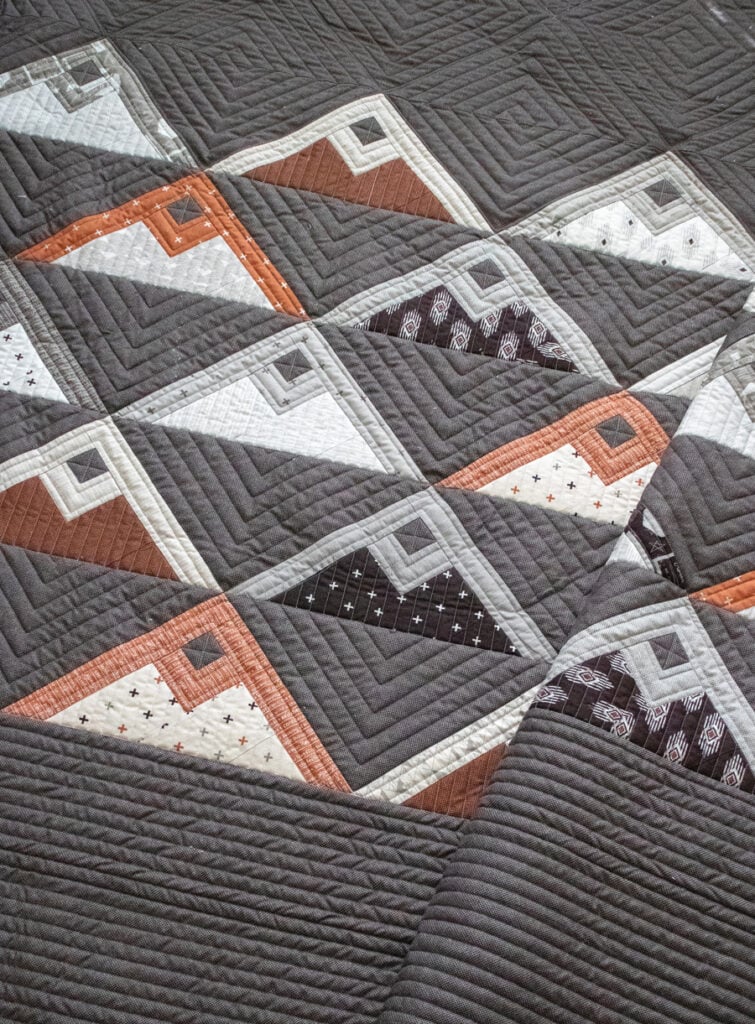 ---
Another modern twist on a traditional log cabin block. Fabric is Smoke & Rust… I designed this fabric collection because I wanted to design something that would appeal to modern and masculine taste alike. The Fracture quilt is made with 15 fat quarters or 30 fat eighths.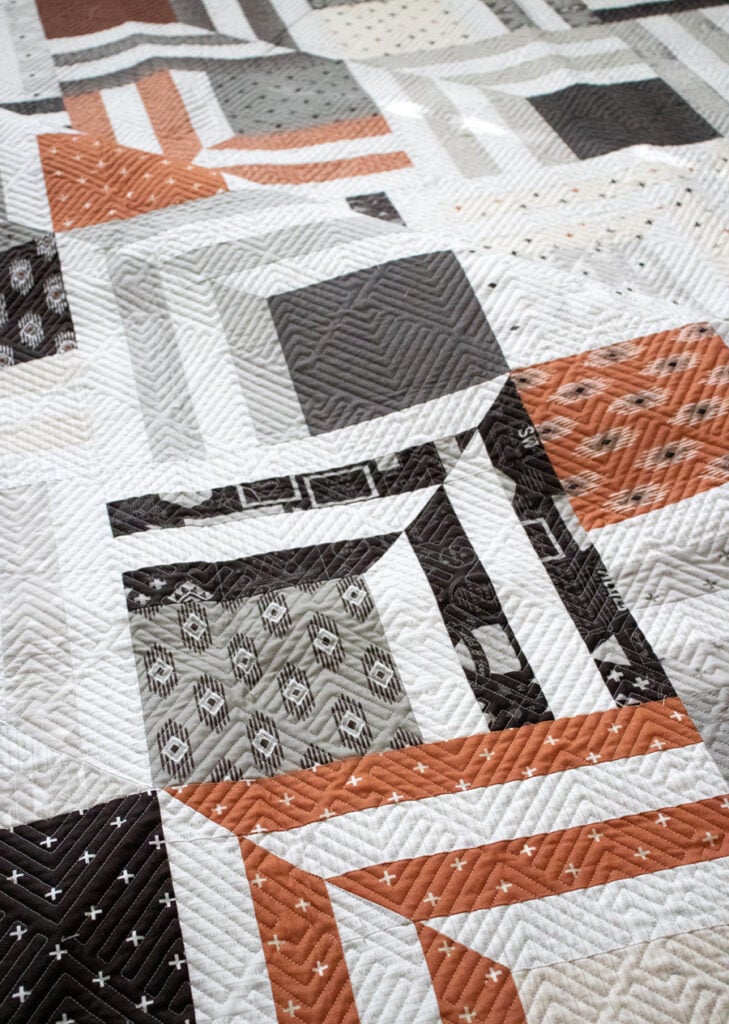 ---
"If we have no peace, it is because we have forgotten we belong to each other." – Mother Teresa
This quilt was born during 2020 amidst a lot of chaos. The overlapping links is a reminder to focus on what we have in common rather than what separates us. The Concord quilt is made with a Honeybun (1.5″ strips). I would consider this one a little more intermediate than my typical pattern just because of all the seams that need to be lined up.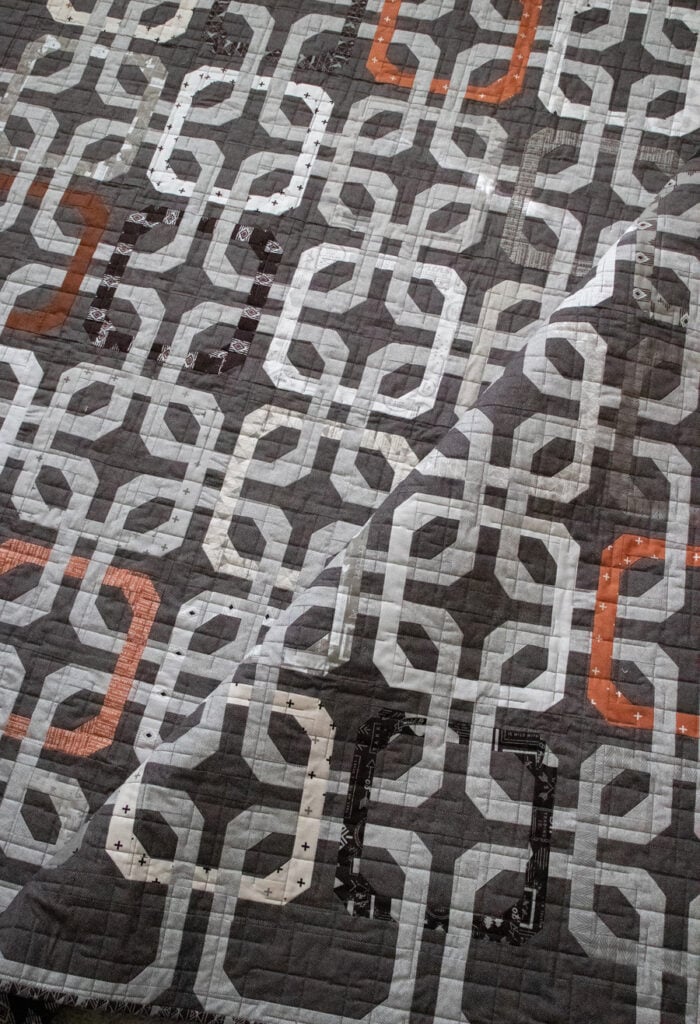 ---
Moonwake: a word to describe when the moon's reflection seems to follow you as you walk along water. This quilt reminded me of that same magical bit of beauty. Make the Moonwake quilt with 16 fat quarters. (I stuck to the black + white + grey prints of Smoke & Rust.)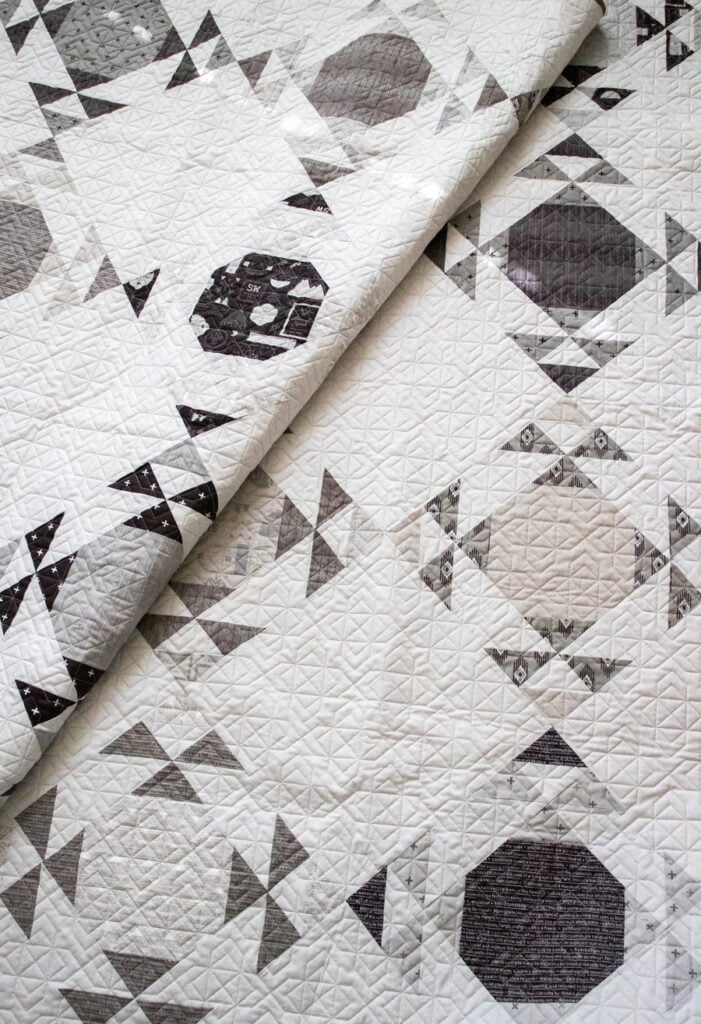 ---
Love the geometric design of the Trinkets quilt. It came out several years ago and is still a very popular pattern in my shop. Even though the original quilt (below) isn't necessarily "masculine," I always imagined this design as a great boy quilt.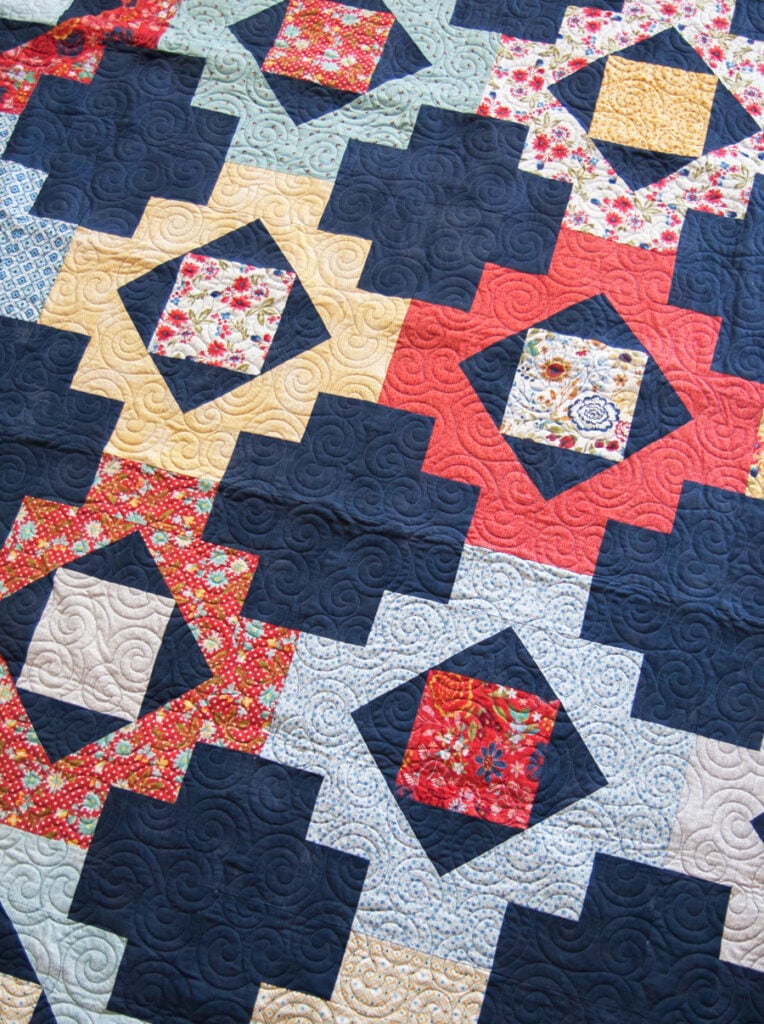 Of course, it's not always easy to imagine a more masculine version without seeing the prints plugged in, so I've mocked up Trinkets in Smoke & Rust fabric below. I haven't had a chance to piece this one yet, should I add it to the list?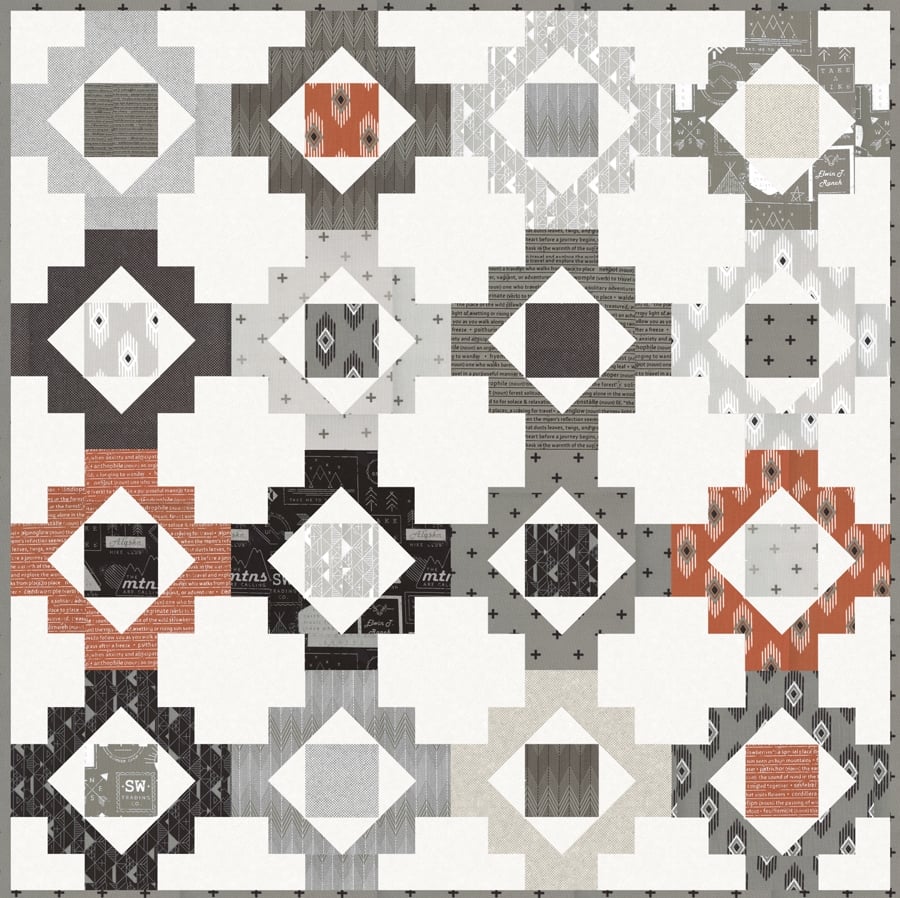 ---
This is the quilt that currently lives on my little boy's bed. I haven't snapped a decent picture of his room to share yet, but it's pretty cool. Just imagine chambray bedding with this Double Dutch quilt folded up and sitting politely on the edge of the bed. It ties in well with his large (stylishly faded) American Flag poster on the wall (a Hobby Lobby find several years ago) + this Iron Man photograph + this Iron Man text print from Etsy. The Double Dutch quilt is super fun to put together, looks good in literally any fabric, and can be made using fat eighths or fat quarters.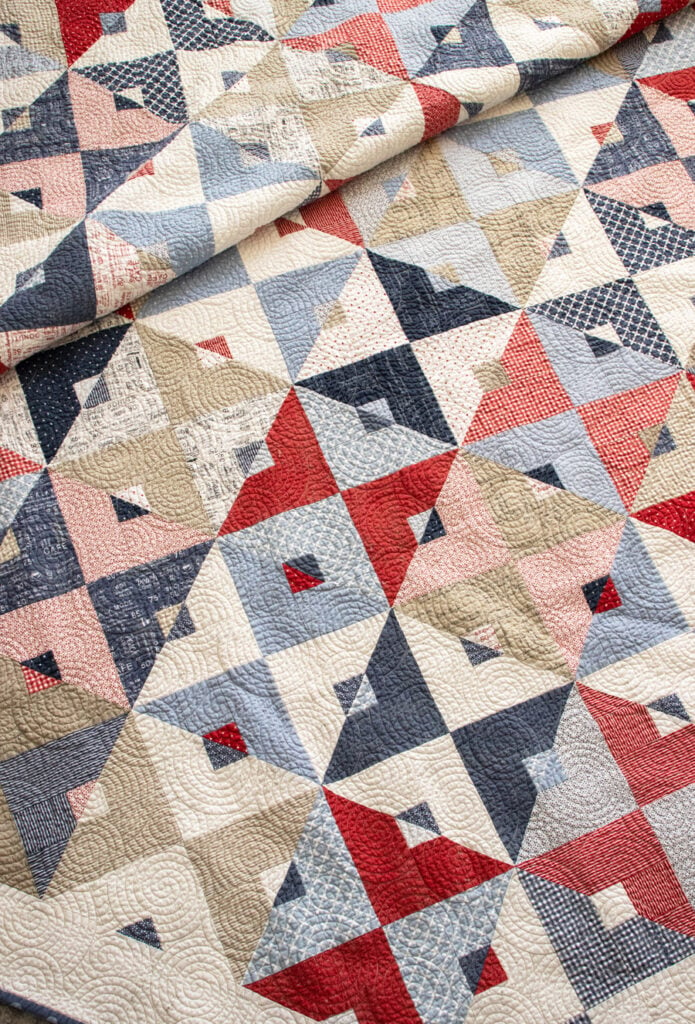 ---
Here's a quilt everybody loves–but the blues + greens + browns definitely make it feel more masculine in my book. This is a fun sampler type of quilt (beginner level) and is made with a combination of a Layer Cake squares (10″ x 10″ each) + fat eighths + fat quarters.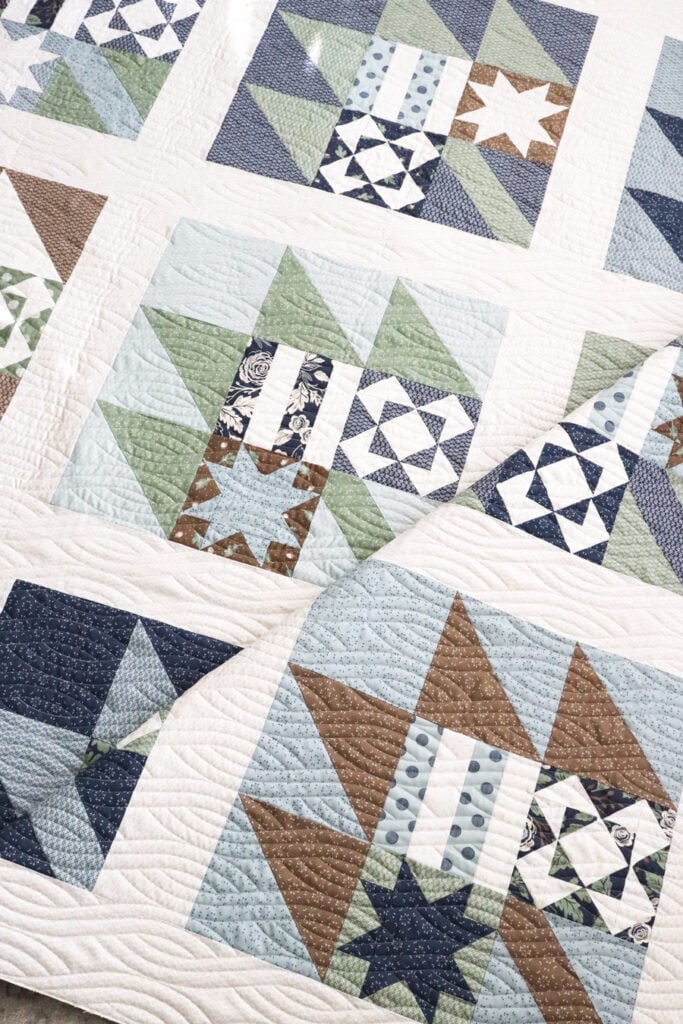 ---
This is one of my earliest patterns designed while living in west Texas. There were wind farms just about everywhere you looked so of course, the turbine shapes made their way into my quilting. Made with 2 charm packs of Mixologie fabric by Studio M for Moda.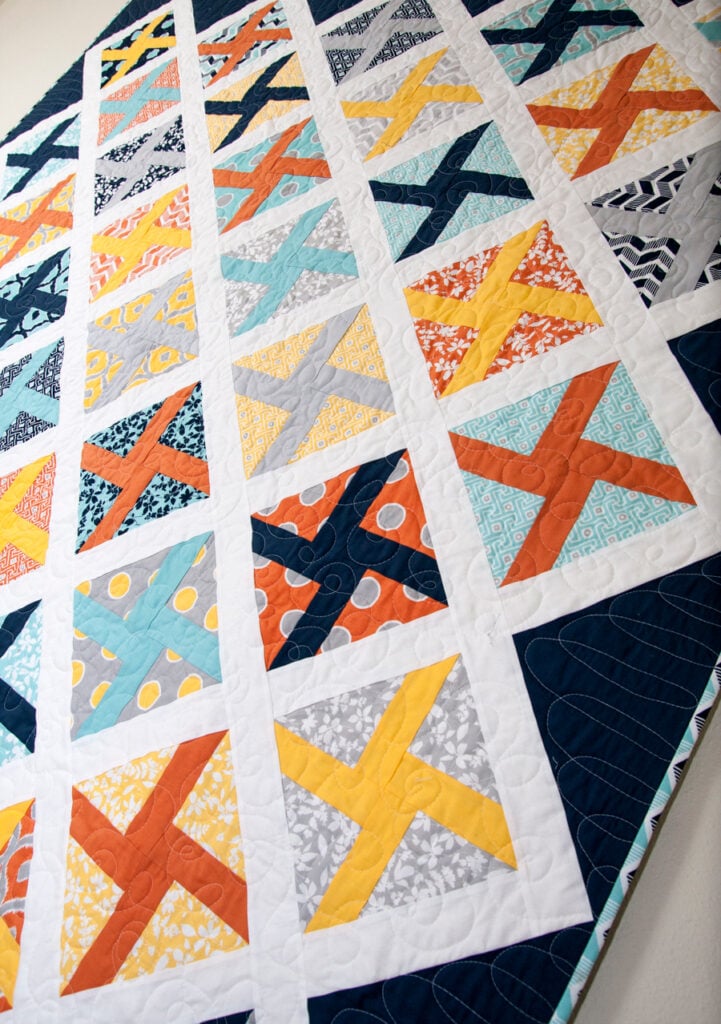 ---
Who can refrain from smiling when seeing a little child try to do a somersault? When they first learn, they remind me of a primitive wheel, more angular than round. As they grow older, they start to be more daring–rolling down grassy hills–like a scene in The Princess Bride. This quilt captures the primitive motion of an early somersault and comes together in a jiffy. Pattern found in my book: Charm School – 18 Quilts from 5″ Squares (Stash Books).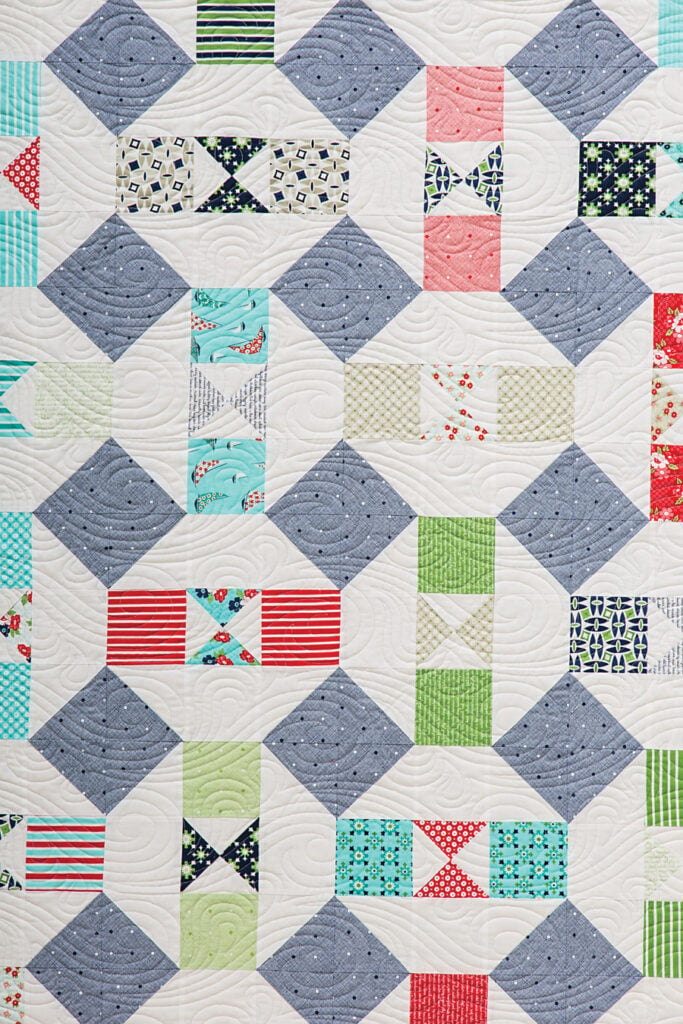 ---
When my mom was a young girl, she lived next to a railroad rack way out in the country. She and her siblings often went out to see the train when it thundered past, belching smoke and offering a wonderful variety of colored boxcars. In the summertime when I was a girl, I built my own memories of watching the train pass by when I went out to the tracks. This quilt conjures up memories of the foundation of railroad ties and uses 5″ x 5″ squares both as a center block at the intersections and as a subcut to make the railroad line between the squares. Pattern found in my book: Charm School – 18 Quilts from 5″ Squares (Stash Books).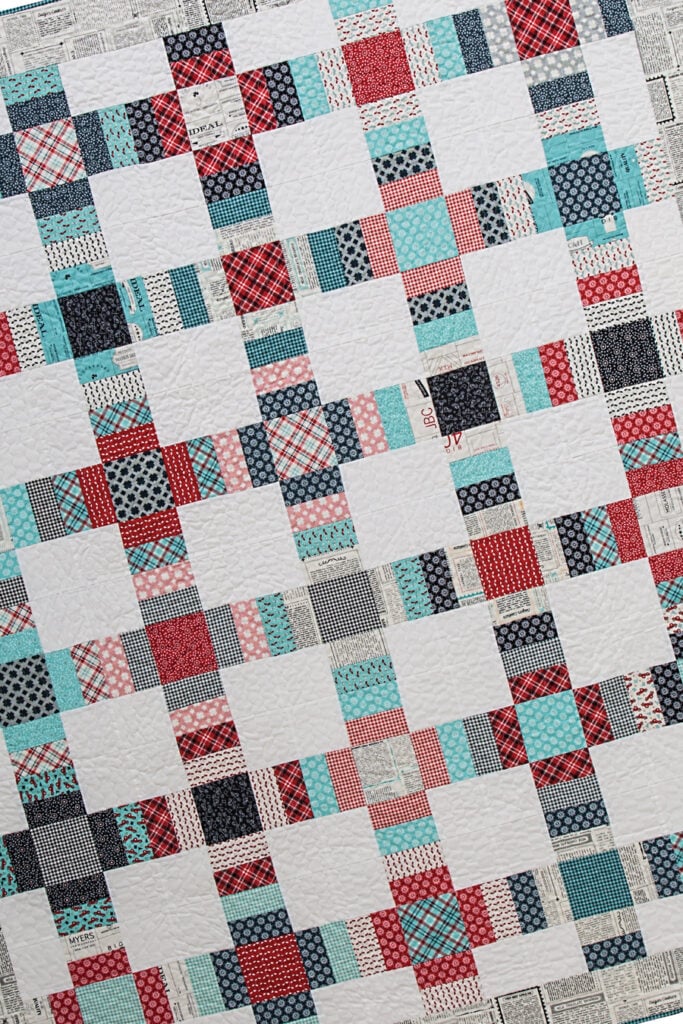 ---
What child can resist sneaking a treat from the cookie jar? When I was a kid, we had a jar in the shape of a tiger. I remember the heaviness of the lid and its odd shape–difficult to remove and replace without a clamor. When Mom filled the tiger, it emptied out pretty quickly. (Not surprising with four kids hanging around.) My favorites were carrot cookies, glazed with orange icing! Making a quilt can be like filling a jar with cookies. With this one, we'll mix fabric strips together to form striped rectangles, then combine them with other fabric ingredients to form a roundish cookie shape. Grab your apron and whip up a batch today! This Cookie Jar quilt pattern is found in my book: Jelly Filled – 18 Quilts from 2 1/2″ Strips (Stash Books).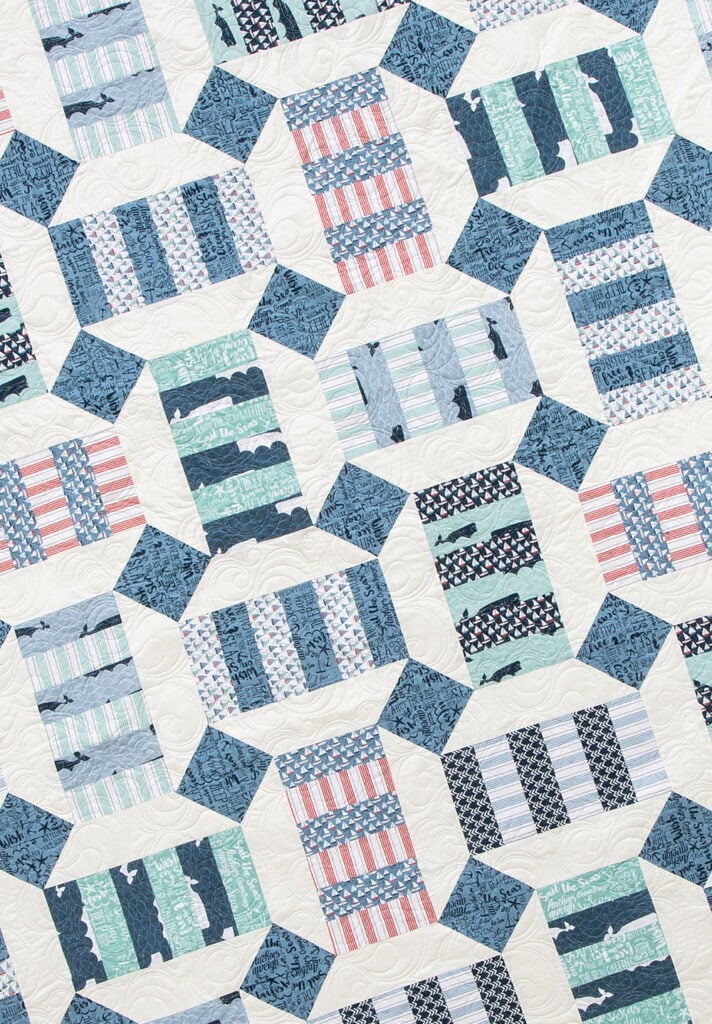 ---
17. The Soiree quilt
I fell in love with this Soiree quilt pattern by Amy Ellis several years ago after meeting her at quilt market for the first time. It was both of our debut markets as new Moda Designers; her collection was called Modern Neutrals. She had several stunning quilt designs made up in it, but this one really stole my heart. A few months after the show, I drew my brother-in-law's name for Christmas and knew I had to make Amy's Soiree quilt exactly as she designed it.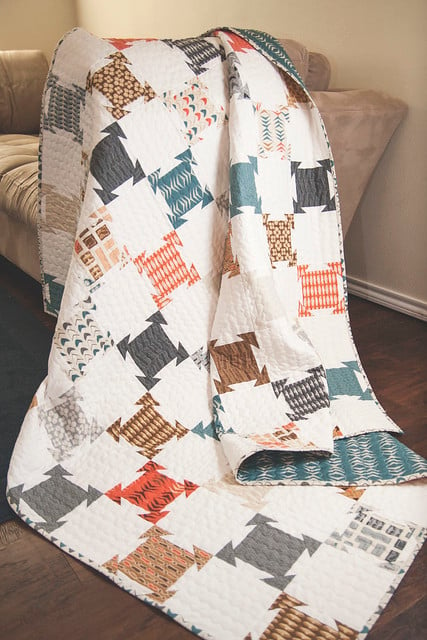 ---
I have always loved pinwheel quilts. The Shuffle quilt came about as a way to take a traditional pinwheel block and spin it on its head… literally. This is fun to make and uses a partial seam technique to come together. I pulled a few of my blue and orange Mixologie scraps for this one. Make the Shuffle quilt with charm packs (precut squares 5″ x 5″) or fat quarters.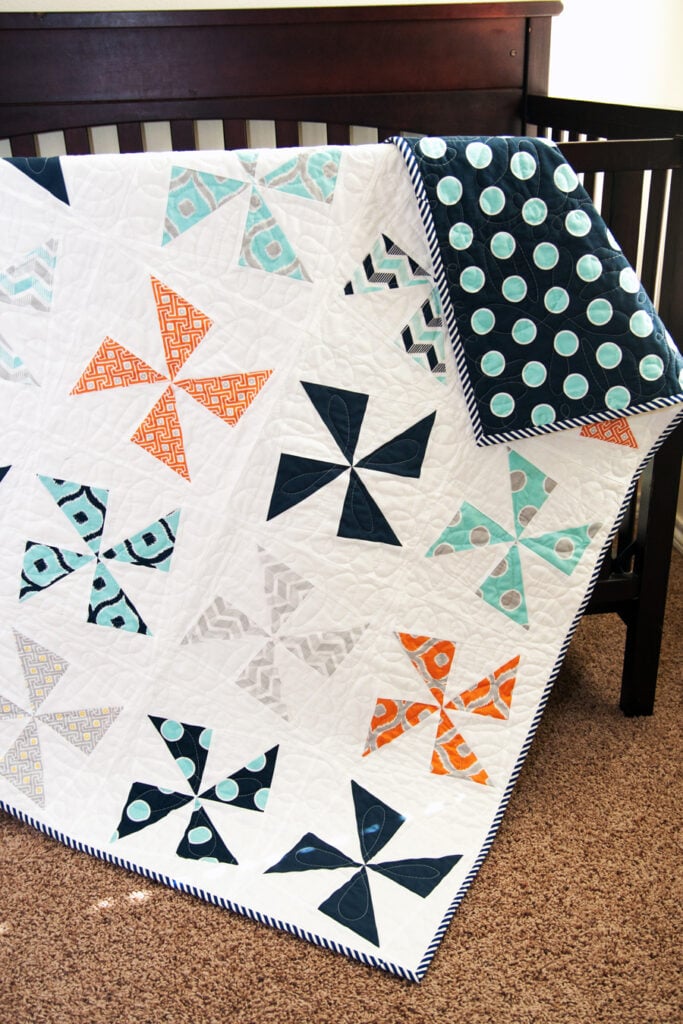 ---
Simple and sweet. Barn Style is a fat quarter quilt pattern that comes together in a snap. I mocked up this baby sized version in Folktale fabrics as a quick baby boy quilt idea. I shared all the information on how to modify the Barn Style pattern to make it bigger or smaller (like this baby sized version) in a recent blog post here.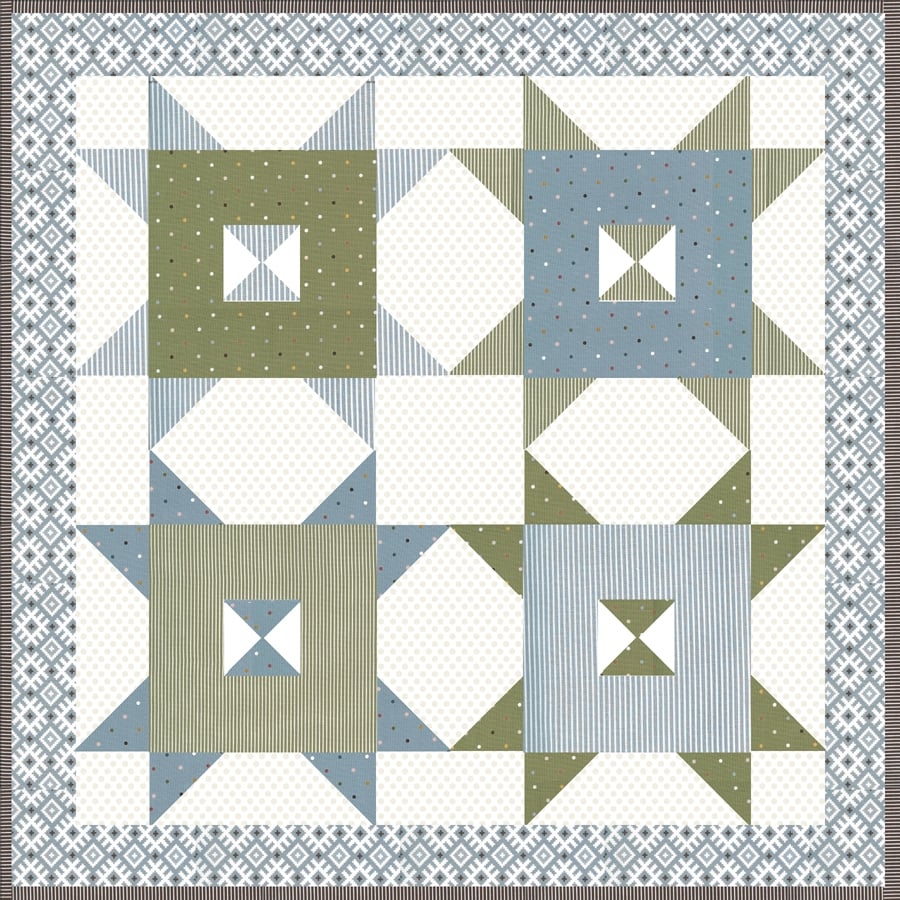 ---
20. Th Arrow quilt
Would you ever guess this is a log cabin block? I designed this for an Australian magazine called Quilts From Precut Fabrics issue no. 5 several years back. Even though printed copies are no longer in circulation, you can just snag a digital copy of the magazine here.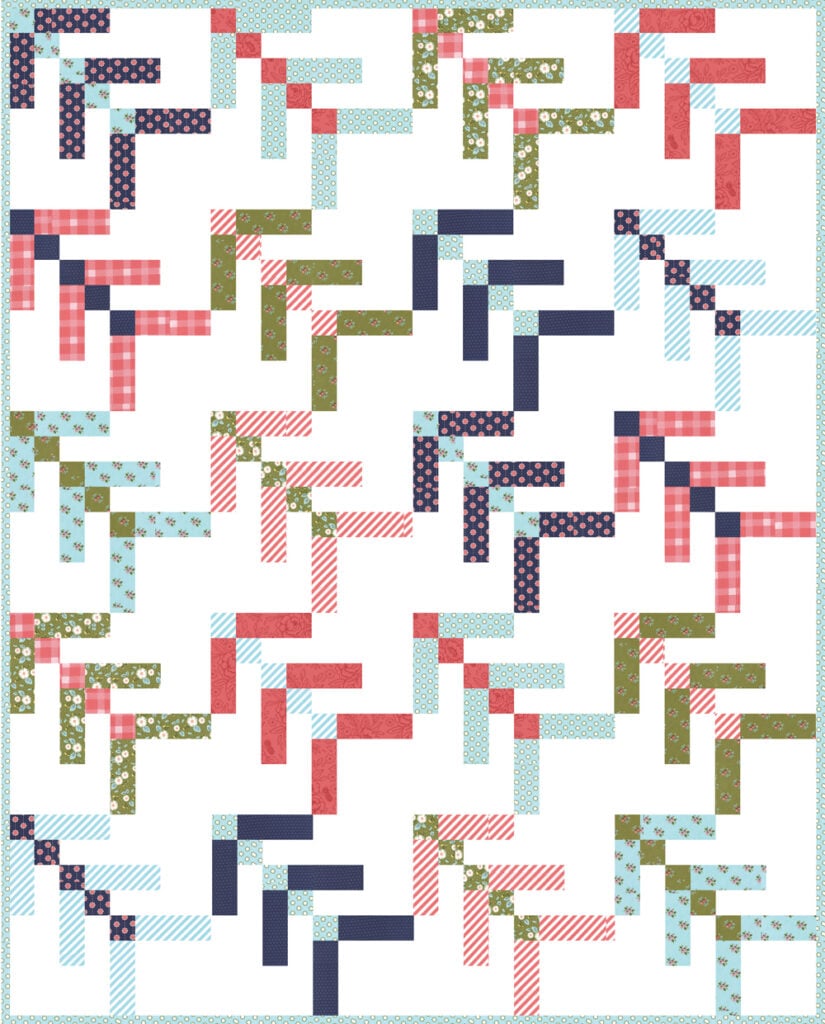 If you could choose your 3 favorite boy quilts, which would they be? Leave a comment and let me know!
---
Like this post? Drop your email in the box below to get new post notifications via email.