Smoke & Rust Fabric: New Quilt Preview
Live by the sun, love by the moon. – J.T. Jackson
Smoke & Rust Fabric
Smoke & Rust fabric is coming to shops in April 2021. In the meanwhile, I have new quilts to share with you. The best part is, all the patterns are available in PDF or printed booklet formats now. If this is a collection you are interested in, I always recommend reaching out to your favorite local or online shop–most are not only willing to reserve some for you, but they appreciate the input in deciding what to stock on the shelves. For more about the inspiration behind the Smoke & Rust collection, check out my previous post here.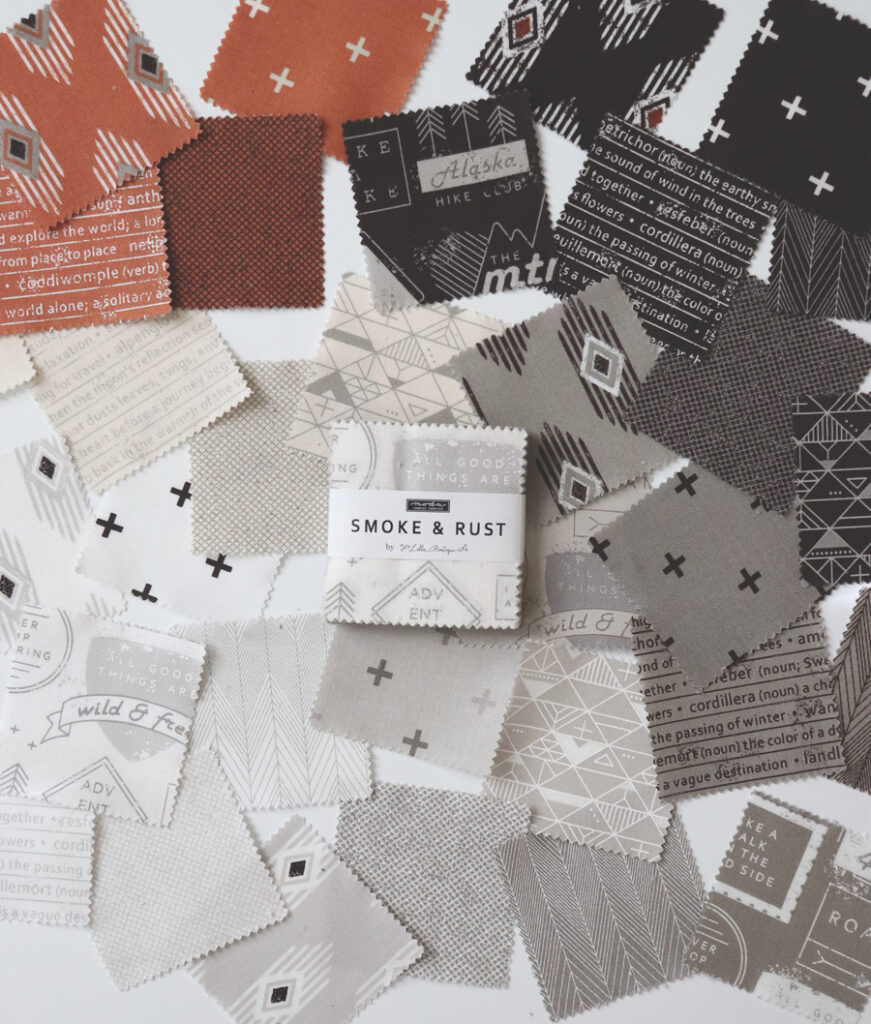 The New Quilts
Time to introduce new quilts! I'm always up for piecing a log cabin, so here's a new variation I came up with. The fabric lends itself for a masculine/modern look, so I definitely wanted to use shapes that complemented the fabric in this way. The quilting is by Marion Bott.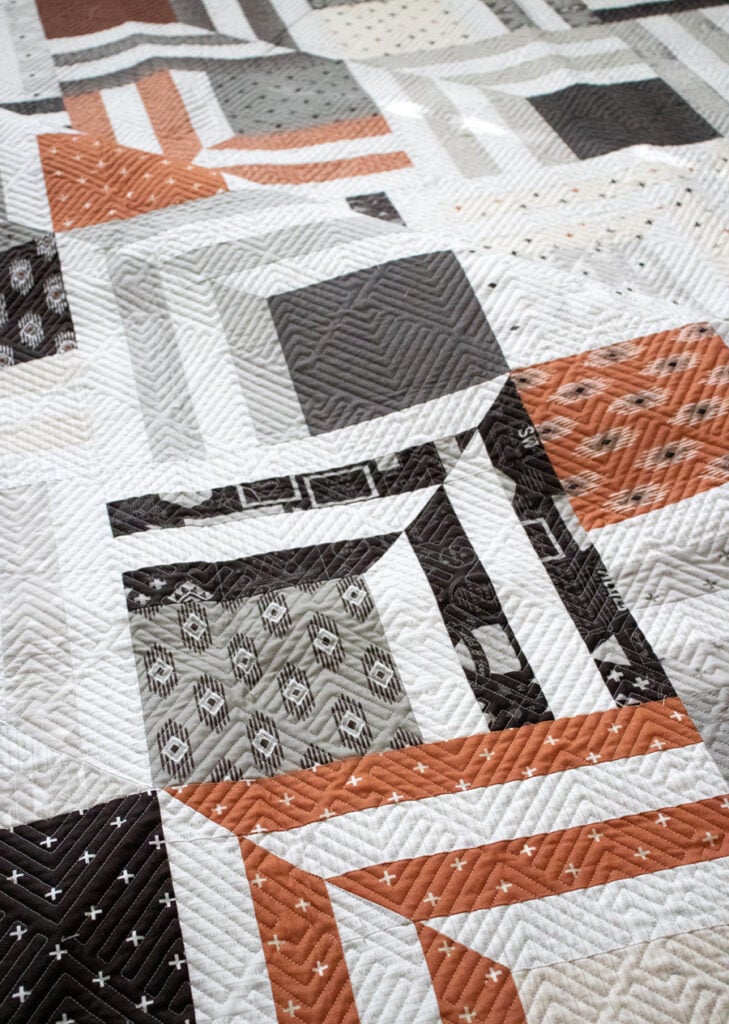 Fracture is pieced with fat quarters or fat eighths depending on what you have in your stash, and how much variety you want. The pattern is available in the shop in PDF or printed booklet formats.
This quilt has lived in my heart for a very long time. Having been around mountains nearly all my life, I am gaga over them. I've lived near Zion National Park the last 5.5 years–which is where the color inspiration for the Smoke & Rust fabric originated. One morning a few weeks ago, I finished binding the quilt and took it on one of my favorite hikes–Angel's Landing. It felt like reuniting a baby bird with its mother.
This is one of my quickest designs to piece for obvious reasons–only 1/3 of the quilt is actually made up of patchwork blocks. The hardest thing about this quilt is deciding whether to use just one background color or two.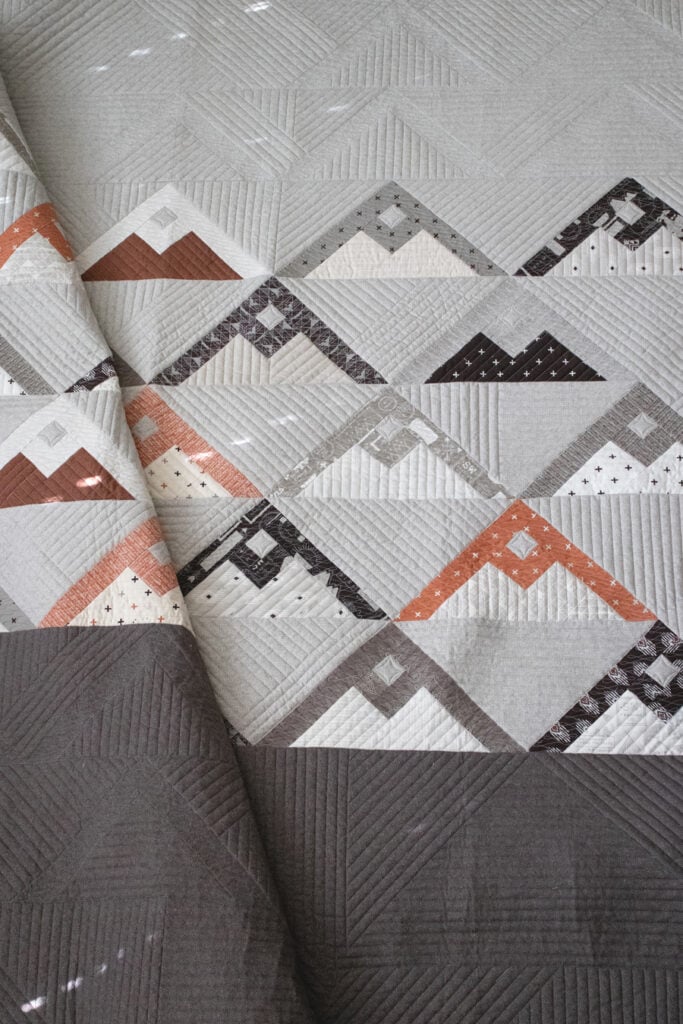 I pieced two versions. The first (above) uses a grey "Crackle" print from the collection for most of the background but finishes with a charcoal stripe along the bottom. The second version (below) uses all charcoal "Crackle." Both versions were quilted by Natalia Bonner using her awe-inspiring custom quilt skills. The all-charcoal version has a Moda Snuggle backing (think soft minky). It made the quilting look a bit puffy, giving it a trapunto-look.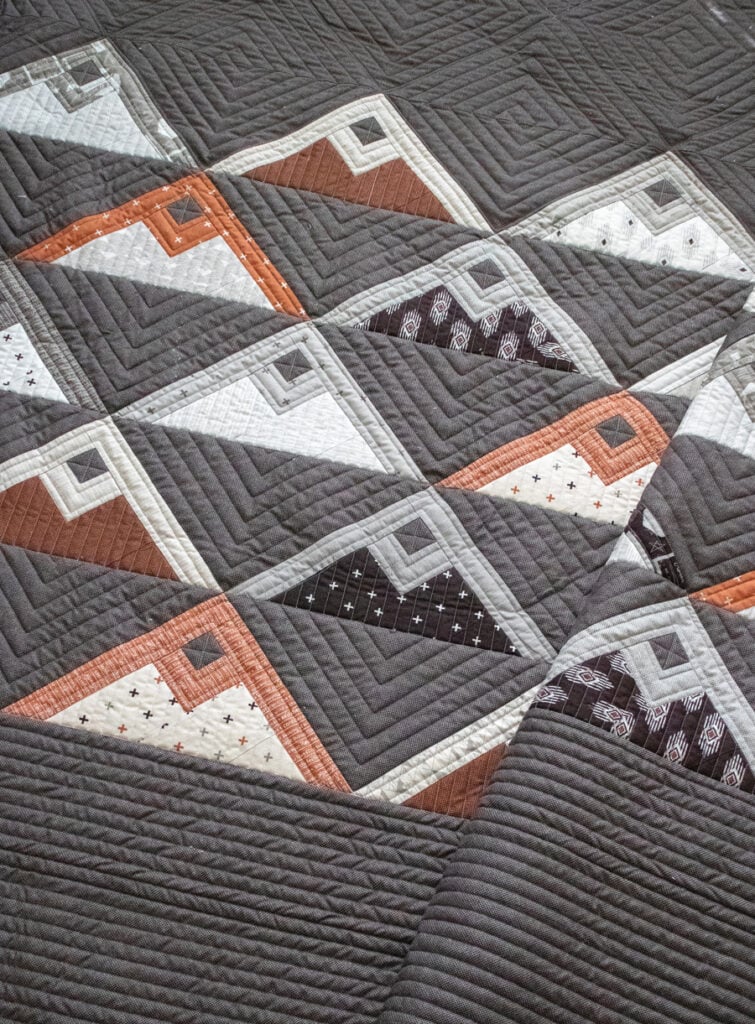 The pattern instructions are written so you can make either version. I had a really difficult choice narrowing down which ones to make! As always, it's available in PDF or printed booklet formats.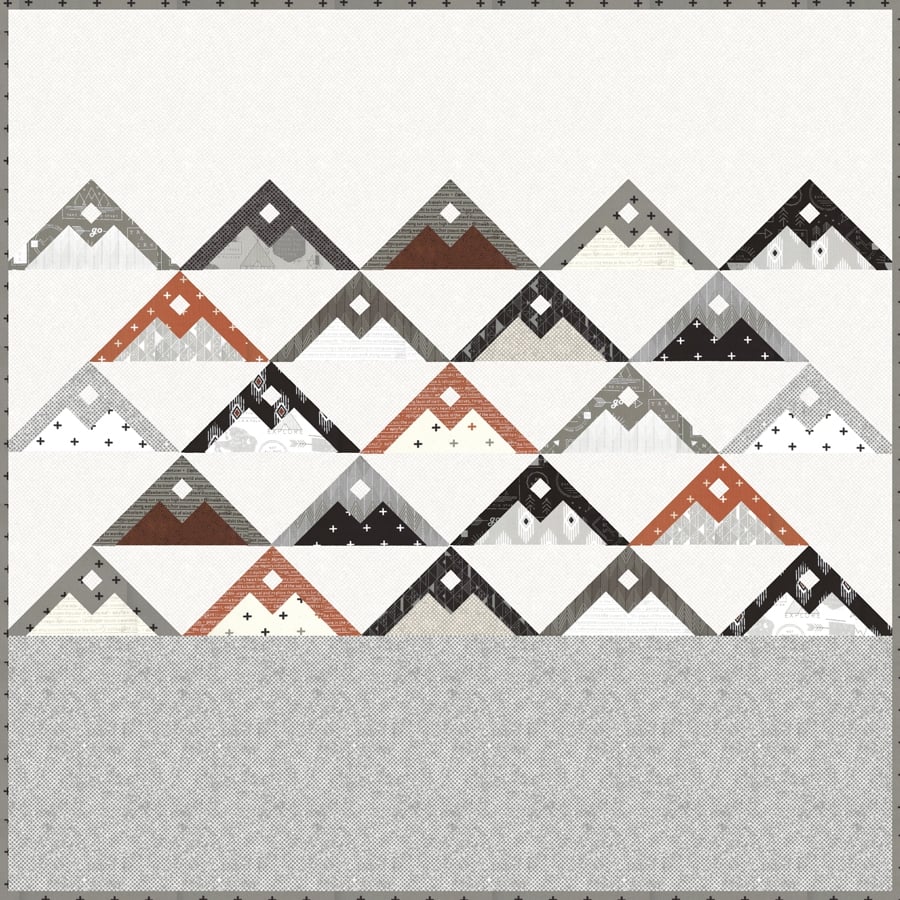 A word to describe when the moon's reflection seems to follow you as you walk along water. This quilt reminded me of that same magical bit of beauty. Make it with 16 of your favorite fat quarters. For this one, I stuck to just black + white + grey. I love the geometric quilting by Kaitlyn Howell on this one.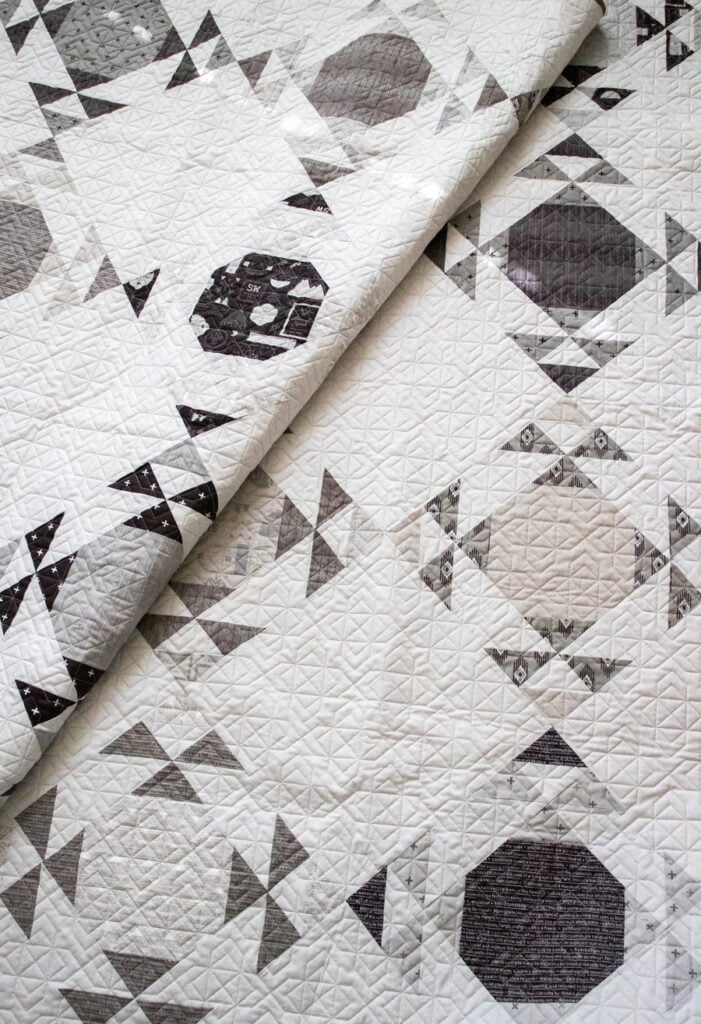 And you guessed it. The pattern is available as a PDF or printed booklet.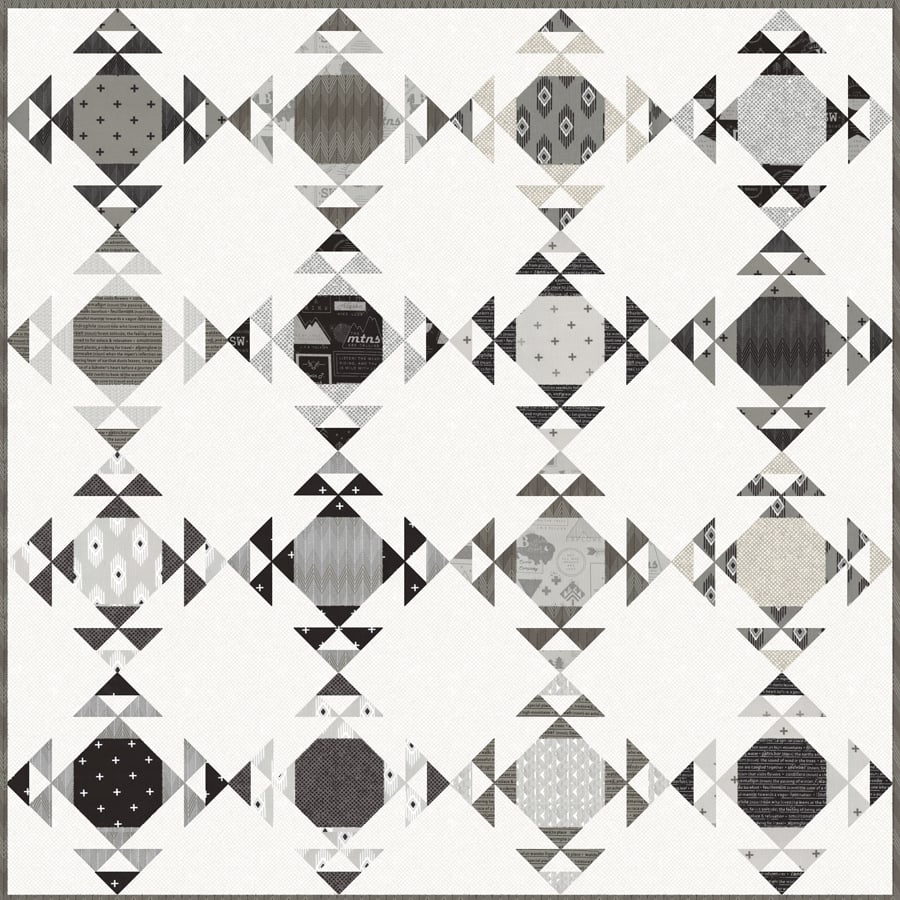 Mother Teresa reminds us, "If we have no peace, it is because we have forgotten we belong to each other." I have thought of that quote often this year as turmoil swirls all around. The overlapping rings in this design remind me that there is more overlap than we sometimes remember.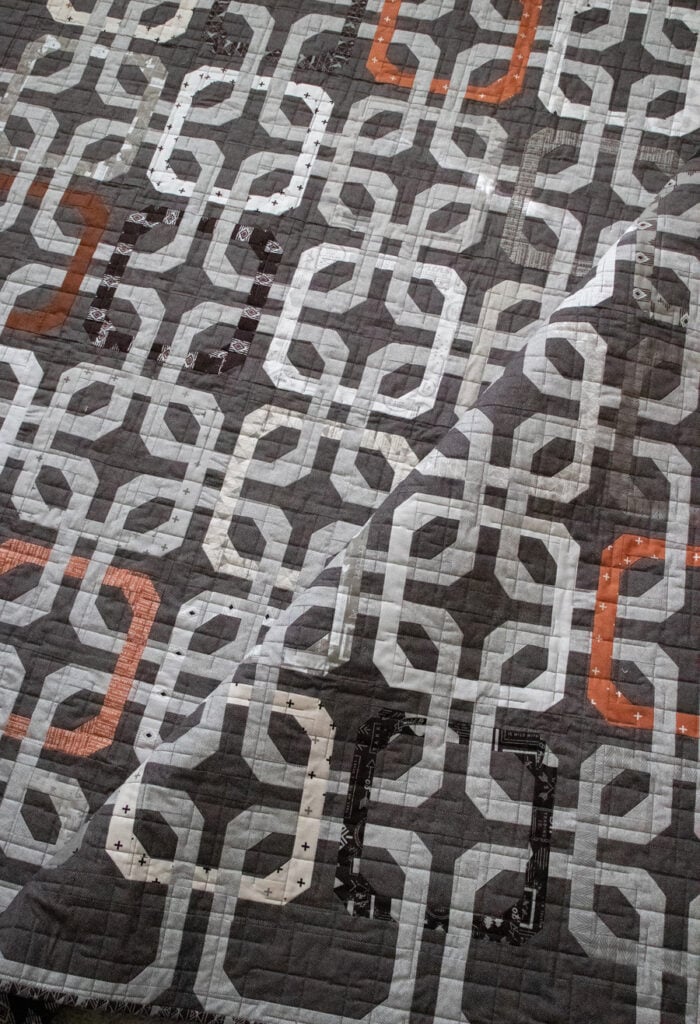 This one was quilted by Kaitlyn Howell at Knot and Thread Design as well. The quilt is made with a Honeybun (precut 1.5″ strips) and is available as a PDF or printed booklet.
Smoke & Rust: Matching Solids
I hope you enjoyed this peek at the new quilts! The Smoke & Rust fabric definitely leans into a more masculine/modern quilting look, but I do know that any of these patterns would look fantastic in just about any fabric collection. Oh and one more thing–a quick word about solid/near-solid coordinates…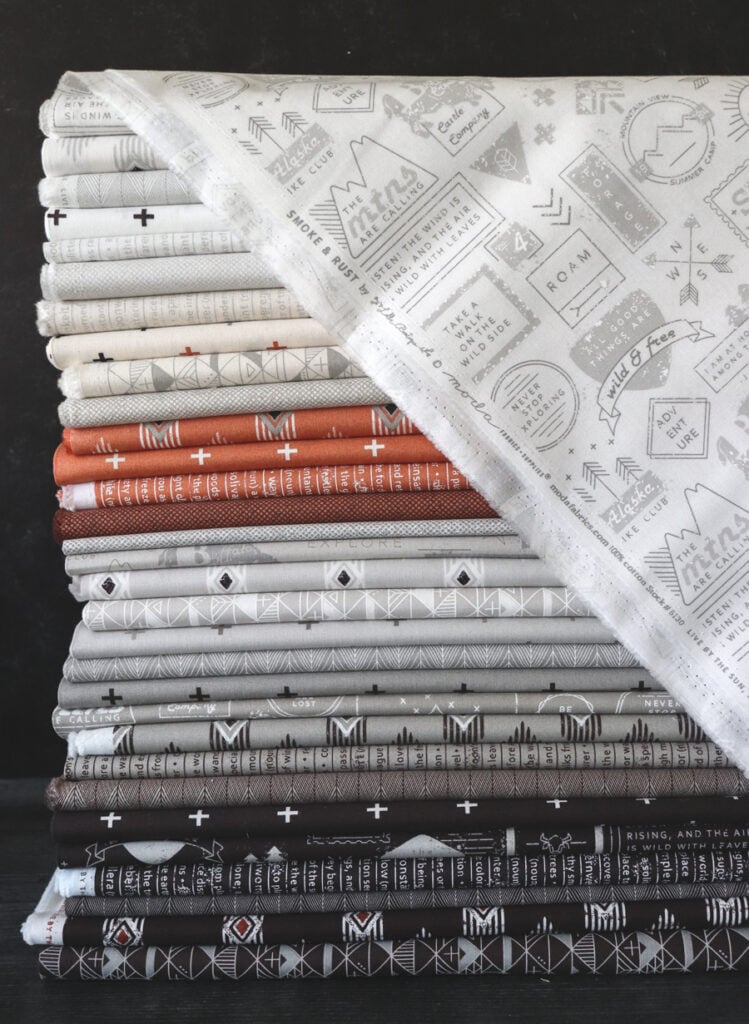 Keep in mind there is already a near-solid print within the collection called "Crackle" for each color. (It's what I used for all the backgrounds of the quilts shown.) It reads as solid overall but adds the illusion of texture. I recommend stocking up on Crackle for your backgrounds when purchasing this collection. They will sell out quickly in April.
That being said, here is a list of the best Moda Bella solid + BasicGrey Grunge coordinates I could find. I couldn't find matches for every color.
30150 310 "Expresso" Grunge
30150 163 "Grey Couture" Grunge
30150 278 "Gris" Grunge
30150 91 "Vanilla" Grunge
9900 285 "Unbleached" Bella
9900 98 "White Bleached" Bella
---
Like this post? Drop your email in the box below to get new post notifications via email.