Sewcialites Quilt Along: Free Block of the Week (Block 27)
Oh hey there. I'm busy crushing on this week's new free block for the Sewcialites Quilt Along by Fat Quarter Shop. Block 27 is "Earnest" by my friend Vanessa Christenson over at V & Co. What do you think of that little pop of red in the center?
Sewcialites Quilt Along Block 27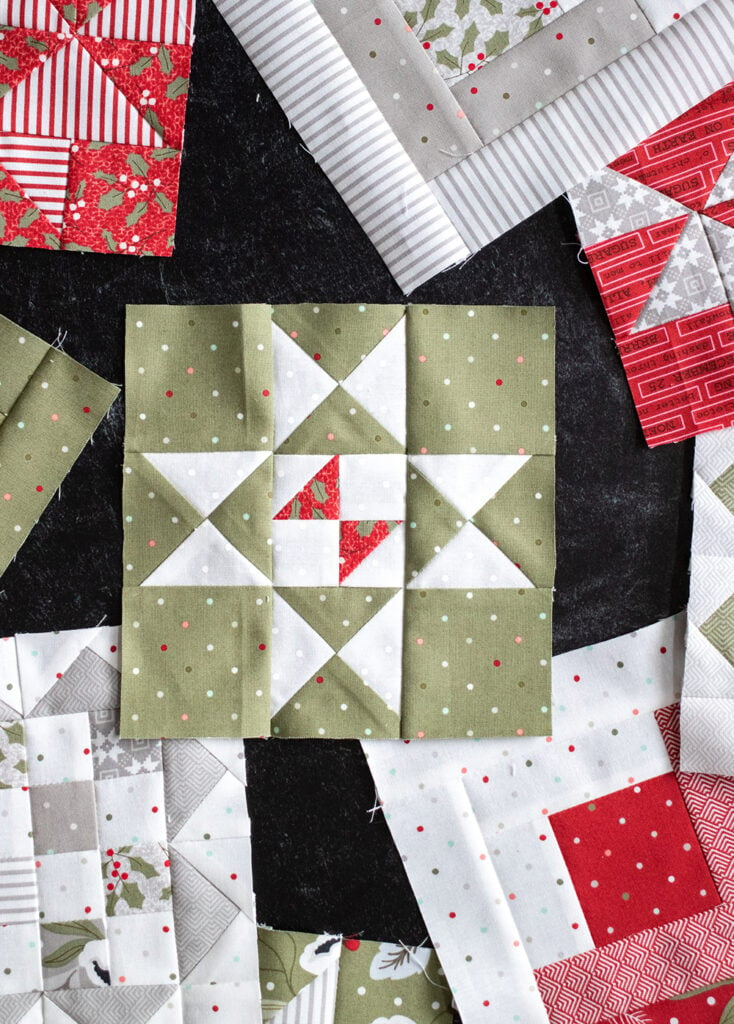 Fabric + Layout Plan
I'm using Christmas Morning fabric for Moda Fabrics (shipping July). I have a very specific quilt layout in mind and it will require (40) 6″ finished blocks divided into 4 main color groups: 10 red blocks + 12 green blocks + 16 grey blocks + 2 low volume blocks. I'm keeping them organized in their color groups to help inform my decision on how to make the new block each week. I decided to add to the green block pile this week, which is why this one is mostly green. To help it stand out from the others in the green group, I added the teeniest hint of red in the middle.
The Quilt Along
Don't forget to share your Sewcialites quilt blocks using the hashtag #SewcialitesQAL. You could win a fabulous prize from Fat Quarter Shop by sharing your blocks on Instagram, so be sure to tag them in your post.
Here is the full Sewcialites Quilt Along schedule + Pattern Archive:
Block 28: TBA by April Rosenthal of Prairie Grass Designs
Block 29: TBA by Me & My Sister Designs
Block 30: TBA by Camille Roskelley of Thimble Blossoms
Block 31: TBA by Susan Ache
Block 32: TBA by Chelsi Stratton
Block 33: TBA by Lori Holt of Bee in My Bonnet
Block 34: TBA by Carrie Nelson
Block 35: TBA by Anne Sutton of Bunny Hill Designs
Block 36: TBA by Corey Yoder of Coriander Quilts
What do you like most about this Sewcialites quilt along block? Let us know in a comment below!
---
Like this post? Drop your email in the box below to get new post notifications via email.