April's $5 quilt pattern: Double Dutch
Once upon a time there was a quilt that lived on my little boy's bed. During the day, it was folded up nicely and waited politely on the edge of the bed–looking sharp. At bedtime, my little boy would wrap himself up in that quilt–a real human burrito–and wriggle underneath his sheets. He drifted off to sleep every night in his little cocoon–a real epitome of coziness. Say hello to the Double Dutch quilt. One of my favorite boy-friendly quilt designs.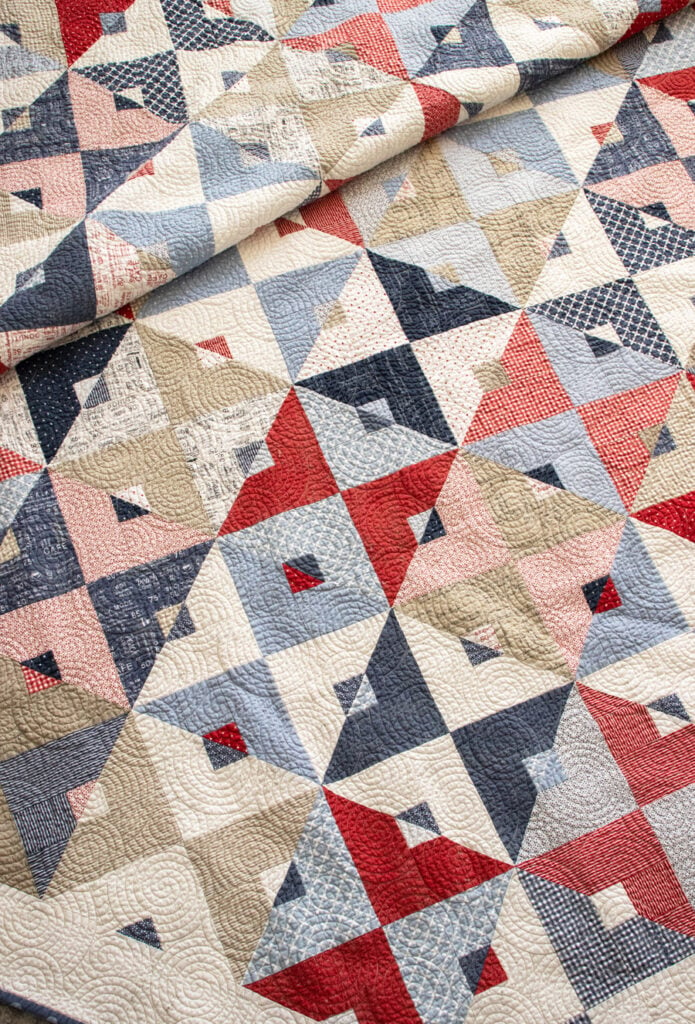 Double Dutch Affordable Quilt Pattern
This isn't the first time I've made this quilt, and it certainly won't be the last. I swear this quilt looks good in every fabric combination. The original was designed for BasicGrey's Stiletto collection (mockup below) and would look similar in my Smoke & Rust collection that ships later this month. Finished block is 9¼" x 9¼", finished quilt is 65¼'' x 74½''. Make it with (28) fat eighths -or- (14) fat quarters.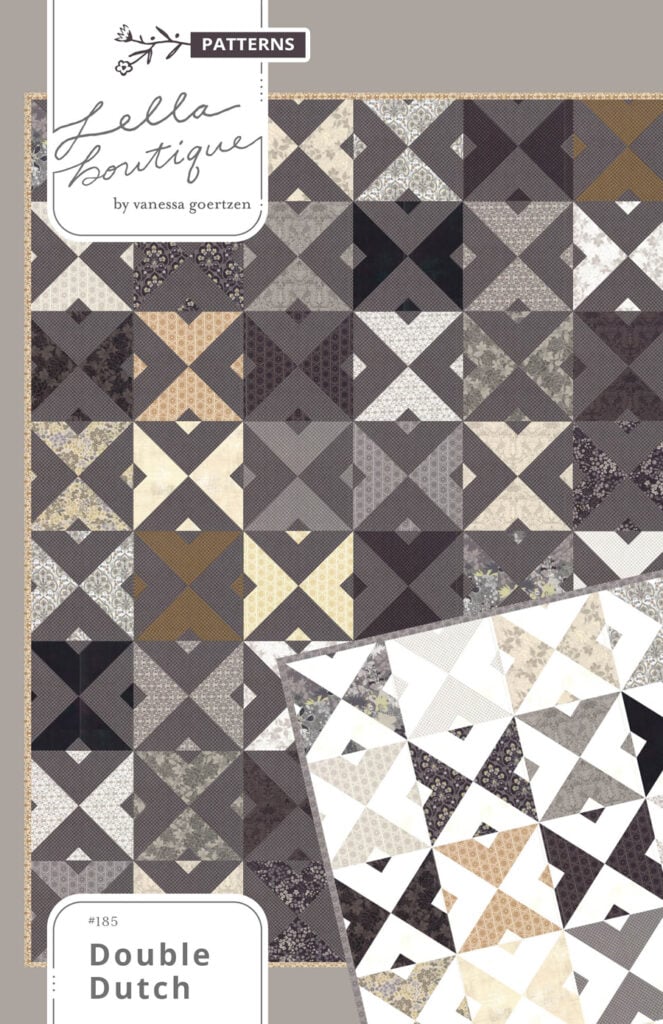 Here's a cute girly version of Double Dutch using my Bloomington collection.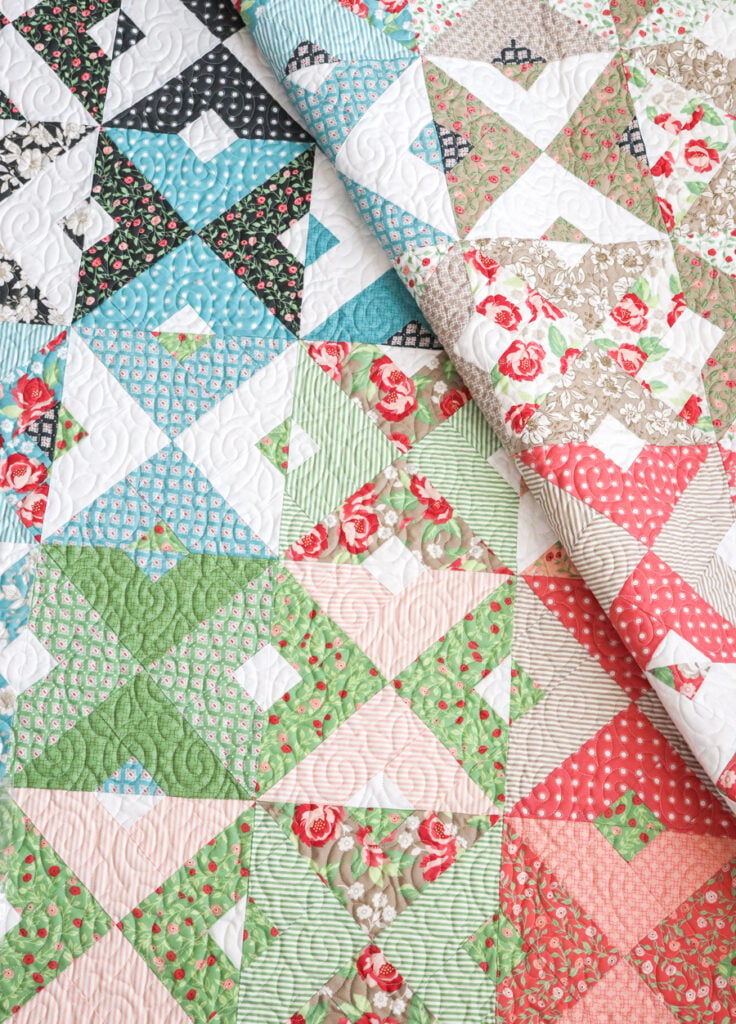 During April 2021, you can get the Double Dutch quilt pattern for just $5. It's available in the shop as a PDF or printed booklet.
The fabric used for my little boy's version is Sweet Tea by Sweetwater for Moda Fabrics. I fell in love with the All-American feel of the red, off-white, taupes and blues and felt it made for a perfect boy quilt. To duplicate this look–you may be out of luck as the Sweet Tea collection is likely out of print. Your best bet is to look for other collections by Sweetwater to find something similar.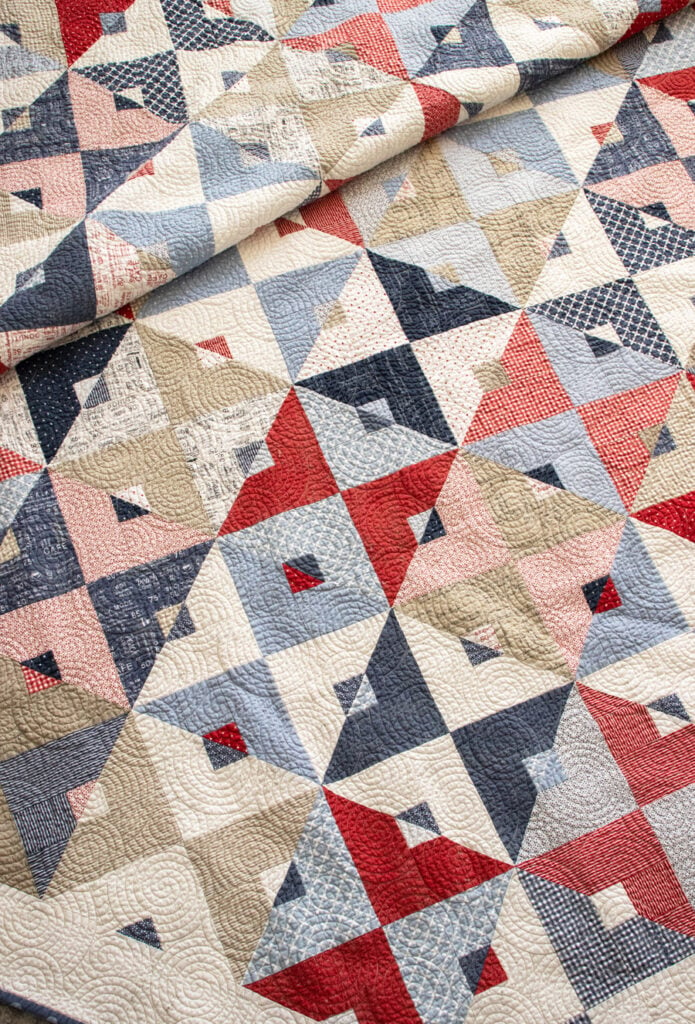 The quilt is backed with the softest minky (aptly named Moda "Snuggle"). The mesmerizing swirl quilting was done by Marion Bott.
Which version of Double Dutch is your favorite? What fabric would you like to use to make it?
---
Like this post? Drop your email in the box below to get new post notifications via email.