11 Cute Spring Quilts
It's official–spring is here. Time to get out the springtime quilts to match the Mother Nature's cheery demeanor. I've rounded up all of my favorite spring quilts + sewing projects to share them with you in spirit of the season.
11 Cute Spring Quilts
Here's a fun bunny quilt from the Garden Variety collection. Sweet rabbits and carrots are "fenced in" with pretty blue sashing and sawtooth stars. Gorgeous custom quilting by Natalia Bonner.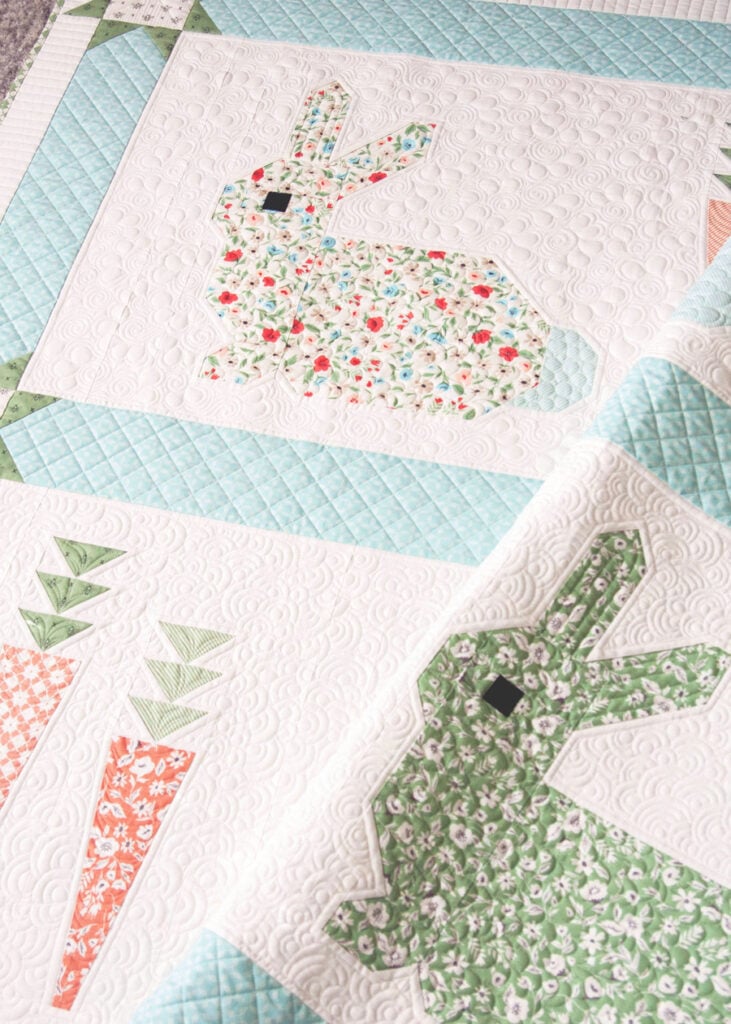 The full quilt layout for Cottontail is shown below. Cottontail is made with a combination of fat quarters + fat eighths. Finished quilt is 84 1/2″ x 84 1/2″.
---
Perhaps you'd like to just make one bunny block and finish it into a wall hanging or pillow? There's a Little Cottontail PDF pattern in the shop as well. It's the same exact bunny block used in the Cottontail quilt but has finishing instructions for a pillow or wall hanging.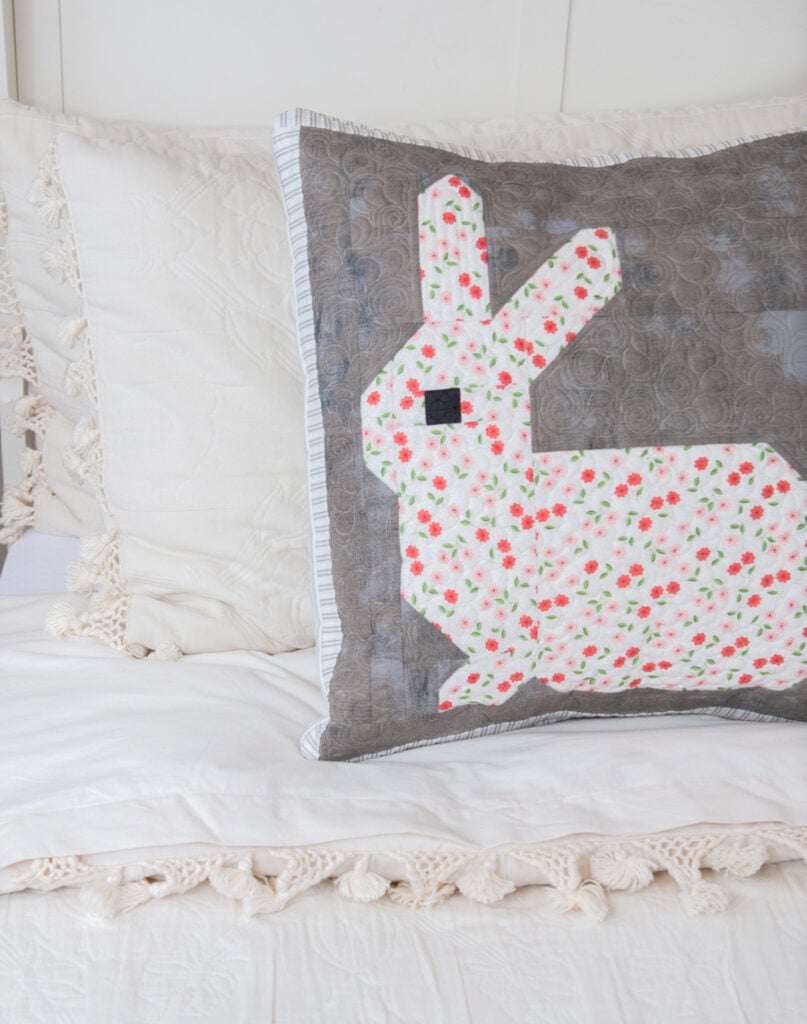 ---
The beautiful thing about a flower quilt is that it can be enjoyed all year long. This colorful flower quilt is called Spring Fling and is made with Folktale fabric.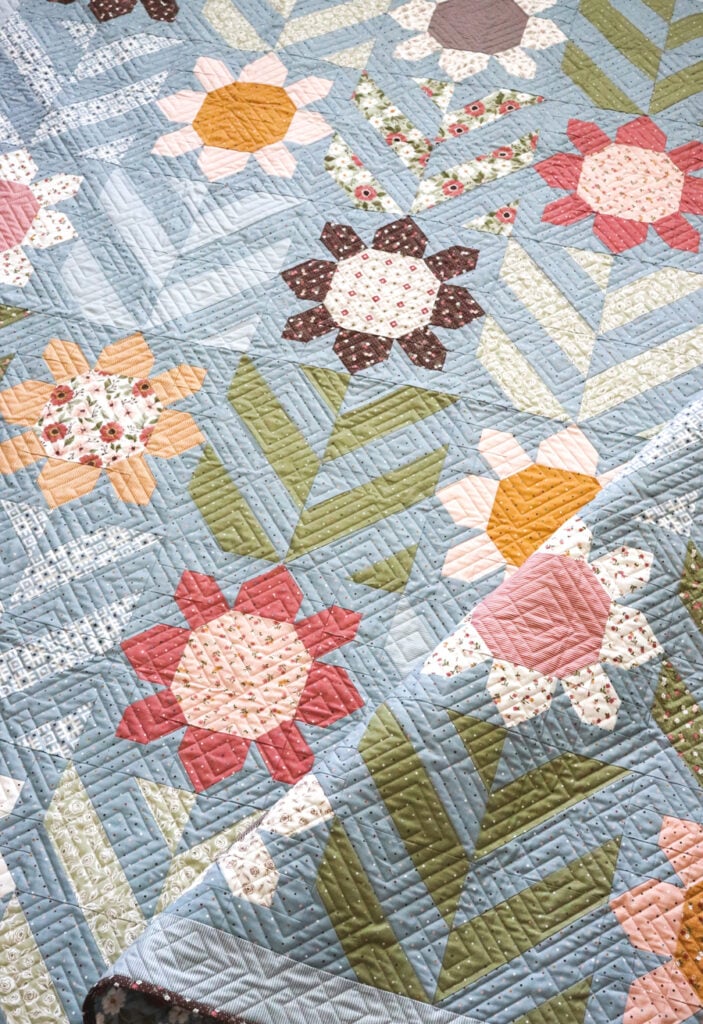 Spring Fling is made with a combination of fat eighths + fat quarters + half-yard cuts. It's intended for intermediate skill level and uses a combination of easy corner triangles + and half-square triangles techniques to make the geometric floral shapes.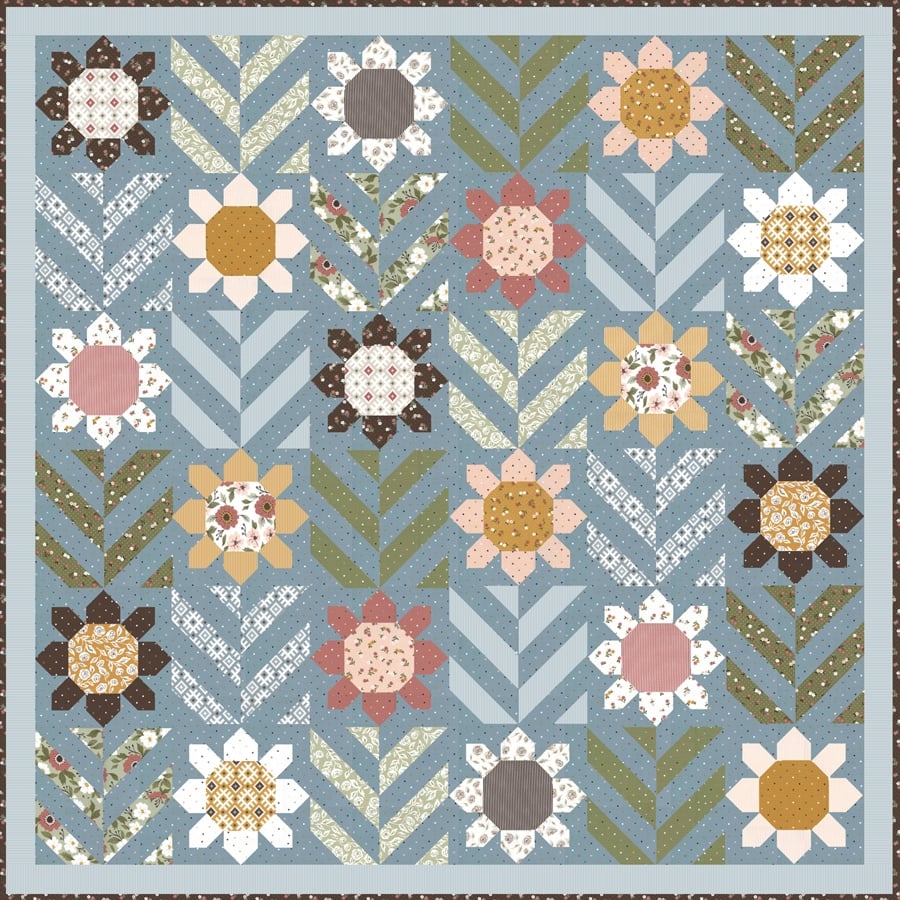 Here's a never-before-seen Spring Fling mockup with a green background + yellow border. Both the background and border are the skinny stripe print from the Folktale collection.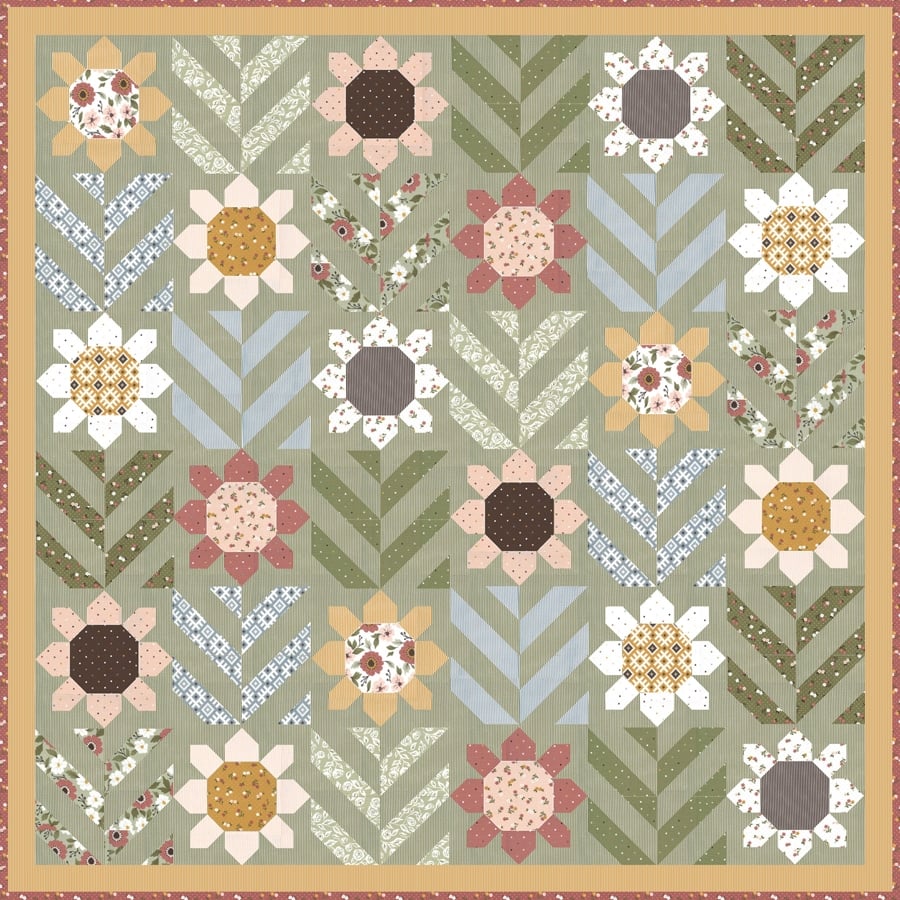 ---
Here comes the sun… sun-shaped quilt blocks, that is. Sun Shower can be made with fat eighths or fat quarters and is a quilt that looks a bit like a vintage tile floor. The colors of Folktale fabric are really what makes this a great spring quilt.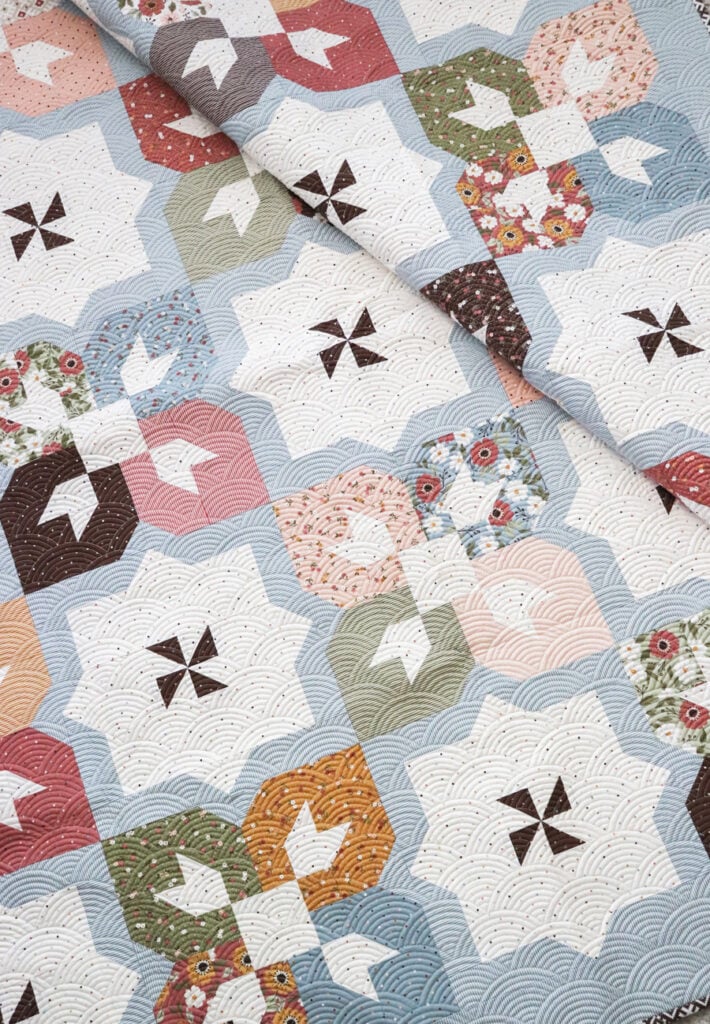 This Sun Shower pattern fits into the intermediate skill level category using easy-corner triangle + half-square triangle techniques.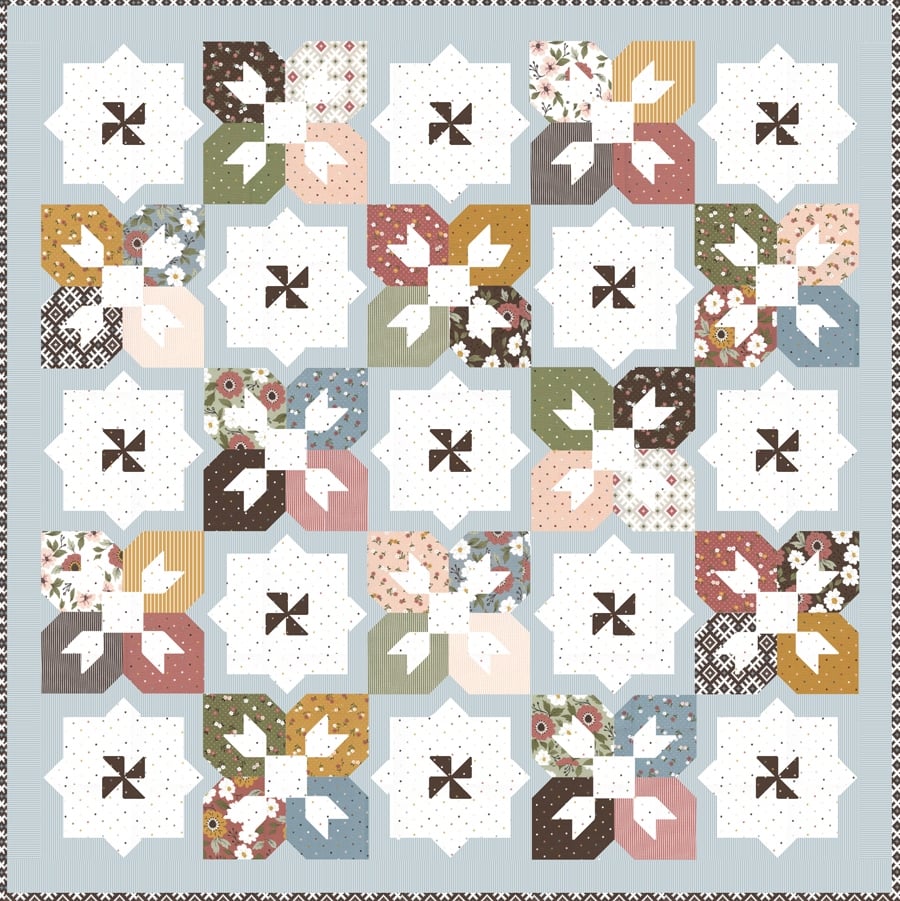 ---
One of my first quilt designs was Social Butterfly. This scrappy butterfly block is made with 18 fat quarters. Pick a variety of light and dark colors since you'll be mixing and matching the colors around within each butterfly block.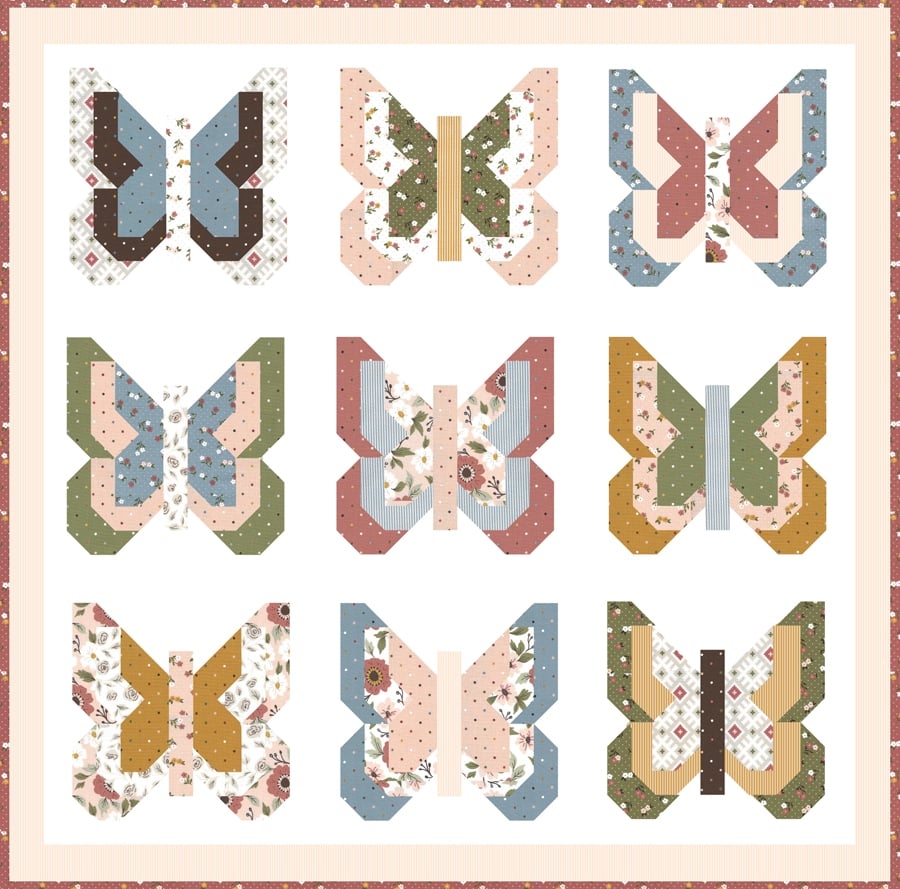 ---
Of course I had to make a miniature version of the Social Butterfly block. Meet Social Butterfly Mini–a miniature quilt finishes at 11 1/2″ x 11 1/2″.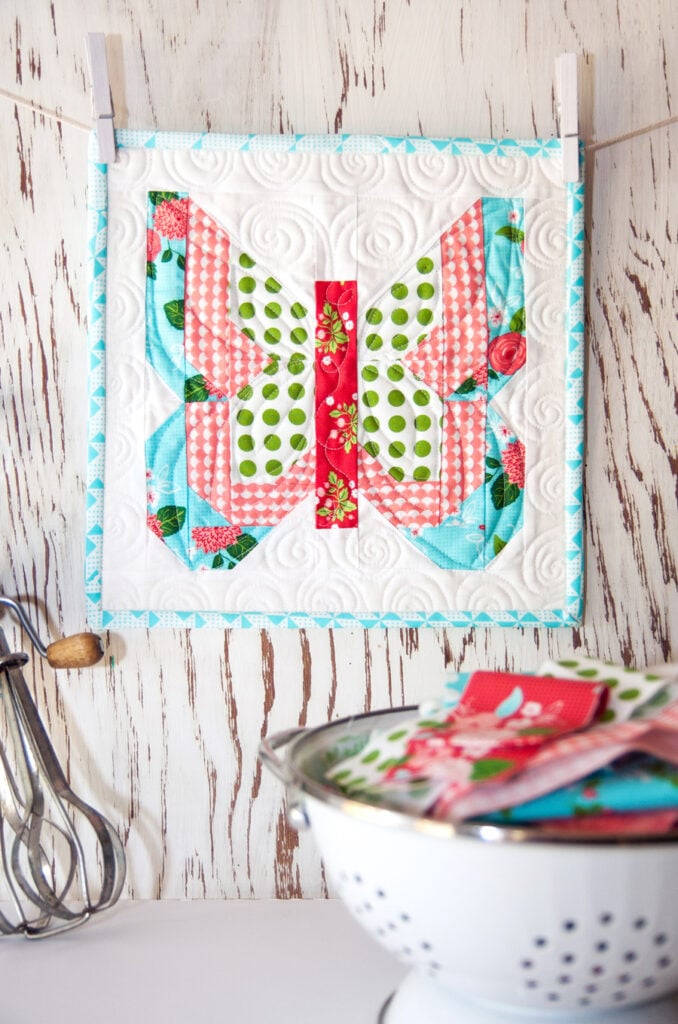 ---
Inspired by my bestselling Social Butterfly pattern, Butterfly Patch is an enlarged version of that sweet butterfly shape filled with beginner-level blocks for a sampler-sort of feel. Butterfly Patch is made with a Layer Cake (42 precut squares 10″ x 10″). You can buy a variety of Layer Cakes online–or make your own what you already have in your stash.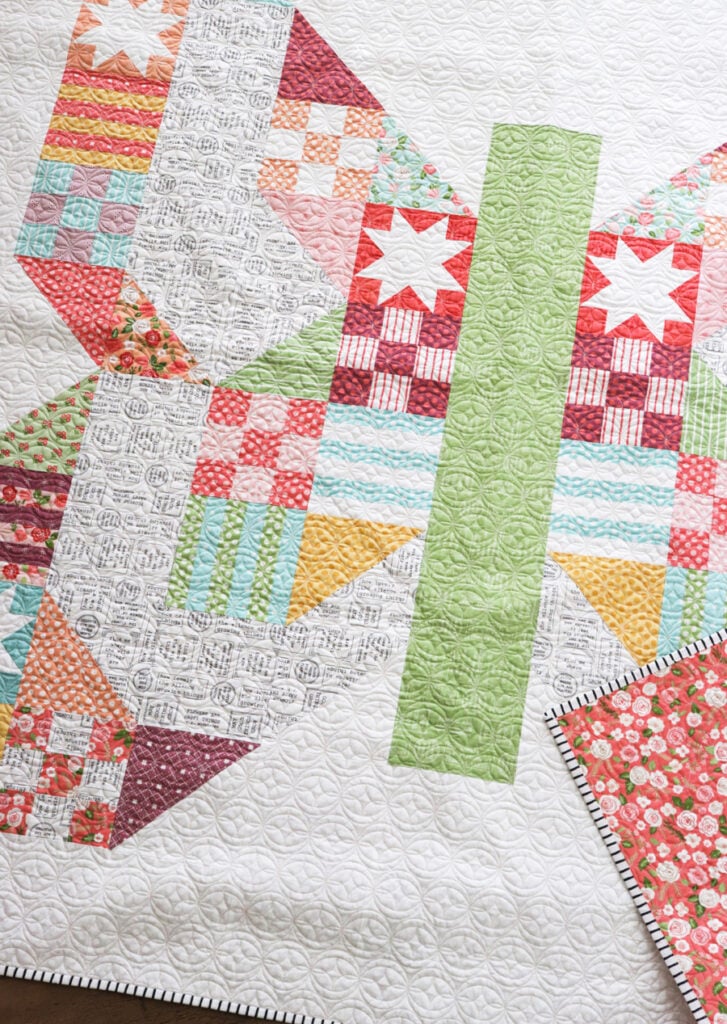 I used Lollipop Garden fabric for this original version–as well as a second version I made with a grey background. To see the grey background version (+ instructions on how to add a scrappy patchwork border), check out my post here.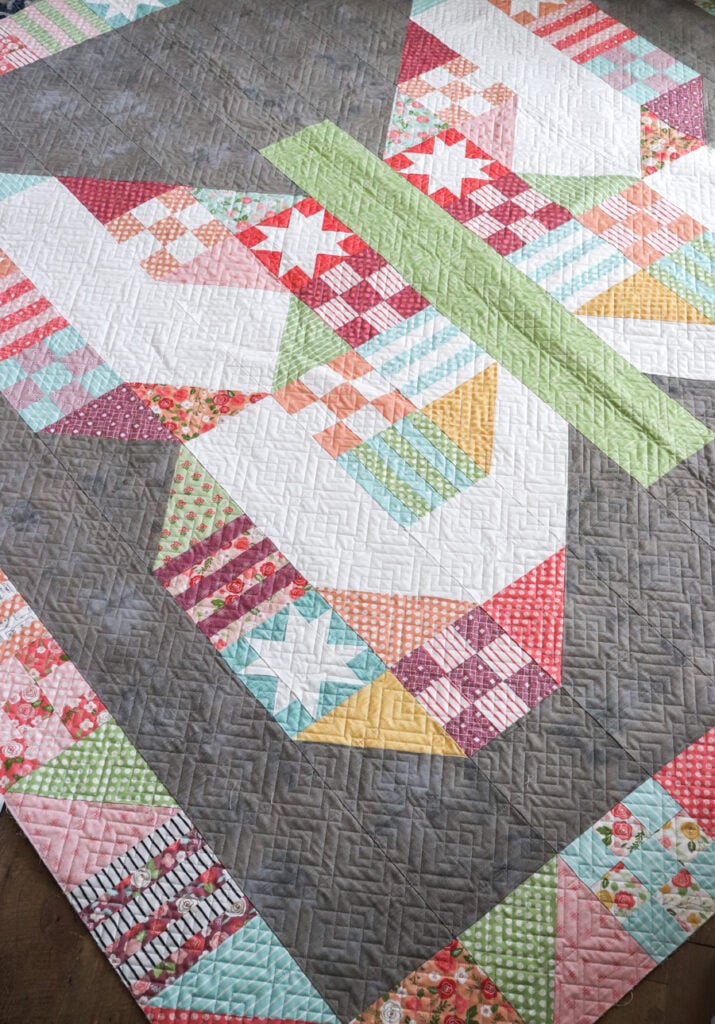 ---
No spring season would be complete without tulips. Holland is a tulip quilt that is a great intro to curved piecing if that is something you want to learn how to do. For this two-tone version, I used 1 yard of white fabric for the tulip top + 1 yard of white floral print for the tulip base. (You can use 10 fat quarters for a variety of tulip colors.) The two-tone version uses 1 3/4 yard of the green print. for the tulip stems. (You can use four assorted 1/2-yard cuts for a variety of tulip stems.)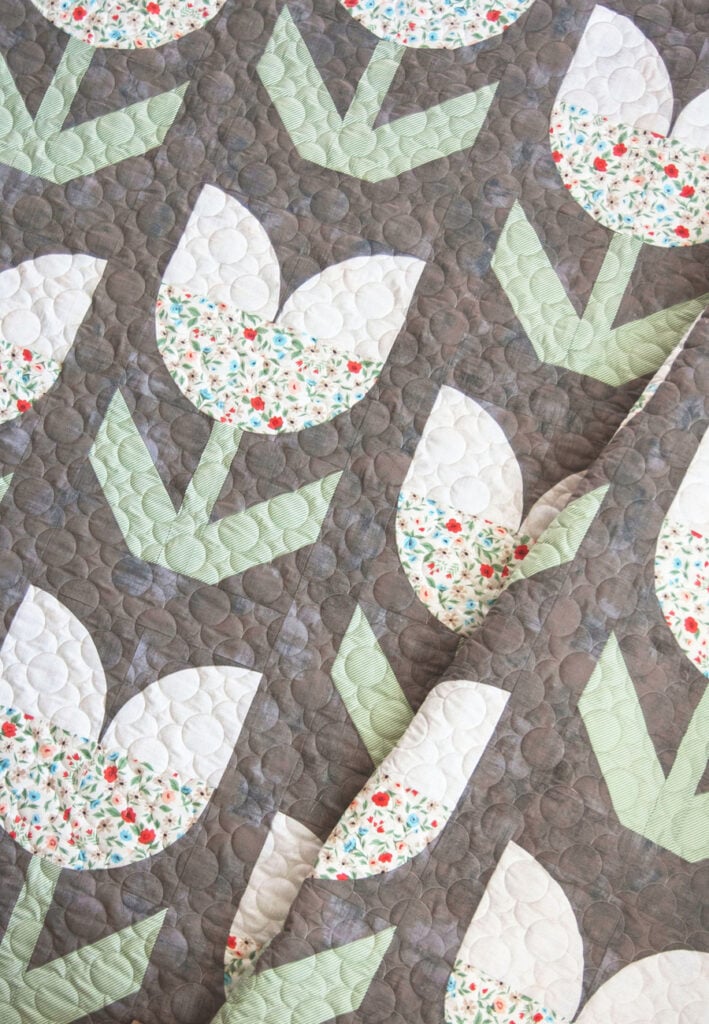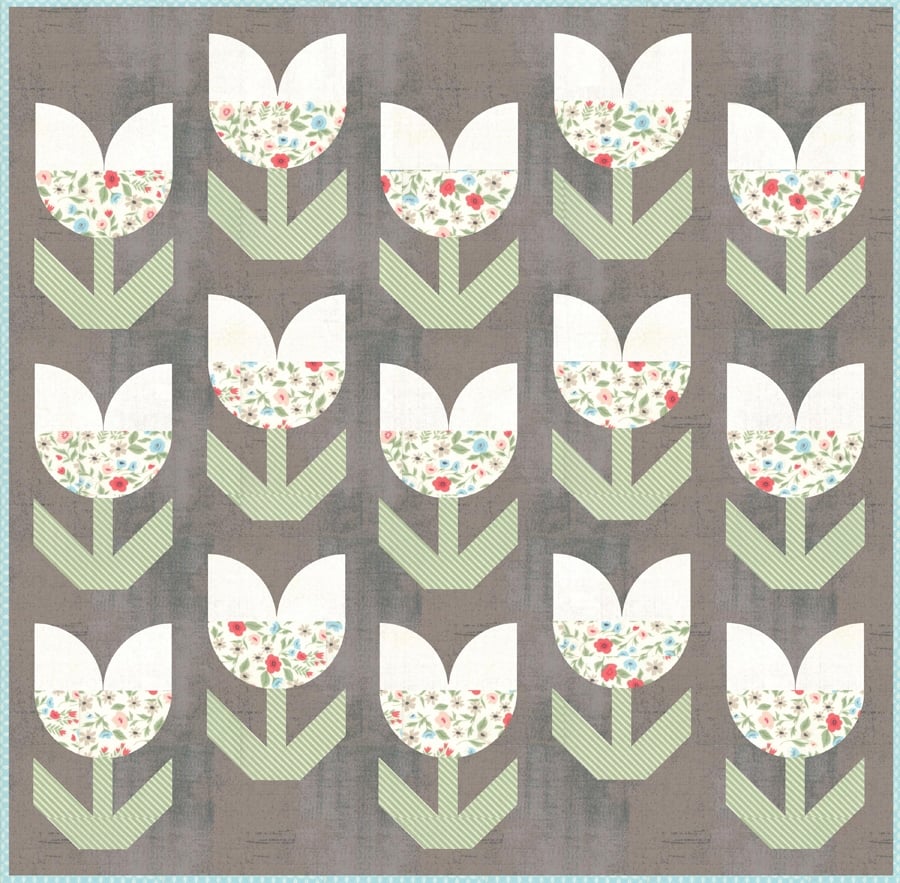 ---
Yep. More flower quilts. This one is Cottage Blossoms. The Cottage Blossoms blocks can be made with 1 Layer Cake (42 precut squares 10″ x 10″) or 10 fat quarters. Check out the custom quilting by Natalia Bonner on this one. Unbelievable.
It certainly looks happy mocked up in my Lollipop Garden collection. (This is a layer cake plugged in.)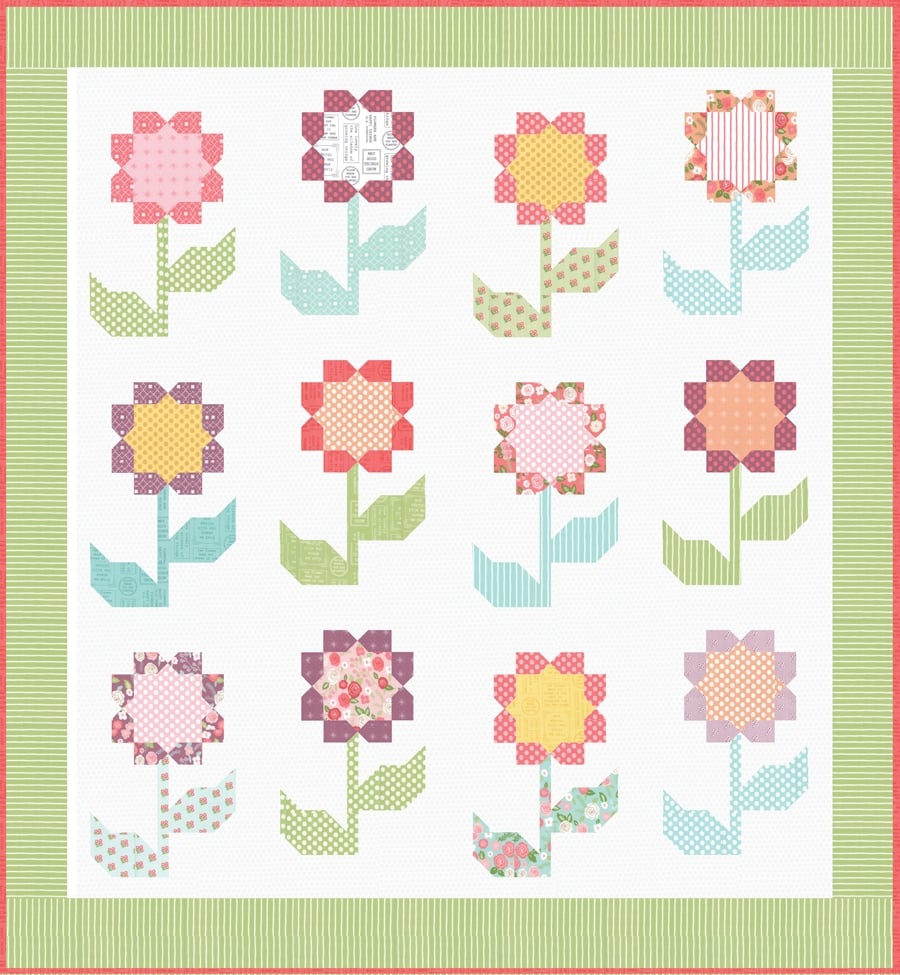 ---
Are you seeing a trend here? (I like mini quilts.) Here's a miniature version of the Cottage Blossoms block made into a mini quilt. You can really have a lot of fun fussycutting the shape in the center like I did with the taupe floral print.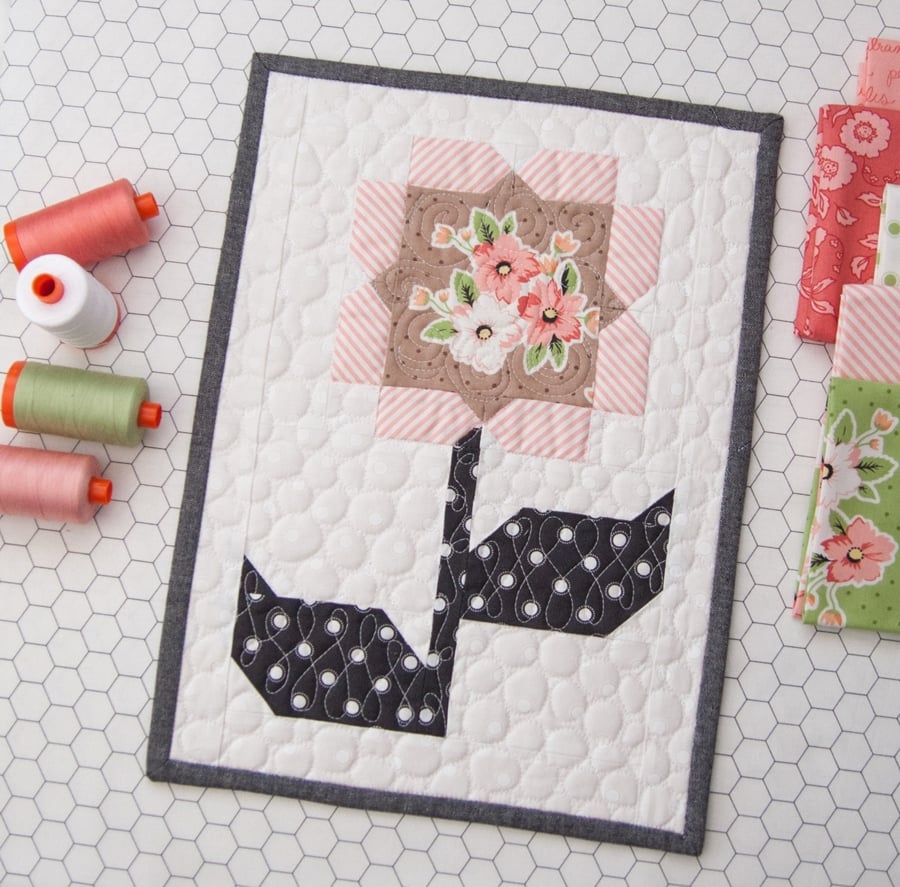 ---
Now this flower quilt feels a little less literal than the others, which can be nice if you are going for a more traditional looking flower quilt. Bloomington is made with a Jelly Roll (40 precut strips 2 1/2″ x 40″) + whatever sashing accent color you'd like.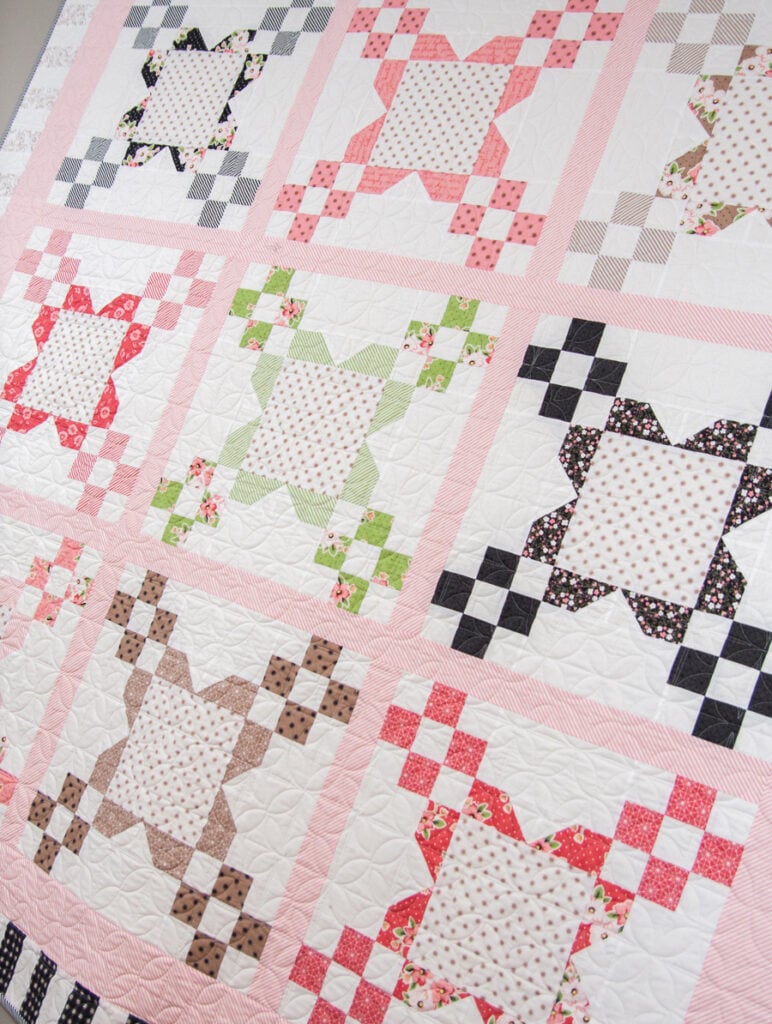 One of the things I love most about this pattern is the scrappy, stripe-y border. The Jelly Roll used for the blocks yields enough leftovers to include with border.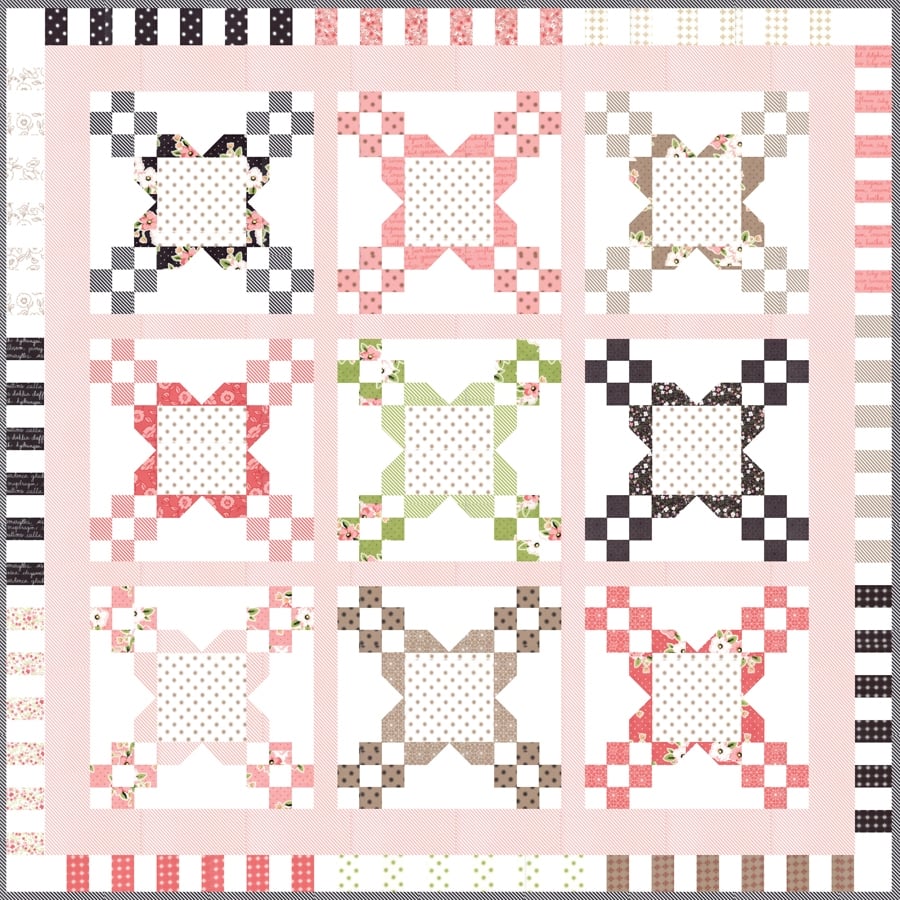 Leave a comment let me know which spring quilt is your favorite
---
Like this post? Drop your email in the box below to get new post notifications via email.