New Quilts with Folktale Fabric
"Always be on the lookout for the presence of wonder." – e. b. white
Five brand new quilts — crisp quilting, freshly bound, and ready for their day in the sun. These projects are made with Folktale fabric, arriving to shops October 2020. I'm already dreaming of more happy things to make in this collection. The new patterns you are about to see are available NOW in the shop. Through Monday 5/25/20, enjoy an automatic 25% off in the shop.
Here's a geometric flower quilt sure to brighten your day. Like most of my patterns, Spring Fling uses a combination of beginner techniques like half-square triangles and easy-corner triangles.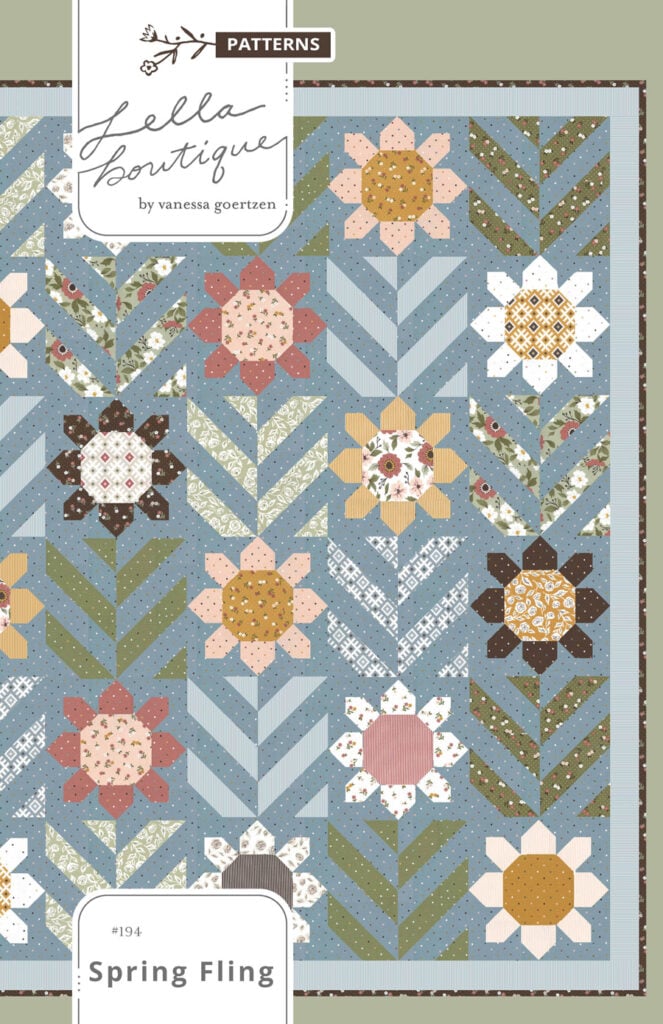 I usually have a favorite quilt in every batch, and this one is it. Spring Fling finishes at 78″ x 78″ and is made with (9) assorted fat quarters for the flower petals + (9) assorted fat eighths for the flower centers + (6) assorted half-yard cuts for the leaf-and-stem units. Don't forget to choose a background print to make your fabric garden pop! Quilting by Kaitlyn Howell.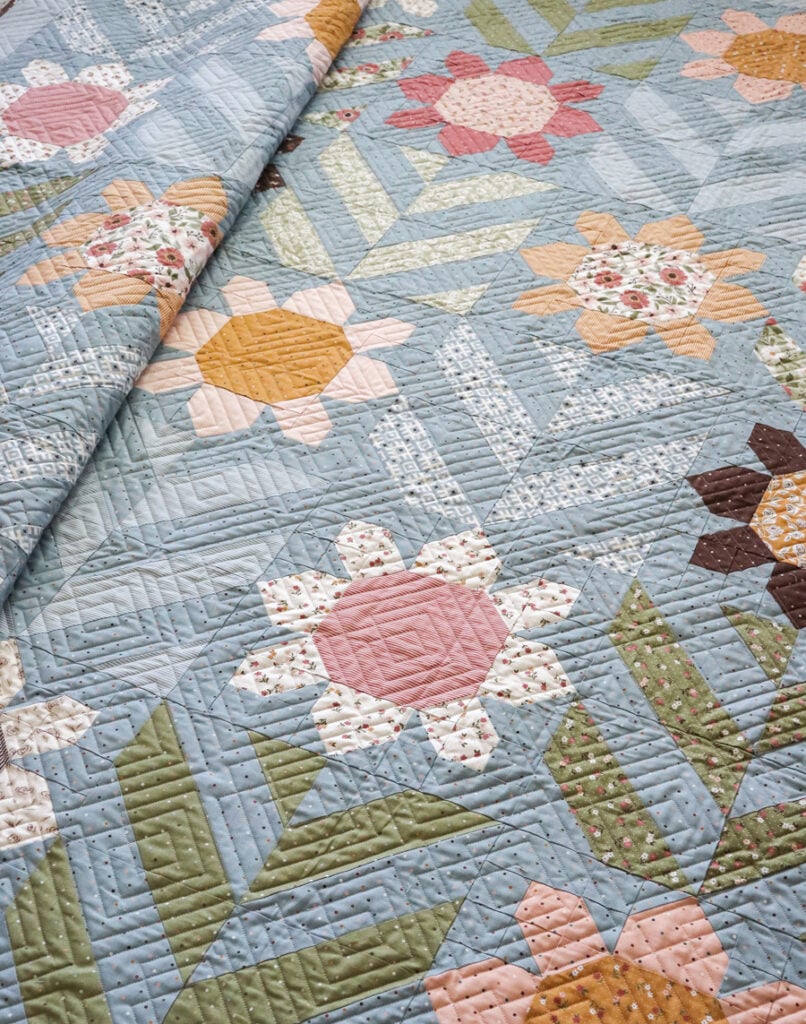 For some reason, this one makes me think of an old nursery rhyme book I liked to look at as a child. You've heard the old poem about the whimsical garden full of silver bells, cockle shells, and pretty maids all in a row. I remember it seemed too magical to belong to such an ornery caretaker. Quilting is by Kaitlyn Howell.
It's worth noting that the Folktale collection includes a couple charming basics perfect for backgrounds, borders, accents, etc. If you look closely at the blues below, you will see the sweet dainty multicolor "Magic Dot" print used for the background in Spring Fling, as well as the Sparkler quilt you'll meet momentarily. The skinny stripe was also used for the border here.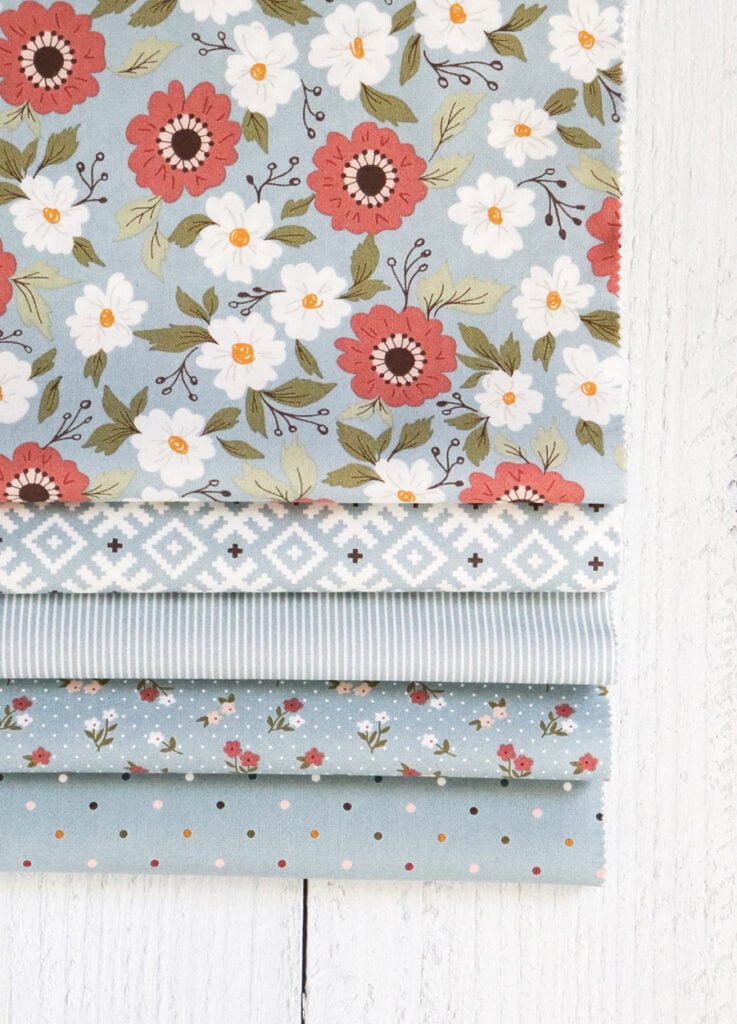 Next up is Sun Shower, a pattern inspired by one of my favorite muses–a tile floor. Make this one with (24) fat eighths or (12) fat quarters, depending on how scrappy and colorful you'd like to make it. Finished quilt size is 66.5″ x 66.5″.
I've used the white "Magic Dot" for the white background in this one, but really all the quilts in this collection. The blue skinny stripe makes an appearance again for the sashing.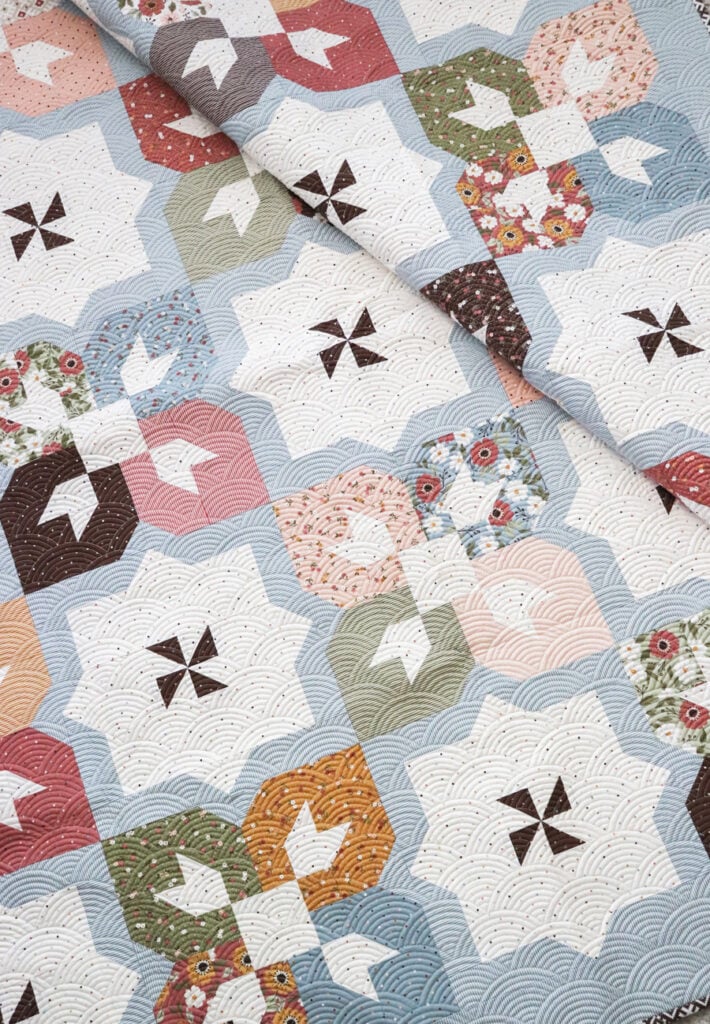 The quilting by Marion Bott really makes this one sing.
This little charmer finishes at 82″ x 82″ and is made with (1) Layer Cake (32 assorted precut squares 10″ x 10″). The blue "Magic Dot" shows up again for the background.
This is a quick and easy one to piece, really great for a newer quilter. Quilting by Marion Bott.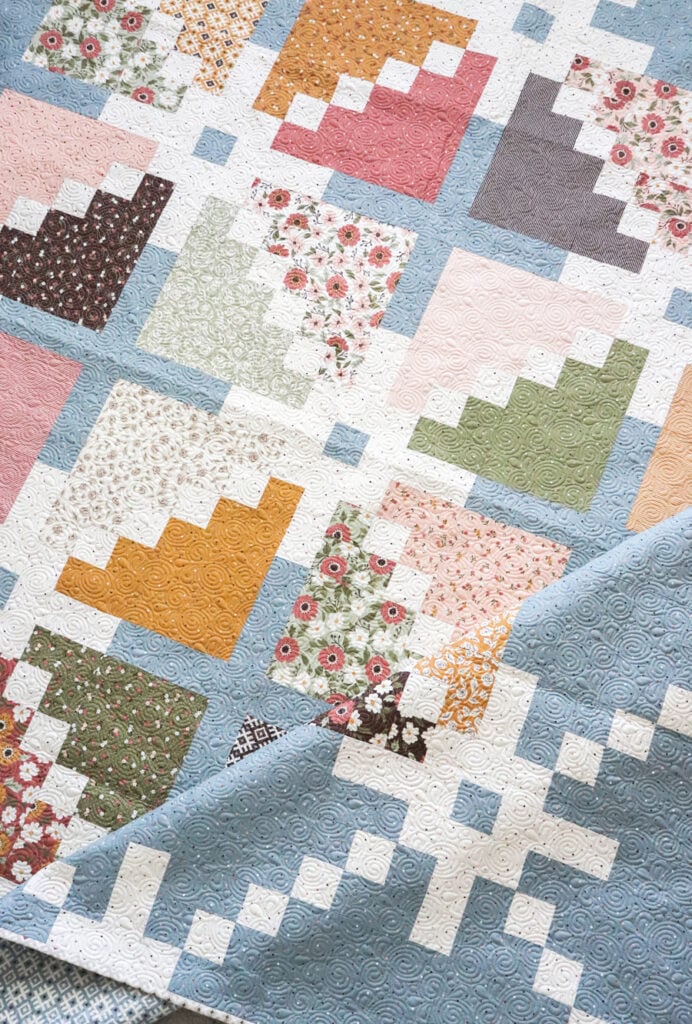 Here's a sequel to my ever popular Starstruck quilt. The main difference is a smaller finished block (6″ square) and a whole lot more of them. Make it with (2) Layer Cakes (60 assorted precut squares 10″ x 10″) or (24) fat quarters. Finished quilt size if 68″ x 80″.
This one does also technically have added corners to each sawtooth star unit. The golden skinny stripe is used as that corner accent print, as well as the border. It gives this quilt such a warm and bright disposition, don't you think? Quilting by Kaitlyn Howell.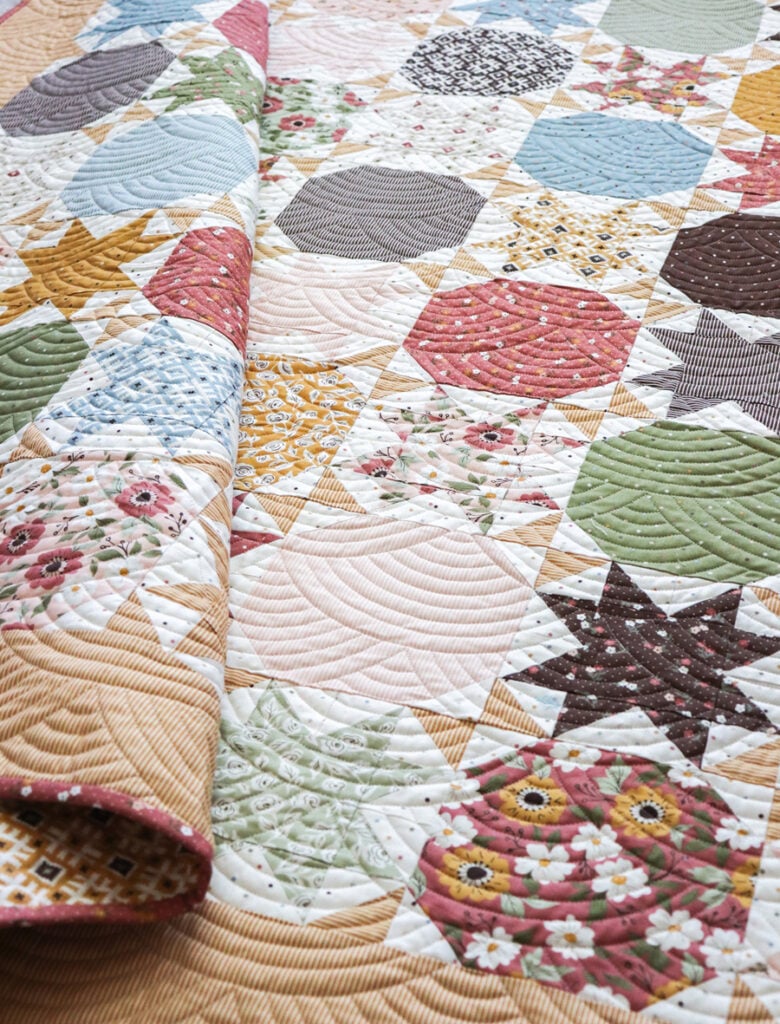 I have wanted to resize the block of the original ever since I made a Starstruck Mini wall hanging (exclusive to the Quilter's Candy Box years ago). I will be making another Starstruck 2 to mimic the Farmhouse-y charcoal colors of that wall hanging.
This is an reprint of an oldie. I've updated it to make it bigger–finishing at 72″ x 80″ with more blocks. Make it with (2) Layer Cakes (72 assorted precut squares 10″ x 10″) OR (2) Jelly Rolls (72 assorted precut strips 2.5″ x WOF) OR (24) fat quarters.
This one was quilted by Marion Bott. I ran out of the white "Magic Dot" at the last minute and substituted this low volume geometric instead.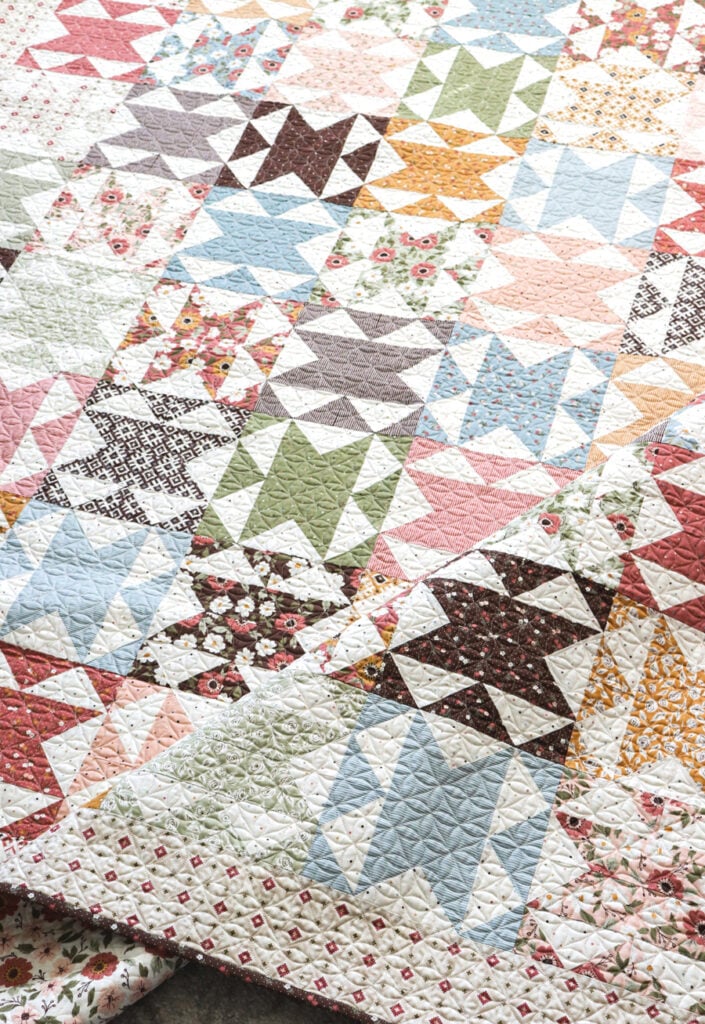 Fabric is so magical, isn't it? I am amazed what it can make me feel just looking at it. These days, it's definitely a welcome bit of eye candy. Hope you enjoyed this Folktale fabric preview, mark your calendars for October when the fabric arrives.
---
Like this post? Drop your email in the box below to get new post notifications via email.