Hot Cross Buns Jelly Roll Quilt in Smoke & Rust
One a penny, two a penny. Hot Cross Buns. This jelly roll quilt has been stitched up many times at my house over the years and is packed with dozens of colorful plus sign blocks. Now that the binding is stitched on, I'm ready to give you all the details about this simple and modern quilt made up in Smoke & Rust fabrics – now available in your favorite independent quilt shops!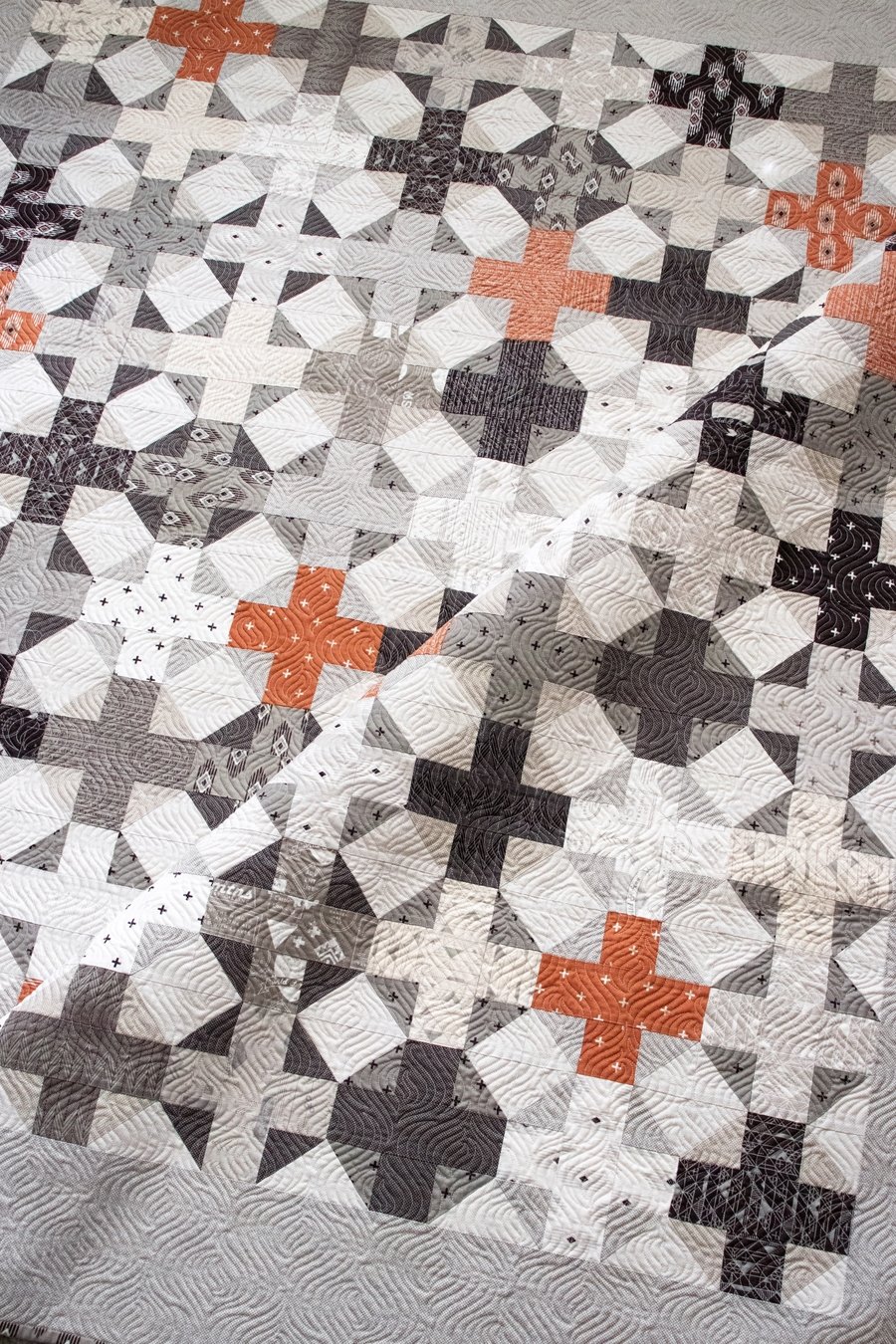 Precut Friendly
Hot Cross Buns blocks can be made with a Jelly Roll (2.5″ strips) or Layer Cake (10″ squares) + 4 accent prints for the block accent corners. (You can view the full materials list here.) For this Smoke & Rust version, these are the 4 accent prints I used:
5135-14 "Plus" in "Stone"
5136-12 "Crackle" in "Flax"
5136-14 "Crackle" in "Stone"
5136-15 "Crackle" in "Soot"
NOTE: The pattern cover shows a slightly different quilt mockup – a white border (same as the background). I changed my mind when I pieced the actual quilt – and went with 1.5 yards of 5136-14 SKU "Crackle" in "Stone" for the border in the updated mockup below:
Finishing Details
Marion Bott quilted this and as always, did a wonderful job. She used the pantograph "Russian Flames" by Beany Girl Quilts. It was a thoughtful choice to go with Smoke & Rust fabrics. The dense flame quilting adds really cool texture to this one.
I bound the quilt using my favorite machine binding tutorial here.
What do you like most about this jelly roll quilt? Let me know in a comment below!
---
Like this post? Drop your email in the box below to get new post notifications via email.