Smoke & Rust Fabric
It's coming… Smoke & Rust fabric is finally on its way to shops! It's been an extra long wait–and unfortunately, that couldn't be helped. The industry is experiencing unprecedented delays stemming from the pandemic (i.e. increased demand + shipping disruptions overseas). So a big thank you for your patience.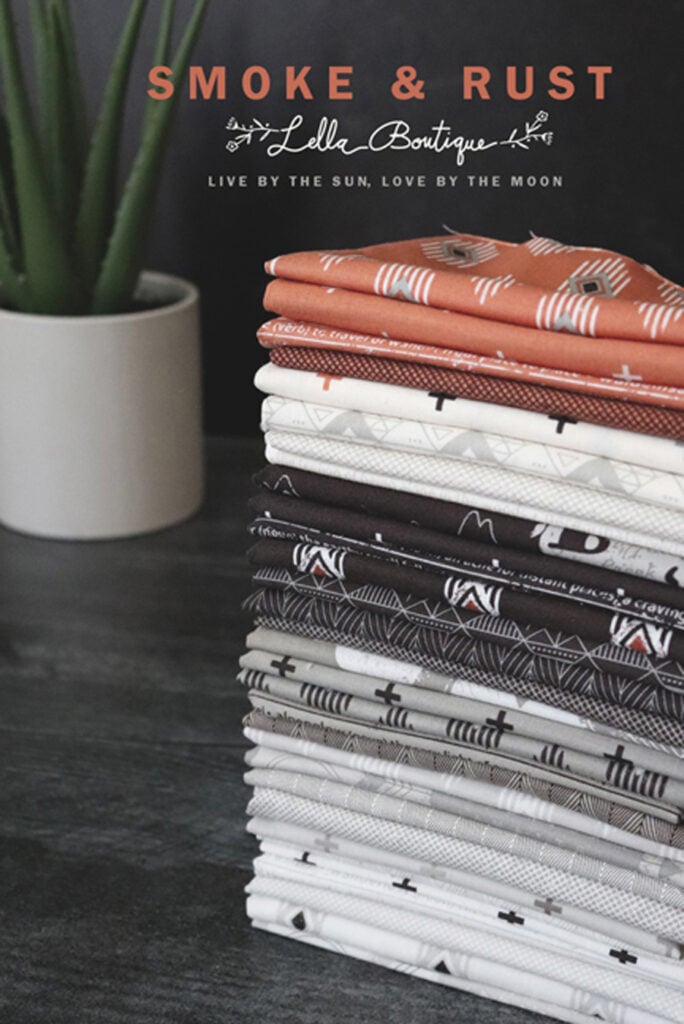 ---
Smoke & Rust Trunk Show
Just a few weeks ago, Lisa Bongean at Primitive Gatherings did an online trunk show featuring my Smoke & Rust collection. (LOVE her!) I was able to pop in for a few minutes and share a little about the inspiration behind the collection + quilts. Here's a link to the full video (the trunk show begins about 27 minutes in):
---
Smoke & Rust SKUs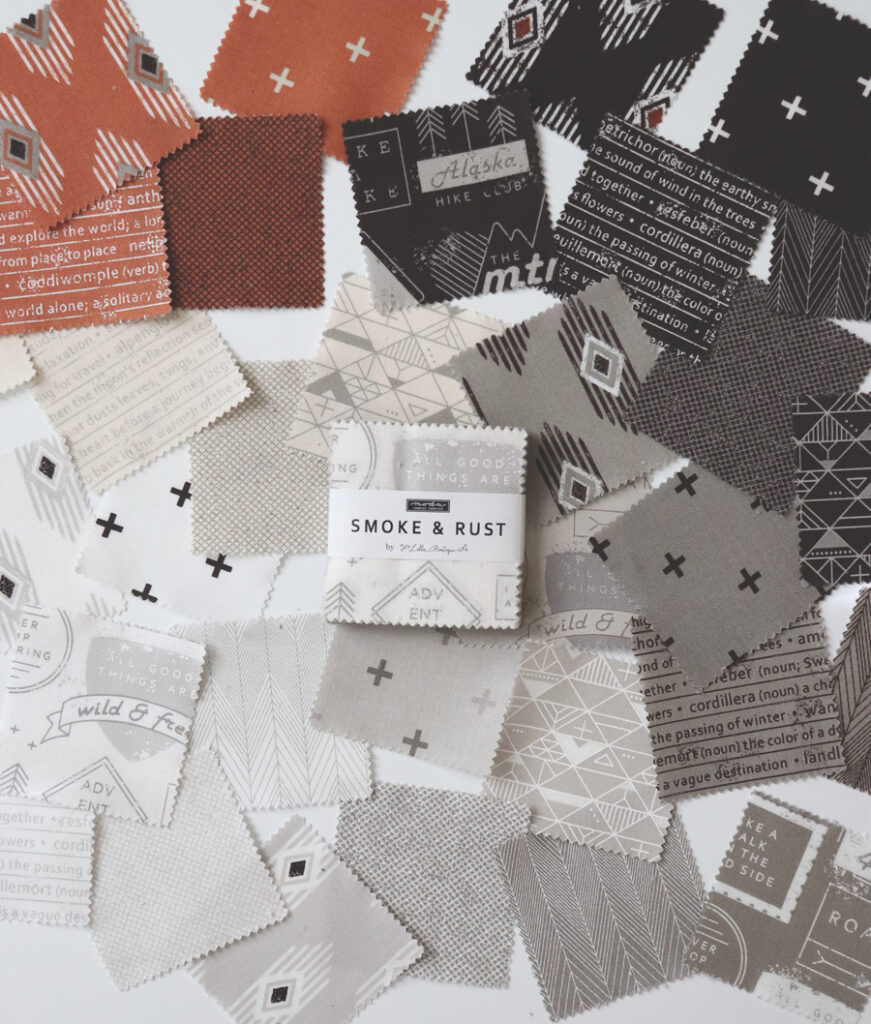 The Smoke & Rust collection features 32 prints in a range of charcoals to grey + creams + whites + a pop of rust color. Here's a quick look at the thumbnails of each print including its SKU number. I highly recommend stocking up on SKU 5136 "Crackle" – it makes excellent backgrounds and sashings. The "Plus" sign is also such a great basic to stock up on.
---
SMOKE AND RUST FABRIC QUILTS
I've created 6 quilt designs to show off Smoke & Rust fabric. In general, you will notice many of these quilts are geometric, modern, and simple. All of them are available in my shop in PDF or printed booklet formats.
The Fracture quilt is a modern spin on a log cabin block. It has a modern look in these Smoke & Rust fabrics, making it great for modern and masculine tastes alike. Fracture is made with fat eighths or fat quarters. Quilting by Marion Bott (she used the "Modern Maze" pantograph from Intelligent Quilting). It so happens to be the $5 pattern of the month for May 2021 – so you can snag the PDF or printed booklet for $5 for a just a few more days! You may also want to check out my post here to see the patriotic tester quilt blocks!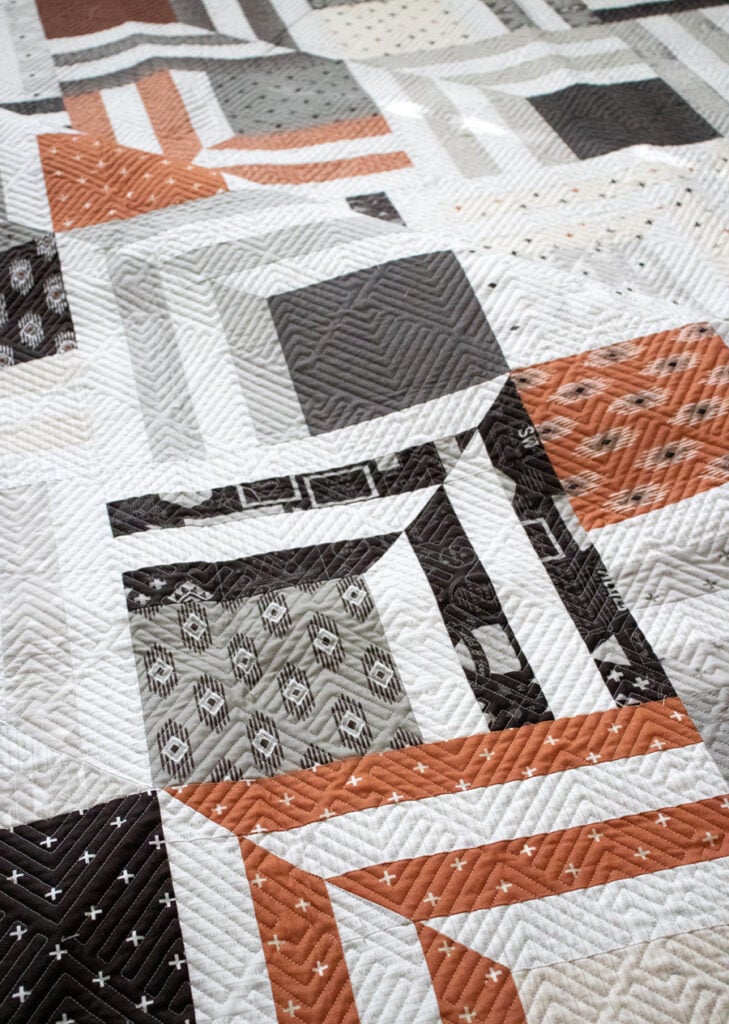 ---
This quilt has lived in my heart for a very long time. I have grown up around mountains all my life and felt this collection was the perfect opportunity to finally make this quilt come into being. Mountainside is made with fat eighths + 1 or 2 background prints depending on if you want a single print background -or- use a second print to add an accent stripe at the bottom.
A NOTE ABOUT KITS: I offered a preorder for Mountainside kits in this grey/charcoal background back in December (they sold out). If you are waiting for a kit – first, thank you for your patience – and second, I'm just waiting for the fabric to get here from Moda. I am hoping for the fabric to arrive by the end of next week but haven't gotten my shipping notification yet. I am hoping for my customer kits to ship out mid-June. (You'll receive a shipping notification when it's on its way.) If you are looking for a Mountainside kit – please check in with your favorite local or online shops. Many will be carrying the kit and others are likely willing to cut one up for you if they haven't already. If you don't know where to start – a quick google search may be helpful.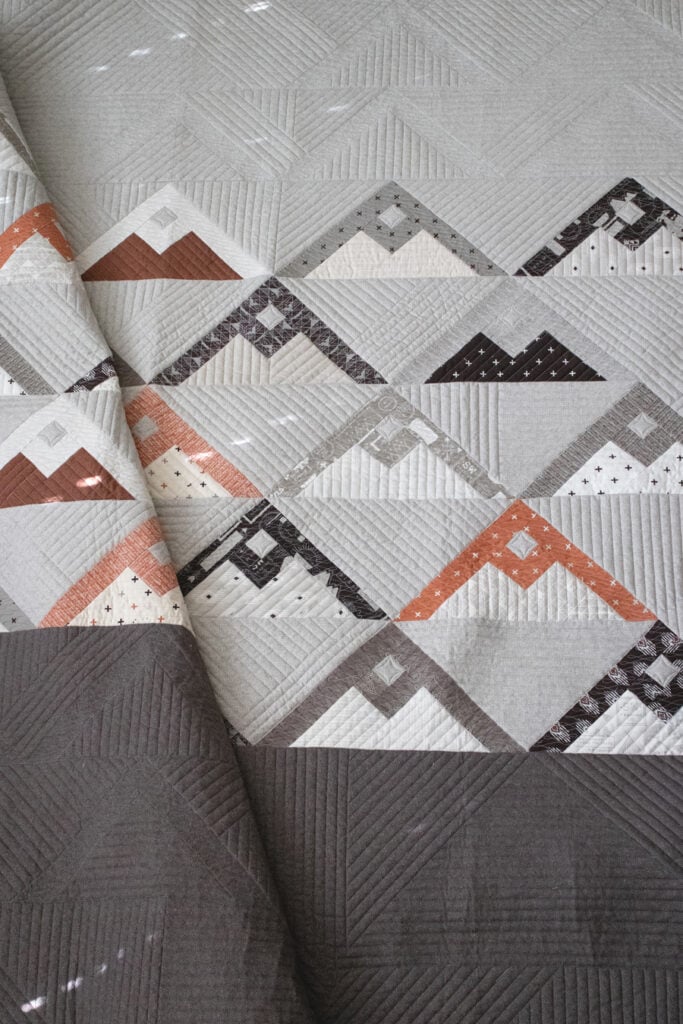 Customer quilting on my Mountainside quilt is by Natalia Bonner. This is really a keeper! Oh and I thought I'd share a few of the mockups I created playing around with background options. Which is your favorite?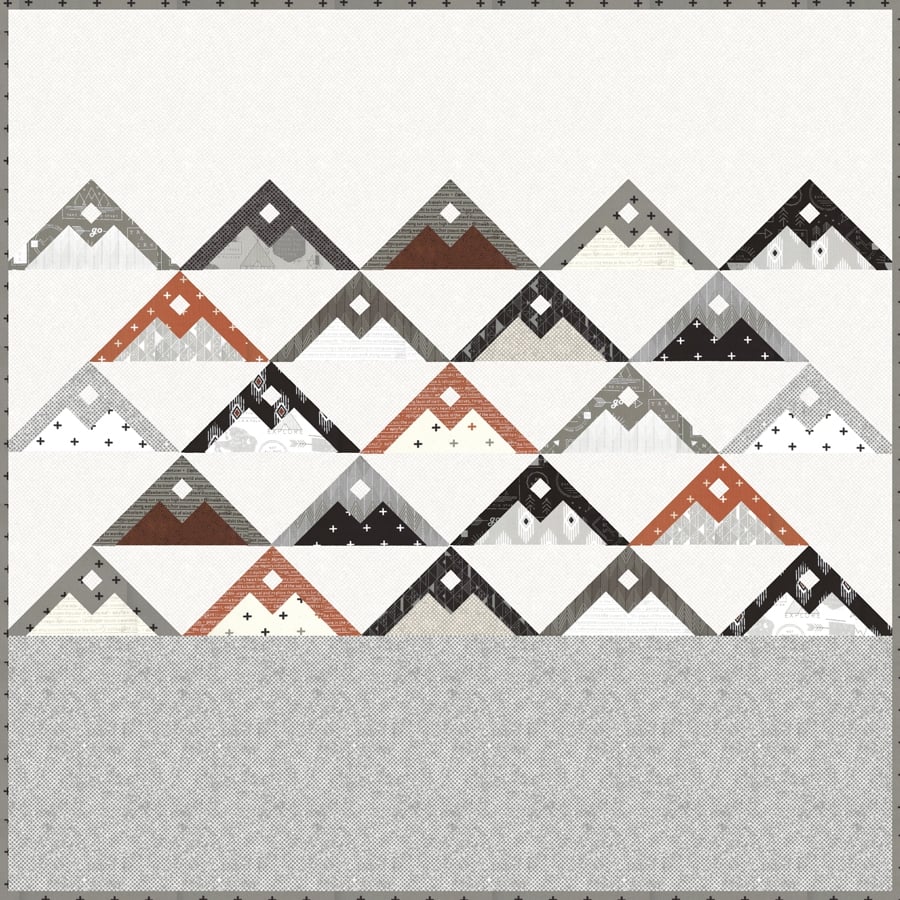 ---
Moonwake: a word to describe when the moon's reflection seems to follow you as you walk along water. This one's a fat quarter quilt that takes a traditional block and spins it on its head! The simplicity of the block lends itself to a simple, modern look–making a great quilt for anyone and any decorating style. Quilting by Kaitlyn Howell at Knot and Thread Design.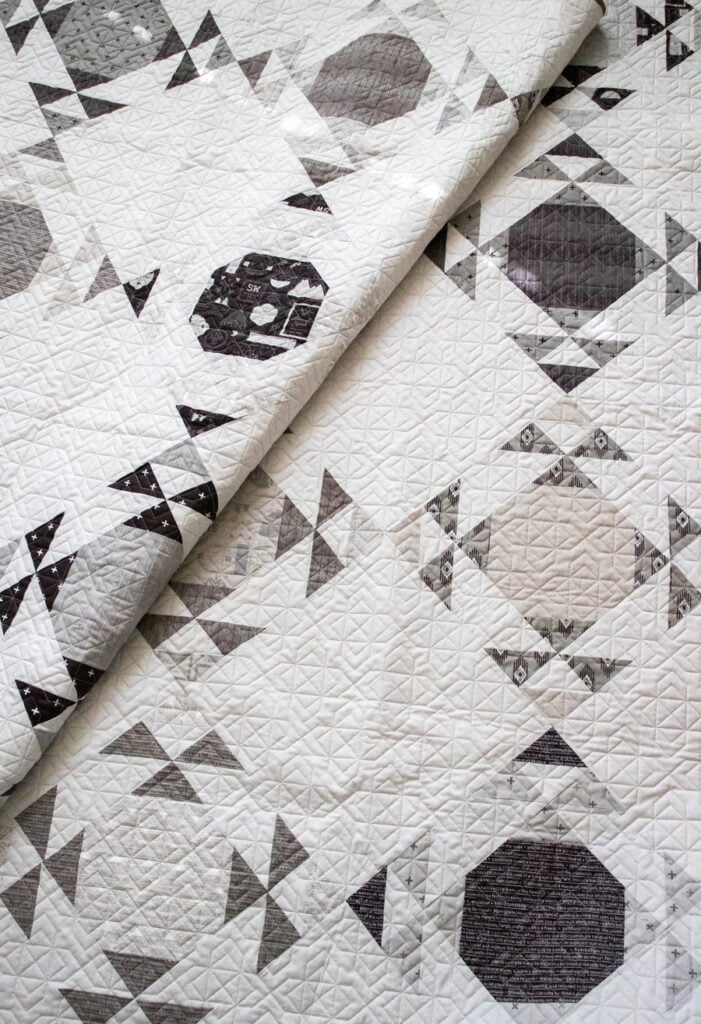 ---
"If we have no peace, it is because we have forgotten we belong to each other."
-Mother Theresa
This quilt was born during 2020 amidst a lot of chaos. The overlapping links is a reminder to focus on what we have in common rather than what separates us. The Concord quilt is made with a Honeybun (1.5″ strips). I would consider this one a little more intermediate than my typical pattern just because of all the seams that need to be lined up. This one was also quilted by Kaitlyn Howell at Knot and Thread Design.
---
It's hard to resist a plus sign quilt. This is a popular pattern in my shop and has been recolored on a few different occasions. I never tire of this one and was so please to see how it turned out in Smoke & Rust fabrics. It's by far my favorite version. Hot Cross Buns is precut friendly; it can be made with either 1 Jelly Roll (2.5″ strips) or 1 Layer Cake (10″ squares).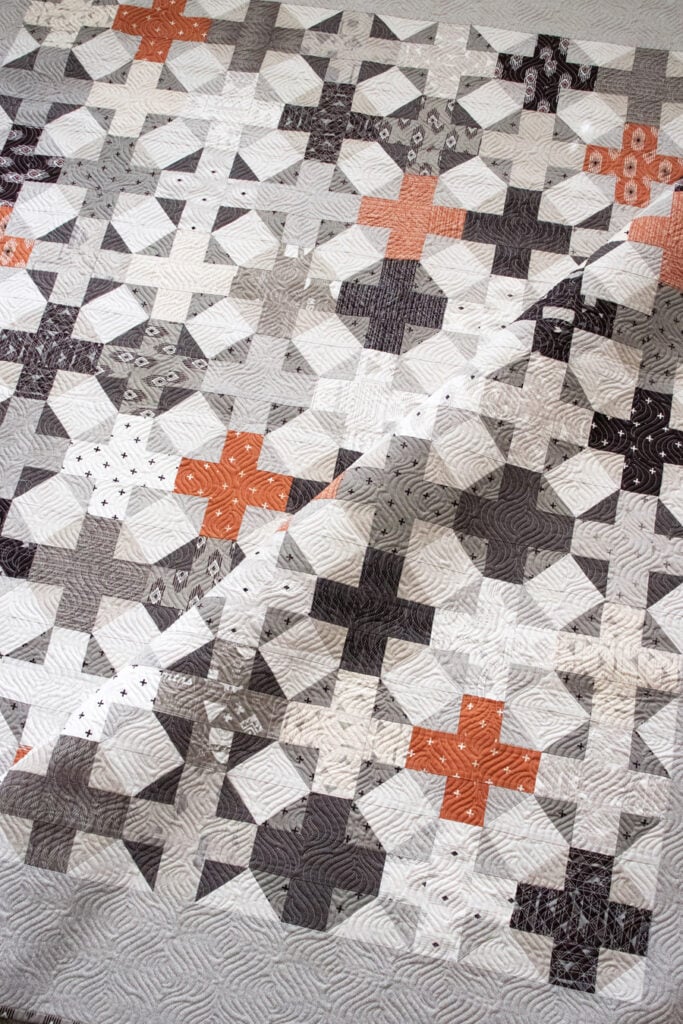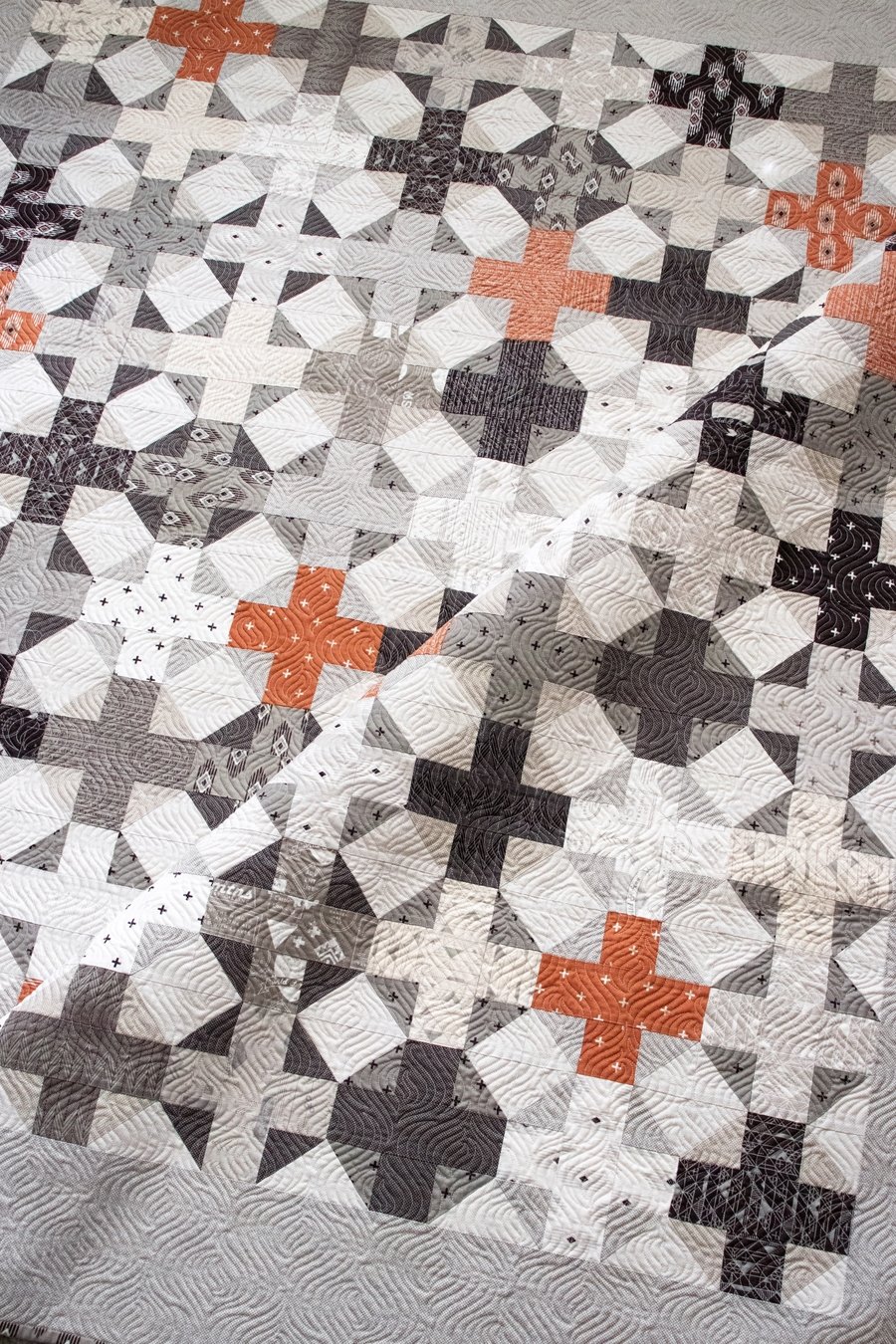 ---
Last – but never least – is Trinkets. This modern geometric tile quilt is stunning in Smoke & Rust fabric. I haven't had a chance to piece this new version yet but hope to someday. Trinkets is made with fat quarters – you mix and match around the centers to give it more variety.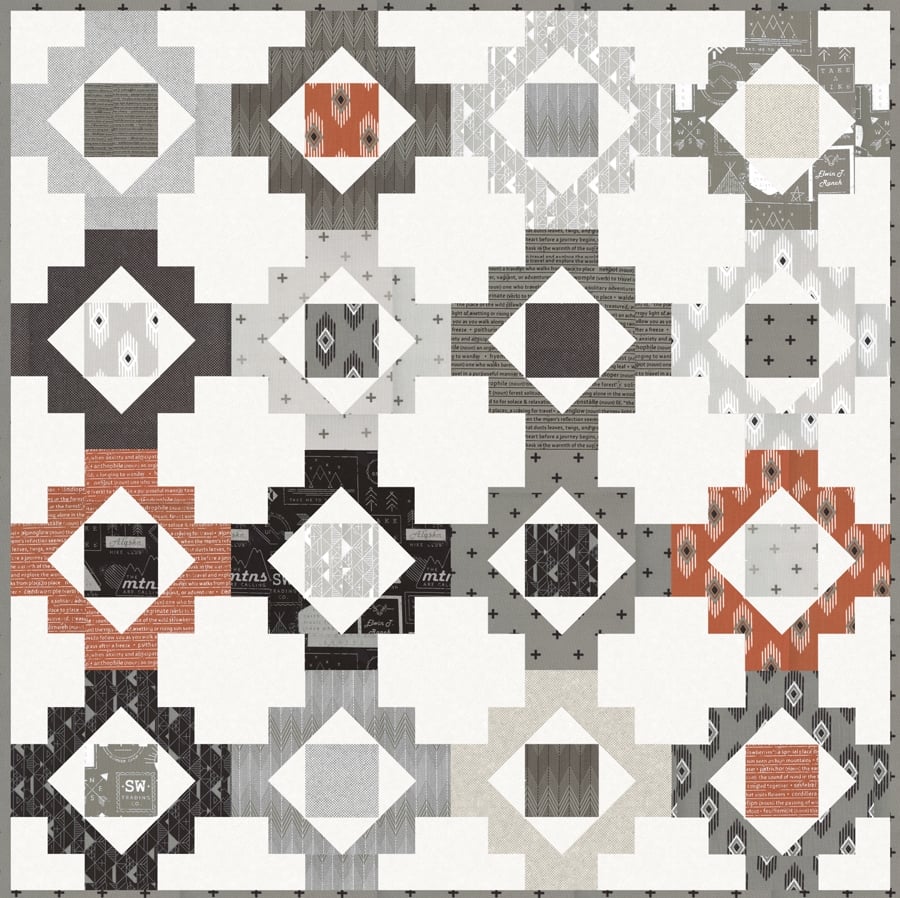 ---
Now that it's on its way to shops, what will you make with the smoke and rust fabric?
---
Like this post? Drop your email in the box below to get new post notifications via email.