Tricks & Treats Quilt in Hey Boo Fabric
Trick-or-treat yo'self with a Halloween quilt that's too cute to spook. This "Tricks & Treats" quilt design features a mix of grinning jack-o'-lanterns and candy corn pinwheels so sweet they'll make all the trick-or-treaters drool. This one's Jelly Roll friendly – and you will have scraps leftovers. Incorporate them into your backing, or use for a scrappy binding.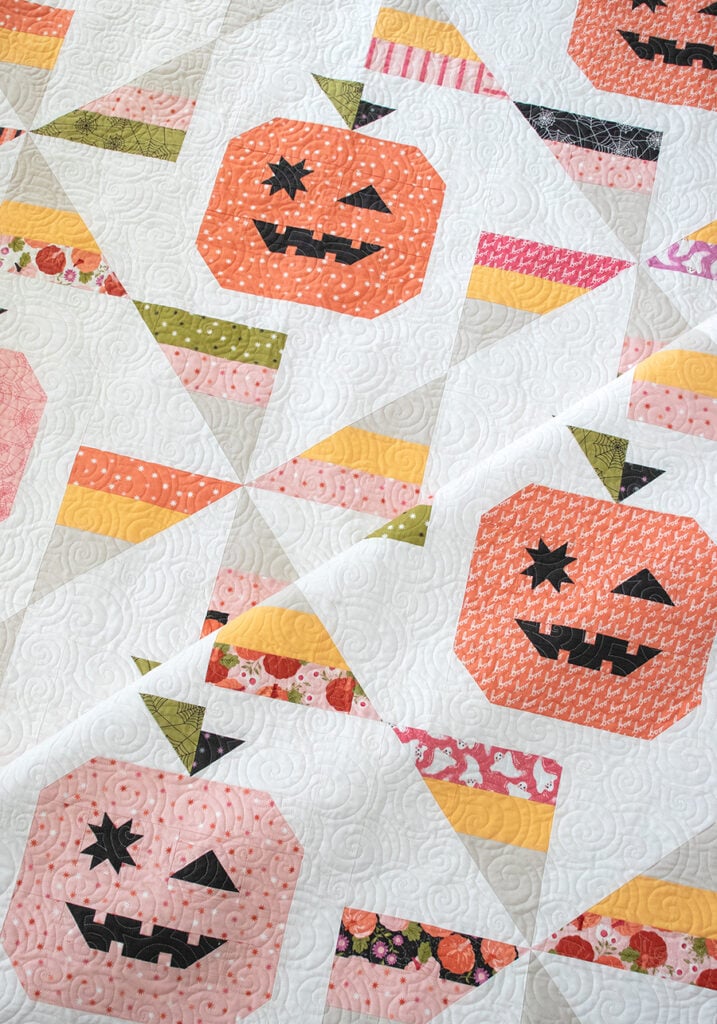 ---
Pattern Tidbits
There are two main blocks for the "Tricks & Treats" quilt. The first is a jolly jack o'lantern block with a cute little winky face. The other is a candy corn pinwheel made with (4) candy corn half-square triangles. There are a lot of little pieces for the pumpkin block – I recommend labeling your pieces or measuring them to make sure you've grabbed the correct piece before sewing (some of them are similar in size). Because we have multiple blocks, I'd consider this one intermediate quilting skill level.
The "Tricks & Treats" finished block size for the pumpkins and candy corn quilt blocks is 16″ x 16″. (I did that on purpose.) Which means now we can take a bunch of the Hey Boo pattern quilt blocks and combine them into a fun Halloween sampler quilt. More on that soon, I promise!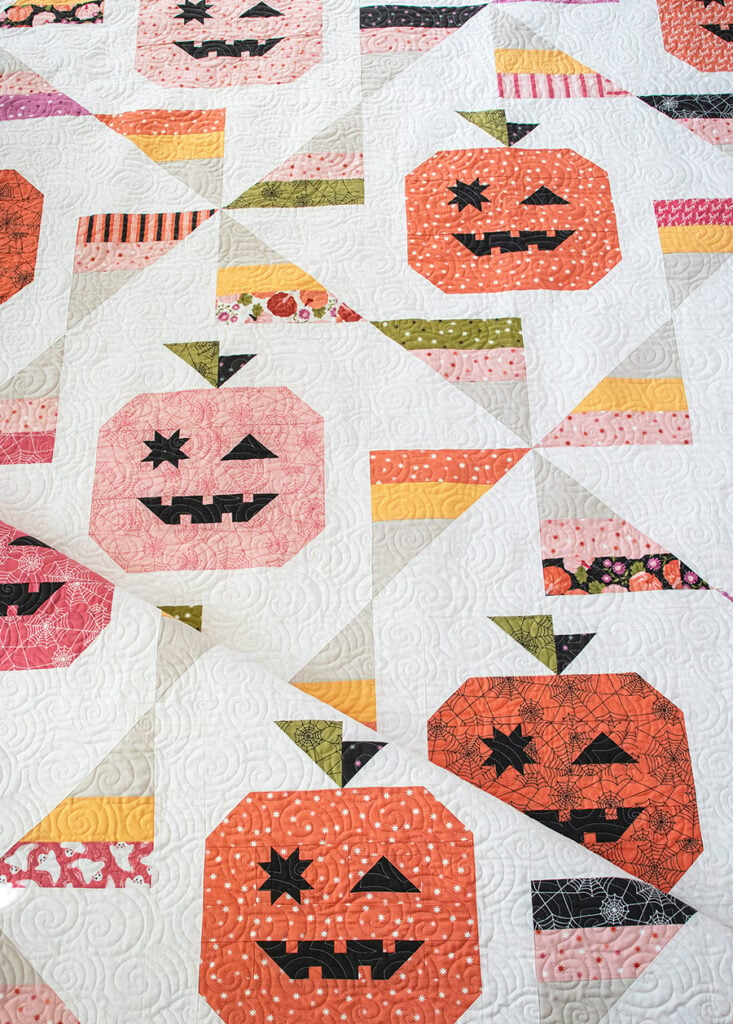 ---
"Tricks & Treats" Kits
Here is the layout for the "Tricks & Treats" quilt. The candy color prints from Hey Boo are so happy and bright and wonderfully whimsical. If you are looking for a kit, you will definitely want to reach out to your favorite quilt shop now and put in the request so they can get it ordered. Their Moda reps will have all the details but I have also shared the materials list below: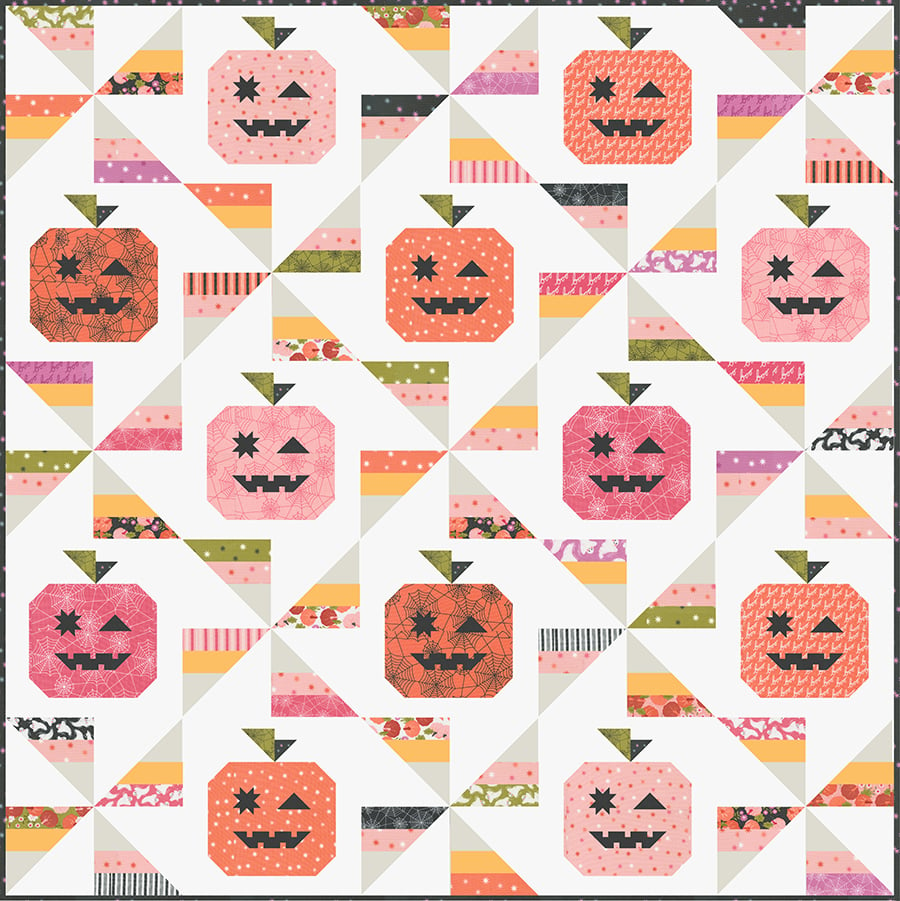 Materials Needed:
(1) Jelly Roll (26 strips 2-1/2″ x WOF) SKU #5210JR
3/4 yd candy tip print (SKU #9900 178)
(2) 1/2-yd cuts for candy center prints (SKUs #9900 81 and #5215 13)
(6) 1/2-yd cuts of assorted pumpkin prints (SKUs #5212 12, 5213 12, 5213 13, 5213 14, 5215 12, and 5215 13)
1/2 yd charcoal print (SKU #9900 284)
(1) fat quarter leaf print #1 (SKU #5213 17)
(1) fat eighth leaf print #2 (SKU #5215 16)
4-1/8 yds background fabric (SKU #5215 21)
3/4 yd binding fabric (SKU #5215 16)
6-1/4 yds backing fabric (I used SKU #5210 11 but pick your favorite print)
88″ x 88″ batting
---
Backing Detail
Because we only use part of the Jelly Roll for the candy corn blocks, you have options for those leftovers. Of course, you can always save them for another project… but you can also incorporate them into the backing or in a scrappy binding. Here's a peek at what the backing will look like. I just realized I never took a picture of mine but will do that asap!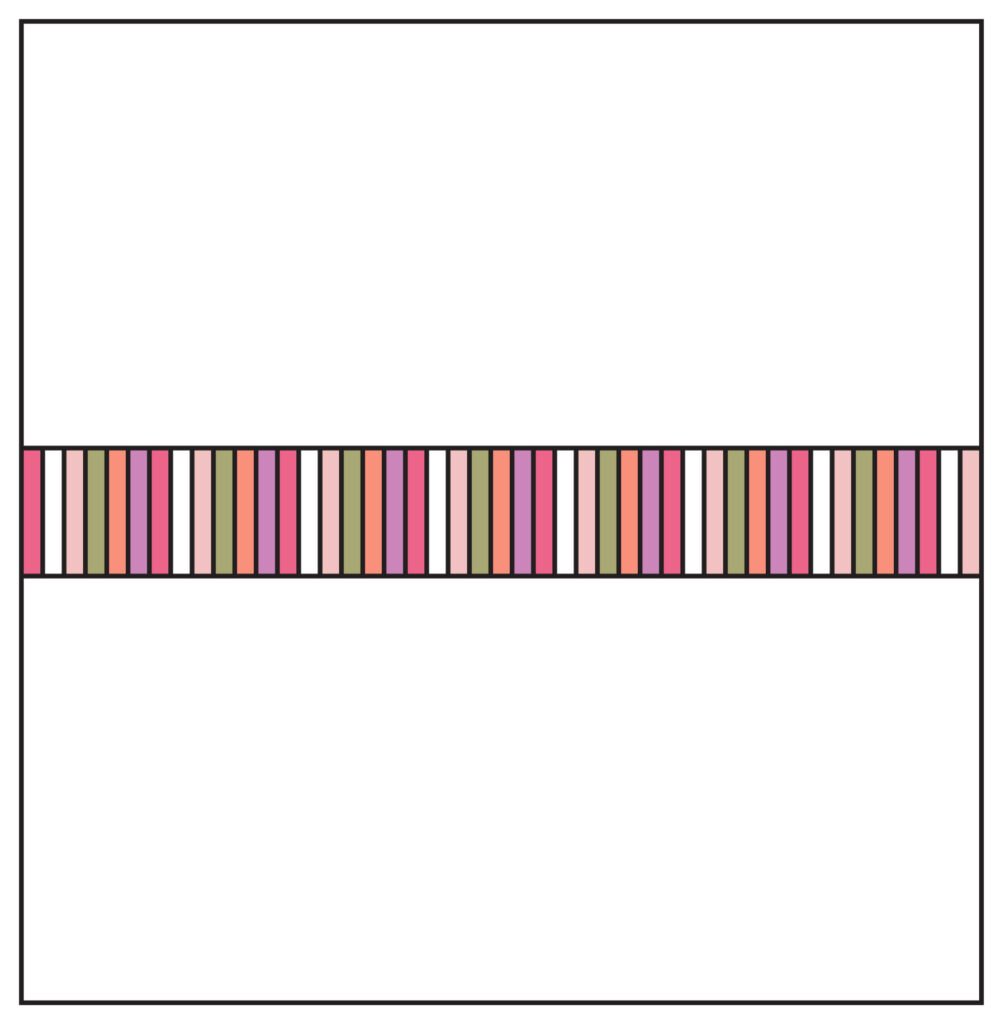 ---
Quilt Details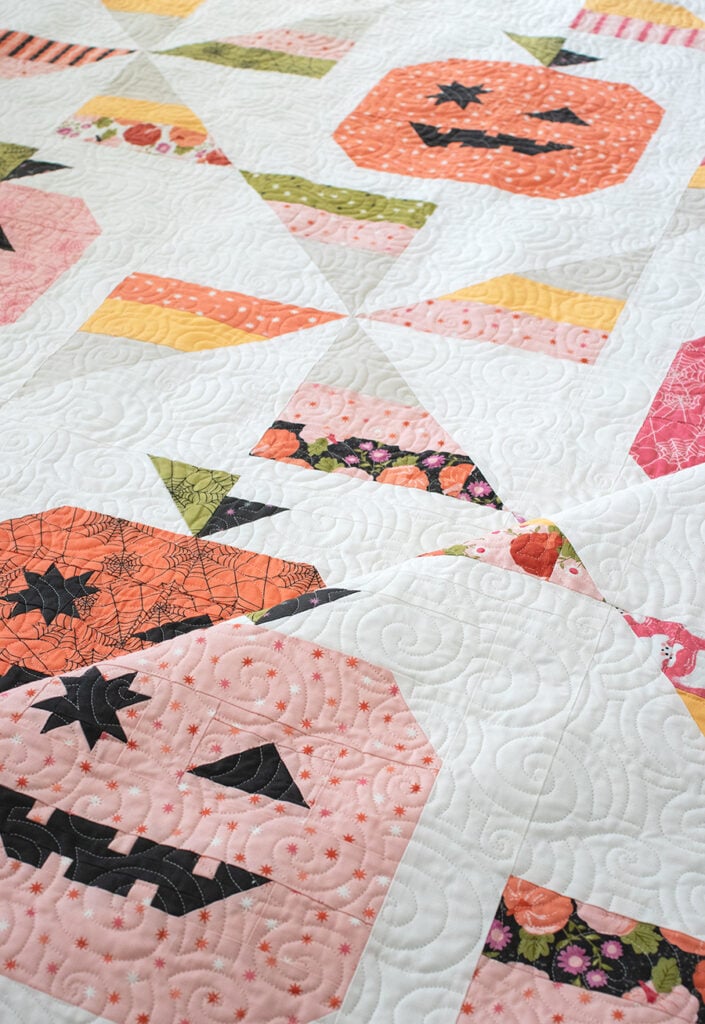 ---
Like this post? Drop your email in the box below to get new post notifications via email.