Hey Boo – the Matching Solids
Peekaboo. Time for a closer look at the Hey Boo fabric collection by Lella Boutique for Moda Fabrics. This collection will be arriving to quilt shops April 2024. If you are interested in getting this fabric, the best thing to do is reach out to your favorite shop and request it. More often than not, shops appreciate the input!
There is a fun Halloween quilt panel included in this collection. It comes as yardage on the bolt and measures approx 24″ x 44″. It contains 15 Halloween art prints measuring approx. 7-3/4″ x 7-3/4″. I recommend trimming them down to 7-1/2″ x 7-1/2″ (or smaller) to start out with.
---
The Collection Colors
Here's a little peek at each colorway of Hey Boo. Which one is your favorite? I love the addition of soft pink to the Halloween rainbow. Makes it more sweet and less spooky! You'll also notice the "Practical Magic Stars" in the collection being used a lot in the projects for backgrounds, sashing, bindings, etc. They read as solids if you're looking for something a little more interesting than a solid.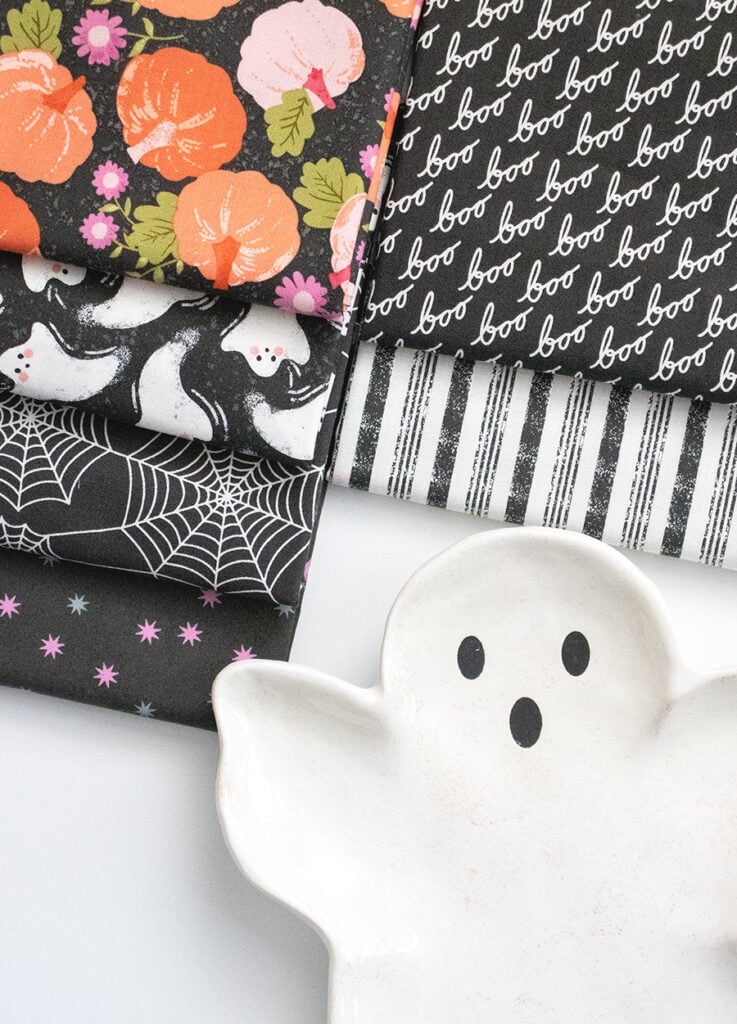 ---
Matching Solids
I found myself using a lot of Moda Bella solids while stitching up projects in Hey Boo fabric. You will find the green in Frank's face, the pinks in the haunted houses – and almost all of them in a Monster Mash sampler which I'll be revealing soon.
Here's the list of the best solids I've found for this collection. You'll notice I've also listed a few that are not shown in the photos – but used throughout the projects so you can find them all in one place. I've made notes next to those ones so you know why I'm including them.
Moda Bella Solids:
9900 178 "Etchings Stone" (used in candy corn in "Tricks & Treats")
9900 284 "Charcoal"
9900 147 "Coral"
9900 335 "Princess"
9900 62 "Rose"
9900 387 "Sweet Pea"
9900 69 "Fig Tree Olive"
9900 308 "Pickle" (used as Frank's nose)
9900 81 "Goldenrod" (used in candy corn in "Tricks & Treats")
What questions do you have about the matching solids in the collection? Let me know in the comments below.
---
Like this post? Drop your email in the box below to get new post notifications via email.