Monster Mash Quilt Along (May 2024)
Time for a frightfully fun Halloween sampler project from Lella Boutique. Pick your favorite 16″ Halloween blocks from the Hey Boo pattern collection and get ready for a spooky good time. This Monster Mash Quilt Along begins May 2024 and is sure to be all fun and no fright.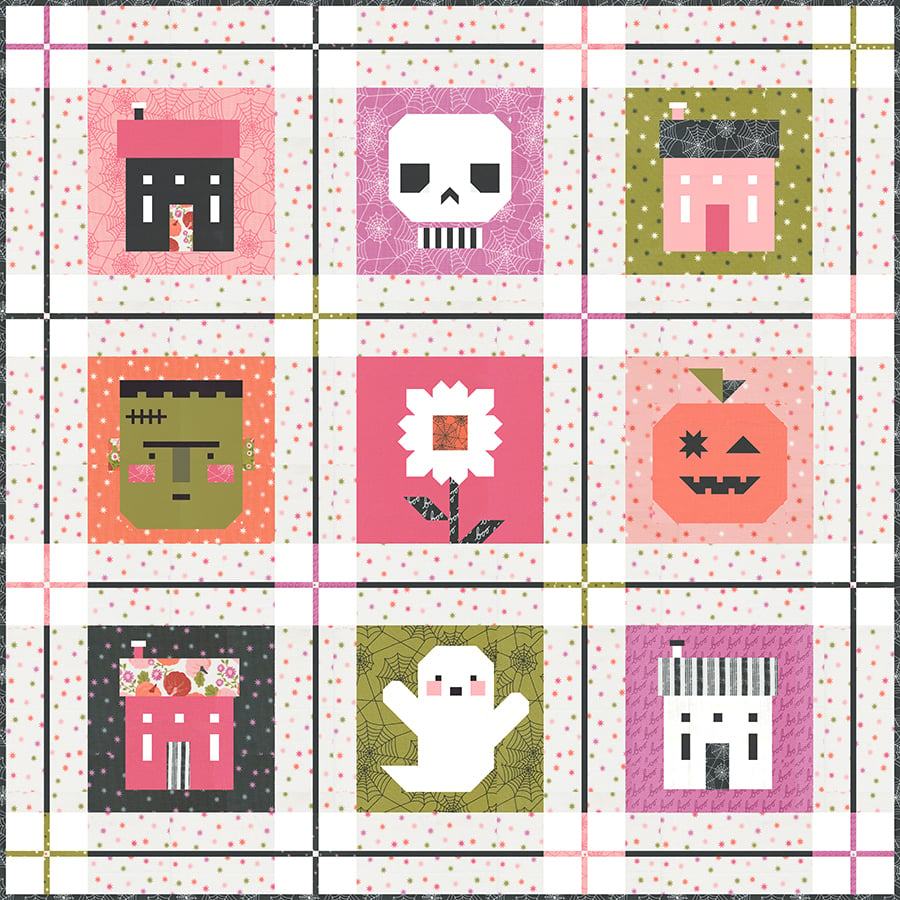 How It Works
Monster Mash Kits
Hey Boo fabric is expected to arrive to shops April 2024. If you plan on sewing along, be sure to let your favorite shop know NOW so they can get the supplies ordered. This is really the only way to ensure you can get a Monster Mash kit if you want one. (I will not be stocking them as I would prefer you support the shops.) Shops can access to the Monster Mash materials list through their Moda sales rep, and I've also included a link for it below: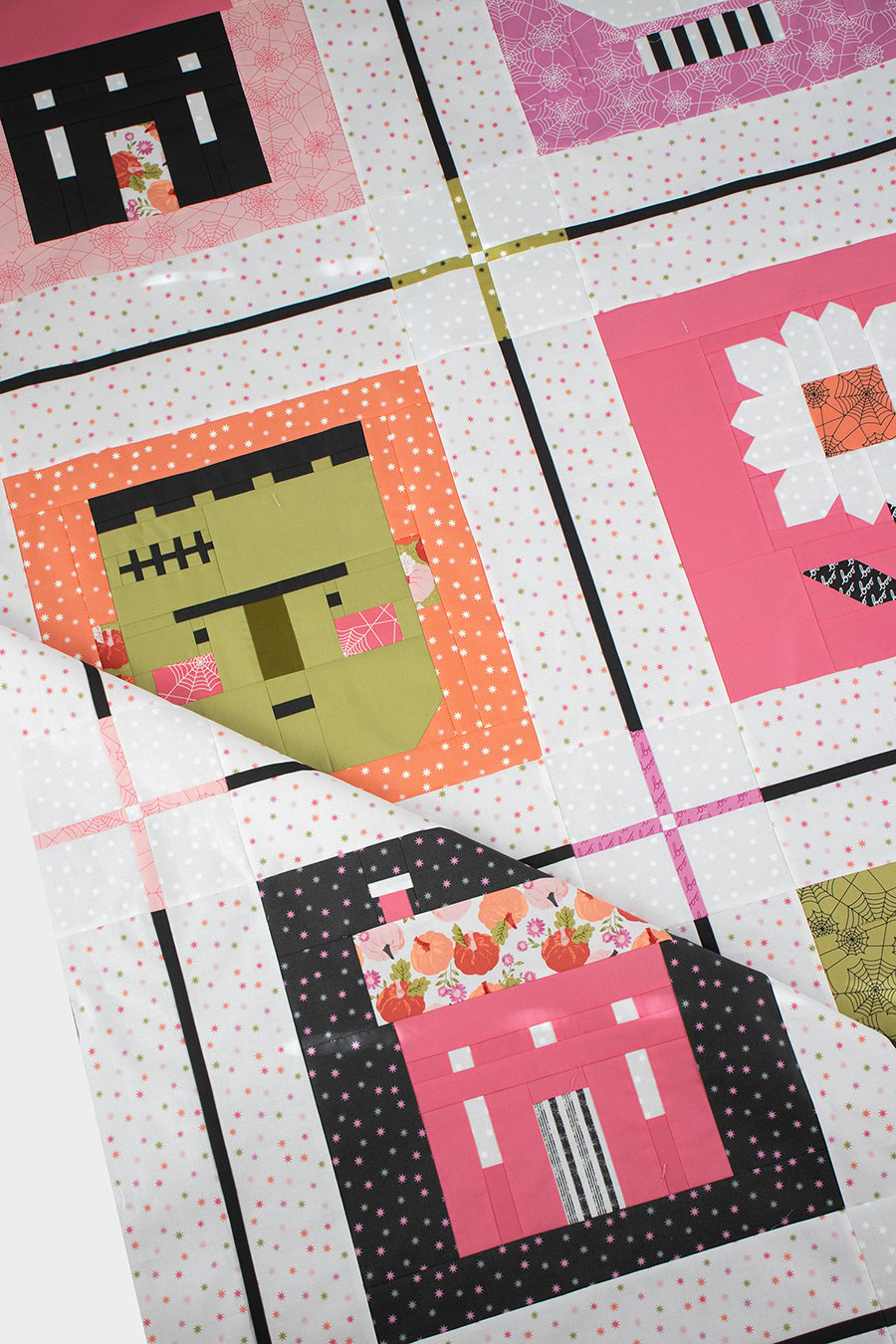 The Block Patterns
The Monster Mash sampler quilt uses (6) block designs from the Hey Boo pattern collection. Starting in May, we will make one block design per month. (This means the 4 haunted house blocks are all within one month – but you could spread them out with others, if desired.) Each of the Monster Mash sampler blocks finishes 16″ x 16″, which is why this was such a no brainer. There are two ways to get these block patterns. The block patterns come from LB230 Ghost Town, LB231 Pushing Up Daisies, LB232 Frank (easily adjusted to 16″ finished), and LB233Tricks & Treats. If you've already purchased these patterns, you're set! Be advised some shops are including these patterns in a kit, so you will want to ask about that. I will also be releasing the individual block pattern downloads monthly ($5 each) if you'd prefer to get them a la carte. It's going to be so much fun! I will be releasing the free finishing instructions in September 2024. You will recognize the layout as the same seen in the Ghost Town quilt with lighter colors.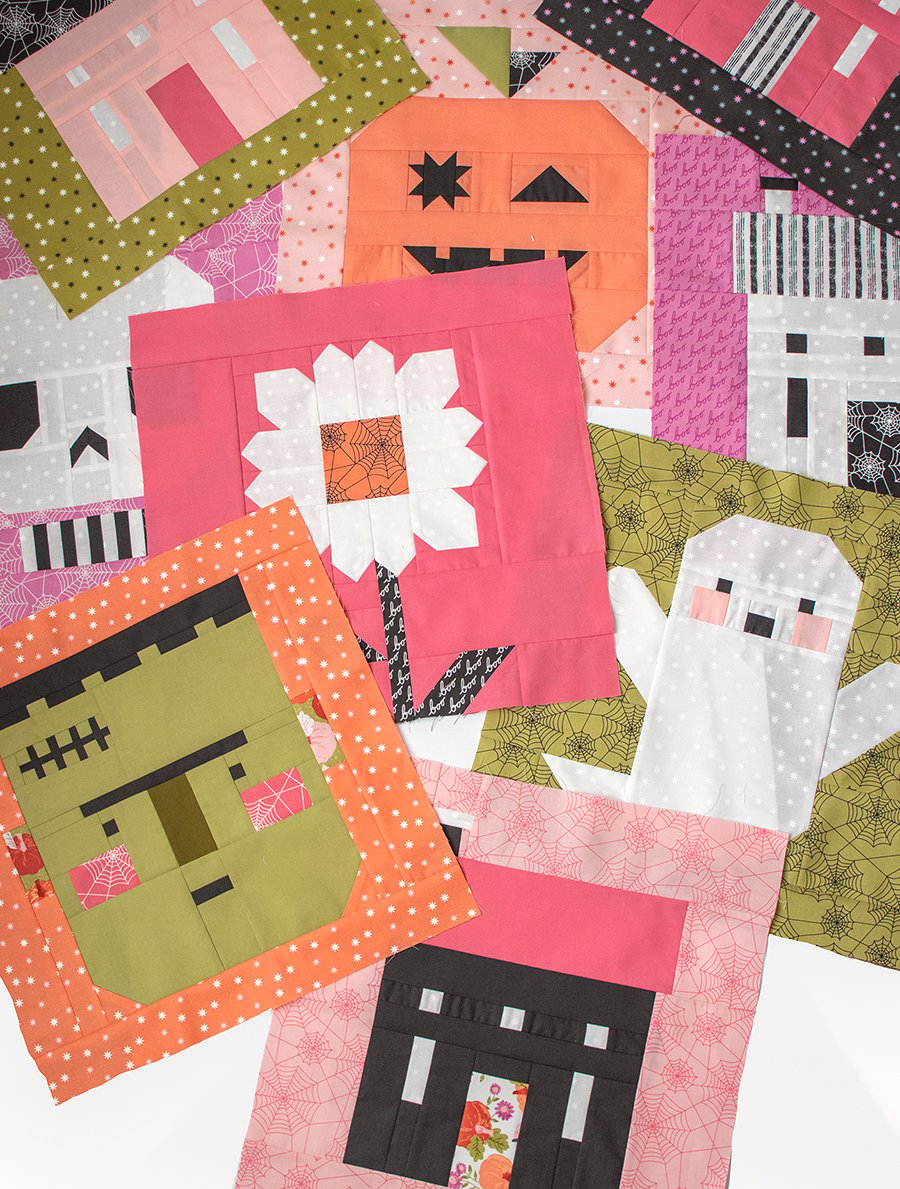 The Schedule
If you're subscribed to this blog, you're already set! There will be a new blog post with all the details on everything you need to know each month. Here is the Monster Mash quilt sampler schedule:
5/8/24: Block 1
6/5/24: Block 2
7/10/24: Block 3
8/7/24: Block 4
9/4/24: Block 5
9/18/24: Finishing Instructions
10/2/24: Block 6
And yes – there will be prizes! What questions do you have about this quilt along? Let me know in the comments below.
---
Like this post? Drop your email in the box below to get new post notifications via email.