5 Tips for Organizing Your Sewing Room
At the beginning of each new year, I like to take some time review the year, make goals, and give my sewing room a little refresh. It always feels so good! Thought I would take a few minutes to share a few different tips and tricks I've learned over the year to get your sewing room organized.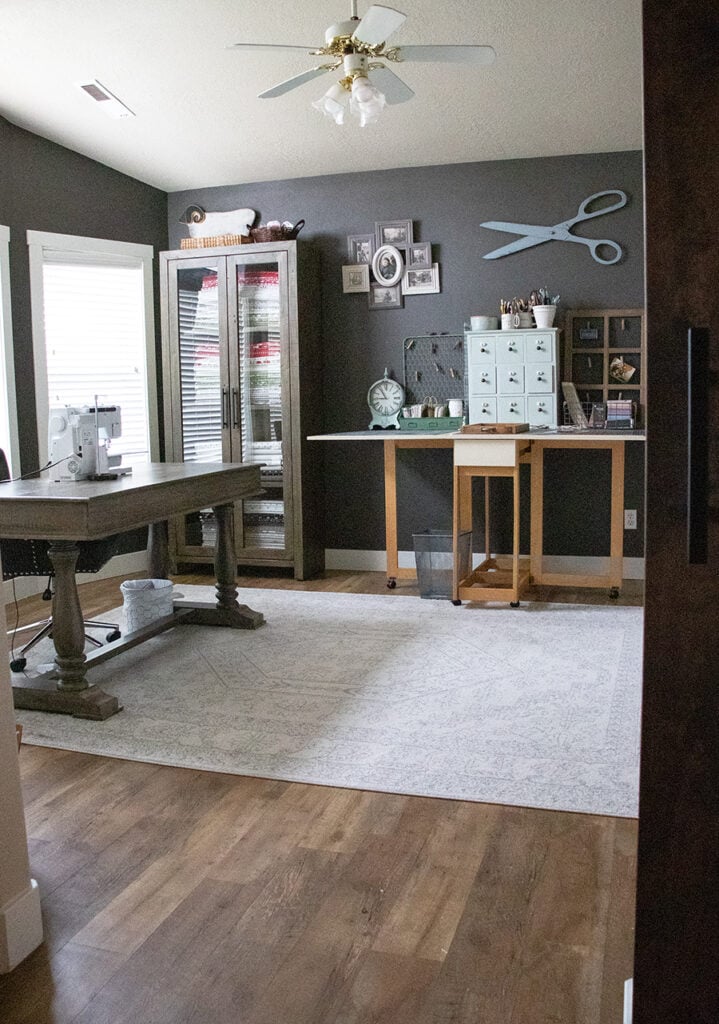 ---
Little by Little
Whenever I do a major refresh of my sewing room, I tackle a little section every day. A cupboard here, a closet here. I like to set a bite-sized goal (20 minutes a day) that I can commit to – and it almost always turns into a lot more once I get going. One of my biggest secrets to getting organized (and staying that way) is to create a system where everything has its place. It definitely takes some time and work (and good storage containers), but is well worth the effort. I get a little more refined in my process each year.
Fabric Organization
There are many ways to organize your stash, and a lot of that will depend on what you have and what your purchasing habits are. Some of the ways to organize a fabric stash is by collection, designers, color, or even precut type. Mine is mostly a mix of precuts and whole collection stacks. Before I had my built-in shelving, I kept all of mine organized in storage bins.
---
Destash What You Don't Need
As part of organization process, it's always a good idea to take an inventory and figure out what fabric you will realistically use, and what you could donate or sell. (Plus, it's good to make room for future purchases, right?!) Check out my Top 5 Destashing Tips post here for more ideas on the topic. It is helpful to destash regularly – I try to go through at least twice a year. Which reminds me – keep an eye out next week for a Lella Boutique destash of some very special (out of print) collections. Gotta make room for all the pretty stuff arriving in 2023!
---
Organize Your Projects
How do you organize the projects you're working? Up until last year, I didn't really have a formal system. Then I found these stackable bins on Amazon and have been using them ever since! I love these! I add a little label to the front of each bin so that I can easily tell what's in each one when they're stacked up in my office closet. (There are different size options but I always get the 14 x 11 x 3.25 in ones. They are a perfect fit for wider items like packaged quilt panels or Layer Cakes.)
I actually have quite a tall stack of bins by now – so in 2023, I'm going to spend a little time every Sunday on one of those WIPs (works in progress). Maybe I'll even do a little update on Mondays to let you know about my progress for the week!
---
Sewing Machine Maintenance
Not everyone realizes this, but you should get your sewing machine serviced once a year. I actually just dropped my Bernina off to the dealer and had it back the next day. (I recommend calling the service shop in advance to get an idea of turnaround time.) In addition to annual servicing, you should be cleaning your machine regularly. My general rule of thumb is to clean mine for every 4 spent bobbins. Every machine is a little different – refer to your sewing machine manual to know how to clean it properly. My maintenance involves cleaning all the lint from the bobbin compartment and adding a single drop of oil to the hook race. (I also remove the stitch plate and blow the dust out of there too.) And of course I always change the needle to a fresh one! Think about any other items that may need service. Do you have a serger? A pair of Ginghers that needs to be sharpened? Fresh rotary blades in stock?
---
In Review: The Checklist
Tackle a section of your sewing room every day for 20 minutes.
Tidy up your fabric stash – donate or destash anything you aren't going to use.
Organize your projects and keep them in one central place so they're easy to find. (I recommend these bins for easy project storage.)
Take your sewing machine in for an annual cleaning. Same for any other machines like the serger. Sharpen the Ginghers (or anything else that gets regular use).
Take an inventory of anything you might want to stock up on. Fresh rotary cutter blades. Thread. Sewing machine needles. This will help you start out ready to hit the ground running with projects in the new year.
What did I forget? Are there any other organization topics you would like to see tips on in the future? Let me know in the comments below.