Jolly Holiday: a Christmas Medallion Quilt
Who doesn't love a fancy Christmas quilt?! I'm talking about the new "Jolly Holiday" Christmas medallion quilt. I mean, just look at that sweet little Santa face… Natalia's done it again with her fancy custom quilting!
The Medallion Style Layout
"Jolly Holiday" is constructed with a medallion setting – featuring a cute patchwork Santa at the center, framed with holly leaf-and-berry units, set inside a "wreath" of gift boxes galore. This one is SO fun to make and comes together a lot quicker than you'd suspect. And happy news – Moda is offering this quilt as a boxed kit. Check in with your favorite local or online shop to reserve yours today. (I will offer a few for preorder here, but hope you will support the shops first.)
Intermediate Skill Level
Once the cutting is done, most of the piecing for the "Jolly Holiday" quilt is straightforward and quick. There just happens to be a lot of steps… The Santa block is the most complex block, but uses an easy-corner triangles to assemble. Overall, I'd categorize this pattern as intermediate because of the multiple blocks to be made (hence, lots of pieces to keep track of). This also means that the pattern has more pages than usual (almost double). It translates to the pattern costing a little more but is well worth it – and I'm proud of the quality of the instructions and level of detail.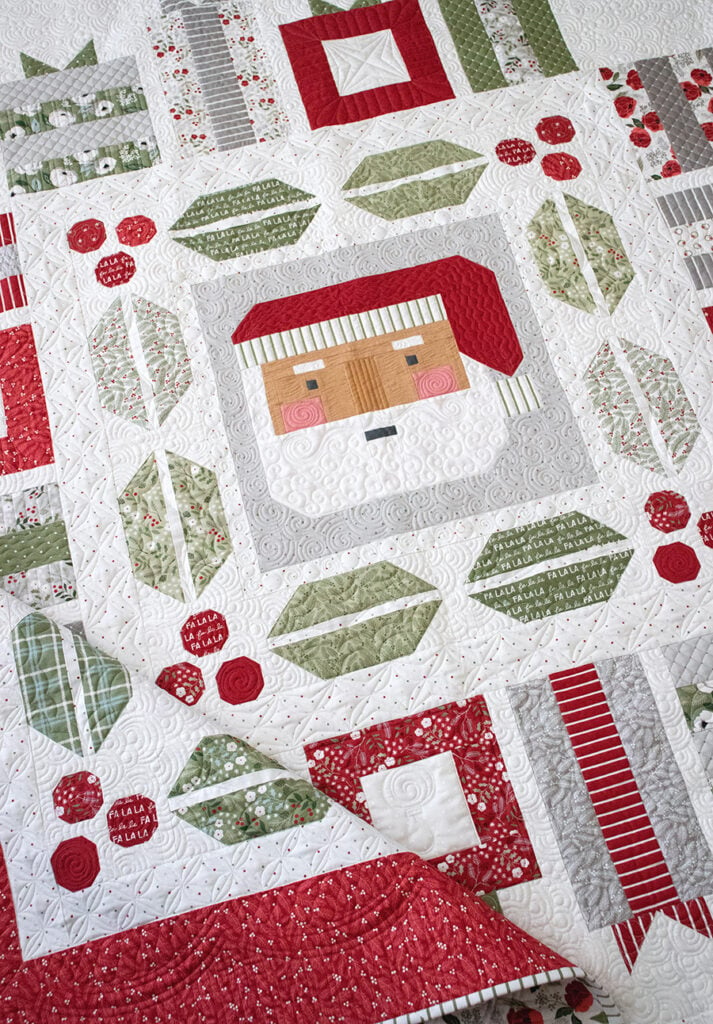 The Fabric
"Jolly Holiday" is made in Christmas Eve fabric by Lella Boutique for Moda Fabrics (arriving May 2023). My favorite part? Most of the blocks are made from a Jelly Roll (40 strips precut 2-1/2″ x 40″). I've included a full materials list below with the Christmas Eve SKUs plugged in.
Materials Needed
(1) Jelly Roll® (40 strips 2-1/2" x 40″)*
(1) fat eighth face print (#9900 68 "Fig Tree Wheat")
(1) square 6" x 6" nose print (#9900 194 "Hay")
(1) square 6" x 6" cheek print (#9900 425 "Rose Water")
(1) fat eighth white beard / eyebrow print (SKU #5187 21)
(1) square 6" x 6" eyes / mouth print (#9900 283 "Lead")
(1) fat eighth red hat print (SKU #5187 16)
(1) fat quarter light grey fabric (SKU #5187 12)
2-3/8 yards white background (SKU #5187 21 – same as beard)
(1) fat eighth green bow fabric (SKU #5187 15)
1-1/4 yards light accent dot for block border / inner border print (SKU #5187 11)
1-5/8 yards outer border ( SKU #5182 16)
3/4 yard binding fabric** (SKU #5186 11)
6-1/4 yards backing fabric (SKU #5180 11)
86" x 86" batting
* You may use (28) fat eighths in place of Jelly Roll strips ®. The breakdown is (1) red print for hat trim, (8) for green (or grey) holly leaf prints, (2) light prints for leaf centers, (5) red prints for holly berries / tall skinny gifts, and (12) assorted prints for the remaining gift prints.
** If using a Jelly Roll®, the binding yardage is optional since there are enough leftover strips for a scrappy binding.
Quilt Details
What do you think about this one? Have you made a medallion quilt before? Let me know in the comments below. This is a new experience for me!
Don't miss out on a single post! Drop your email address in the box below to receive new post notifications via email.