Good Tidings Wreath Quilt in Christmas Eve Fabric
Deck the halls with a fat quarter wreath quilt
Fa la la la la la la la la…
Here's the first of my brand new quilt designs – introducing the "Good Tidings" wreath quilt in Christmas Eve fabric.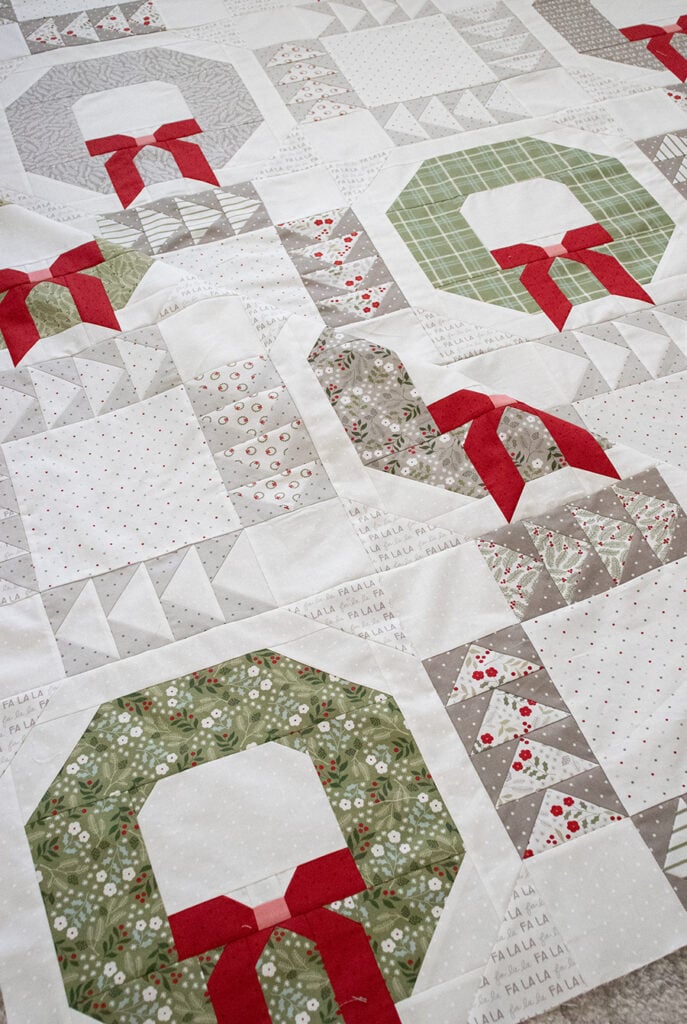 ---
Behind the Quilt
When I sat down to design patterns for Christmas Eve fabric, I started out with a giant patchwork wreath. In the end, it didn't make the cut out, but I kept working on the idea of a wreath quilt and finally worked out this tidy little wreath-and-bow block. Turns out, a quilt FULL of wreaths is better than one! One thing I adore most about the wreath blocks is how well they showcase the prints of Christmas Eve fabric. I couldn't help but snap a few pictures along the way.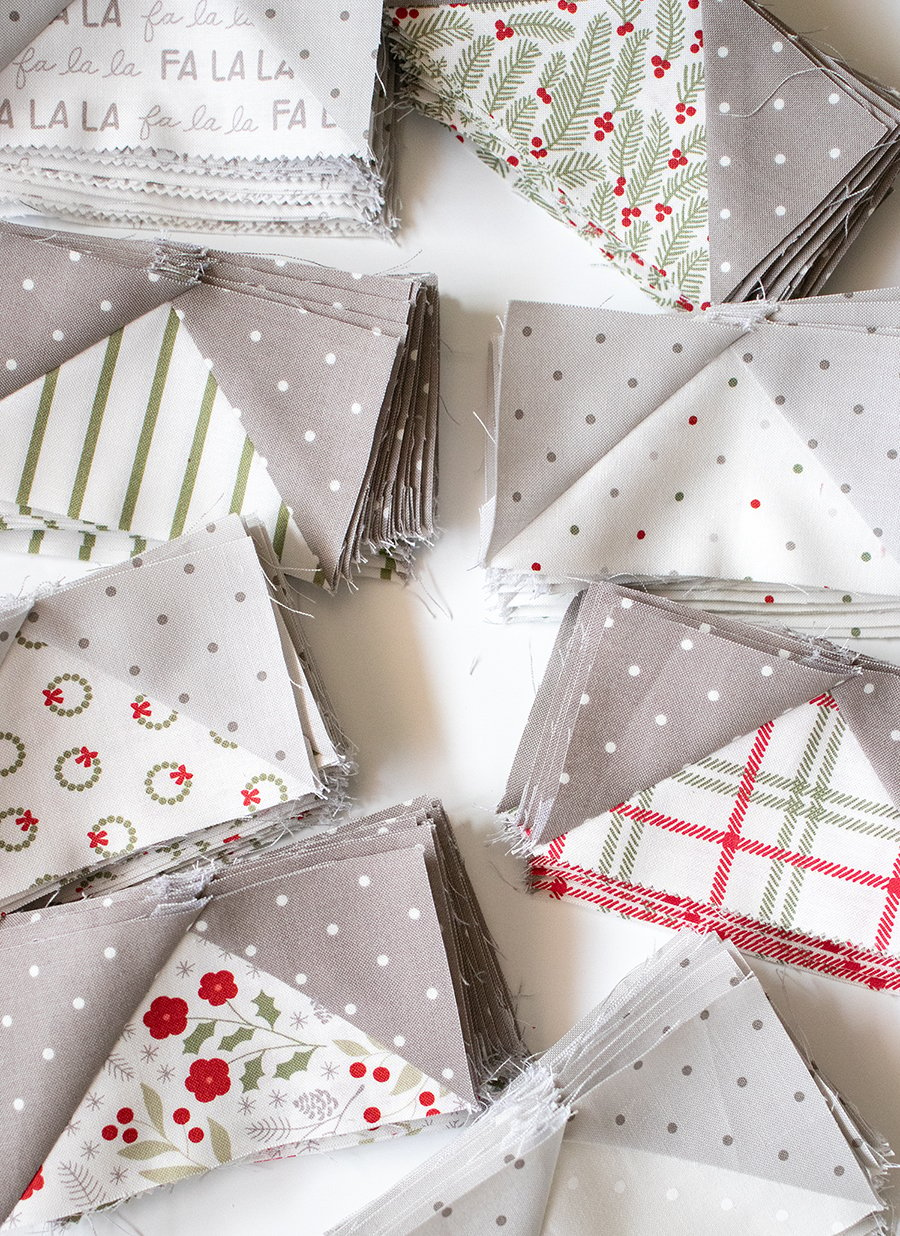 Skill Level: Intermediate
To piece the "Good Tidings" wreath quilt, you will utilize a beginner easy-corner triangle technique to create the flying geese, wreaths, bows, and block corner triangles. Overall, I'd classify this pattern as intermediate – not because of actual technical difficulty (the technique is beginner, really), but because there are two different blocks to make + lot of steps, I'd hope the maker would have a few quilts under the belt already. I hope that helps for those of you who are wondering. (I find classifying the skill level of a quilt pattern to be an extremely subjective endeavor.)
The Fabric
As mentioned above, the "Good Tidings" quilt is made up in my upcoming Christmas Eve collection. (See the full materials needed list here.) This one really showcases the beautiful greens and greys of the collection with just a little pop of red. The Christmas Eve collection will arrive to shops May 2023 – so now is the time to get requests into the shops. Some even accept preorders! There are many beautiful upcoming Christmas collections to choose from, shops always appreciate the input.
Quilt Details: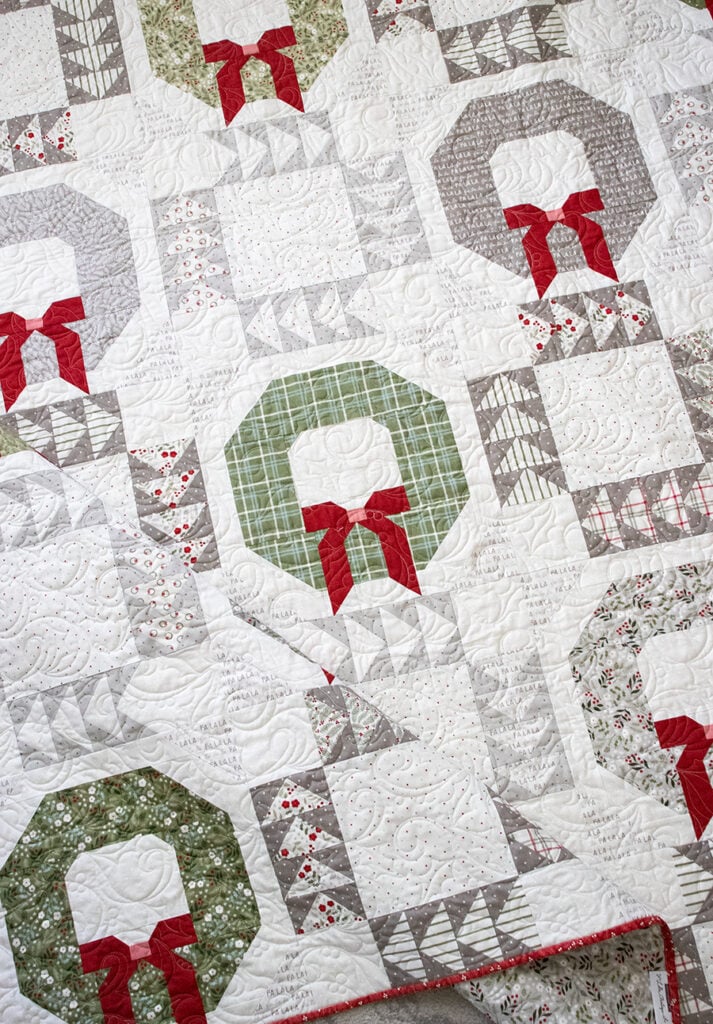 Hope you like making this one as much as I did. It's definitely got a classy, traditional feel to it, don't you think?
Don't miss out on a single post! Drop your email address in the box below to get new post notifications via email.