9 Easy Jelly Roll Quilt Patterns
In honor of National Sew a Jelly Roll Day this weekend (9.17.22), I thought it would be fun to compile a quick list of my favorite beginner-friendly Jelly Roll quilt patterns. If you are wondering what a Jelly Roll is, it is Moda Fabric's cute name for 40 strips cut 2-1/2″ x 40″ rolled up in a concentric, cinnamon-roll style (just as resistible as the edible kind). Of course, it's also nice that a designer has already coordinated all the prints for you. I love the Jelly Roll precuts so much that I even wrote a book about them!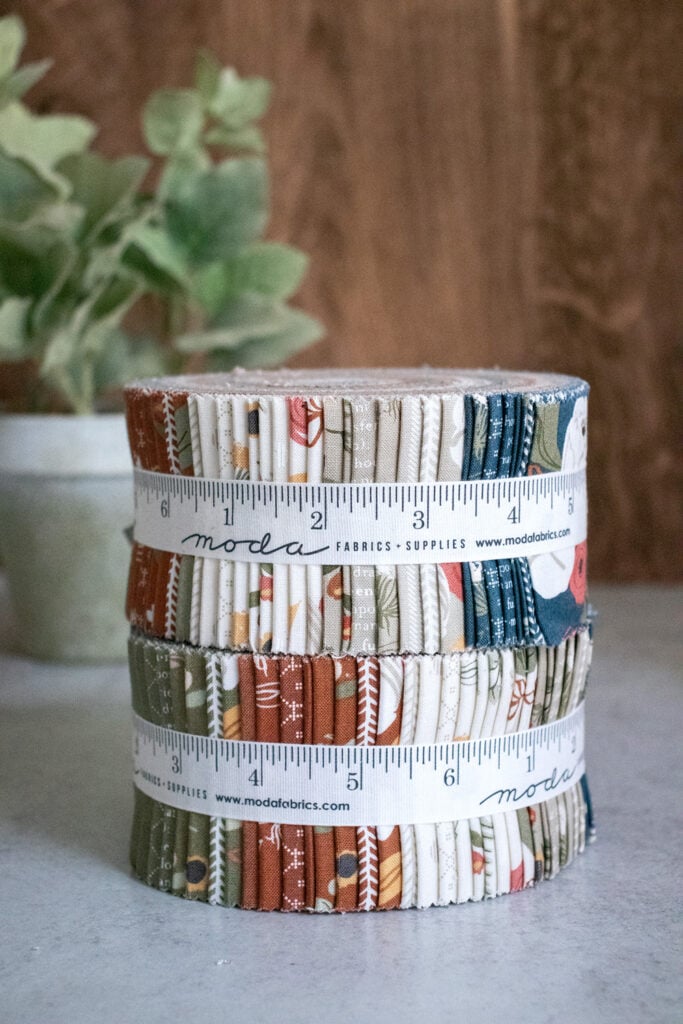 So let's get to it! If you're looking for an easy Jelly Roll quilt to make this weekend, here are my top suggestions:
This is one of my oldest designs and it's been a popular pattern over the years. Not only does it look great in any fabric line, but it's a simple block to make! This is the latest version I made in Smoke & Rust fabric. Hot Cross Buns can be made with a Jelly Roll OR a Layer Cake – plus 4 accent prints for the corners. (I generally choose a variety of light / dark to contrast with the assorted prints.) For more details on this quilt, check out the full post here.
---
Like Hot Cross Buns, the Sprinkles on Top graphic quilt highlights the plus sign shape. This quilt's simplicity makes it a universally appealing design (can we say BOY quilt?). That pattern is found in my Jelly Filled book and is a stunner in these Catnip prints by Gingiber for Moda Fabrics.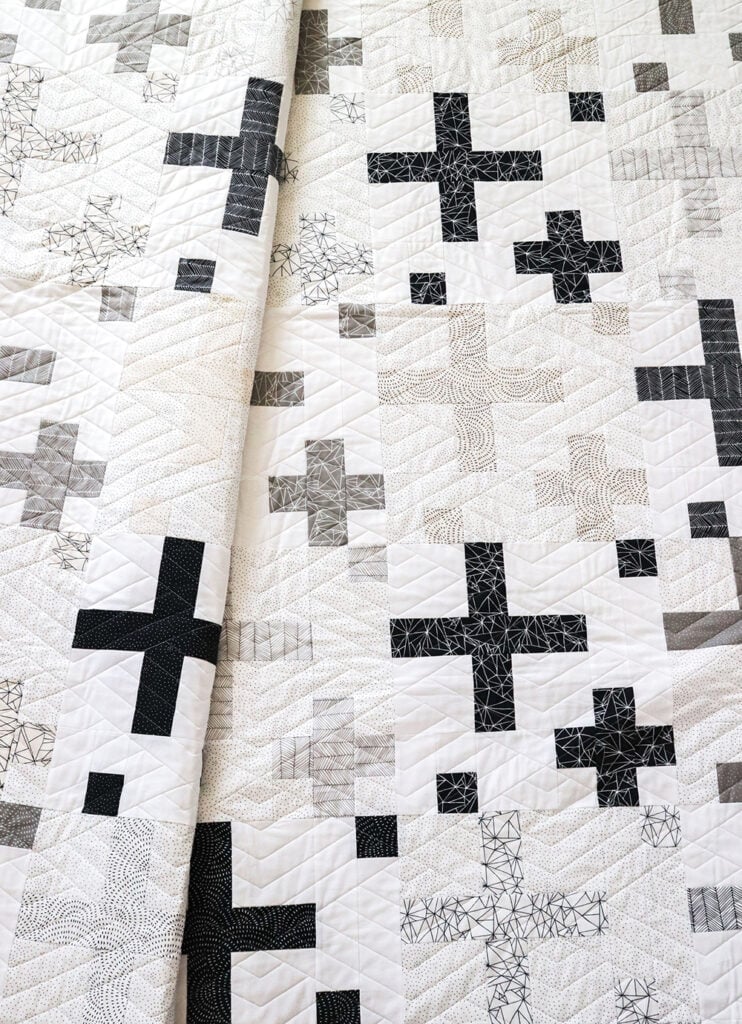 ---
This one makes me think of the scrappy quilts I used to see at Grandma's house when I was young. It's funny how quilting has changed–we buy yardage now to cut up in tiny pieces. Grandma's quilts would carry bits of old aprons or dresses. Whatever they could find, really. Square Dance has a similar hodgepodge sort of charm and is made with 1 Jelly Roll. I can imagine this one made up in more masculine fabrics as well.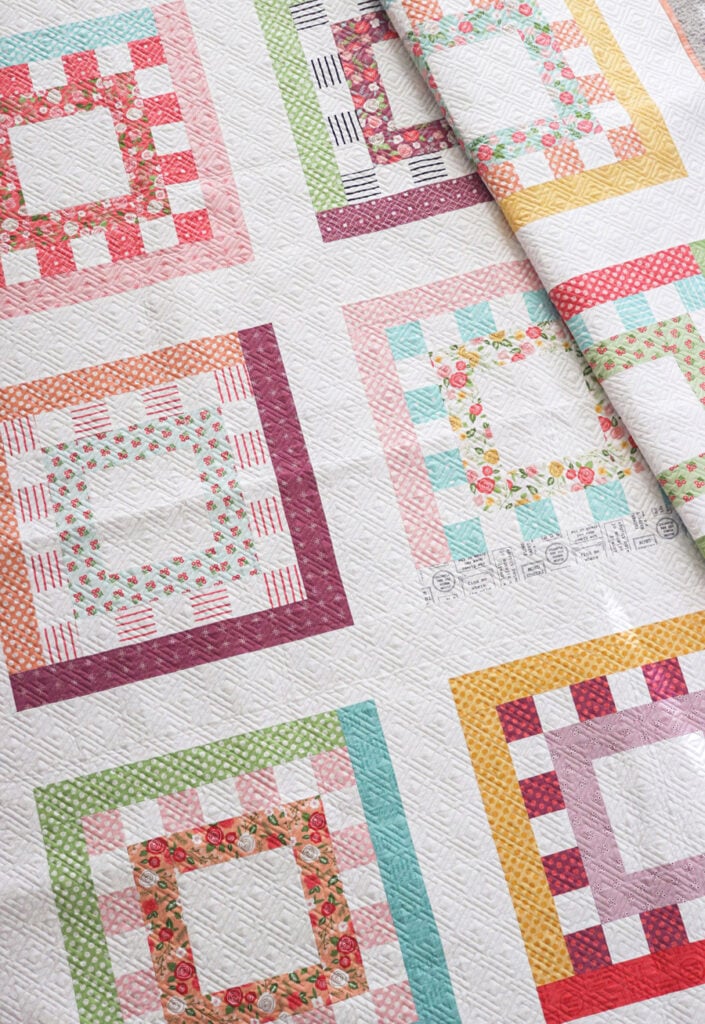 ---
Here's a modern twist on a traditional log cabin quilt block. In Beachcomber, a secondary pattern of little arrows emerges, making the quilt come alive with motion. Make it with 1 Jelly Roll (2.5″ strips) or 1 Layer Cake (10″ squares).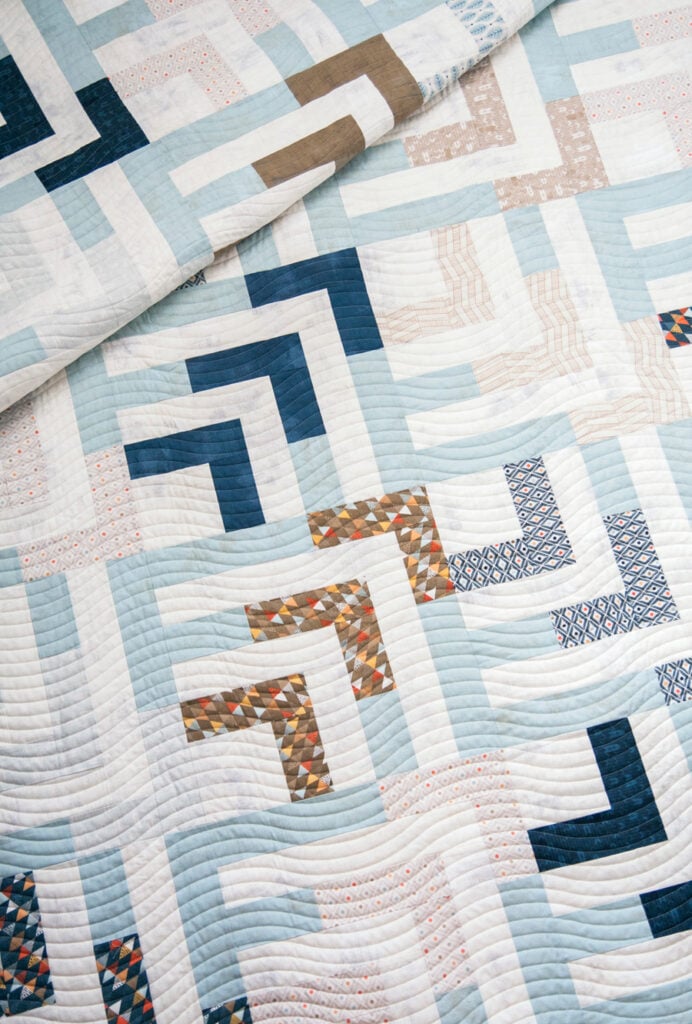 ---
"Have you ever marbled a cake? Imagine drizzling the chocolate batter over a pan of vanilla batter, creating a striped design. Then comes the best part! Take a toothpick and draw lines through the batter stripes, up and down, until you have a scrumptious little herringbone pattern. This quilt mimics the look of those marbled sweets and is just as satisfying to make. There's no tricky piecing here – just staggered rectangles sewn into columns, one block at a time." – from the Jelly Filled book where this pattern is found. This sample of Marbled Cheesecake is made with a Jelly Roll of Sunnyside Up fabric by Corey Yoder for Moda Fabrics + BasicGrey's Grunge in Vanilla as background.
---
Summer is a season of celebration; of pool parties, barbecues, rodeos, parades, fireworks, and more. When I look at this quilt, I hear children laughing and squealing, waiting for candy to be thrown, and I think of marching bands, floats, pinwheels, and of course, lots of summer treats. The assembly for this quilt is easy as pie – made of tantalizing layers, then cut into slices. The Parade quilt is found in the Jelly Filled book like a few of the others I've mentioned. Fabric is Nest by Lella Boutique for Moda Fabrics.
---
There are a lot of really cool geometric designs you can create with just one strip of fabric. Chatterbox is an oldie and is another one of those quilts you can make in any collection and it's a winner… If you ask me, it's pretty darling in Folktale fabric!
---
This one is definitely a favorite. Kaleidoscope takes you for a spin down a log cabin road with a few extra twists and turns. The original is made in Gooseberry fabric and has been a very popular pattern. In fact, it inspired a Honeybun version seen here.
---
If you're a fan of sawtooth stars, you'll adore Star Crossed. You can use a Jelly Roll or a Layer Cake ( to bake this one up! Fabric is Sugar Pie by Lella Boutique for Moda Fabrics.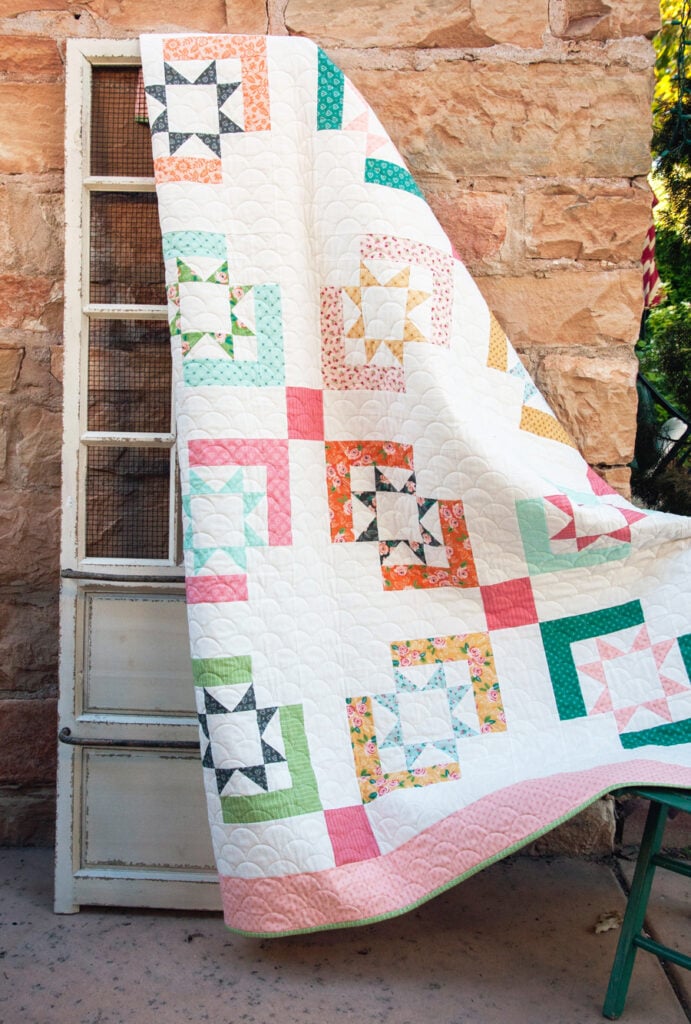 ---
Do you have a favorite Jelly Roll pattern? Let me know in the comments! I have a couple new Jelly Roll patterns to show you in a couple weeks. You are not going to believe they came from a Jelly Roll…
Don't miss out on a single post! Drop your email address in the box below to get new post notifications by email.