"Fracture" American Flag Quilt
How fitting that my latest quilt finish – one of red + white + blue – comes on the heels of Memorial Day. It's taken a couple years of working on it intermittently, and it sure feels good to have wrapped it up. One of my favorite features of this patriotic "Fracture" quilt is that scrappy red binding. Ooh la la!
The Fracture Quilt Pattern
Fracture is a simple spin on a traditional log cabin block. The original Fracture quilt model was designed for and made in Smoke & Rust fabric (introduced 2020). I feel this design leans to a more modern/masculine vibe. Its thick stripes framed around the corner block has always reminded me a bit of an American flag – so it's been a goal to make this patriotic version for a while.
Fabric
I pulled from my Bonnie & Camille fabric stash for this one – mostly from their Shine On collection. (They have beautiful red and navy prints in many of their collections which would allow you to recreate this look quite easily.) The large navy polka dot used for the border (+ a few blocks) comes from my Harvest Road collection.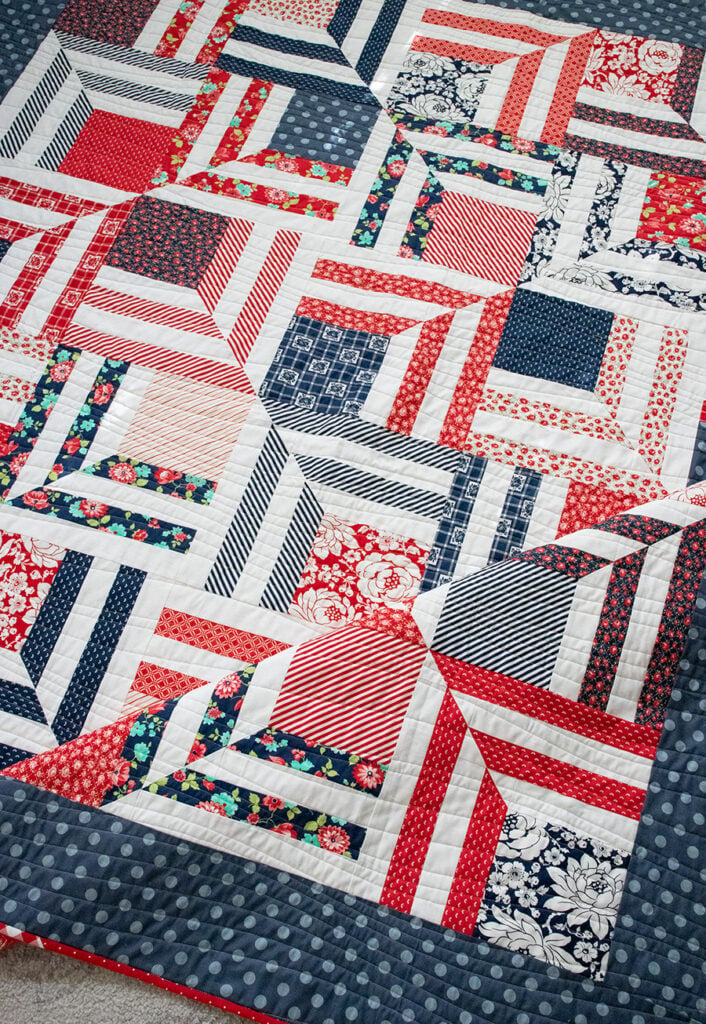 A closer look at that scrappy binding. I took a bunch of red fat quarters and cut strips 2.5″ x 20″ from each before sewing them together end-to-end in one giant strip. For a full tutorial, check out my perfect machine binding post here.
The backing fabric is from Early Bird by Bonnie & Camille for Moda Fabrics. I bought a whole bolt several years ago to use for all my backings – this isn't my first patriotic quilt using Bonnie & Camille.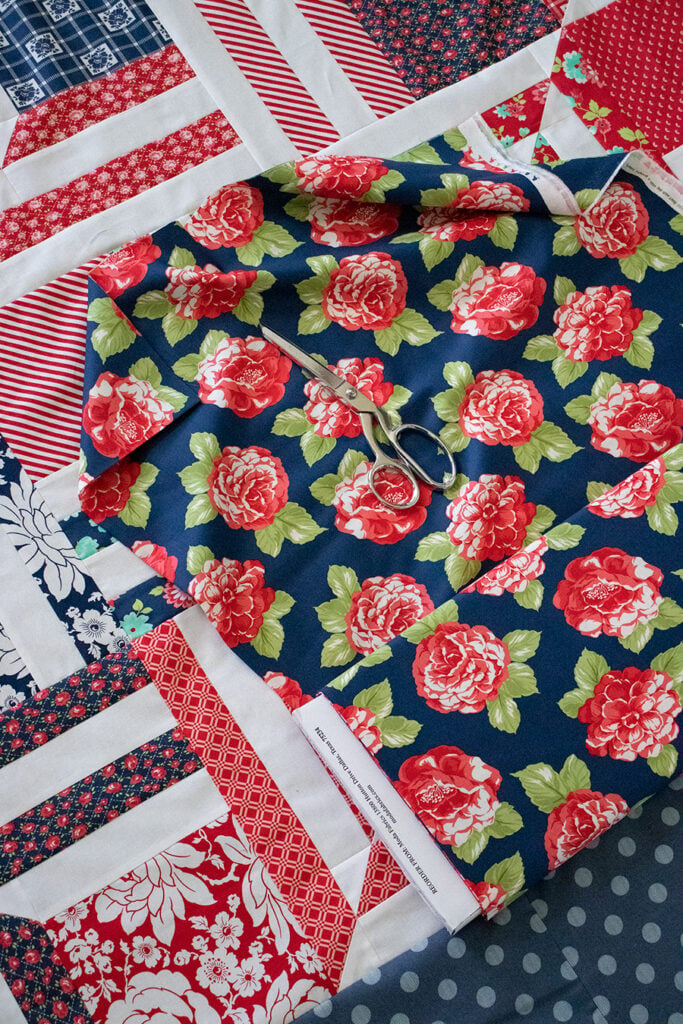 Quilt Details
For a limited time (in June 2022), you can get the Fracture quilt pattern on sale as June's $5 pattern of the month. Hope you love making this one as much I did. I guess this means it's time to drag all the patriotic quilts out for the summer 🙂
Don't miss out on a single post! Subscribe to this blog to receive new post notifications by email: