Moda Blockheads 4: (Block 3)
I'm a little late with this week's block – but here it is! Block 3 of Moda Blockheads 4 is "Kouign Amann" by Laurie Simpson of Minick & Simpson. I wasn't quite sure what Kouign Amann was, so I enjoyed reading about the meaning behind this block on the Minick & Simpson blog here. You can download the free pattern below:
Block 3: Kouign Amann
Block 3 has lots of tiny pieces – especially because I'm making the 4.5″ finished size. Precision is definitely the key for this one. When making small half square triangles like this (they are 1-5/8″ x 1-5/8″ unfinished), I like to start out with slightly bigger squares (2-1/8″ x 2-1/8″ instead of 2″ x 2″) so there is a little more excess to trim.
I picked mostly green prints for the first block (above) from the Love Note collection. When making blocks this small, it is best to pick more near-solid prints as it is very easy to lose some of the shapes with prints that are a little too busy. Which is what I figured out after making this one. It's just not as defined as I'd like. Still cute though.
I just noticed a flaw in the orange block, haha! It's an easy fix and I'll definitely take care of that before it gets sewn into the quilt top. I do like how this pair turned out in the Flower Pot prints. I think it has to do with my choice of better near-solid prints for the half-square triangles.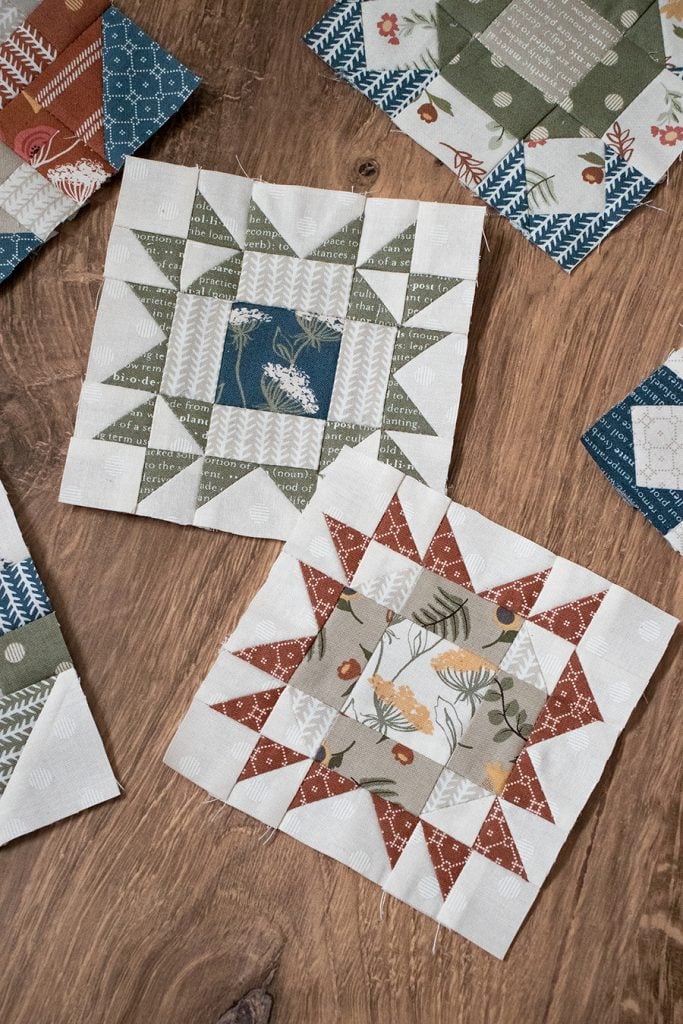 If you're just joining, you can check out my original post that contains a running archive of blocks: