Spring Fling in Country Rose Fabric
April showers are bringing some mighty lovely flowers to the quilt studio. This is my Spring Fling flower quilt pattern and is looking so charming mocked up in Country Rose fabrics. Of course, Country Rose will not appear in shops until August/September 2022, so you should place your requests to your local shop now! This will help shops order enough to meet the demand when it arrives.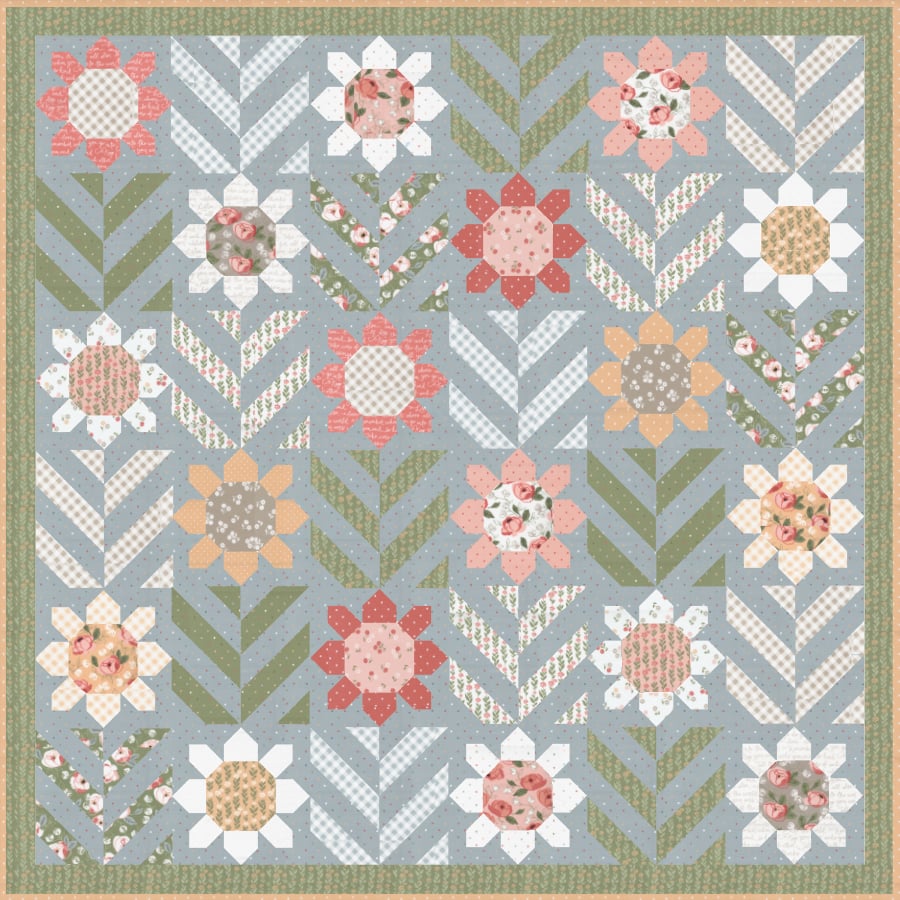 Materials Needed in Country Rose:
If you'd like to make the Spring Fling flower quilt in Country Rose fabric as shown above, here's the full materials list. (Most shops are happy to help you put a kit together.) Finished quilt is 78″ x 78″ and finished block size is 12″ x 12″.
(9) fat eighths for flower centers (SKUs #5170-11, 5170-12, 5170-16, 5170-18, 5171-12, 5171-18, 5173-12, 5173-16, and 5174-16)
(9) fat quarters for flower petals (SKUs #5172-11, 5172-13, 5173-11, 5174-18, 5175-11, 5175-12, 5175-13, 5175-18, and 5175-21)
(6) assorted ½-yard cuts for leaf & stem units (SKUs #5170-14, 5171-11, 5171-14, 5174-15, 5174-16, and 5175-14)
4¼ yards background fabric (SKU #5175-15)
⅞ yards border fabric (SKU #5171-14)
¾ yard binding fabric (SKU #5175-18)
6¼ yards backing fabric (I'd recommend SKU #5170-15)
86" x 86'' batting
The Blues: Country Rose vs Folktale
As I have mentioned in previous posts, Country Rose fabric shares a similar sky blue color as Folktale (now out-of-print and hard to find). This is great news – because many of you have wanted to make the Spring Fling quilt but have been unable to locate the dusty blue "Magic Dot" print from Folktale used in the original. (Check out the original Spring Fling quilt in Folktale fabric here.)
I'm comparing the blues in these pictures so you can see the difference. At a glance, they don't look very different at all.
Side by side, you will notice the biggest difference – and for this reason, I do NOT recommend mixing the two for a single quilt's background. However, if you completely missed out on the blue "Magic Dot" from Folktale and want to use it for the background of a Spring Fling quilt using other Folktale prints – go for it!
---
Like this post? Drop your email in the box below to get new post notifications via email.