Gift Swap Charm Pack Quilt in Holiday Classics Fabric
Happy Monday! I've got of unfortunate news – Christmas Morning fabric is delayed. Again. Original arrival date was May. Then early July. Now it's August. It's a bummer but we are so close – thank you for your patience. If you've preordered a Peace on Earth panel and/or finishing kit from me, plan on seeing those mid-August. You will know for sure when your order is on its way because you will get a shipping notification from me. Now on to a charm pack quilt and some other great news…
Since the Christmas Morning sewing has to be set aside, I've whipped up a fun new pattern for a little Christmas in July fun. This is Gift Swap. These little gift blocks pretty much made themselves the instant I discovered Rifle Paper Co.'s new Christmas fabric line called Holiday Classics. I've been drooling over the poinsettias, gold metallic accents, winter village, mistletoe, and especially the Nutcracker print. They were begging to be cut up immediately!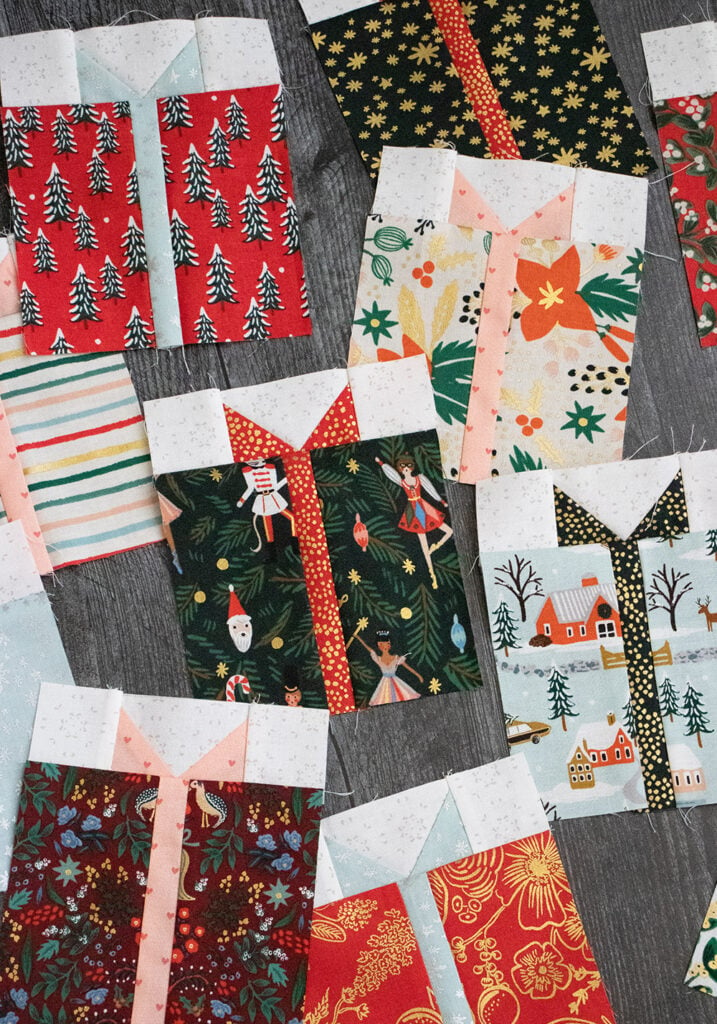 Now, I've had it on my mind to make a mini block version of my Nice List (Layer Cake) quilt and here it is! These simple little gift blocks can be made from charm packs (precut 5″ squares) or fat quarters or scraps. It's a great way to showcase your favorite prints – especially unidirectional ones like these ones. Here is the full quilt mock-up: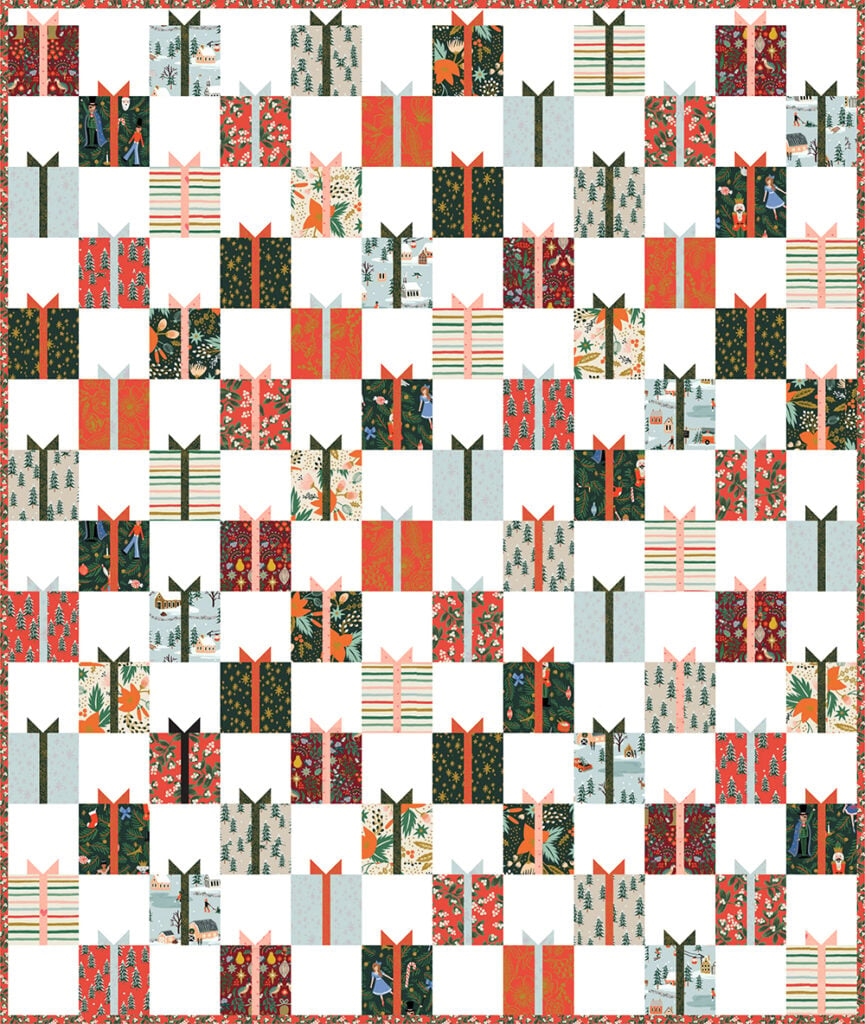 A new pattern is always good news, but the best news is the Gift Swap pattern is on sale for only $5 in July and is available in both PDF and printed booklet formats.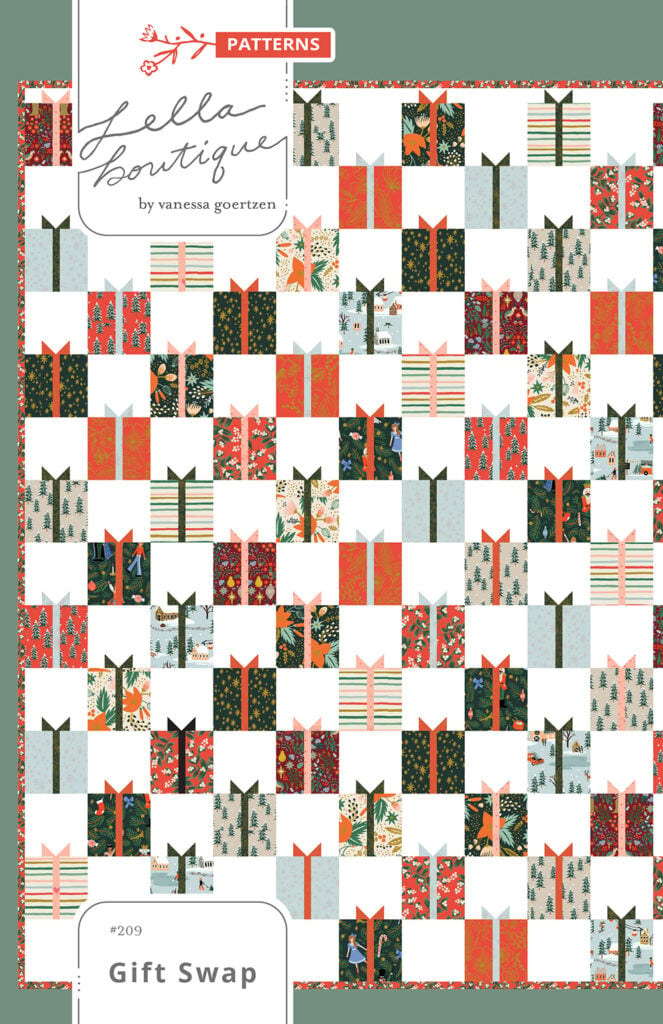 Charm Pack Quilt
Here are a few more details about what you'll need to make this quilt! If you have any questions after reading through, drop a comment on this post. Chances are, someone else may have the same question.
Materials Needed
Finished block: 4-1/2″ x 5-5/8″
Finished quilt: 54-1/2″ x 63-1/4″
2 charm packs – OR – (11) fat quarters – OR – scraps (84 squares 5″ x 5″) for assorted gift box prints
(7) fat eighths – OR – (4) fat quarters for assorted bow prints
2-1/8 yards background fabric
3/4 yard binding fabric
4-1/2 yards backing fabric
63″ x 72″ batting
Gift Box Prints
Gift Swap can be made with 2 charm packs (84 squares 5″ x 5″) or 11 fat quarters (which is what I used). Or make your own charm packs with scraps. I had a hard time narrowing down my favorites in Holiday Classics, so I went with 12 fat quarters. Here are the 12 prints I picked from Holiday Classics for the gift box prints: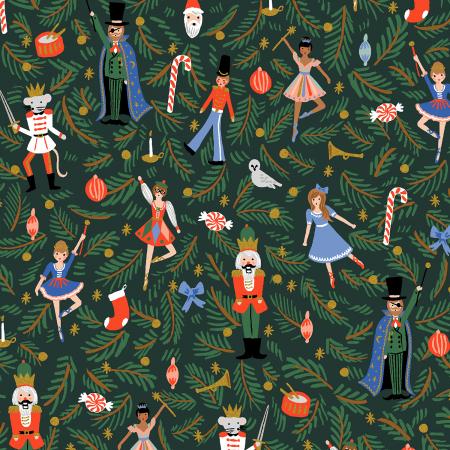 Bow Prints
For the bow blocks, you will need 7 fat eighths or 4 fat quarters. I opted for fat quarters; 3 prints come from Holiday Classics, and 1 pink dainty heart print is from my upcoming Love Note collection. (It just so happened to match the pink accent found in many of the Holiday Classic collection and makes a great contrast to many of the gift prints):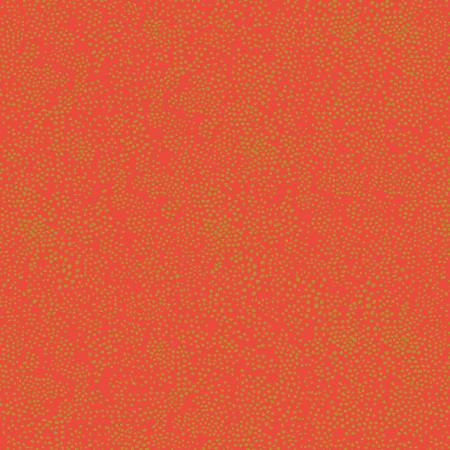 I've only got a few blocks made but I couldn't resist laying them out for a preview. The background print I'm using is from Harvest Road collection. (I tend to hoard any tonal white prints like this one.) I love the subtle depth it adds to the background. It almost looks like snow. I think BasicGrey's Grunge in "Vanilla" could also make a great background.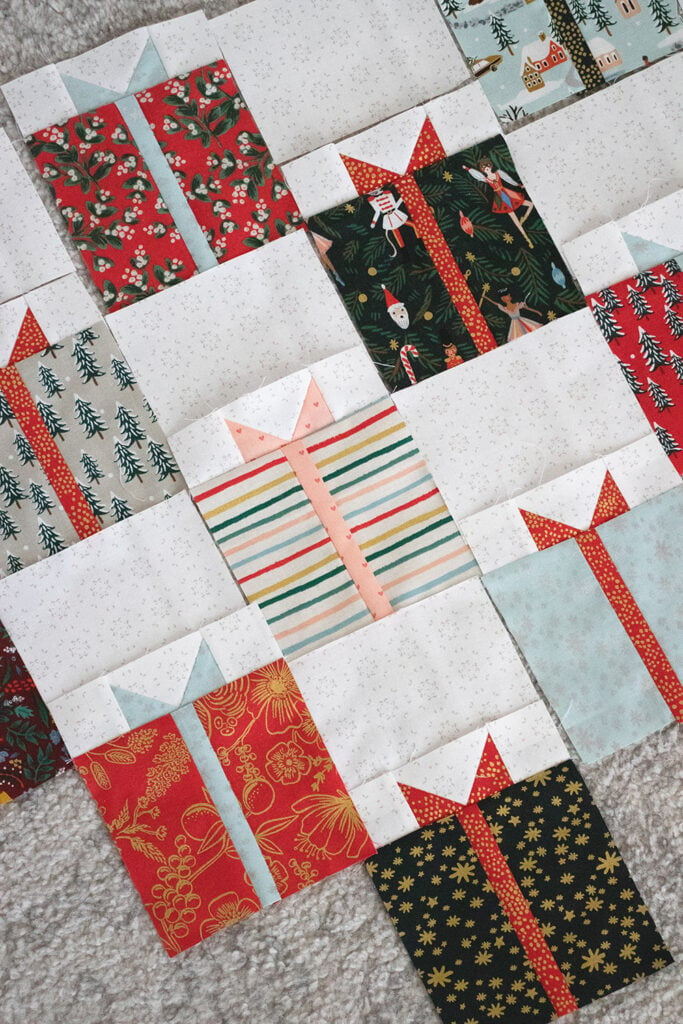 Sew Along in July
What do you think about this charm pack quilt and making Christmas projects in July? Are you on board? Let me know in a comment below! Sew along with me this month and you could win a special prize! Simply share your blocks on social media using the hashtags #GiftSwapQuilt and #LellaBoutique to enter. Good luck!
---
Like this post? Drop your email in the box below to get new post notifications via email.