$5 in October – the Kaleidoscope 2 Honeybun Quilt Pattern
There is nothing spooky about October's $5 pattern of the month. It's Kaleidoscope 2 – a Honeybun quilt (made with assorted 1.5″ strips). Here it is, all dressed up in my upcoming Flower Pot collection arriving to shops in April 2022. It has a very warm & inviting look to it in this fabric, don't you think. I'm wondering if it might need to become part of my living room decor…
The Kaleidoscope 2 quilt is pieced with a log cabin type of assembly with something a little "extra." One of the things I love most about this pattern is that it looks great in virtually any fabric collection. Remember the original in Christmas Morning fabric seen here? Here's what you'll need to make it – specific info included on the mockups of this post in Flower Pot fabric.
Materials Needed for this Kaleidoscope 2 Quilt Pattern:
Finished block: 7″ x 7″
Finished quilt: 64½" x 78½"
2 Honeybuns (80 strips 1½" x WOF)
OPTIONAL: 3 fat eighths – yields up to 6 replacement strips – perfect for replacing any Honeybun prints that closely match the background or are otherwise unwanted in the layout
3½ yards background fabric (I used Moda Bella #9900 98 in these mockups)
1¼ yard border fabric (SKU 5164-14 "Glossary" text print in taupe or SKU 5163-21 "Garden Dot" in ivory-taupe)
¾ yard binding fabric (SKU 5167-15 "Garden Stripe" in clay)
5 yards backing fabric (I'd pick SKU 5160-14)
73" x 87'' batting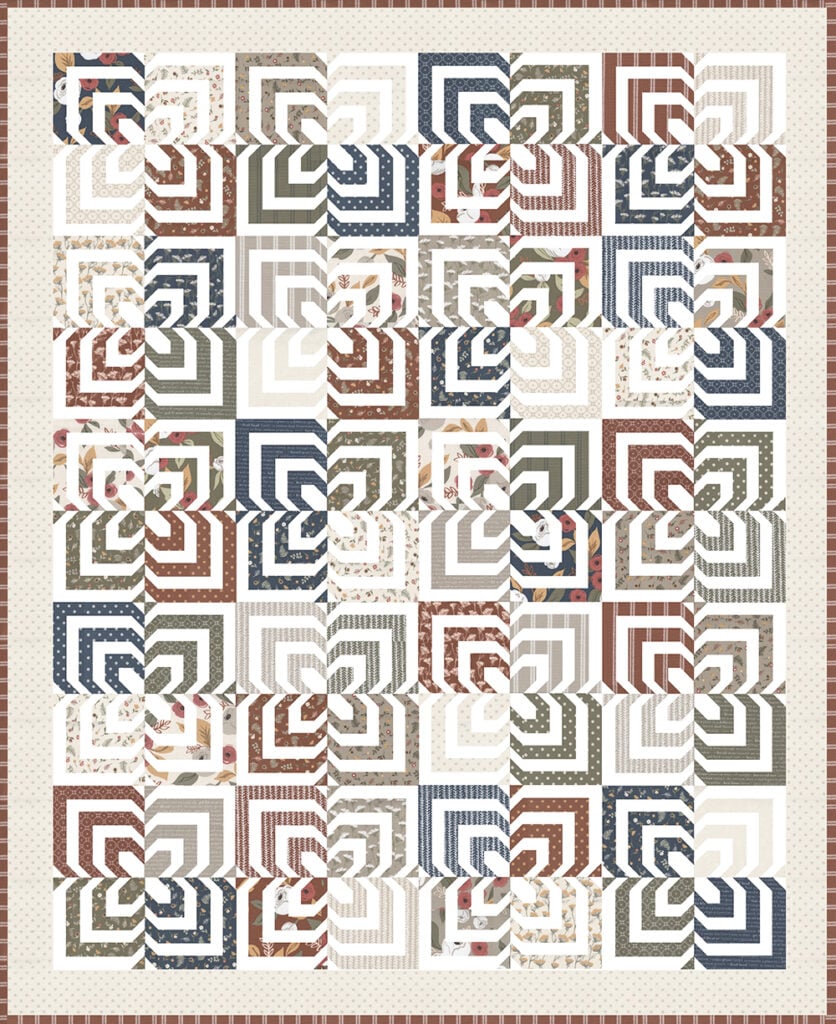 If you have interest in a kit, be sure to reach out to your favorite local or online shop ASAP so they can get it ordered for you. And of course, if you are interested in the Jelly Roll version of this quilt, check out the original Kaleidoscope quilt here.
---
Like this post? Drop your email in the box below to get new post notifications via email.