Gather Basket Quilt in Flower Pot Fabric
When I was a little girl, my family would visit my grandparents' ranch every summer. The house was nestled under a large grove of trees along the railroad tracks. There was a big barn, chicken coop, and all sorts of little sheds and such scattered on the property. We kids adored having so many places to explore and play hide-and-seek in. I loved wandering around to see what types of flowers Grandma had planted earlier in the spring. I vividly remember falling in love with a patch of snapdragons. I had never seen anything like them and wanted to pluck them all for a bouquet. Luckily for Grandma, I was old enough to know better and didn't.
Now that I am grown, it is still hard to resist flowers. It's probably why I can't stop designing flower quilts! In fact, I've got a new quilt pattern specifically inspired by those old childhood days of picking flowers in the garden. Meet "Gather," a traditional basket quilt design – filled to the brim with the pretty floral prints of my upcoming Flower Pot collection (April 2022).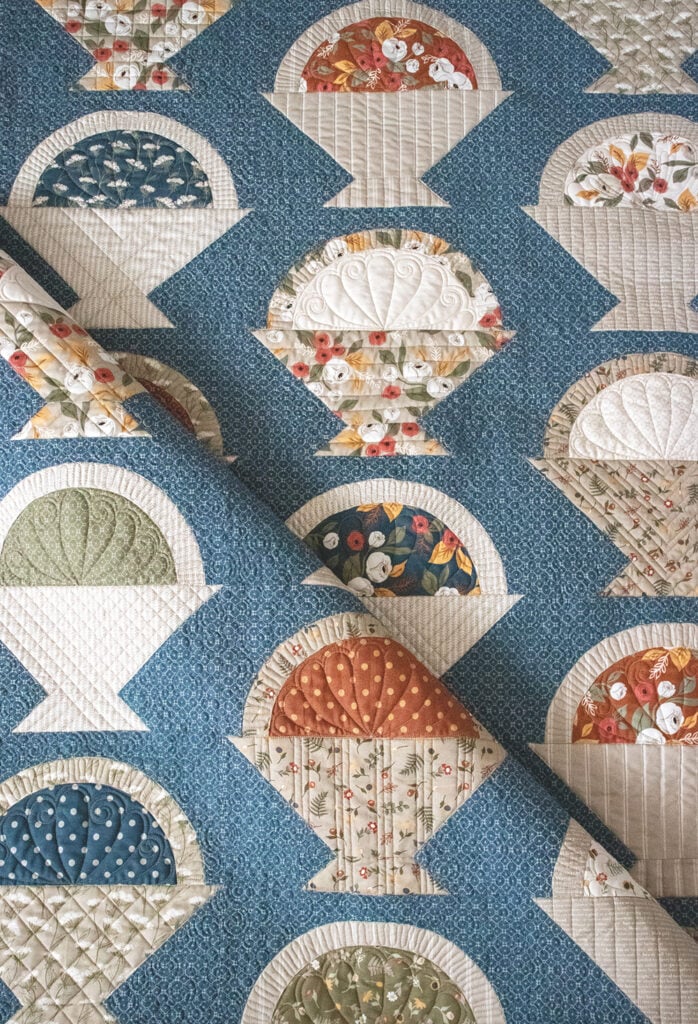 ---
Materials Needed for your Gather Basket Quilt:
Finished block: 12″ x 12″
Finished quilt: 72″ x 72″
1 *Layer Cake® (36 squares 10" x 10") -OR- (18) fat eighths -OR- scraps
(6) assorted ¾-yard cuts taupe basket prints (SKUs 5160-14, 5161-14, 5162-14,5164-14, 5165-14, and 5167-14)
4¼ yards background fabric (SKU 5166-17)
⅝ yard binding fabric (SKU 5165-15)
4½ yards backing fabric (SKU 5161-17)
80" x 80″ batting
cardboard or template plastic
*NOTE* You will need (36) 5" x 10" rectangles for the basket "fills." This means you can get by with as few as (18) Layer Cake® squares if you "double up" per print (for a less scrappy look). Incorporate the leftover scraps into the backing (or your next scrap quilt).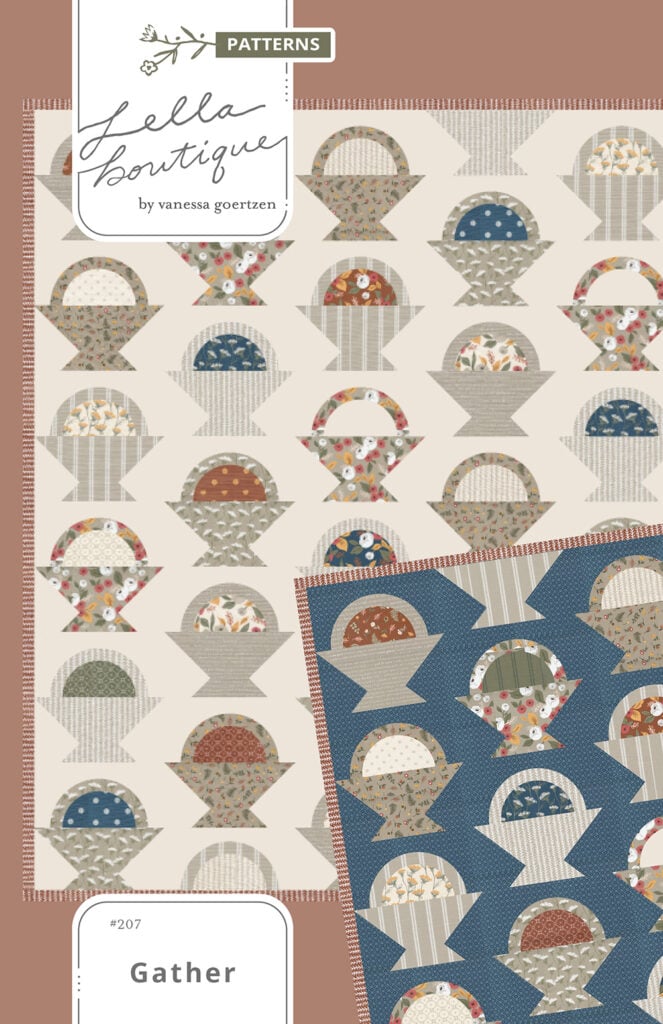 The Gather Basket Quilt Pattern
Flower Pot fabric may not be available until spring, but the Gather quilt pattern is available in the shop NOW as a PDF or printed booklet. No special ruler required – the pattern includes a free paper template (printable for the PDF version) that can be mounted on cardboard or template plastic. Pattern includes detailed instructions and diagrams to help anyone tackle the basic of sewing curved seams.
---
Curved Piecing Technique
If you haven't ever sewn curves before, this is a great pattern to start with. Don't be nervous – piecing curves is more forgiving a method than you would ever expect. Plus it's fun to mix it up and learn something new. The secret to curved piecing is all in the pinning! When you bring curved pieces right sides together, always start by pinning them at the curves' centers and sides first. (You can find the center easily by fold each piece in half and finger pressing a crease.) Then continue pinning the areas in between, all along the curve. It doesn't look like it should fit when you have the pieces laid out, but somehow it does! Magic!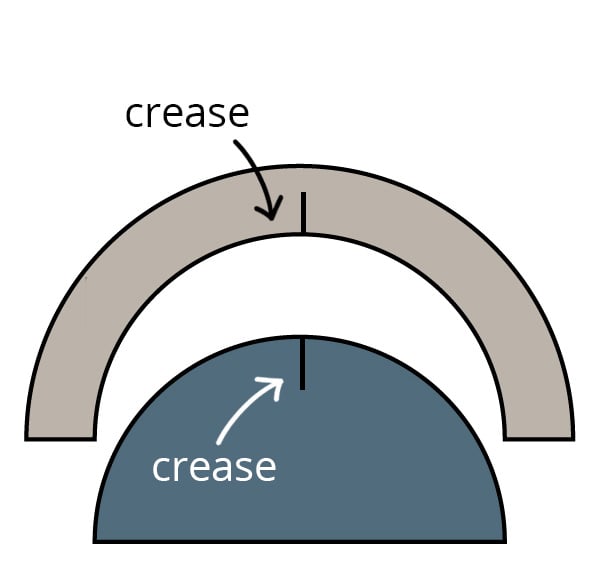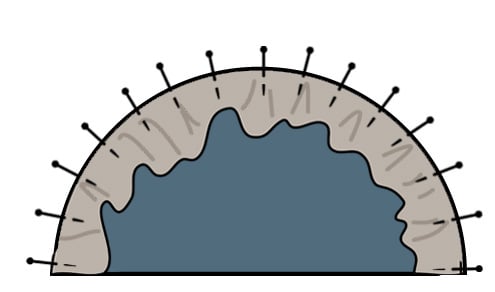 From there, you simply sew around the curve using 1/4″ seam allowance. Go slow and watch for creases. (You can smooth them out as you find them.) Then you just press the seam outward and end up with something like this. From there, you can add the next curve!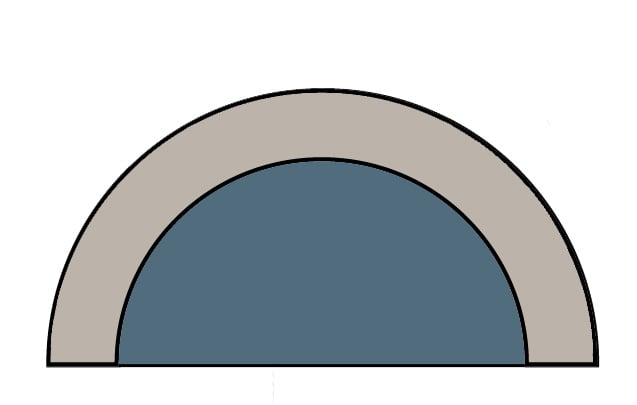 ---
Gather Basket Quilt Details
Pattern: Gather by Vanessa Goertzen of Lella Boutique
Fabric: Flower Pot by Lella Boutique for Moda Fabrics (April 2022)
Pieced by: Vanessa Goertzen (me)
Quilting: Custom by Natalia Bonner
---
Like this post? Drop your email in the box below to get new post notifications via email.