Sewcialites Quilt Along: Free Block of the Week (The Finished Quilt in Christmas Morning Fabrics)
A Christmas quilt for every bed, that's the goal at my house – and I'm well on my way! Just finished binding my Christmas version of the Sewcialites quilt and am looking forward to decking my halls (and beds) in a few more months. Last June, I started sewing along with my friends in the Sewcialites Quilt Along hosted by Fat Quarter Shop and am so pleased with how it turned out.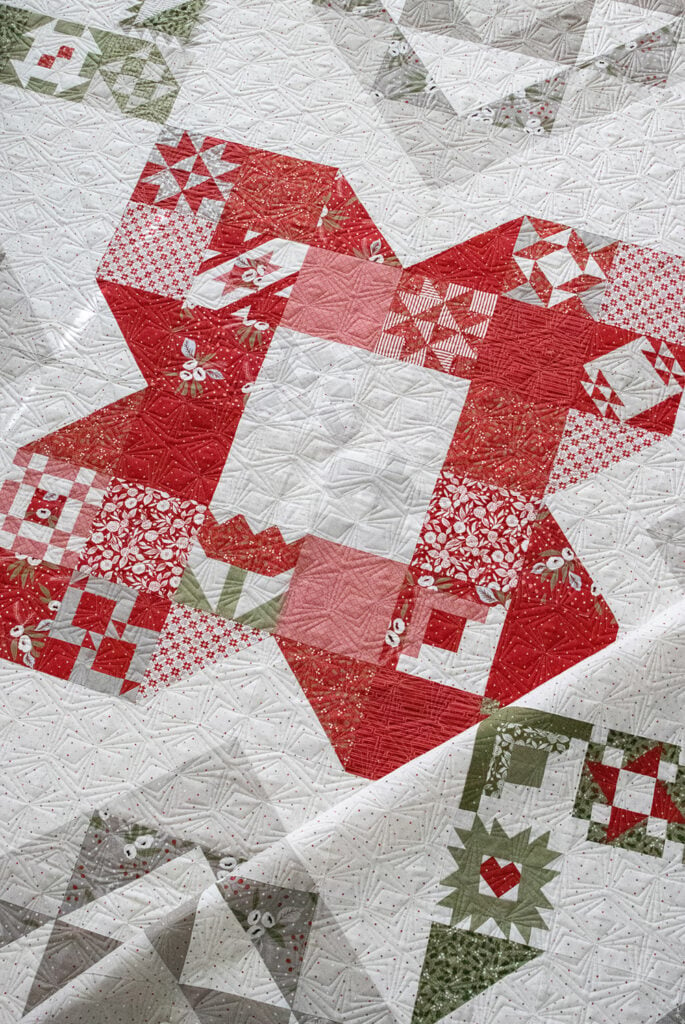 Sewcialites Quilt Along
The Quilting Details
Finished block: 6″ x 6″
Finished quilt: 84-1/2″ x 84-1/2″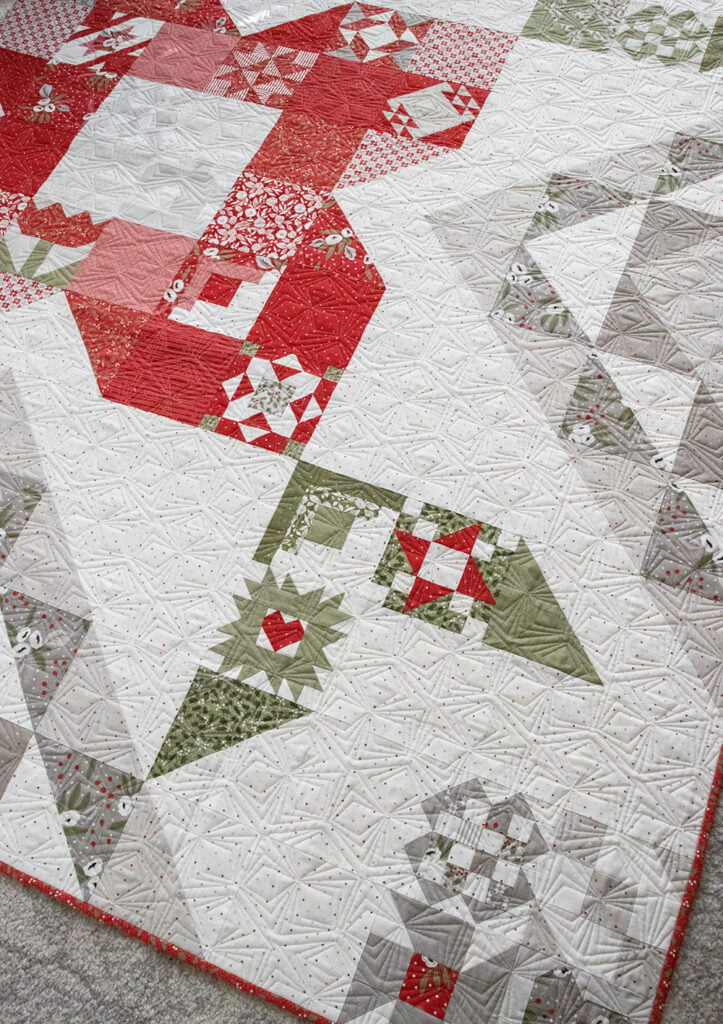 The Block Patterns
Who doesn't love a free quilt pattern? The Sewcialites Free Block of the Week project features 36 block designs from your favorite quilters and designers in the industry! Fat Quarter Shop did such a great job putting this together. Each block pattern includes instructions to make each block in 3″, 6″, or 9″ finished block size. I decided to make (40) 6″ finished blocks (i.e. 6-1/2″ unfinished). If you'd like a closer look at my individual blocks made in Christmas Morning fabric, you can peruse my Sewcialites blog post library here! These blocks are so luscious and happy all together, don't you think?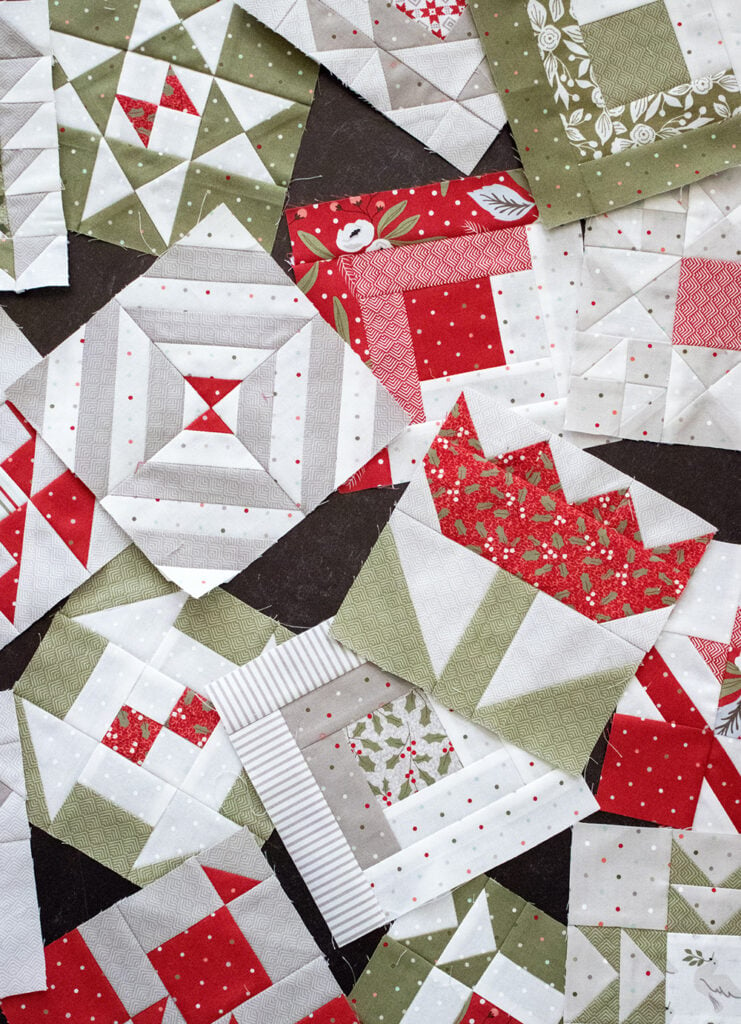 Now here's where you get the patterns! I've put together an easy list in one place for you.
ARCHIVE – FREE Sewcialites Block Patterns:
Early on, I decided to use the Rose in Bloom layout for my Sewcialites blocks. (In case you didn't know, Rose in Bloom is a new block of the month book featuring my Love Note collection. It will arrive in November – get the full details here.) This layout is a great way to show off 6″ finished size sampler blocks in a flower inspired design. It is easy to swap out the sampler blocks from any quilt along i.e. Sewcialites, Moda Blockheads, etc. You just need (40) sampler blocks total in the 6″ finished block size. For Sewcialites, this meant doubling up on a few of the blocks.
Sewcialite Block Color Groupings:
10 red blocks
12 green blocks
16 grey blocks
2 low volume blocks (for the flower center)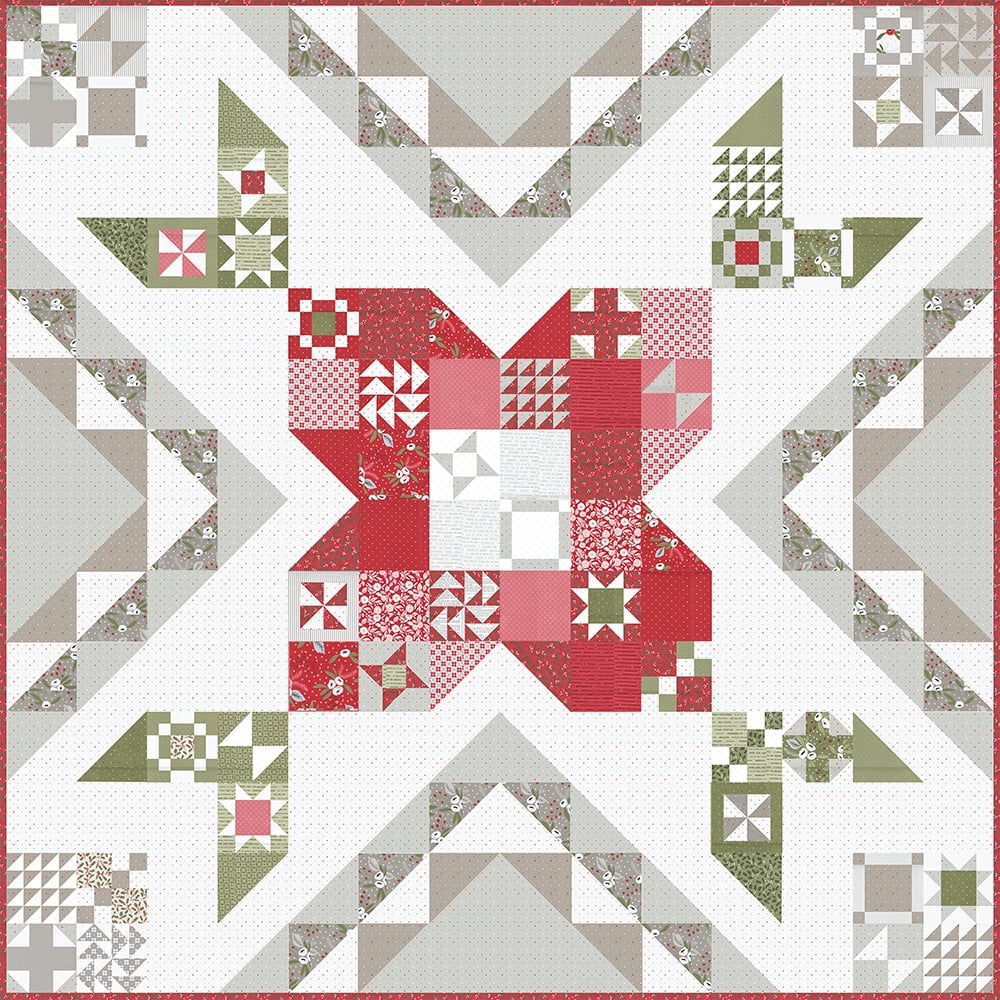 I almost forgot! I put together a full materials list for this quilt: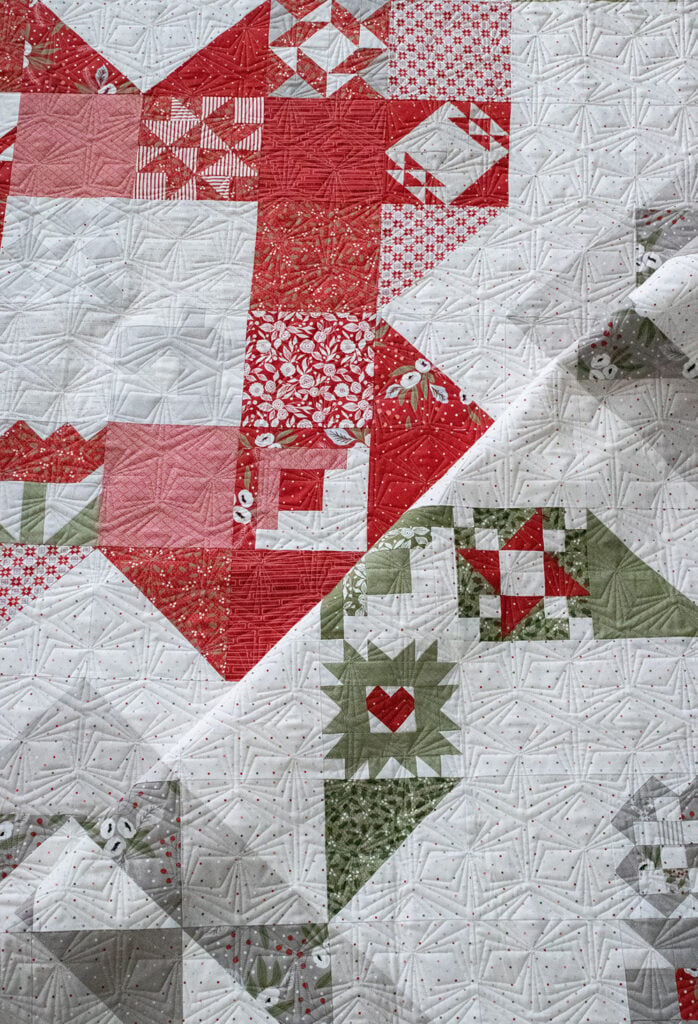 This makes the 7th quilt finish in Christmas Morning fabrics. I think that's supposed to mean I've reached my Christmas quilt goals and yet… somehow I doubt this is the last Christmas quilt I'll ever make! In fact, I have a feeling I'm just getting started.
Until next time, friends!
---
Like this post? Drop your email in the box below to get new post notifications via email.