Mountainside Quilt (How to Make it Bigger)
You asked for it. I'm talking about making the Mountainside quilt BIGGER. Turns out, lots of people are making this one for beds of loved ones. As is, the pattern instructions yield a nice lap size of 68″ x 72″. Today, I'm sharing all the details on how to increase the Mountainside quilt top to 81″ x 81″ finished size.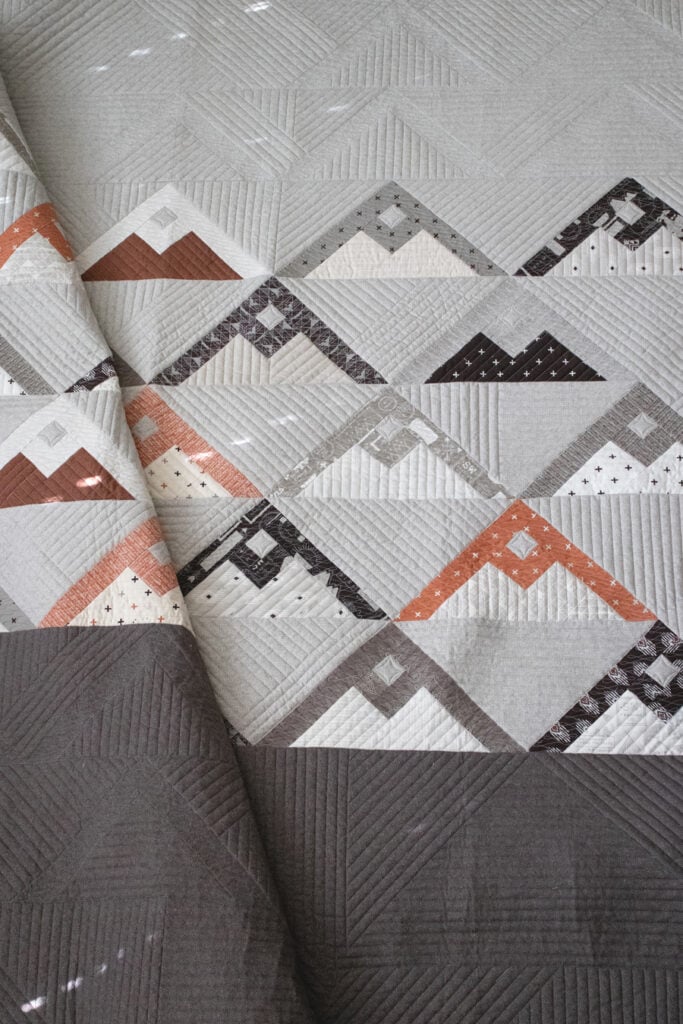 If you don't have a copy of that pattern yet, be sure to grab one. It comes in PDF or printed booklet formats.
The fabric is Smoke & Rust by Lella Boutique for Moda Fabrics. You should still be able to find it in a few shops (as of August 2021) but the collection will start to become harder to find as time goes on since Moda only does one printing. I do have a few fat eighth scrap bundles in the shop here from my destash if anyone's interested.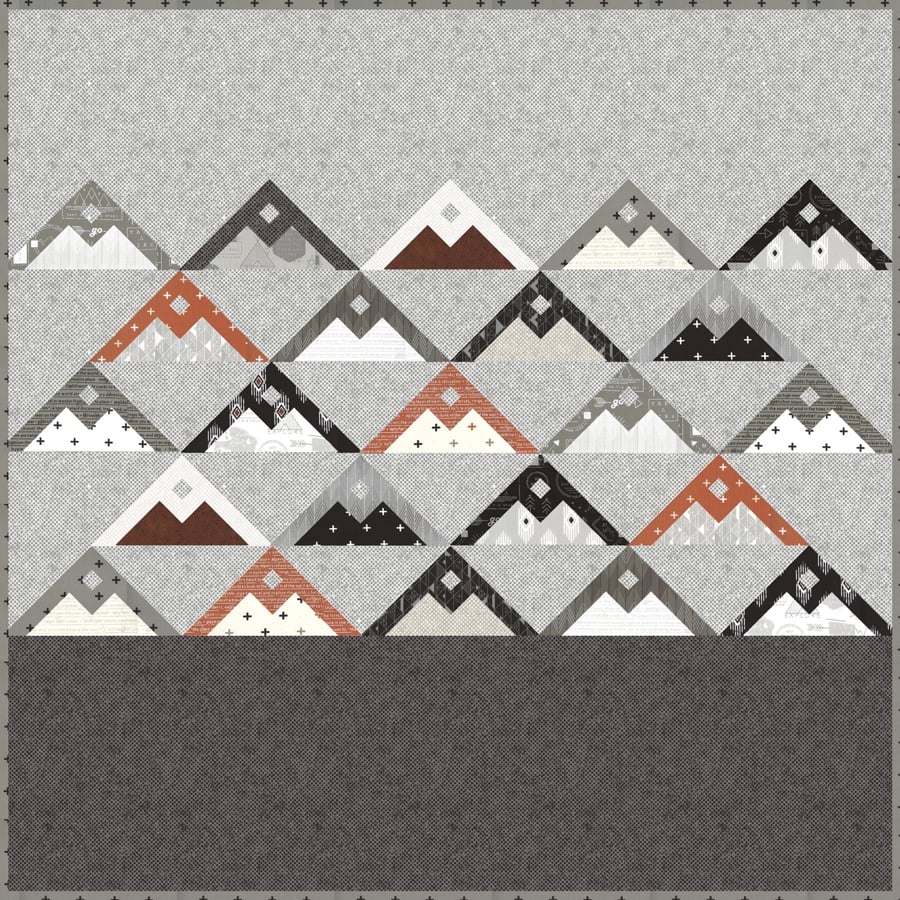 MATERIALS NEEDED
Finished block: 9-1/2″ x 9 1/2″
Finished quilt: 81″ x 81″
FYI: These yardage calculations assume 41″ usable WOF (width of fabric). Every manufacturer is a little different and WOFs can range from 40-44″.
(14) fat eighths for mountain centers
(14) fat eighths for mountain exteriors
3-1/8 yards background fabric*
1-5/8 yards accent fabric*
3/4 yard binding fabric
6-1/4 yards backing fabric
90″ x 90″ batting
*NOTE: For a single-print background (no accent "stripe" along the bottom), nix the accent fabric and get 4-3/4 yards of background fabric instead of 3-1/8 yards. An example would be this all-charcoal version I made: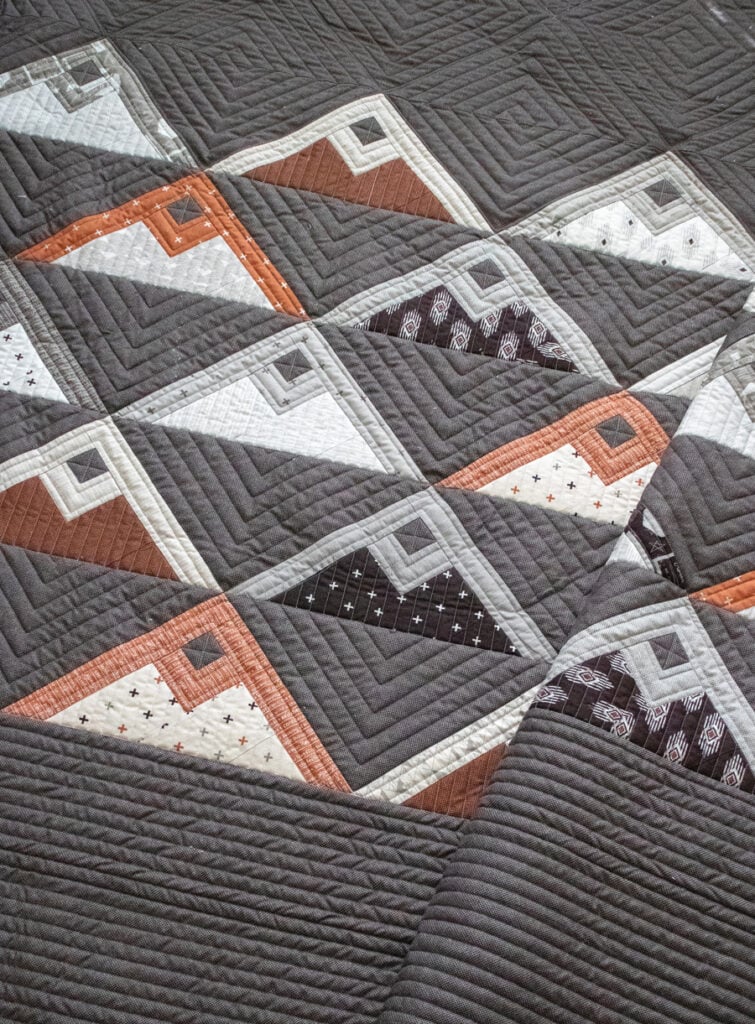 CUTTING
Here are the cutting adjustments – reference your copy of the Mountainside pattern instructions:
STEP #1 ("mountain center" fabric cutting)
Cut 14 sets instead of 12.
STEP #2 ("mountain exterior" fabric cutting)
Cut 14 sets instead of 12.
STEP #3 (background fabric cutting)
Cut (1) extra strip 14-3/4″ x WOF (2 total). To the extra strip, cut (1) "G" square 14-3/4″ x 14-3/4″. Cut it in half twice diagonally to yield (12) "G" side triangles total. (Only 9 will be used.)
From the remnant, cut (2) "I" squares. Cut each square in half once diagonally to yield (4) "I" triangles (22 total).
Replace the (2) 16-1/2″ "K" strips with (2) strips 22-1/2″ x WOF. Piece them end-to-end to get (1) new strip measuring approx. 22-1/2″ x 81-1/2″.
Cut (4) extra "J" squares. Add to the others to get (28) total.
STEP #4 (accent fabric/background cutting)
Replace the (2) 22-1/2″ "L" strips with (2) strips 26-1/2″ x WOF. Piece them end-to-end to get (1) new strip measuring approx. 26-1/2″ x 81-1/2″.
ASSEMBLY
STEP #11: Make (28) triangles instead of (23).
STEP #12: Make (22) blocks instead of 18.
QUILT-TOP ASSEMBLY: Referring to the diagram below, add 1 extra "G" side triangle to the top section+ 4 extra blocks from Step #12 (blocks 1-4) and 1 extra triangle from Step #11 (block 5) to the bottom.
STEP #14: When you measure and calculate the average width of the quilt top, it should be approx. 81-1/2″ wide. Trim the "K" and "L" strips to match the average. Sew the trimmed "K" strip to the top and press. Sew the trimmed "L" strip to the bottom and press.
Hope that helps! If other questions about this mountainside quilt pop up along the way, feel free to comment. Chances are, someone else may have the same question and this can continue to be a helpful source for making this pattern.
---
Like this post? Drop your email in the box below to get new post notifications via email.