Sampler Spree Sew Along (Week 2)
It's Wednesday – which means a new batch of blocks to share for the Sampler Spree Sew Along. You can read my original blog post about the Sampler Spree Sew Along here – official details + my layout plan (including a materials list and cutting info). These blocks are pretty photogenic in BasicGrey's Cider collection, don't you think?
Sample Spree Sew Along
Week 2
I'm straying a bit from the official sew along guidelines… While the group is making 10 blocks per week, I'm making 3-5. The group plan is a "scavenger hunt" with random block assignments each week… I'm merely starting at the beginning of the Sampler Spree book and going through in order, cherry-picking the ones I want to make. So far, I've made 5 blue blocks for Week 1 here + another 5 blue blocks this week for 10 total. Here's a list of the block patterns I chose to stitch up this week:
Block #8 "Broken Sash" (page 19)
Block #11 "Lacy Lattice Work" (page 22)
Block #12 "Patio Pavers" (page 22)
Block #13 "The Kitchen Woodbox" (page 23)
Block #14 "Spinster" (page 23)
The Layout
This is my scrappy leaf layout plan… Imagine 2 blue sampler blocks plugged into the navy leaf point. The other 8 blue sampler blocks will be mixed in with (8) scrappy print squares 6-1/2″ x 6-1/2″ (i.e. 6″ finished size).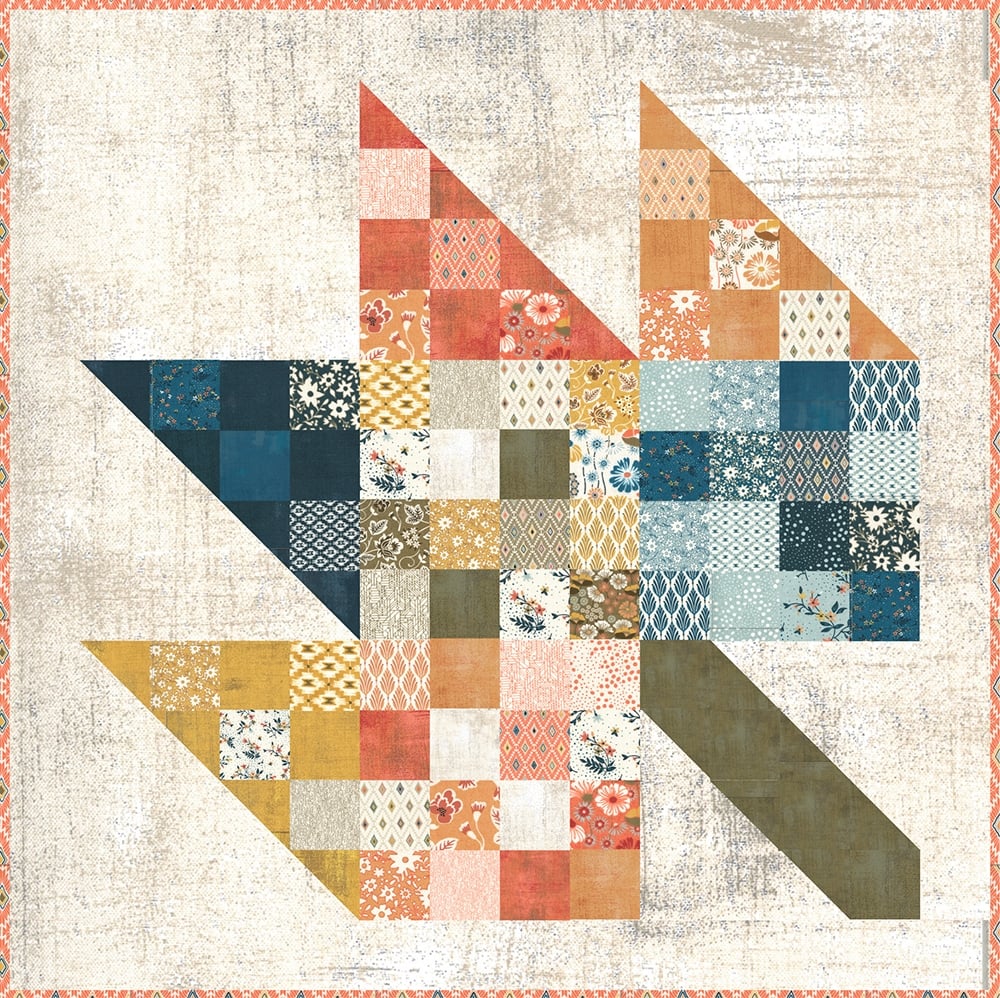 Next week – watch for 3 sampler blocks in the persimmon-y orange colorway. Which block was your favorite this week? I like the "Spinster" block – kind of reminds me of a really wild daisy.
What do you like most about this sew along? Let me know in a comment below!
---
Like this post? Drop your email in the box below to get new post notifications via email.