Sewcialites Quilt Along: Free Block of the Week (Block 1)
Late to the party – but finally caught up sewing blocks for the Sewcialites Quilt Along by Fat Quarter Shop. I started in the middle of the quilt along with Block 20 and finally went back to the first 19. The plan is to post my blocks one at a time (one per day). Friday will still be reserved for the new block releases. Meet Sewcialites Block #1 "Harmony" by Lissa Alexander (Moda Lissa).
Sewcialites Quilt Along Block 1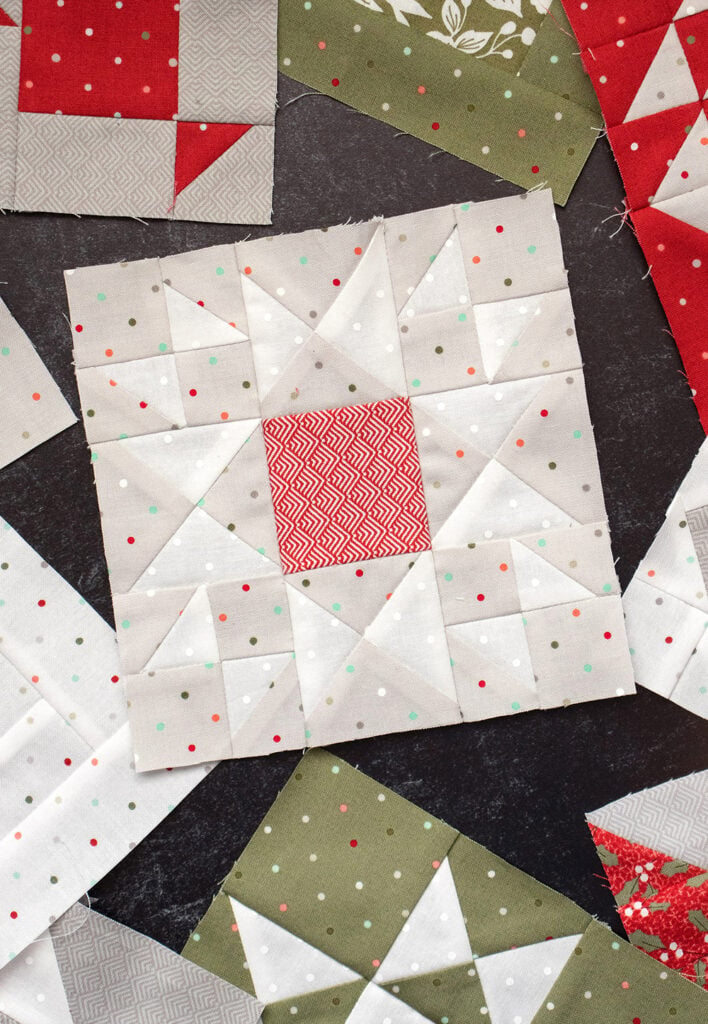 Fabric + Layout
I made Block #1 Harmony using my Christmas Morning fabric collection for Moda Fabrics (shipping July). I kept this block pretty basic–almost exclusively grey and white–but decided at the last minute to add a little pop of color in the center.
My final quilt top assembly is a secret for now–but I can tell you I'm collecting 40 blocks total. (This means I'll be making a few of them twice.) I'm organizing my quilt blocks into color groups: 10 red + 12 green + 16 grey + 2 low volume. Can't wait to show you more, stay tuned in the coming months.
Quilt Along to Win Prizes
Did you know you could win a fabulous prize from Fat Quarter Shop just by sewing along? It's true! Just post a photo of your blocks each week on social media, use the hashtag #SewcialitesQAL, and tag @fatquartershop to be entered. (Make sure your posts are public). Winners are chosen every week!
Here is the full Sewcialites Quilt Along schedule + Pattern Archive:
Block 27: TBA by Vanessa Christenson of V & Co
Block 28: TBA by April Rosenthal of Prairie Grass Designs
Block 29: TBA by Me & My Sister Designs
Block 30: TBA by Camille Roskelley of Thimble Blossoms
Block 31: TBA by Susan Ache
Block 32: TBA by Chelsi Stratton
Block 33: TBA by Lori Holt of Bee in My Bonnet
Block 34: TBA by Carrie Nelson
Block 35: TBA by Anne Sutton of Bunny Hill Designs
Block 36: TBA by Corey Yoder of Coriander Quilts
What do you like most about the block 1 Sewcialites Quilt Along block? Let me know in a comment below!
---
Like this post? Drop your email in the box below to get new post notifications via email.