Sewcialites Quilt Along: Free Block of the Week (Block 20)
One of the things I love about quilting is that there really aren't any rules. For example, it's halfway through the Sewcialites Quilt Along and I'm just barely starting! Anyone want to join me?
The Sewcialites Quilt Along is a free block-of-the-week program hosted by Fat Quarter Shop. There are 36 blocks total with a new block releasing every Friday until 7/2/2021. Each block can be made in 3″, 6″, or 9″ finished size options. I will be making the 6″ finished size for my blocks!
Last Friday's release was Block 20: Honor by Lisa Bongean. I absolutely loved making this log cabin style block. I made 3 scrappy blocks–one per color.
Sewcialites Block #20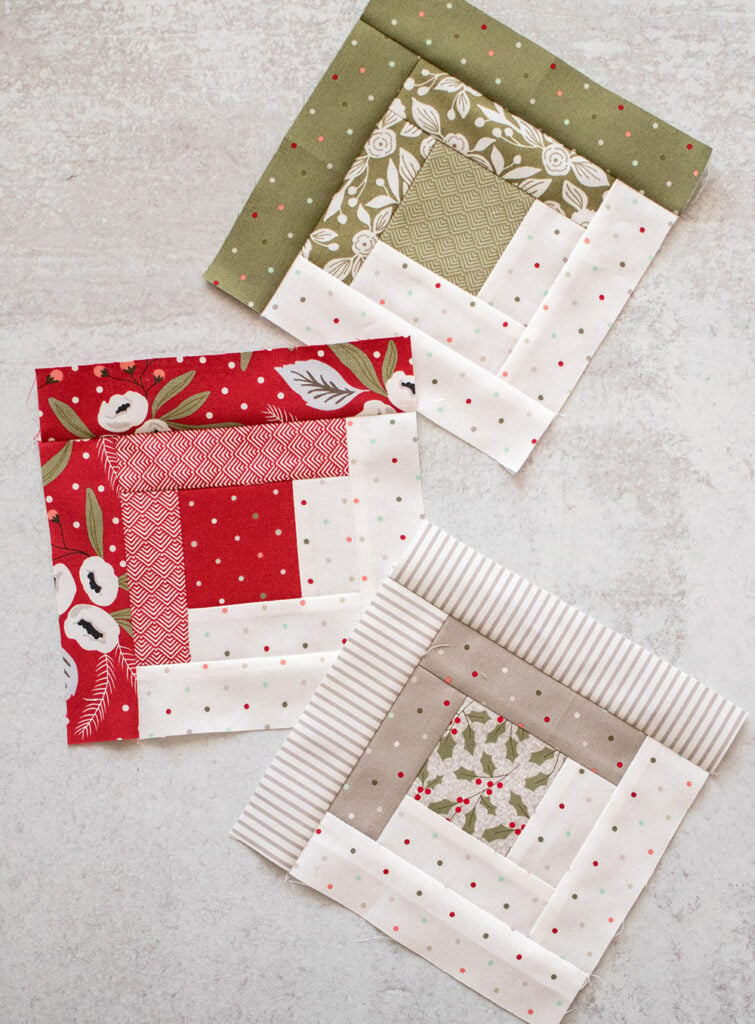 Fabric + Layout
I'm using my upcoming Christmas Morning fabric collection for Moda shipping to shops July 2021. Fat Quarter Shop has a free quilt layout for the Sewcialite Quilt Along here if you'd like to use it. I'll be using my own layout. For my layout, I'm making 40 blocks total = 10 red + 12 green + 16 grey + 2 low volume. Once you have seen my layout, this color breakdown will make a lot more sense:
Share your blocks and get inspiration from others by visiting the Sewcialite Lounge on facebook and by using the hashtag #SewcialiteQAL on social media. Here is the full schedule of the Sewcialite Quilt Along, including links for the blocks released so far:
Block 21: TBA Brigitte Heitland of Zen Chic
Block 22: TBA by Vanessa Goertzen of Lella Boutique
Block 23: TBA by Sherri McConnell of A Quilting Life
Block 24: TBA by Robin Pickens
Block 25: TBA by Bonnie Olaveson of Cotton Way
Block 26: TBA by Joanna Figueroa of Fig Tree Quilts
Block 27: TBA by Vanessa Christenson of V & Co
Block 28: TBA by April Rosenthal of Prairie Grass Designs
Block 29: TBA by Me & My Sister Designs
Block 30: TBA by Camille Roskelley of Thimble Blossoms
Block 31: TBA by Susan Ache
Block 32: TBA by Chelsi Stratton
Block 33: TBA by Lori Holt of Bee in My Bonnet
Block 34: TBA by Carrie Nelson
Block 35: TBA by Anne Sutton of Bunny Hill Designs
Block 36: TBA by Corey Yoder of Coriander Quilts