Sewcialites Quilt Along: Free Block of the Week (Block 22)
I guess you could say I'm "blessed" to share the next free block design for the Sewcialites Quilt Along by Fat Quarter Shop. I am a little behind in making the other Sewcialites blocks (okay, maybe a lot behind)–but will be catching up soon. (There's no real deadline here, right?) I have a feeling that making the blocks in Christmas Morning fabric (shipping in July) will be well worth the late start!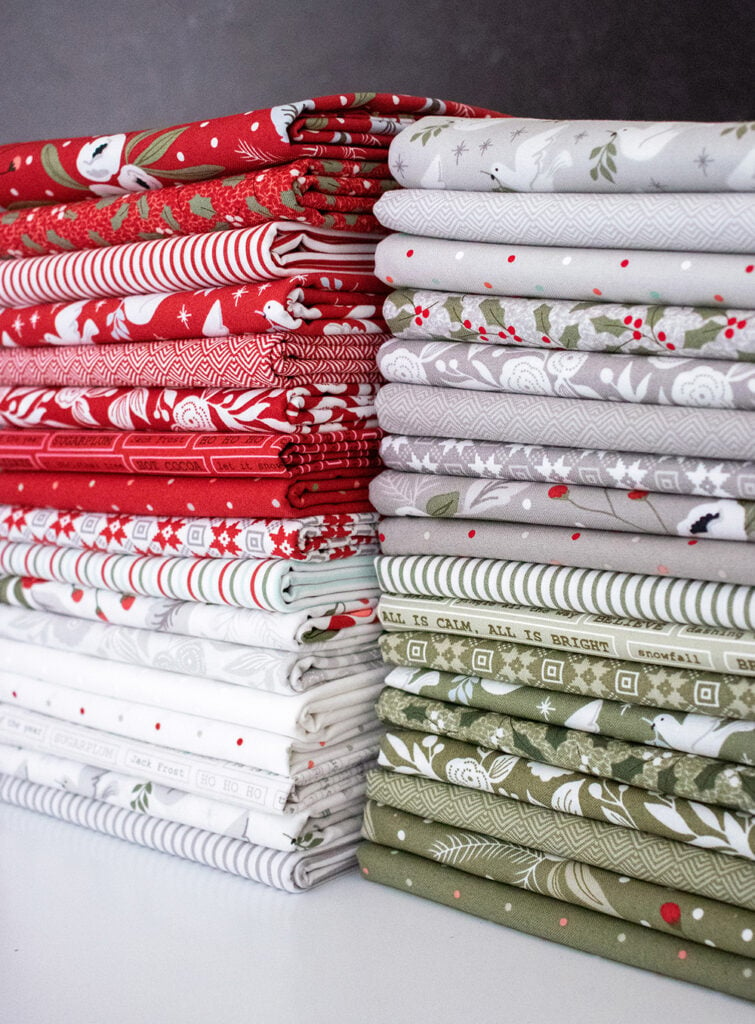 Sewcialites Block #22
Block 22 "Blessed" is a spunky little star is made with flying geese, half-square triangles, and squares. I made several color combinations and realized pretty quickly that it takes a little bit of thought to make sure the unidrectional prints end up facing the same direction. We'll talk more about that in a minute. But first, here's the link to the free pattern instructions:
Layout
For my layout, I'm making 40 blocks and grouping them by color: 10 red blocks + 12 green blocks + 16 grey blocks + 2 low volume blocks. The breakdown will all make sense once you've seen my layout:
Tips & Tricks
As a supplement to the instructions, I thought I'd draw up a few little diagrams to show you how to piece with unidirectional prints. I'll use the red "Fa La La" text print (SKU 5145-16) from Christmas Morning as an example.
Half Square Triangles (HSTs): Lay the print squares side by side, face up, with the prints oriented upright. Bring a background square RST with each print square, aligning raw edges (i.e. don't stagger them like I did in the diagram). Orient the marked lines as shown (mirroring each other).
Flying Geese Pair #1: Lay the print rectangles side by side (horizontally). Orient one rectangle so the unidirectional print is upright, and the other is upside down. The finished flying geese should look like this:
Flying Geese Pair #2: This is where placement can get a little tricky! The goal is to have the print upright in both flying geese units when they are set side by side vertically (mirrored) like this:
Let's break it down further. Begin by laying 2 rectangles of background fabric side by side vertically. Bring a marked print square RST with each background rectangle, aligning raw edges along the top, orienting the print as indicated. Mark the diagonal lines as shown (mirrored). Stitch/trim/press/etc.
Add a marked print square RST to each unit, aligning raw edges along the bottom, orienting the print as indicated. Mark the diagonal lines as shown (mirrored). Stitch/trim/press/etc.
That should yield just the right block components that will come together to run in the same direction in the block. Hope that helps!
As always, share your Sewcialite blocks and get inspiration from others by visiting the Sewcialite Lounge on Facebook. You could win some really great prizes by sewing along! Check out this month's prizes on the Fat Quarter Shop blog. When posting your blocks, be sure to use the hashtag #SewcialitesQAL and tag @fatquartershop.
If you're new to the Sewcialites Quilt Along, here is the full schedule including links for the blocks released so far:
Block 23: TBA by Sherri McConnell of A Quilting Life
Block 24: TBA by Robin Pickens
Block 25: TBA by Bonnie Olaveson of Cotton Way
Block 26: TBA by Joanna Figueroa of Fig Tree Quilts
Block 27: TBA by Vanessa Christenson of V & Co
Block 28: TBA by April Rosenthal of Prairie Grass Designs
Block 29: TBA by Me & My Sister Designs
Block 30: TBA by Camille Roskelley of Thimble Blossoms
Block 31: TBA by Susan Ache
Block 32: TBA by Chelsi Stratton
Block 33: TBA by Lori Holt of Bee in My Bonnet
Block 34: TBA by Carrie Nelson
Block 35: TBA by Anne Sutton of Bunny Hill Designs
Block 36: TBA by Corey Yoder of Coriander Quilts
---
Like this post? Drop your email in the box below to get new post notifications via email.