Charm School Quilt Book: Get a FREE Downloadable Chandelier Quilt Pattern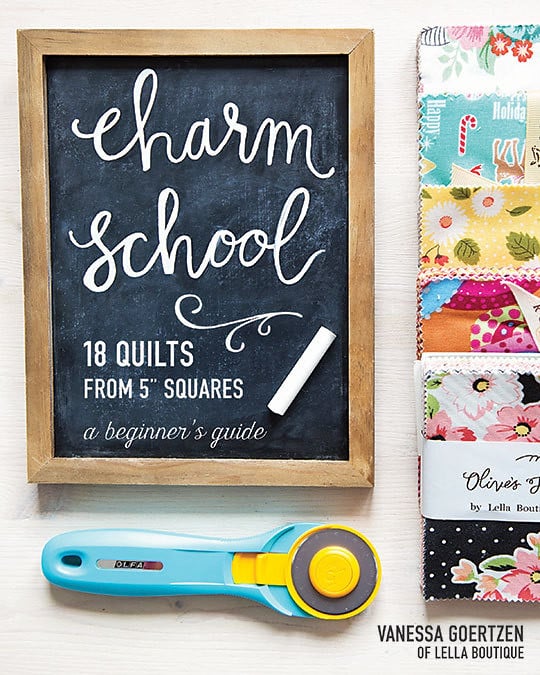 March 2021 marks the 4 years since my Charm School book shipped to shops. Sounds like a pretty great reason to celebrate, don't you think? My publisher agreed–and gave me special permission to release ONE free quilt pattern from the book. (Thank you, C&T Publishing/Stash Books!) More about that in a minute. Charm School is all about what you can make with charm squares – Moda's fancy name for those sweet stacks of 5" squares. Of course, you can use a Layer Cake (10" squares) for many of these patterns as well! Let's take a peek back at the 18 quilts featured in the book:
Charm School quilts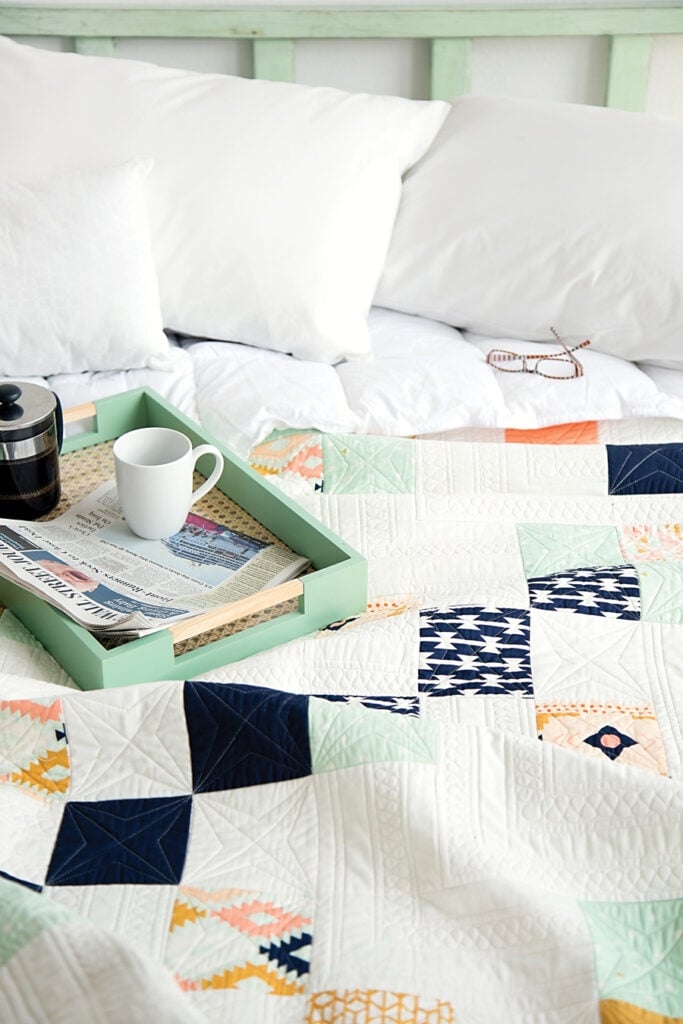 Do you have a favorite? Let me know in the comments! Of all 18 quilts in the Charm School book, would it surprise you that Chandelier is the most beloved by my readers? (Scroll down to the bottom for a link to download.)
The "Chandelier" quilt is made with 2 charm packs, is fun + quick to piece, and is perfect for a confident beginner skill level and up. In the mockup below, I've used 2 charm packs of my Farmer's Daughter collection. But it's not required that both charm packs be of the same collection if you'd like a more scrappy look. You could substitute most anything in your stash if you don't have charm packs. Use a Layer Cake (precut 10″ squares), a Jolly Bar (5″ x 10″ rectangles), fat quarters, scraps, etc.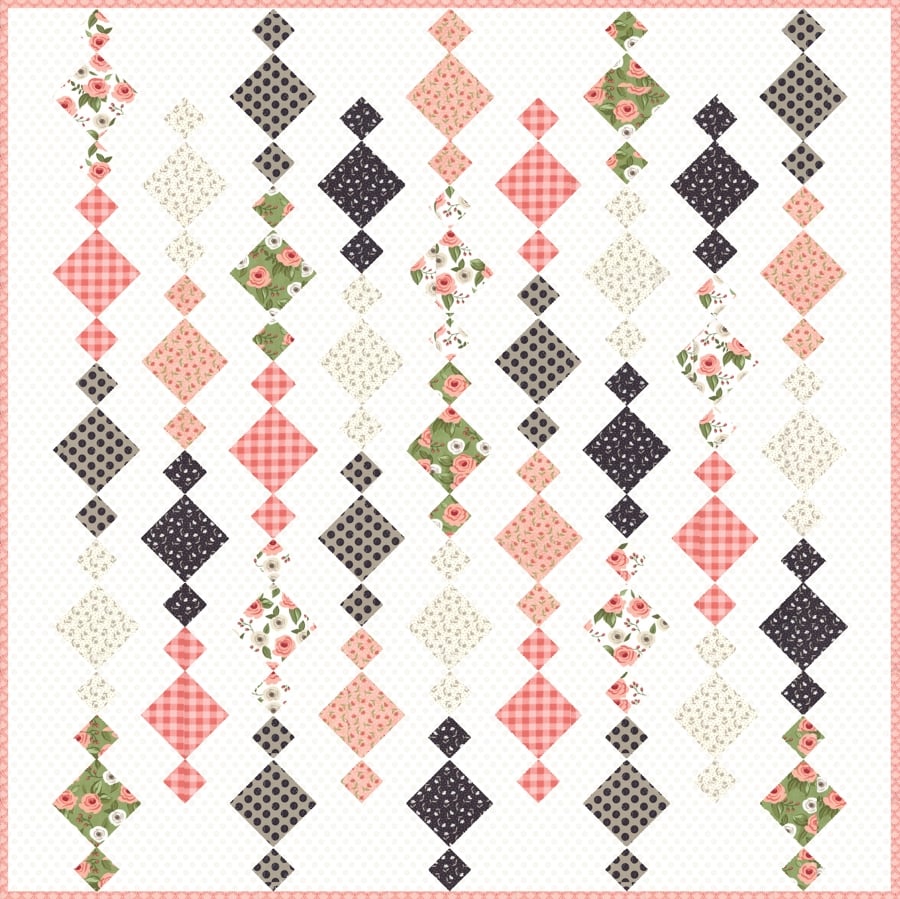 One of the things I love most about this quilt is that it looks wonderful in every fabric collection. I plan to make it again soon – as soon as I can decide which fabric collection to use.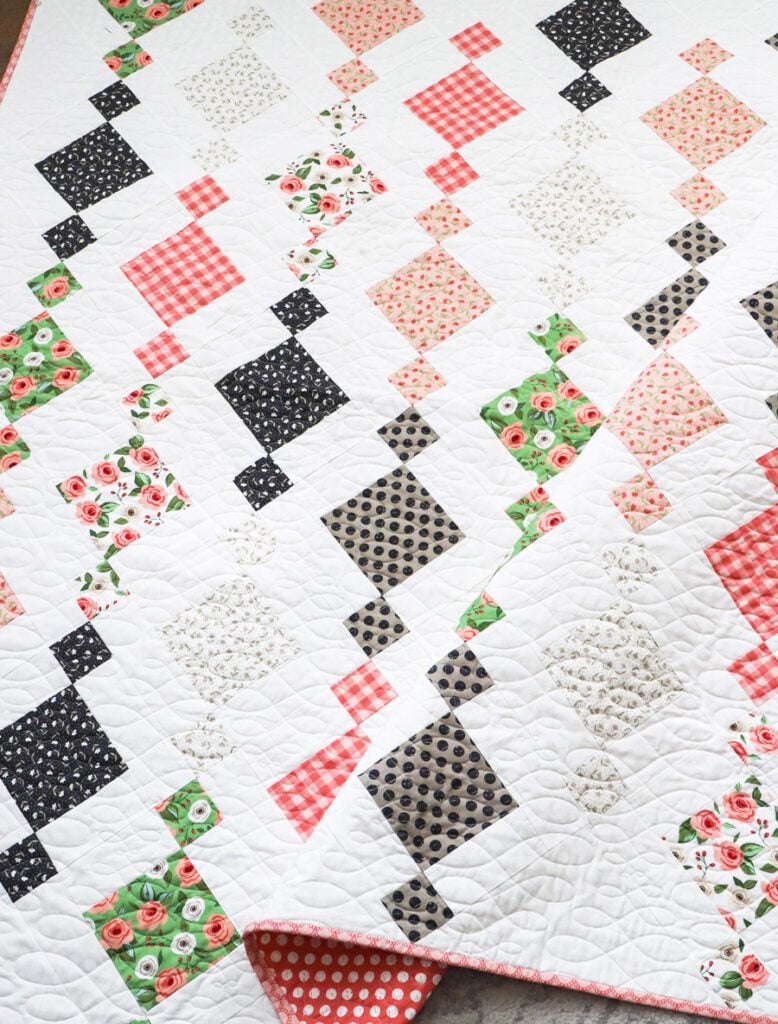 If you enjoy free PDF patterns like this one, you will want to check out the free Smart Cookie PDF giveaway here.
What quilt pattern are you working on right now? Let me know in a comment below!
---
Like this post? Drop your email in the box below to get new post notifications via email.