The Web – Halloween Quilt in Hey Boo Fabric
Get ready to weave a web of quilty goodness just in time for Halloween. Designed with Hey Boo fabric in mind, each modern web quilt block is "spun" with a favorite print or panel block as a focal point. Get tangled up in this frightfully fabulous patchwork journey – your heart won't be able to resist.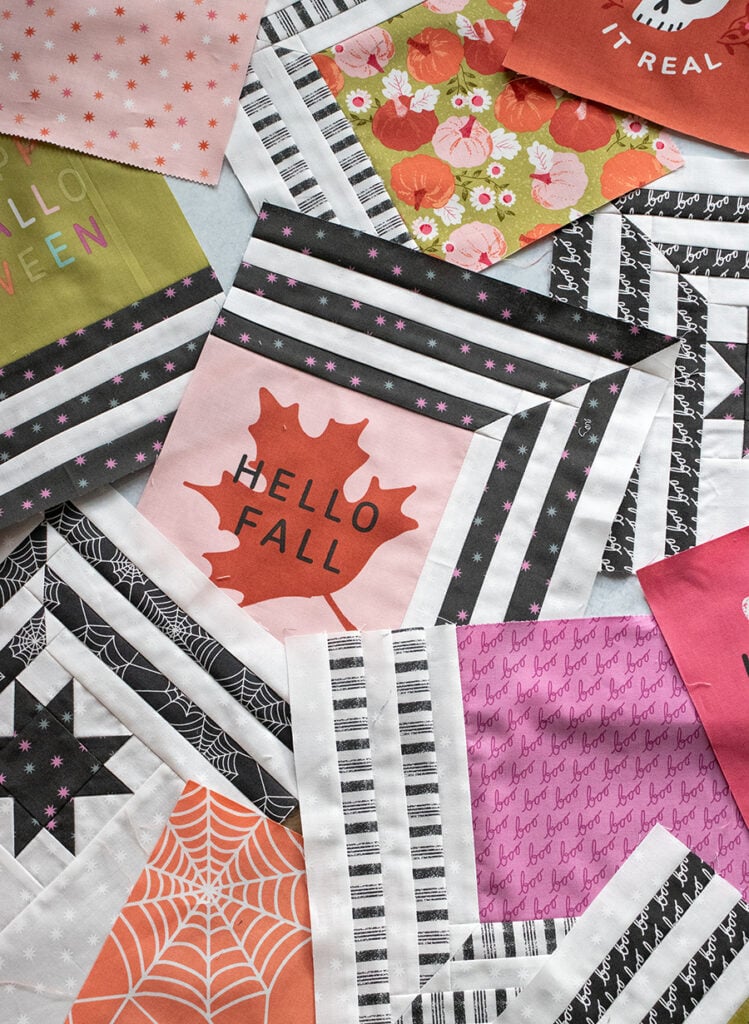 "The Web" is my modern twist on a spiderweb quilt concept. (What can top having little sawtooth star blocks for its spiders?) Because this is a very whimsical Halloween fabric collection, I have loved keeping the projects on the sweet, playful side as well.
---
Pattern Tidbits
For "The Web" quilt, you will need (35) squares 7-1/4″ x 7-1/4″. Each square will be used for a focal point in each block. I used a combination of Hey Boo panel squares and Layer Cake (precut 10″) squares for mine. If you don't want to use a panel, you could just use all Layer Cake squares – or you could even use scraps from your stash to make your own print combination. Some blocks will have a sawtooth star in place of a print square.
The skill level is considered "intermediate" and utilizes a log cabin style of constructions + easy corner triangles. Those are all pretty beginner friendly methods on their own but because there are several of them going on, I'm bumping it up in skill level.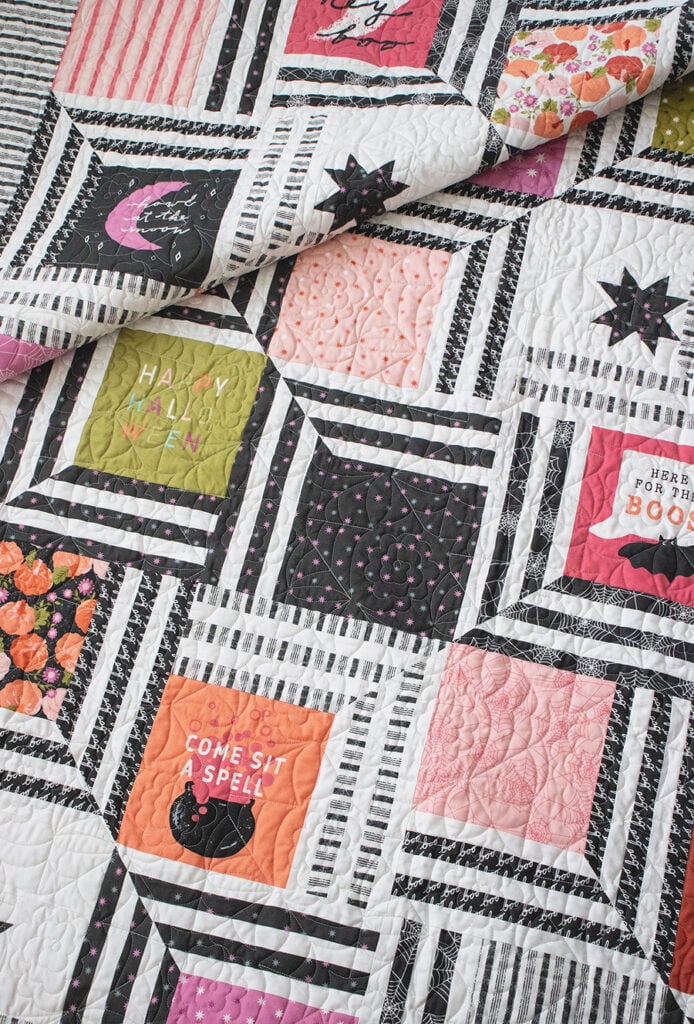 Fabric
This pattern uses the Hey Boo fabric collection expected to arrive to quilt shops April 2024. The panel is part of the collection and comes as yardage on the bolt rather than a prepackaged panel like I have done in the past. It measure 24″ x 44″ and each panel square is about 7-3/4″ x 7-3/4″ to start out with. If you buy one of the Moda fat quarter bundles of Hey Boo, one full panel is included in it just FYI. If you are interested in a fabric kit for "The Web" or just Hey Boo fabric in general – the best thing to do is reach out to your favorite local or online quilt shop to request they order this for you. This quilt is just one way I'm using the panel but there are so many other cute applications I'll be sharing.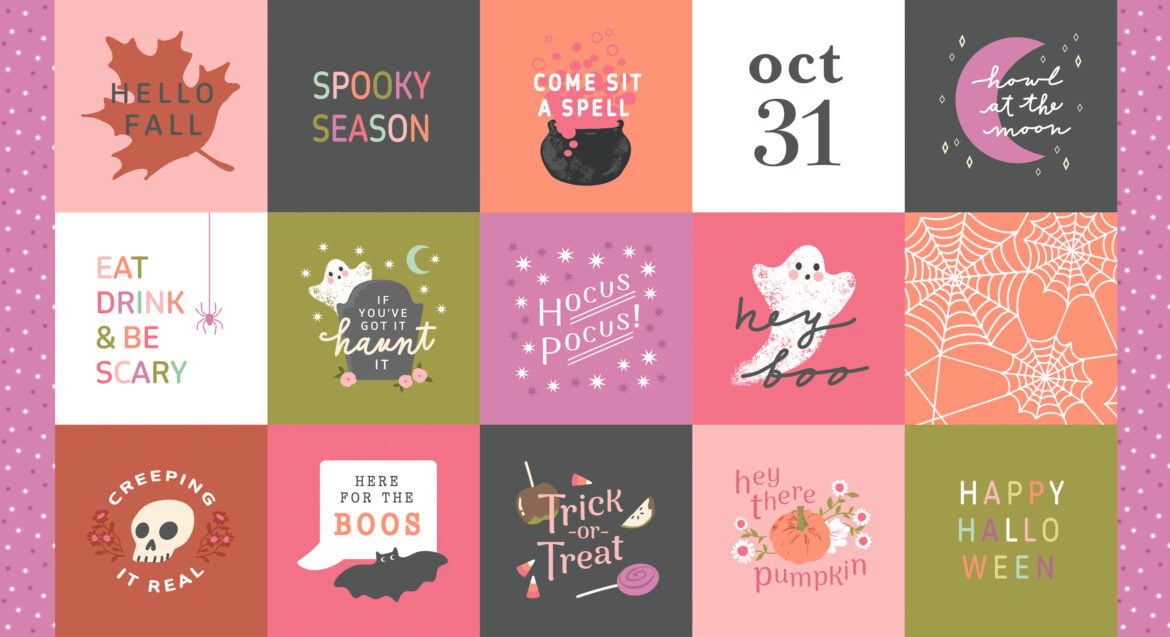 MATERIALS LIST
If you want to make a quilt like mine in Hey Boo fabric, I've included a list below. Your shop should have access to this through their Moda Fabrics rep, but you can also share this with them:
*(1) Hey Boo panel 24″ x 44″ (15 squares 7¾" x 7¾") SKU #5216-11
(1) Layer Cake® (20) squares 10" x 10" SKU #5210LC
(4) 3/4-yard cuts of dark prints for webs (SKUs #5212-16, #5213-16, #5214-11, and #5215-16)
2-3/4 yards white background fabric (SKU #5215-21)
(1) fat quarter accent star print (SKU #5215-16)
1-1/4 yards border fabric (SKU #5214-11)
3/4 yard binding fabric (SKU #5215-16)
5-1/8 yards backing fabric (your favorite print… I used #5210-16)
80" x 91" batting
Because we only use part of a Layer Cake, you can incorporate the leftover squares into your backing or keep them for a future project.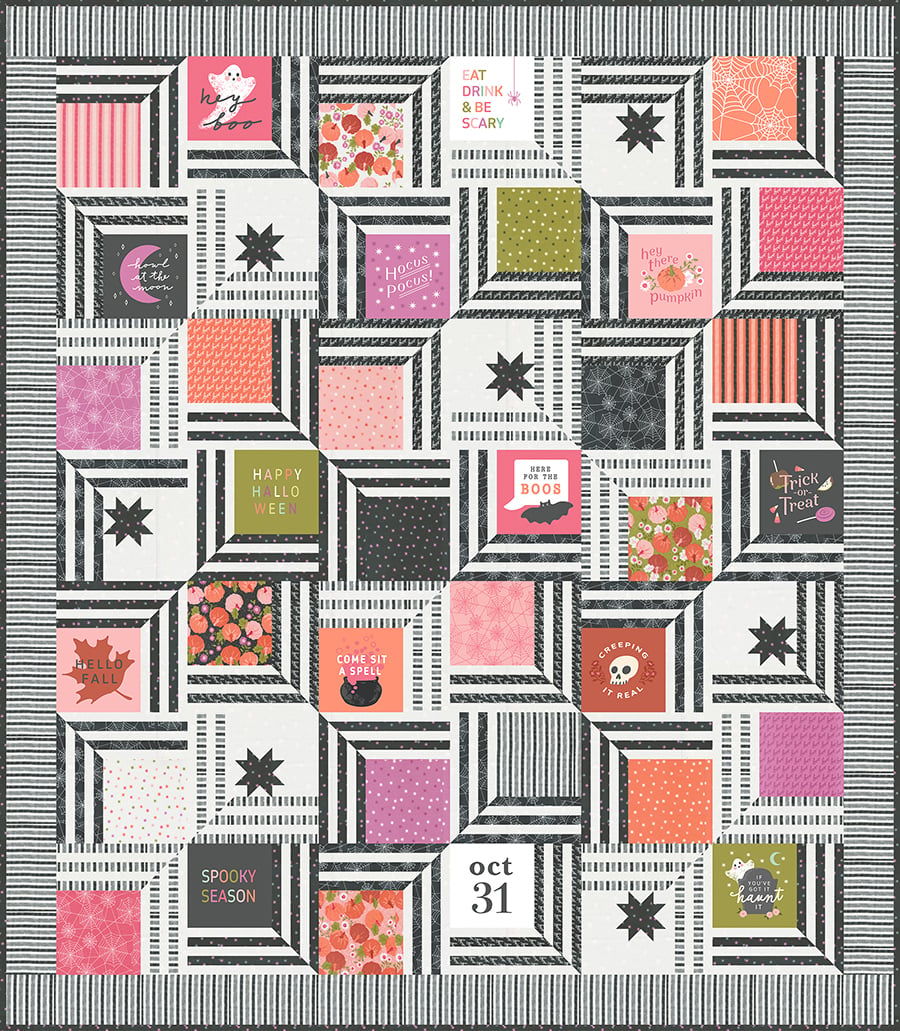 ---
Quilt Details
What do you think about Halloween quilts? Have you ever made one before?
---
Like this post? Drop your email in the box below to get new post notifications via email.