$5 in March 2023: Twirl
It's simple. It's sweet. And it's only $5 in March 2023. After being discontinued for several years, I brought back the "Twirl" design as a PDF pattern. (No plans for printed copies at present, sorry about that.) Be sure to grab this one while it's on sale!
---
About Twirl
Just a little about the "Twirl" pinwheel quilt – it's easy peasy. (Perfect for a confident beginner.) This one can be made with either fat quarters, fat eighths, or Layer Cakes (precut 10″ squares). (See the full materials list here.) It is a superb way to show off any fabric collection.
---
The Original Model
The Twirl quilt was originally designed for a Momo fabric collection (the name escapes me) but since it wasn't my fabric, I never made a quilt model for it. Eventually, I did make one in Lottie Da fabric by Heather Bailey. It's such a stunning, vibrant collection, I think the design really shows it off well. I can't remember who I gifted this one, but I do remember it was a tough one to give away! Sure am glad I remember to take a few pics.
This was back in the days when I freemotion quilted my own stuff. I used a loose, meandering loop on this one. (I'm always so grateful for amazing long arm quilters who have taken over this part of the process for me.)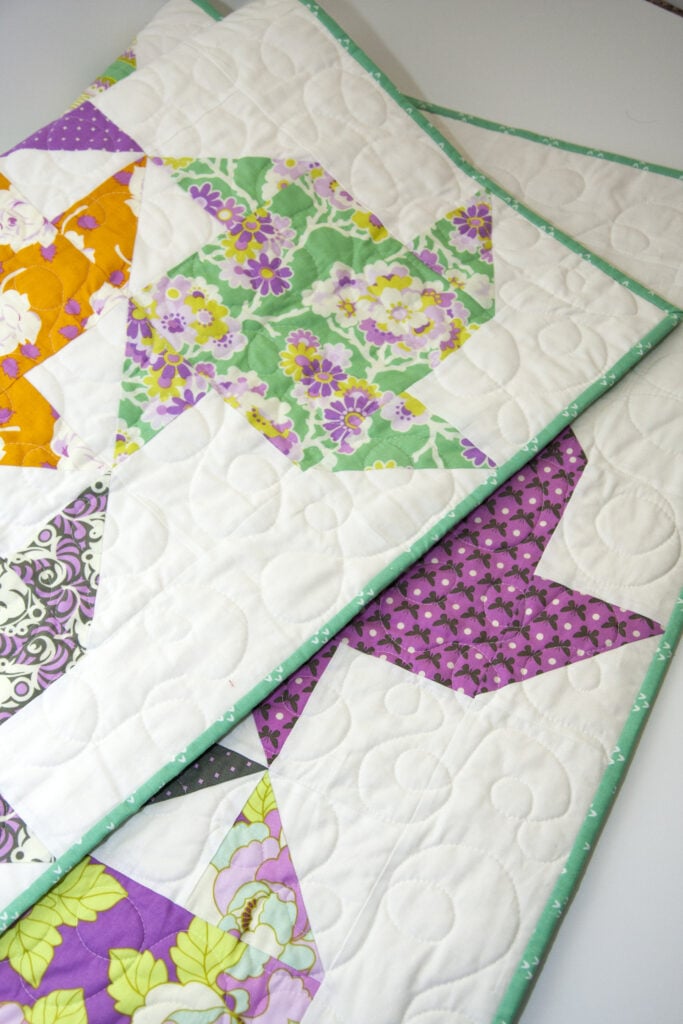 ---
Who would you make this quilt for? Let me know in the comments below.
---
Like this post? Drop your email in the box below to get new post notifications via email.