FREE Love Note Mini Quilt Pattern by FQS
Love is in the air! Introducing the "Love Note" mini quilt pattern – a FREE pattern download brought to you by Fat Quarter Shop. One thing I love about mini quilts is they are quick and satisfying. I pieced mine in an afternoon, and quilted it in another. It's a darling pattern and finishes at 20-1/2″ x 24″. It's a perfect sewing project for Valentine's Day.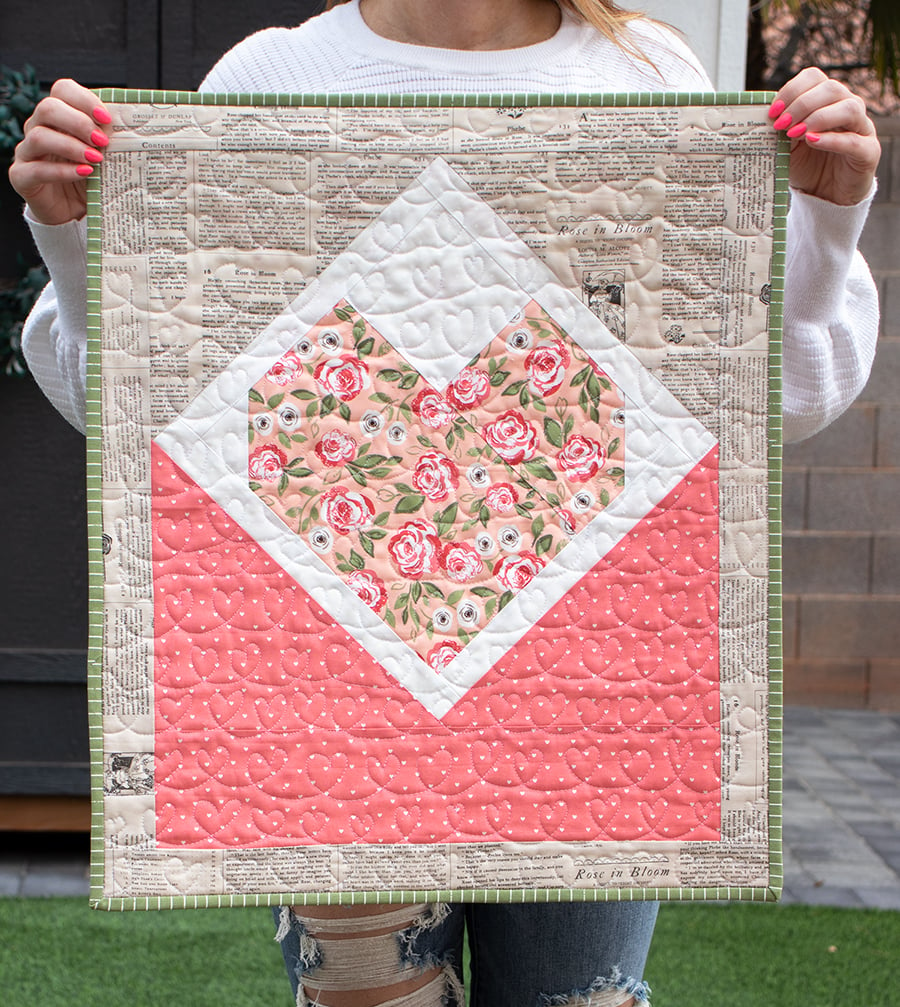 ---
Piecing Tips
This "Love Note" mini quilt pattern uses an easy corner triangle method to create the heart block itself, which is then turned on point so the background / envelope-print triangles can be sewn to the sides. I would consider it "confident beginner" skill level – but take a look at the free Love Note mini quilt pattern here to get an overview of construction and decide for yourself! I've mocked up a few versions in my Country Rose fabric for you to check out:
A quick word about choosing fabric / cutting… be aware that unidirectional prints are NOT ideal, (especially for the background print) as it would require extra yardage to get everything facing one direction (and a lot of waste). I did use a unidirectional text print for the background in my Love Note version, but that particular print doesn't bother me. (Did you even notice?) Be advised any unidirectional print used for the heart / surrounding area will be not face "upright" either – but be on-point.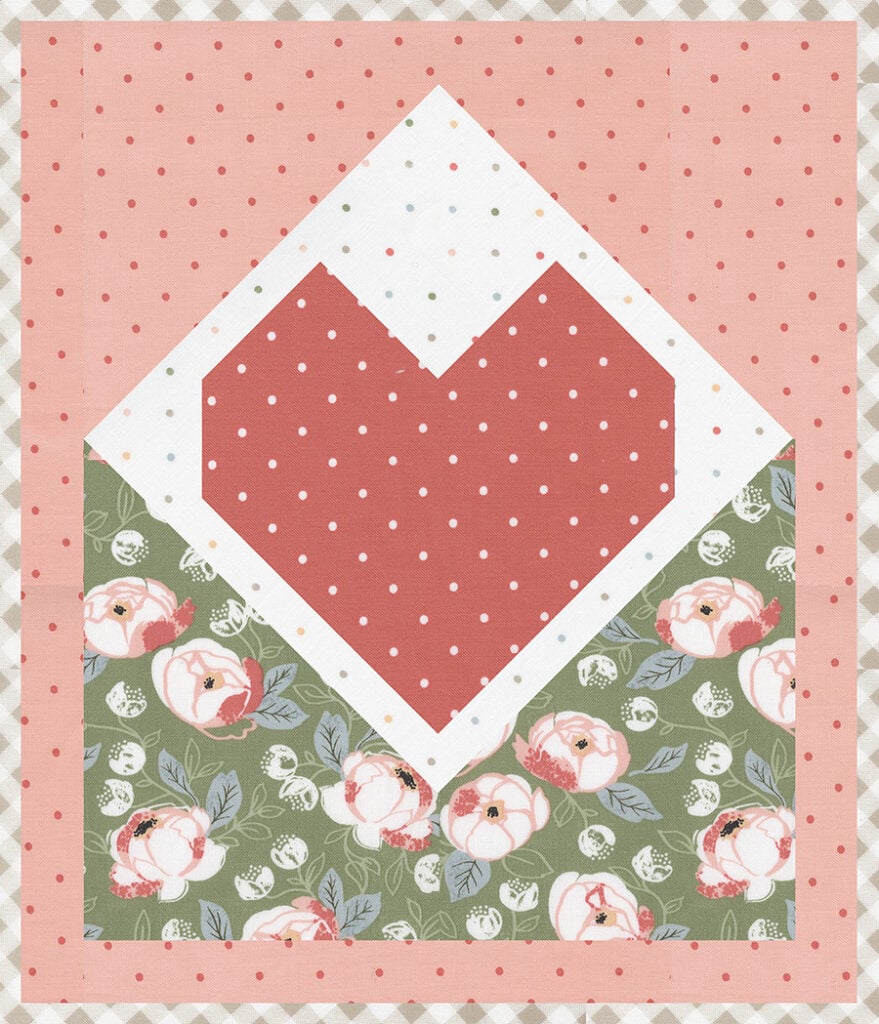 ---
Freemotion Quilting
One of the things I love most about a mini quilt is that it is a perfect excuse to practice freemotion quilting on your domestic machine! I decided to quilt some freemotion heart loops on mine. (I practiced by drawing it out on a piece of paper first.)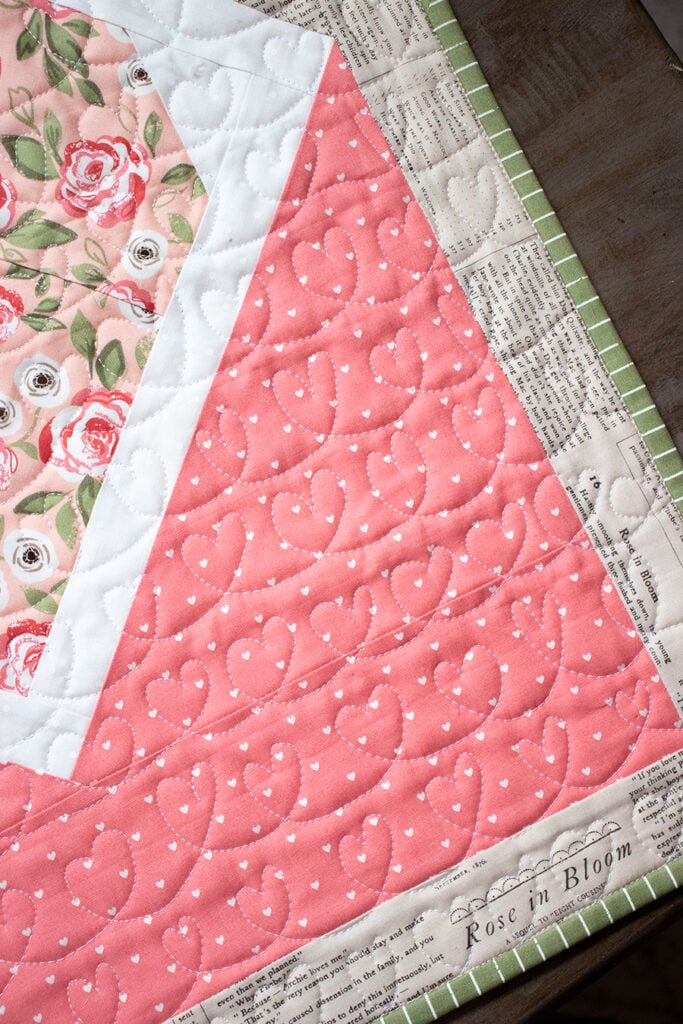 Have you ever tried your hand at freemotion quilting on your domestic machine? If not, here's a quick list of things tip & tricks to getting started:
A Quick Refresher on Freemotion Quilting:
Lower the feed dogs on your machine. This helps you guide the project around easily.
Install your machine's darning foot. No one darning foot looks exactly alike but it's the foot with a little hoop on it.
Make sure you have a full bobbin of thread. You definitely don't want to have to stop to reload in the middle of the quilt.
Practice on Scraps. Freemotion quilting takes some getting used to! There is a balance between the speed (controlled by your foot on the pedal) and guiding the fabric around to make your shapes. Some machines (like my Bernina 550QE) have special stitch regulators (a special darning foot) that controls it for you. You don't even put your foot on the pedal. You just press a button and it adjusts to the speed of you moving the project around under the needle. Don't worry if you don't have the fancy stitch regulator – I actually prefer using a regular ol' darning foot and regulating it myself. (It's how I learned and I got good at doing it that way.) But it's always a good idea to practice on scraps as a warm up! Just practice doodling around and getting your stitch length consistent.
Practice the design on paper. This is more to practice drawing continuously (without picking up your pen from the paper). You'll need to decide the "route" you want to go on the project. (Top to bottom? Left to right?)
It doesn't have to be perfect! Part of the charm of freemotion quilting is the handmade, hand-drawn look!
Here's a video I made for Fat Quarter Shop years and years ago, but it goes over a lot of this information. (Start video at 4:18 to skip right to the freemotion portion.) Hope it helps!
I've also added a little Instagram reel of how I quilted my "Love Note" mini I- check the link here for that.
---
BasicGrey Versions
I could not resist mocking up a few versions in BasicGrey's elegant Date Night collection (top) and colorful Nutmeg (bottom). I think it's pretty clear this freebie pattern is a winner and looks good in every collection! Picking out the fabric is always my favorite part, what about you? You can shop all these collections I've shown at Fat Quarter Shop, or check in with your favorite local or online shop!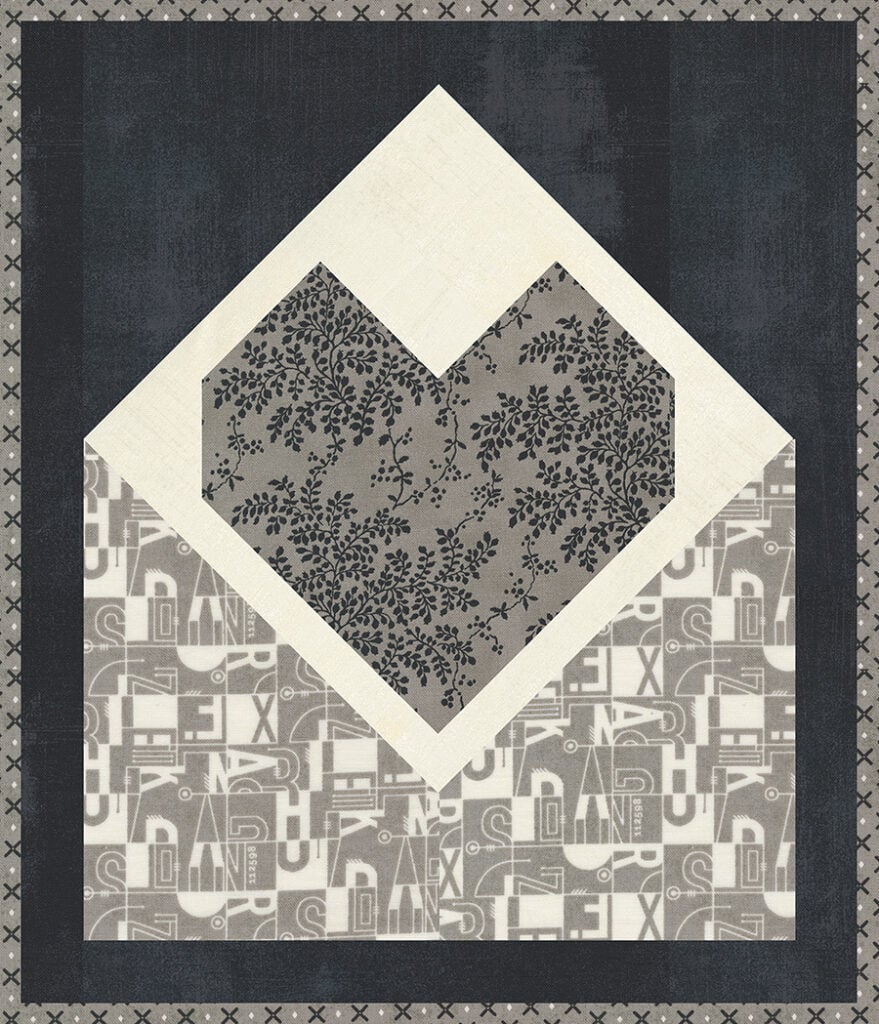 ---
If you decide to download the FREE Love Note mini quilt pattern, I hope you will share it! Be sure to add the hashtag #FQSLoveNote so we can find it. Check out Fat Quarter Shop's version – plus grab a free cross stitch pattern on their blog here.
---
Like this post? Drop your email in the box below to get new post notifications via email.