Sewcialites 2: Free Block of the Week
Introducing a new free block of the week… get ready for Sewcialites 2 from Fat Quarter Shop. This fun quilt along features 24 designers with 24 new block designs. If you are new to Sewcialites, you will want to head over to the Jolly Jabber blog for the full details here. In a nutshell:
How it Works
A new quilt pattern is released every Friday from 10.21.22 to 04.14.22 (with breaks for Thanksgiving and Christmas). You can access the new block pattern first on Friday's on the Jolly Jabber blog, which will include a video tutorial from Kimberly on the Fat Quarter Shop YouTube channel. After the blocks are released, Kimberly will spend the following two weeks on finishing the quilt. I'll be following along each week with my version of the block – adding links as soon as I get them 🙂
Important Sewcialites 2 Links
---
Layout
Each block design will be released in multiple size options: 3″, 6″, and 9″ finished sizes. Based on Fat Quarter Shop's layout plan, this will yield a finished quilt top of 33-1/2″ x 33-1/2″, 66-1/2″ x 66-1/2″, or 99-1/2″ x 99-1/2″, respectively, using the layout shown below. You can get all the specs in the Sewcialites 2 Information Packet found here. I hope to have a mockup with my fabrics plugged in soon. Speaking of which…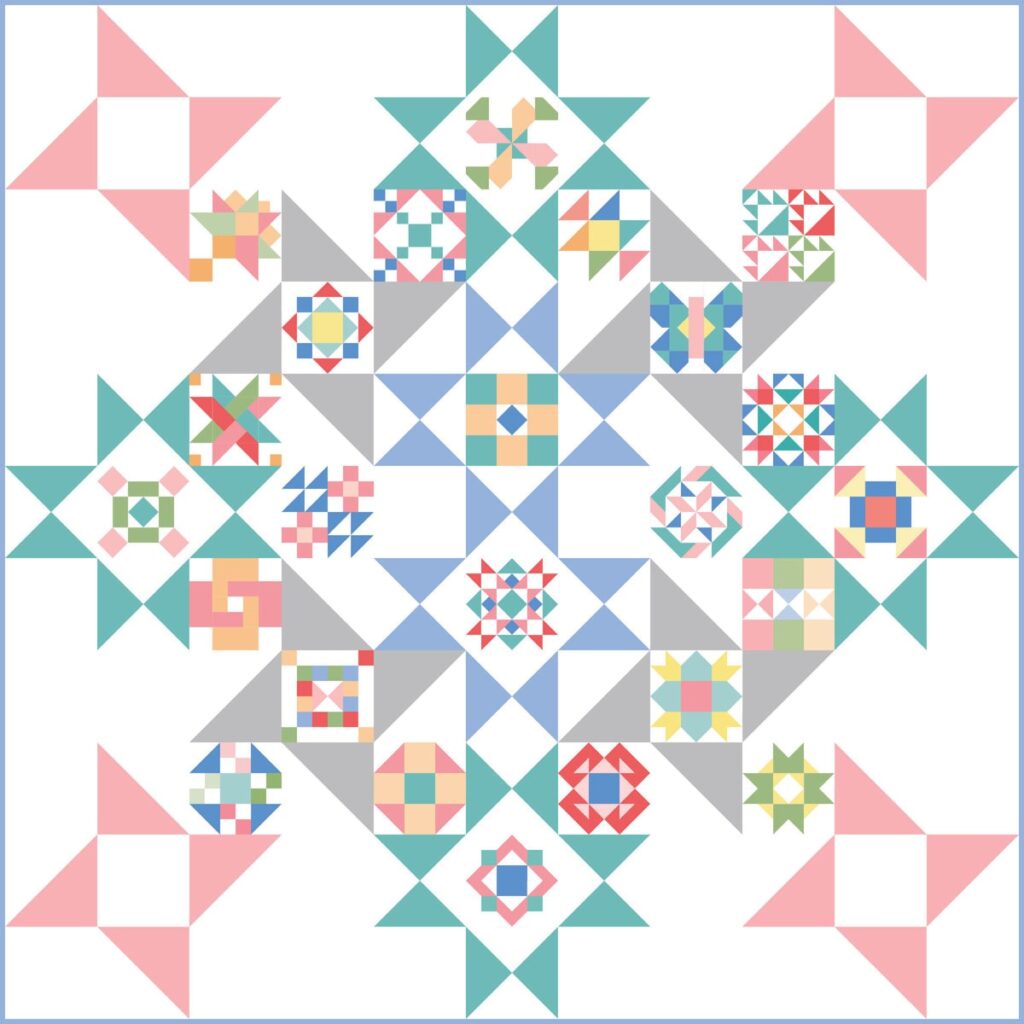 ---
Fabric Selection
The biggest question asked for these quilt-alongs is always how much fabric is needed. Fat Quarter Shop is recommending a Layer Cake for the 3″ sampler block size, or a fat quarter bundle for the 6″ or 9″ sampler block sizes.
I've decided to use Country Rose fabric for my sampler blocks. I don't know that I will have time to piece the actual blocks (or quilt), but I'll mock them up so I can stay up to date and give you the inspiration each week. I'll mock them up in the 6″ finished size.
---
FREE Block Pattern Archive
I'll be keeping a running archive for the Sewcialites 2 free block of the week patterns here so they can be found in one easy place! Links are updated weekly.
---
More Inspiration
For the first Sewcialites quilt along last year, I made a Christmas version using Christmas Morning fabric and plugged (40) 6″ sampler blocks into the Rose in Bloom BOM layout. (You can read all about my Sewcialites Christmas quilt here.)
I just might be mocking up the new Sewcialites 2 blocks in Christmas Eve just to give an alternate spin on the layout. Keep your eyes out for the new block ideas each week!
---
Don't miss out on a single post! Drop your email address in the box below to get new post notifications by email.