Jolly Holiday Christmas Quilt (Charcoal Background)
I may have squealed when I got this back from my quilter, Kaitlyn on Saturday morning. I won't pretend I don't have favorites, this one is it this time around. This is the "Jolly Holiday" medallion quilt – and if it looks familiar, it's because it's the second version I've made. This time around, it features a charcoal background to really make the Santa, scrappy gift pile, and holly leaf-and-berry units pop in Christmas Eve fabric.
---
Fabric
"Jolly Holiday" is made in Christmas Eve fabric arriving May 2023 for Moda Fabrics. The blocks are primarily made from a Jelly Roll (precut 2.5″ strips) but you could substitute fat eighths. Here is the full materials list:
(1) Jelly Roll® (40 strips 2½" x WOF)*
(1) fat eighth face print ( 9900 68 "Fig Tree Wheat")
(1) square 6" x 6" nose print ( 9900 104 "Hay")
(1) square 6" x 6" cheek print ( 9900 425 "Rose Water")
(1) fat eighth white beard / eyebrow print (SKU #5187 21)
(1) square 6" x 6" eyes / mouth print ( 9900 283 "Lead")
(1) fat eighth red hat print (SKU #5187 16)
(1) fat quarter light grey fabric (SKU #5187 12)
2-3/8 yards background (SKU #9900 284 "Charcoal")
(1) fat eighth green bow fabric (SKU #5187 15)
1-1/4 yards light accent dot for block border / inner border print (SKU #5187 11)
1-5/8 yards outer border (SKU #5184 15)
3/4 yard binding fabric** (SKU #5186 16)
6-1/4 yards backing fabric (SKU #5180 15)
86" x 86" batting
* You may use (28) fat eighths in place of Jelly Roll ®. You'll want to pick (1) print for hat trim, (8) for holly leaves, (2) for leaf centers, (5) for holly berries / tall skinny gifts, and (12) for the remaining gift prints.
** If using a Jelly Roll®, the binding yardage is optional since there are enough leftover strips for a scrappy binding.
If you are interested in a "Jolly Holiday" kit in Charcoal, please reach out to your favorite local or online shop to make the request. (Now is when they can order the supplies for the May arrival.) To check out the other (white background) version, you can check out the post here. (There will be Moda boxed kits for that version.)
---
Quilt Details
Pattern: "Jolly Holiday" Christmas medallion quilt by Lella Boutique
Fabric: Christmas Eve by Lella Boutique for Moda Fabrics (May 2023)
Finished Quilt: 72-1/2″ x 72-1/2″
Skill Level: Intermediate (combination of beginner techniques like half square triangles and easy corner triangles + multiple blocks to make + contains some small pieces)
Pieced by: Me
Quilted by: Kaitlyn of Knot and Thread Designs
Pantograph: "Sashiko" by Intelligent Quilting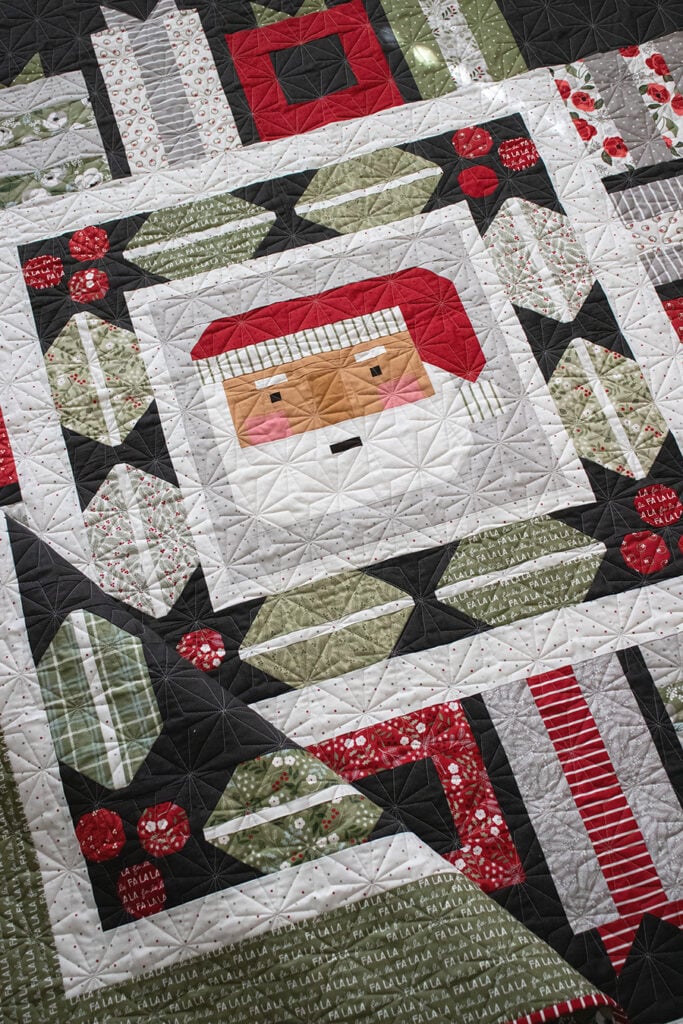 Isn't the quilting sweet? I love how the Sashiko stars land on Santa's cheeks.
Don't miss out on a single post! Drop your email address in the box below to get new post notifications via email.