Matching Solids of Christmas Eve Fabric
Time to share the master list of matching solids (and near-solids) of the Christmas Eve collection arriving May 2023. In addition, I'll share a little about some of the other Moda Bella Solids used in the projects (ie the Santa face in "St. Nick" / "Jolly Holiday" quilts, as well as the reindeer face in the "Reindeer Xing" quilt).
---
In the Collection
As a sidebar, the best place to find near-solid prints is already in the Christmas Eve collection. While these are not solid per se, these read as solids and are obviously perfect matches. These will sell out, so you will want to be sure to stock up! In all of the new quilt designs, I've used the "Merry Dot" print for all the backgrounds, and other places like Santa's red hat, white reindeer antlers, Santa's white beard, etc. Keep your eye out for these – and if you're a shop, you will never regret ordering extra bolts.
---
The Matching Solids
Here's the list you've been waiting for. These are the closest coordinates I could find using the Moda library. I've pulled from Moda Bella Solids and BasicGrey Grunge basics. Here are the best coordinates I could find (in order top to bottom, left to right):
Bella #9900 230 "Cherry"
Grunge #30150 265 "Cherry"
Grunge #30150 156 "Grey"
Grunge #30150 278 "Gris"
Bella #9900 83 "Gray"
Grunge #30150 274 "Vert" (not an exact match, but blends nicely with the collection overall)
Bella #9900 35 "Sage"
---
The Other Bellas
A couple other Bella Solids play a role in the Christmas Eve quilts – here is the information about them. Please note that the original printing of the quilt patterns had the incorrect SKU number (but correct "Hay" color name) listed for the Santa nose.
For the Santa quilt block (as seen in the "Jolly Holiday" and "St. Nick" quilts):
#9900 68 "Fig Tree Wheat" for Santa's face
#9900 104 "Hay" for Santa's nose
#9900 425 "Rose Water" for Santa's cheeks
#9900 283 "Lead" for Santa's eyes / mouth
For the reindeer quilt block (as seen in the "Reindeer Xing" quilts):
#9900 194 "Sienna" for the reindeer brown fur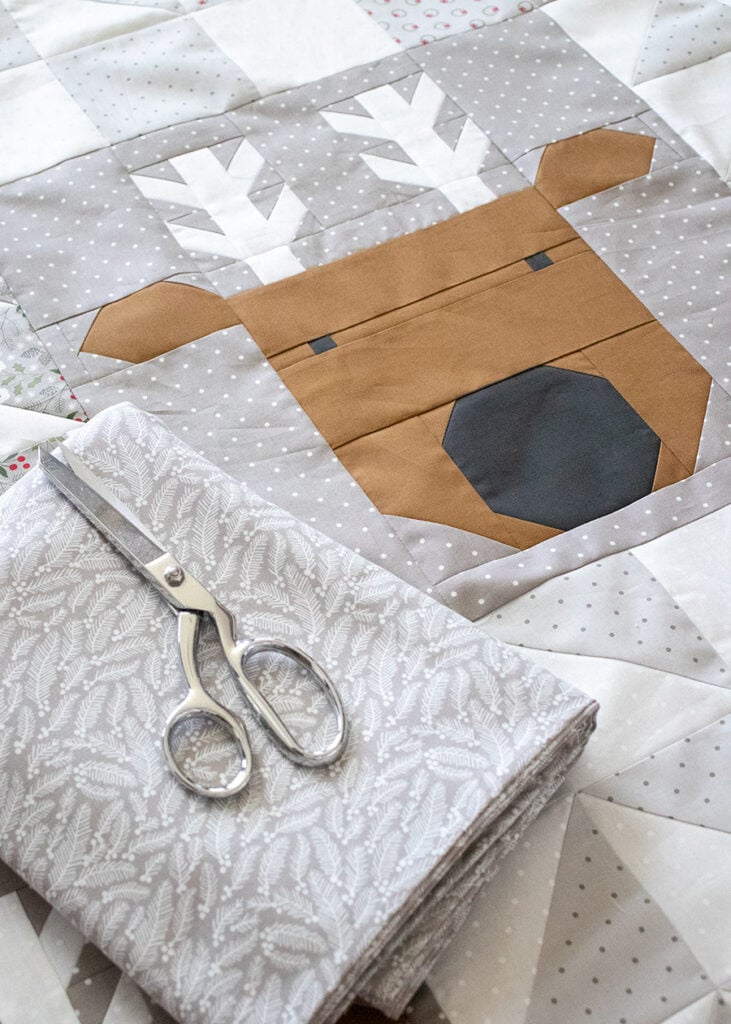 I hope this is helpful information! Let me know any other questions you might have about this collection.
---
Don't miss out on a single post! Drop your email address in the box below to get new post notifications by email.