Forever Plaid Quilt in Christmas Eve Fabric
What's Christmas with a little plaid? Not only does my future Christmas Eve fabric collection contain a plaid print, but now there's a Layer Cake quilt pattern to echo the idea as well. Meet the "Forever Plaid" quilt. This one's a sweet & simple staple of the holiday season, but would look great in any fabric collections (how cute would a boy quilt version be?!).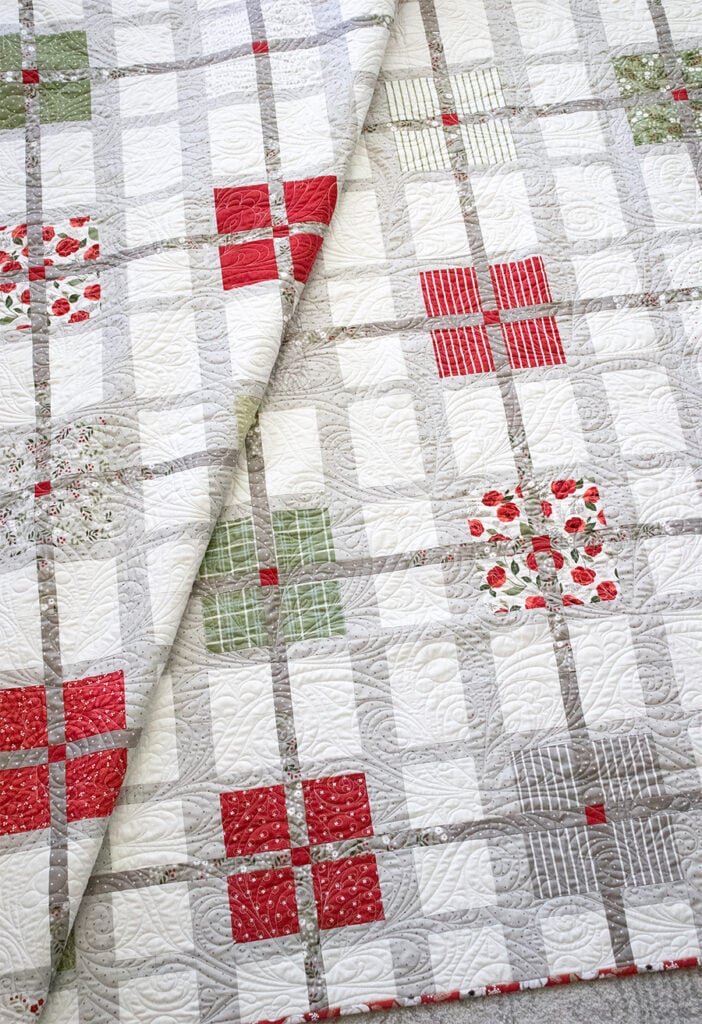 ---
Tips & Tricks in Piecing
As you can see, the layout for "Forever Plaid" uses squares and rectangles sewing together simply. Even so, I would classify this pattern as "intermediate"; what makes this a little more challenging is the attention to pressing to help seams align in the quilt top assembly. If you look closely, I alternate two dark grey prints to split up the layer cake print (dark grey "Merry Dot" and "Winter Botanical"). I found it helpful to divide the blocks up and piece the "Merry Dot" batch first. As I pieced those blocks, I made sure to press the seams "up" and "right" in every step. For the "Winter Botanical" batch, I did the opposite – pressing the seams "down" and "left." Then, when everything is laid out in the quilt top assembly, this makes it easy to nest the seams as you stitch blocks into rows and rows together.
---
Quilt Details
This is the last on the new quilt patterns, how did you like these? Do you have a favorite? Let me know in the comments below./
Don't miss out on a single post! Drop your email address in the box below to get new post notifications via email.