Moda Blockheads 4: (Block 20)
Happy Wednesday! I'm caught up for the moment for Moda Blockheads 4. (Well sort of… I just found out I've missed out on two of the last bonus blocks.) I'm so busy with new fabric, new quilts, and other deadlines that I'm afraid I'm going to start getting behind here. Today's block is brought to us by Stacy Iest Hsu. Block 20 is "Stop Go" and is available for download on Stacy's blog here.
Block 20 "Stop Go"
These pieces are so teeny. It made me wonder why I'm making the 4.5″ finished block, ha. But it was worth it, look how cute this one is. I gave up paying attention to the unidirectional prints. I have no tips but really appreciated how the block uses strip piecing for the construction.
Fabric
I'm using a couple different fabric groups. The first pair of blocks is made in Flower Pot fabric. I kept the color schemes pretty simple.
The last block is in Love Note fabric. This block reminded me a little of a flower… although now that I'm looking at it, I should have switched the placement of pinks and greens. The "First Crush" geometric print made an appearance again in the centers. I haven't mastered fussy cutting yet but that's ok. Which fabric grouping is your favorite?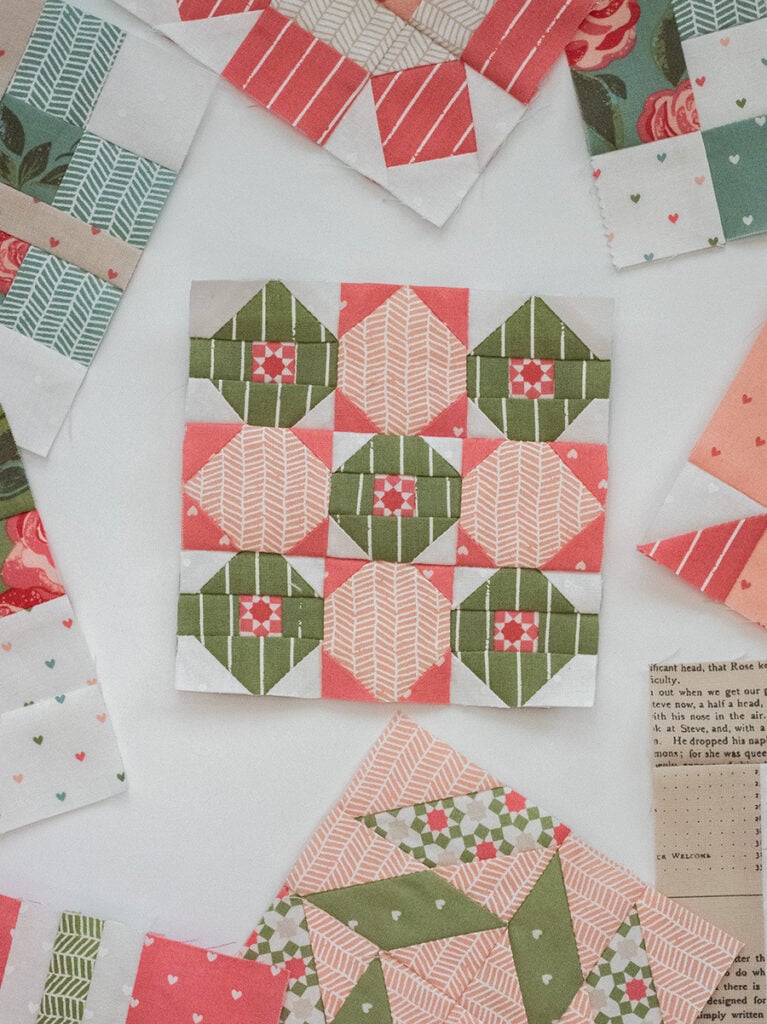 Quilt Along
If you're new to Moda Blockheads, you can join in the free block of the week any time. For more information about this quilt along, read my original post here. You'll also find a current archive of blocks released so far (see bottom of post). You can also join the Moda Blockheads Facebook page for inspiration and to share your progress. It's a great group.