$5 in August – Gingham Style Leaf Quilt Pattern
Now that August is here, I've put away the red + white + blue quilts and am SO ready for the transition into fall. It gets quite toasty here in the desert where I live, so I really start to get excited once August hits and I know the unbearably hot days are numbered. When I hung the Gingham Style leaf quilt on the quilt ladder last night, it just felt right to make it the new $5 pattern of the month.
---
Quilt Details
A gingham pattern is a timeless design, and for good reason! (It's SO cute!) So what do you get when you cross a gingham design with a maple leaf block? Absolute dynamite aka the Gingham Style leaf quilt.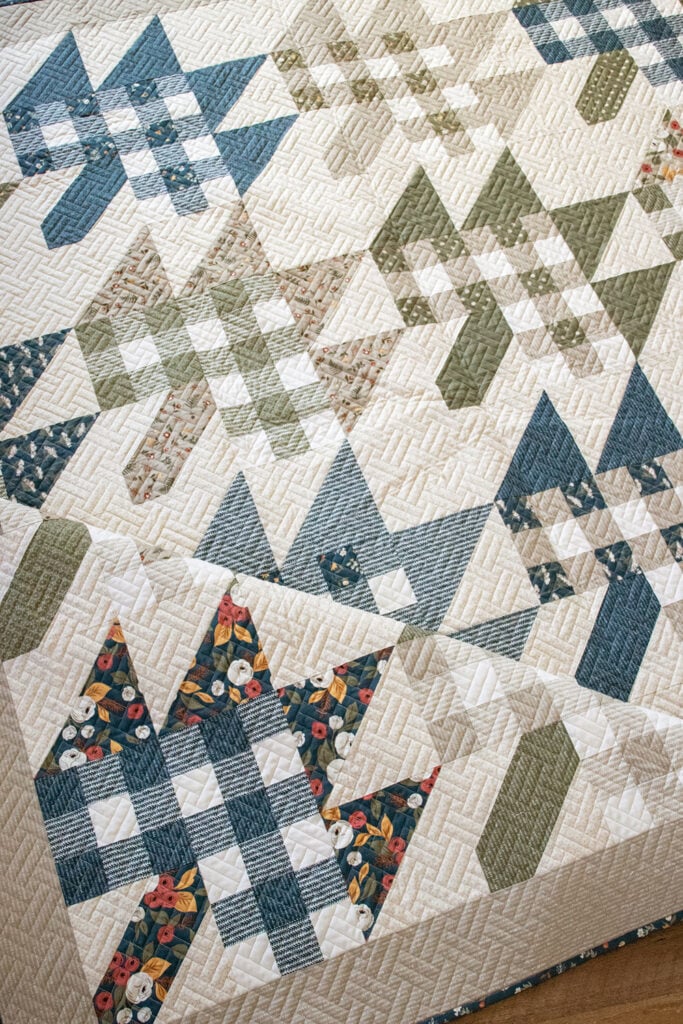 Pattern: Gingham Style by Vanessa Goertzen of Lella Boutique
Finished Block: 18″ x 18″
Finished Quilt: 80″ x 80″
Fabric: Flower Pot by Lella Boutique for Moda Fabrics
Pieced by: Vanessa Goertzen (me)
Quilted by: Kaitlyn Howell of Knot and Thread Designs
Pantograph: "Wicker" by Leisha Kaye
Pattern is available as a PDF or printed booklet.
---
Make It in Flower Pot Fabric
These 16 sweet gingham leaf block prints come from (16) fat quarters + (4) accent prints (to create the gingham contrast). Here is a complete rundown of what's used to make this quilt in Flower Pot.
MATERIALS NEEDED*:
(16) fat quarters leaf point/steam prints (1 fat quarter bundle of Flower Pot fabric, you will use half of the prints)
(4) ⅜-yard cuts gingham base prints (SKUs 5164-14, 5165-14, 5165-16, and 5165-17)
2⅝ yards background fabric (SKU 5166-11)
⅝ yard white fabric (Moda Bella Solid 9900-98)
1¼ yard border fabric (5164-14)
¾ yard binding fabric (5162-17)
6¼ yards backing fabric (5160-11)
88" x 88'' batting
* Yardage calculations assume 42" usable WOF
If you are interested in a kit, be sure to reach out to your favorite local or online shop to make the request. (You may still be able to find some online with a simple search, "Gingham Style kit in Flower Pot fabric.)"