Moda Blockheads 4 (Block 19)
I'm a little behind, darn it, but better late than never! I was out of town early last week so I made my blocks for Moda Blockheads 4 free block of the week – but didn't have a chance to get them photographed and posted until now. Block 19 is "Clover by Robin Pickens. If you follow Robin, you already know she posts cool block variations of the blocks each week. (Go check out her blog here!)
Block 19 "Clover"
As usual, I'm making the 4.5″ finished size of the blocks. This is not a difficult block to make and uses a half square triangle (HST) technique. I rounded up the A/B/C squares 1/8″ so I could trim them down. This really helps with the precision of working with such tiny pieces. I think everything actually lines up pretty perfectly!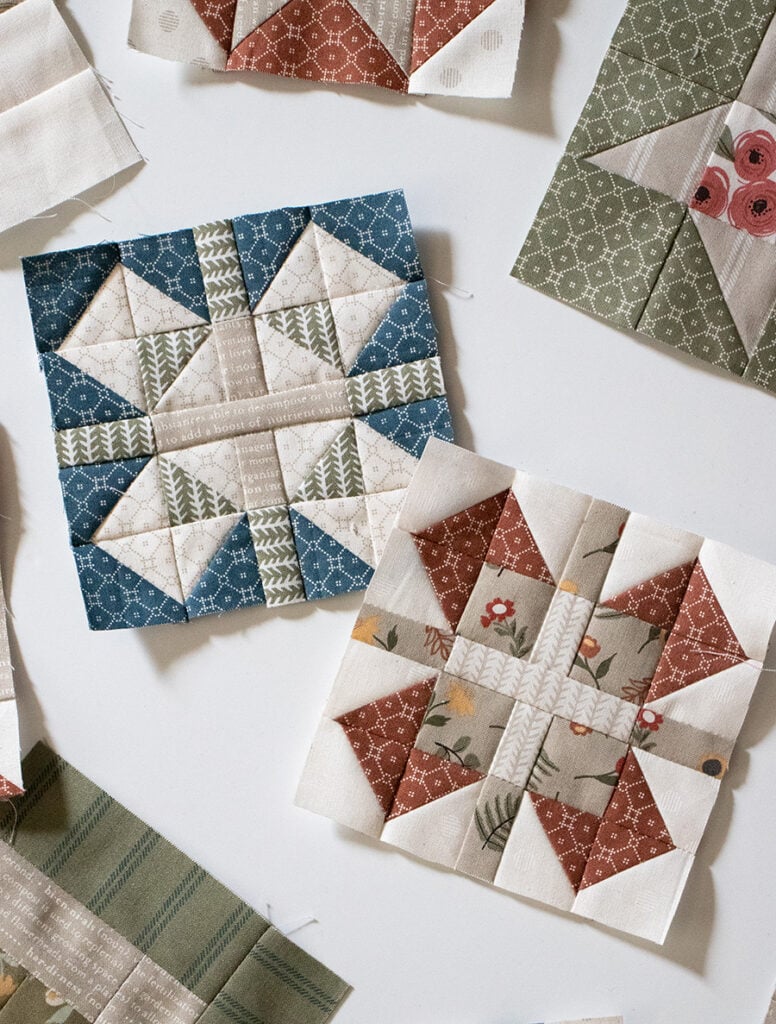 Fabric
I'm making a couple different batches. The first (pictured above) uses Flower Pot fabric. I didn't use any unidirectional prints for the HSTs so if you do, you just have to pay extra attention.
This other block is made in Love Note and did utilize the "Alcott" text print for the HSTs. I just made half of the blocks with the diagonal line going one way, and the other half the opposite. And of course I just had to pay attention to cutting the heart prints for the center cross.
Quilt Along With Me
How are your blocks coming along? If you're new, you can jump in any time. There is an actual benefit in starting late – you don't have to wait for a new block every week but can binge-make the blocks to your heart's content. For more information about the Moda Blockheads 4 free block of the week, visit my original post here. (I keep a running archive of block links at the bottom of that page.) It's also fun to join the Moda Blockheads Facebook page for block inspiration and to share your progress.